If you are reading this then you most likely have learned you can make passive income by creating what is known as a niche blog site. But, before you learn how to make passive income creating a niche blog site, you need to understand what a niche blog site is.
What Is A Niche Blog
A niche blog focuses on a specialized segment of a subject, geographic area, or groups of people. The larger and more broad your niche is, the more competition you will face and the larger your potential audience will be. Choose a smaller niche however, and your competition as well as your potential audience may be less.
For example; you can choose a large niche such as "travel", or you may have better results niching down and choosing something more specific, such as "travel to Mexico".
Why Start A Niche Blog
Starting a niche blog is a good way to express your knowledge and passion, while at the same time creating passive income for yourself and potentially others as well. Here are some benefits of creating a niche blog:
Earn passive income from doing something you enjoy
Work from anywhere, on your own schedule
Low startup cost
Express yourself
Teaching and informing others
Providing entertainment
Starting a niche blog site is the best decision I have made in my life. Not only is it fulfilling, but it's exciting to sit down every day and have the opportunity to share my thoughts with the entire world. When you have your own blog, you feel as though you are contributing and making a difference in the world. Do you know why? Because you are!
How Much Does It Cost To Create A Niche Blog
Alright, so creating a blog sounds like a dream come true, and it is. But you are probably asking the same question I asked before I created my first blog site; how much is this all going to cost?
The cost to create and maintain a blog site ranges from $150 upwards of $500 per year which includes your hosting service, website domain, site theme, and any extras such as images and plugins (not required). Expect the startup cost to be more if you don't own a computer or have internet.
Here is a chart with all the potential costs of creating a niche blog:
| Expense | Price US$ |
| --- | --- |
| Hosting Service (Bluehost) | $3.95 to $5.95 per month (paid annually) |
| Domain registration | FREE (is you use Bluehost) otherwise $12 per year |
| Website Theme | FREE (Generally you'll want to purchase a quality theme though) $30 to $80 is average |
| Blog Images | FREE (if you take your own photos) otherwise you will pay about $10 per month for a library of images |
| Plugins | Plugins range from $0 to $100 per year (plugins aren't required) |
| Quality Laptop | $400 to $1999 |
| Internet | $40 to $100 per month |
These prices are based on my personal experience
As you can see, you can start your own niche site with very minimal cash, especially if you already have a computer and internet. When I first started MexicoTravelBuddy.com, I spent about $160 on my Bluehost account (paid for 2 years) and an additional $60 on my website theme. So that's a total cost of only $220 for 2 years of running and maintaining a website that will potentially earn you hundreds to thousands of dollars every month.
That's more than worth the investment in my opinion.
How To Create A Niche Blog Site
So you know what niche you want write about, and you're ready to start writing your first blog post, but first you will need to create your niche blog website. Creating your niche site is actually very simple, even if you have never done it before.
Here are the steps to create a niche blog:
Step 1: Download your website hosting service.
Step 2: Choose your website domain name.
Step 3: Install WordPress.
Step 4: Choose your theme (you can do this later).
Step 5: Start Building Your Blog.
Step 6: Launch Your Site.
It's that simple!
But, I remember my first time creating my first blog site and although it's fairly simple overall, I'm going to show you the exact steps in detail so you can get your blog started ASAP! Are you excited yet? I know I am!
Step 1: Download Your Hosting Service
Alright, first thing's first. You need to choose which web hosting service you want to use for your WordPress website. I'm going to show you how to download Bluehost, my personal favorite and the only host I have used.
Bluehost is an extremely popular choice for people who are new to site building and professionals alike, there are currently over 2 million sites using Bluehost. I have only used Bluehost myself, so I can't comment on any other hosts, although I know there are other good options out there. I like Bluehost because their customer service is excellent (they helped me when I messed up my first site), it's extremely user-friendly, and it's inexpensive.
Okay, let's get to work. First, Download Bluehost from their website.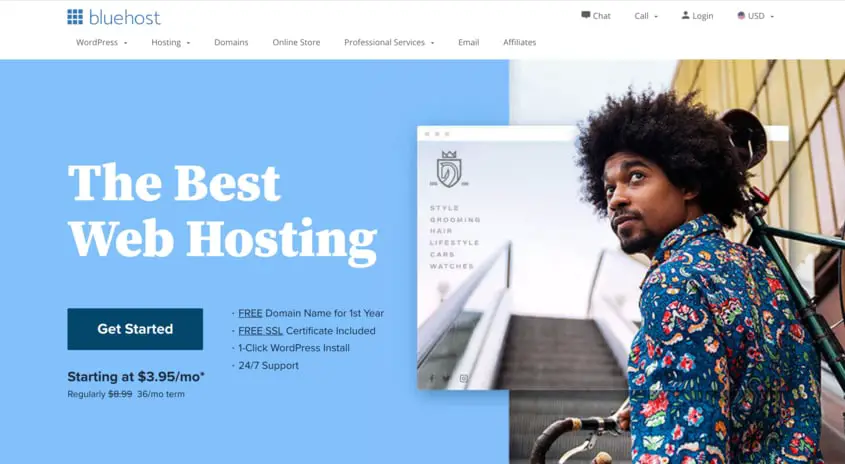 Once you click the link, you will arrive at the home page, click "Get Started" to choose which plan you want.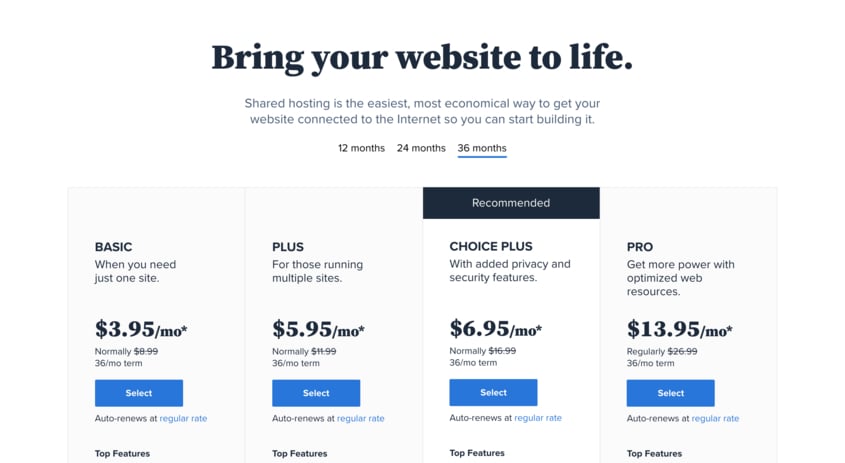 Here, you have a few options. If you plan on only building one site, select the BASIC plan. If you plan on creating multiple niche sites, I recommend the PLUS plan (unlimited amount of sites).
Step 2: Choose Your Site Domain Name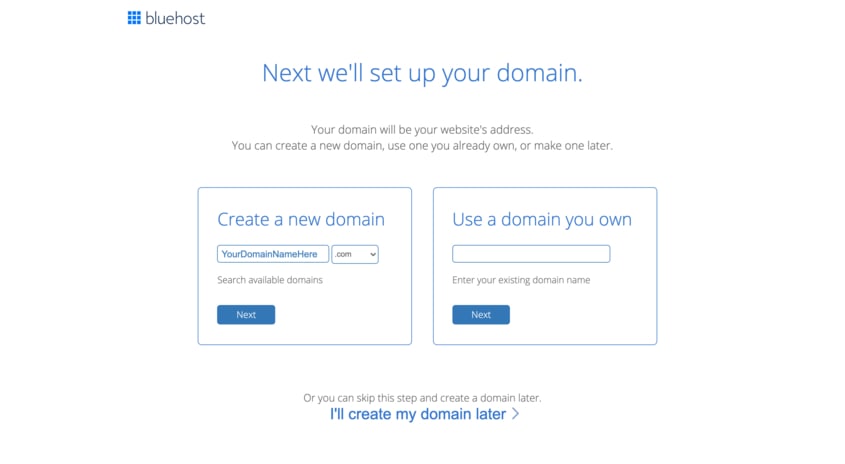 After you choose your plan, you will create your domain name. If a domain name is already taken, it will popup different options such as .org, .net, etc. I highly recommend using a domain name that has the .com available, considering .com is what's known as a top-level domain (TLD). Basically, people trust .com over other website suffixes.
Choosing a domain name can be difficult, especially if you aren't very creative. I recommend making your domain name no longer than 2 to 3 words and avoid using any number or symbols. It should be something that's easy to spell, and memorable.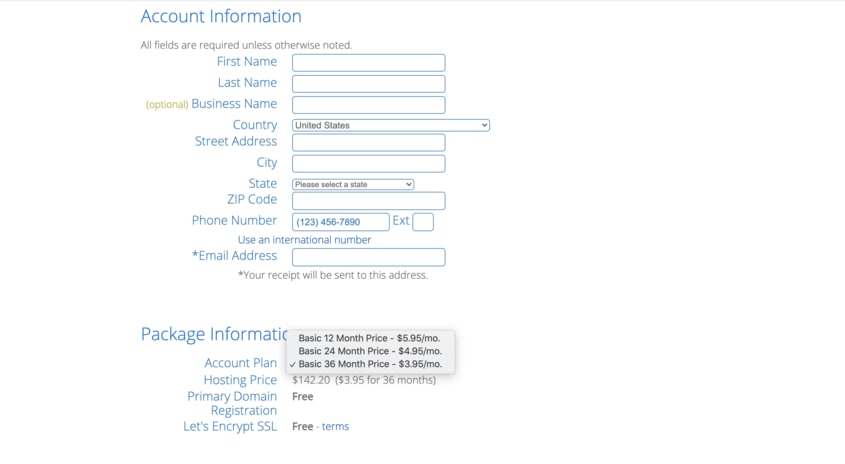 Next you will enter your account information and choose your price. You can choose from 12 to 36 months. You pay slightly more per month if you choose the 12 month option ($5.95/mo), and obviously the 36 month term is the cheapest ($3.95/mo). Regardless of which term you choose, you can always renew your subscription when it's about time.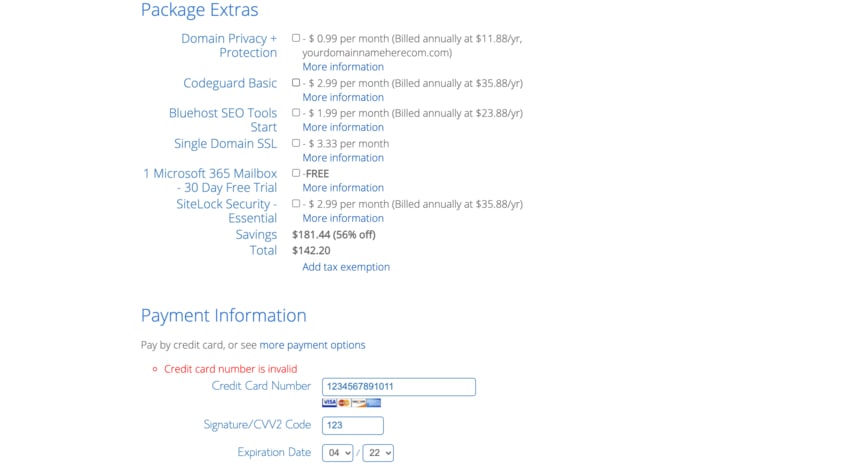 After you enter your account information, you are prompted to choose any Package Extras you may want and finally enter your payment info. I personally do not add any Package Extras, they aren't necessary.
Step 3: Install WordPress
Once you agree to the terms and conditions and submit your payment, WordPress should automatically begin install. When the installation is complete, you will need to create a password for your WordPress site.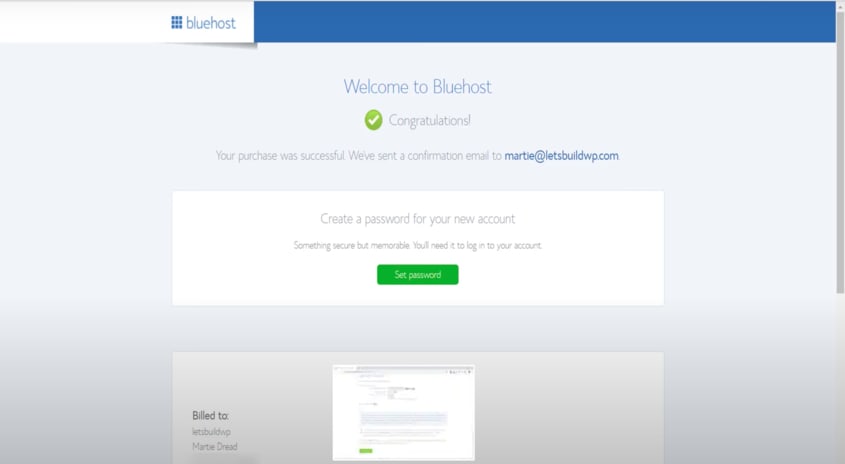 Click Set password, and type in your desired password. I suggest you use a random password generator site such as passwordgenerator.net to create a super secure password. Make sure to write your password down or keep it in an encrypted file only you have access to. You do not want anyone gaining access to your site.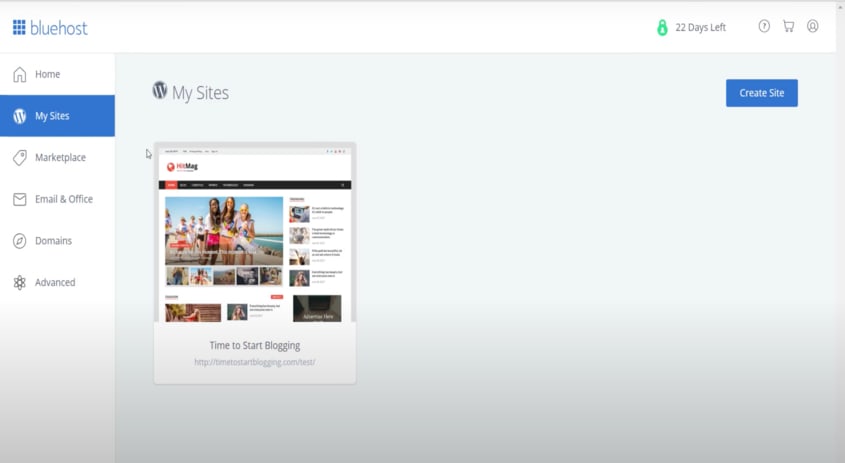 If WordPress does not automatically install, simply login to your Bluehost account and click My Sites on the left, then select Create Site.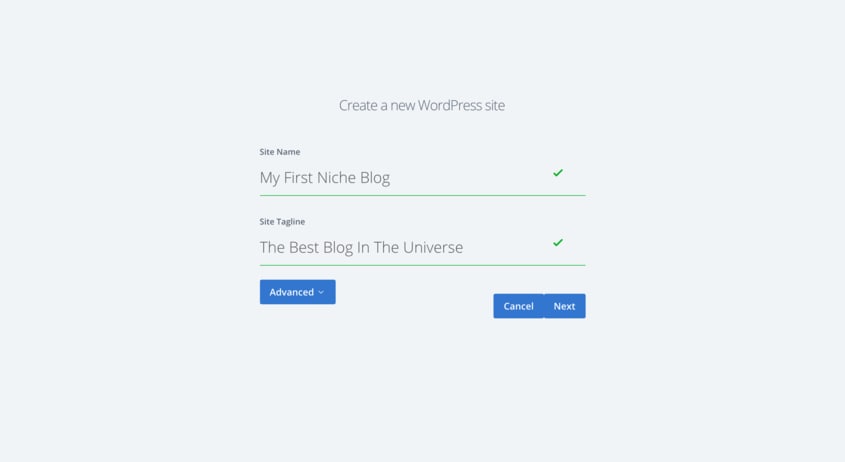 Now enter your site name (this site your on is named Cyber Scrilla) and then enter your tagline (Cyber Scrilla's tagline is Let your Dreams become Reality).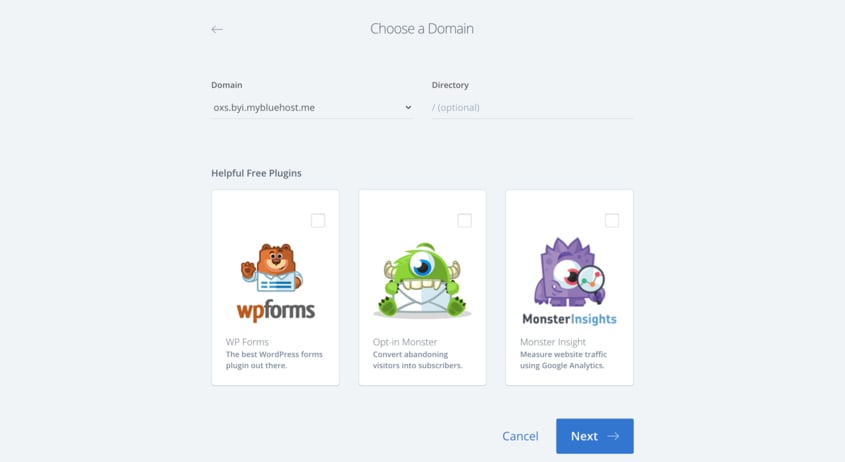 Next, click the dropdown arrow and choose the domain name you originally created. I suggest you uncheck the free plugins as well, you don't need them and they ultimately slow down your site speed. Click Next when you're ready and WordPress will begin installation.
Step 4: Choose Your Theme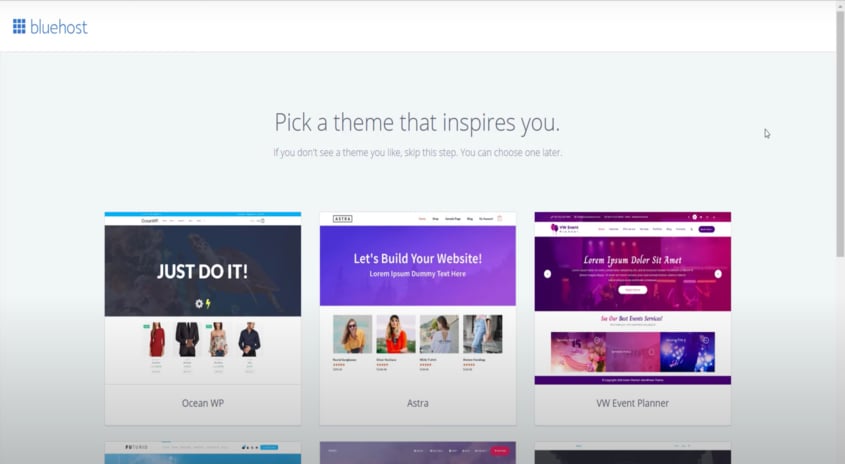 At this point you can choose a theme if you would like or, you can do this at a later time. I suggest you choose a theme before starting your first blog post though, that way you don't have to go back and redo things if your site looks different.
When choosing a theme, choose something very simple and easy on the eyes. It may be tempting to go all-out and try to make the best looking blog, but as long as your blog has great content and is easy to navigate, you won't have any issues getting traffic.
I personally use a theme called Acabado. This theme is very simple and designed specifically for search engine optimization (SEO) as well as speed. You can choose whichever theme you'd like though.

One you download your theme of choice, go to Appearance->Themes on your WordPress user menu.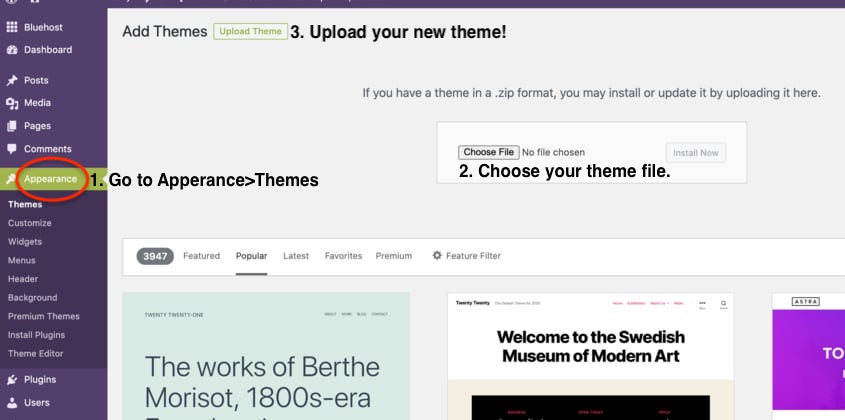 Choose your theme file and then click Upload Theme. Now your theme should be active and you're ready to start blogging!
Congratulations, you have officially created your own niche blog site! There's still a lot to do, but now you have a good foundation for your site.
So lets setup some of the web pages you should have when making any blog site.
How To Create Your Homepage In WordPress
Your homepage is where most people first arrive on your site. Your page should look simple, not too crowded, and draw in your audience's attention without being too overwhelming.
Let's break the homepage down into sections. Here's what your homepage should display:
Menu
Hero Image Banner
Featured content
Create your WordPress homepage by going to Pages➡ Add New➡ Add your page title (Home)➡ Then Publish or save as draft. Next, go too Pages➡ All Pages➡ Quick Edit ➡ Type "Home" in the Slug section and ensure "Parent" is set too: "Main Page (no parent)".
You have successfully setup your homepage base. You can use the same steps for any other pages you need to create such as your Blog, Privacy Policy, and Contact page. The only difference would be that your "Slug" is titled the same as the page title.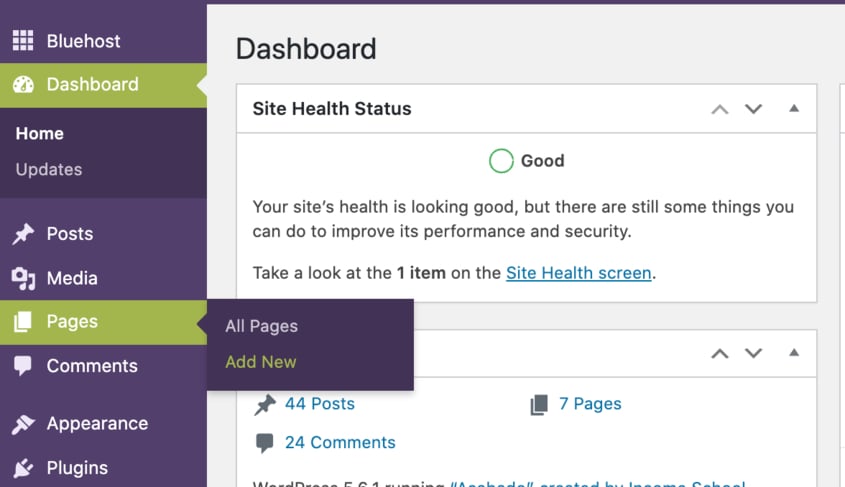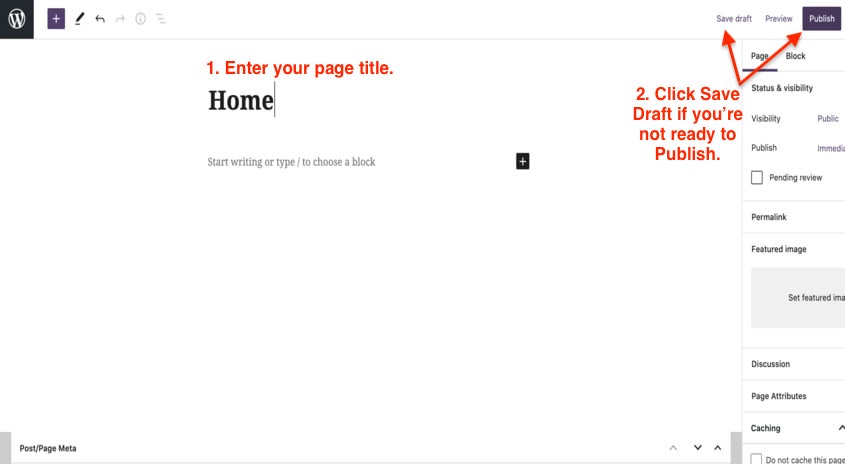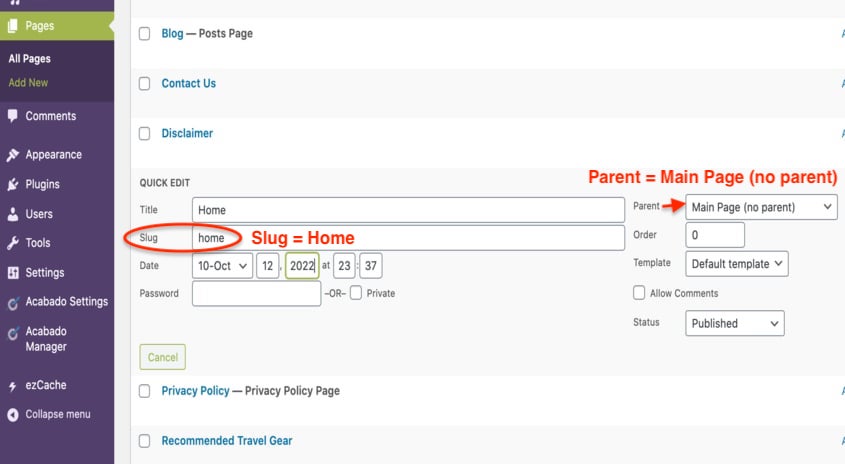 How To Create Your Site Menu
When you have multiple pages on your site, you need a way so that people can navigate through your site. Having a menu is an essential part of you niche site. A menu will increase your click through rate and will keep people on your site longer. That's exactly what you want!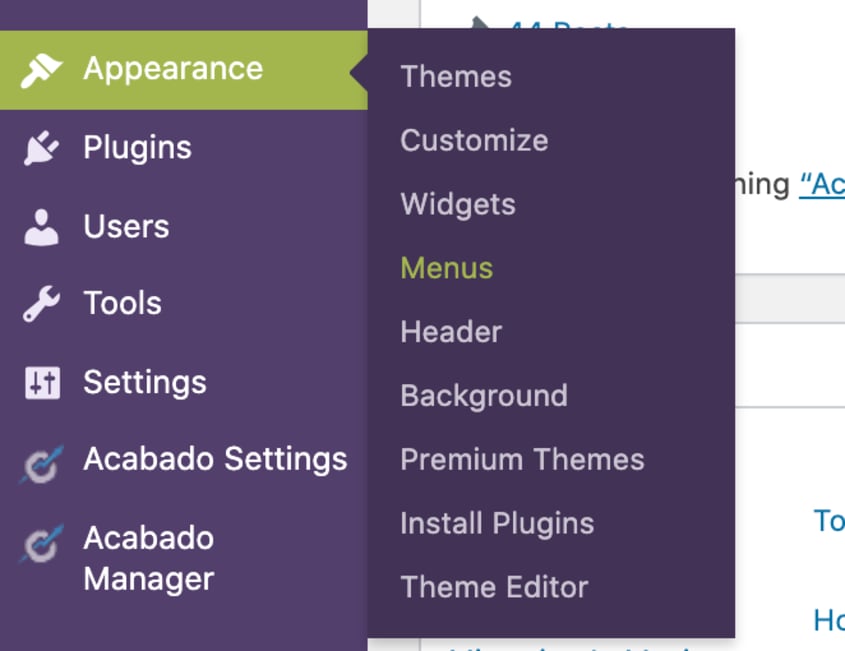 Create your site navigation menu by going to Appearance➡ Menus➡ Next, enter your Menu Name ("Menu"), then select whichever pages you would like to display in your menu by clicking the "add to menu" button located under Pages. Finally, select Create Menu.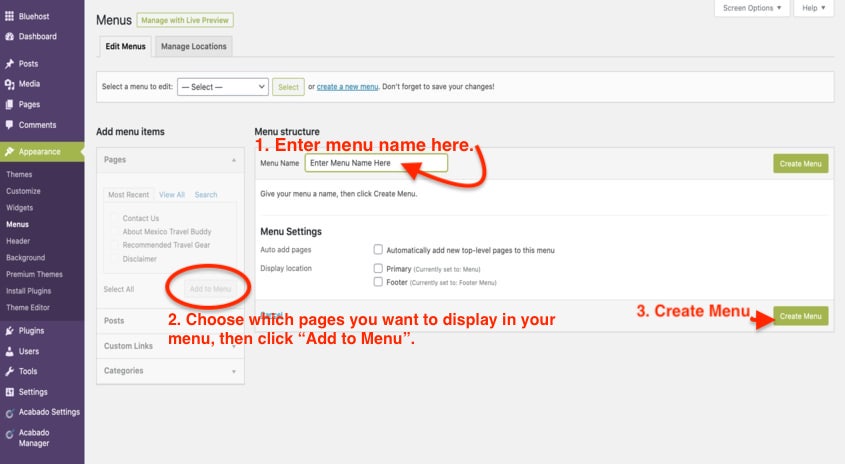 Depending on your theme, you will be able to add your menu to multiple locations on your site such as the header and footer sections. I generally put all the boring pages like the "Privacy Policy" in the footer menu only.
After creating your menu, it's a good idea to test it and make sure it works properly.
How To Create Your Hero Banner
Your hero image banner is a banner displayed front and center on your homepage and generally has some sort of call to action and presents the main message for your entire page.
To create your hero image banner, you will need to download a hero image plugin if your theme does not have that option available already. A common free hero plugin is Smart Slider 3 by Nextend. Next, add your desired image, text (such as "Start Here"), and you are good to go.
If you use a theme like Acabado, the hero image is built into the theme. All you have to do is select your 1200mp x 400mp image, and then select "display hero image". You can conveniently add your hero button text and link using Acabado as well.
Again, you can use whichever theme you'd like. I am in no way affiliated with the Acabado theme, but it's very simple to use and easy to navigate, so that's what I use.
Here is the Acabado "Homepage" tab. As you can see, it conveniently allows you to create your Hero banner.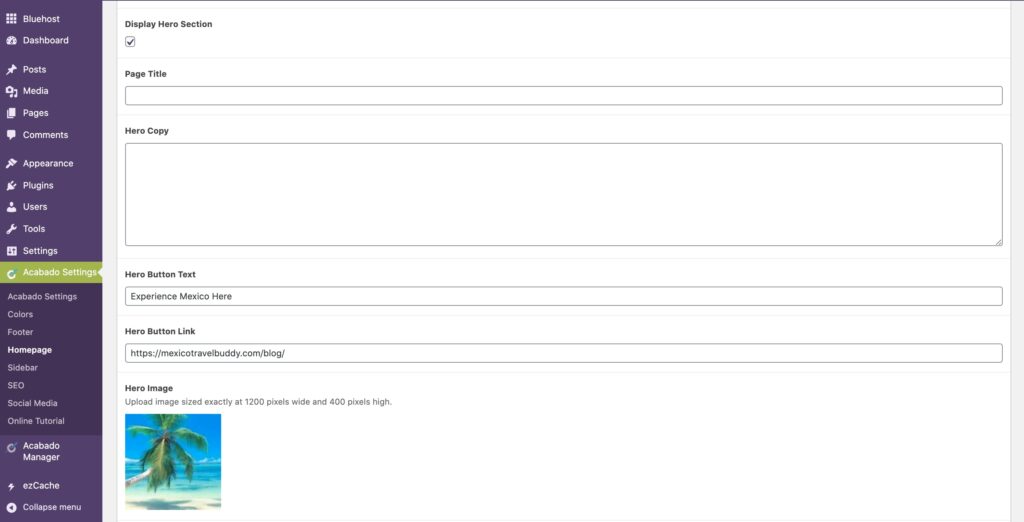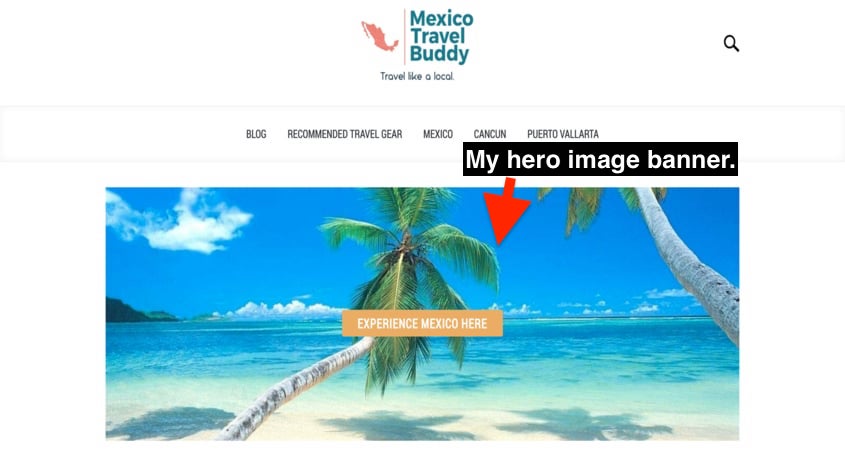 Here is an example of a hero image banner. This one was created using the Acabado theme. It took about 2 minutes and I was done!
Lastly, your homepage should display some of your featured content. Obviously, first you need to create content to display. Once you publish your first blog post, it can be displayed on your homepage.
Again, certain themes will display your featured content for you. In Acabado, it's as simple as going to Acabado Settings➡Homepage. Here you can add your top featured posts including the title and links to those posts, and choose how many additional posts your homepage will display. Every new post will be shown on the featured image, so once you add a new post, the oldest post on your page will no longer be displayed.
This keeps your homepage fresh with new articles, which in turns makes your site more alive. This is a good thing indeed!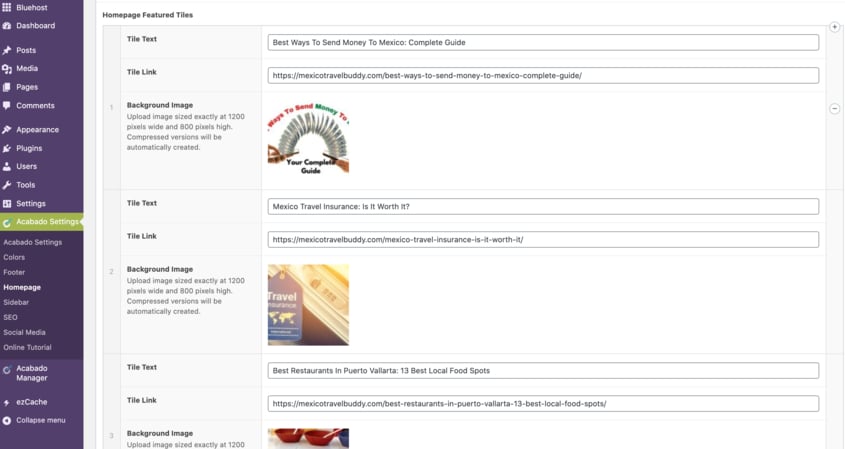 Here is Acabado's Homepage editor. Here, I can choose my top featured posts as well as how many total posts are displayed on the homepage at one time.
If you ask me, any more than 10 to 12 posts displayed on your homepage is overkill. When you have too many posts, people are not drawn to anything specific, making it less likely that they will click on your post. So just remember, more isn't always better.
That about wraps up the initial build out of your first niche blog site. I know it seems like a lot at first, but it's all about the process. For me, it was difficult at first to navigate around the WordPress dashboard and that was without using a step by step guide such as this one.
I can tell your from personal experience; the more you use your WordPress dashboard, the easier it will get. So just hang in there, stay consistent, and get to blogging!
If you have any questions, comments, or concerns feel free to drop a comment in the comment section below and I will be there to help, thank you!
– AlexWGomezz
---