There is a lot of speculation around whether or not Unstoppable Domains are a good investment.
Some people feel that they are simply a gimmick, while others believe that they will be worth much more in the future. So, are Unstoppable Domains a good investment? 
Unstoppable Domains may be a good investment considering it's a one-time fee for complete ownership and control over your Unstoppable Domain, and they are safely stored as NFTs on the blockchain. Also, they're resistant to censorship, and they are completely decentralized domains.
NFT domains are a new and unique service, so there is no telling for sure how the market will react in the long run at this point.
Are Unstoppable Domains a good investment?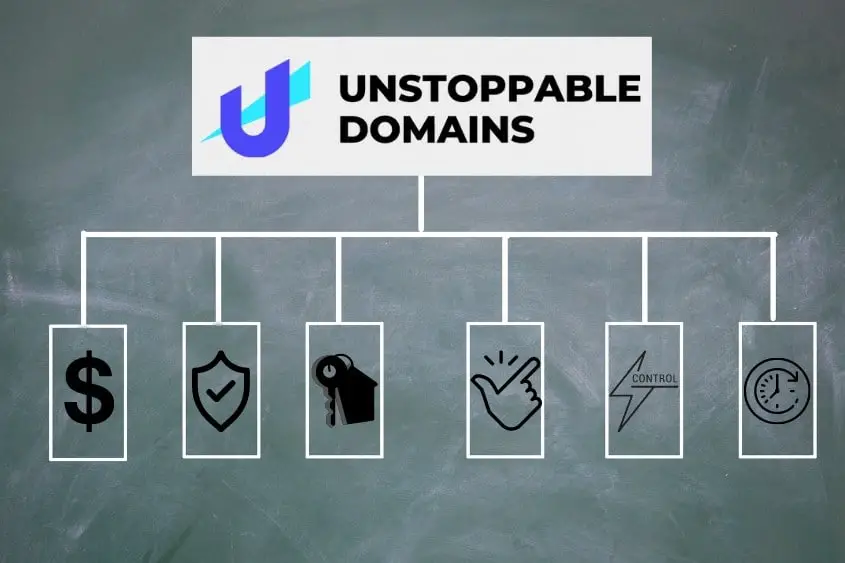 Considering everything you get when you purchase an Unstoppable Domain, I think it's safe to say that investing in at least one domain name is very low risk, with potentially high reward.
Unstoppable Domains are not only extremely secure, but they are also rather inexpensive and won't put you in a deep hole you can't climb out of if your investment ends up being worthless.
On the flip side, if your particular Unstoppable Domain happens to be a desirable Web3 domain, or if you decide to use your domain for something in the future, like building your own website, then an Unstoppable Domain might be a great investment opportunity for you.
Let's take a closer look at what you can do with Unstoppable Domains, as well as some pros and cons.
What can you do with Unstoppable Domains?
Unstoppable Domains s are considered the number one provider of NFT domains on the blockchain. But, what you can you do with your Unstoppable Domain?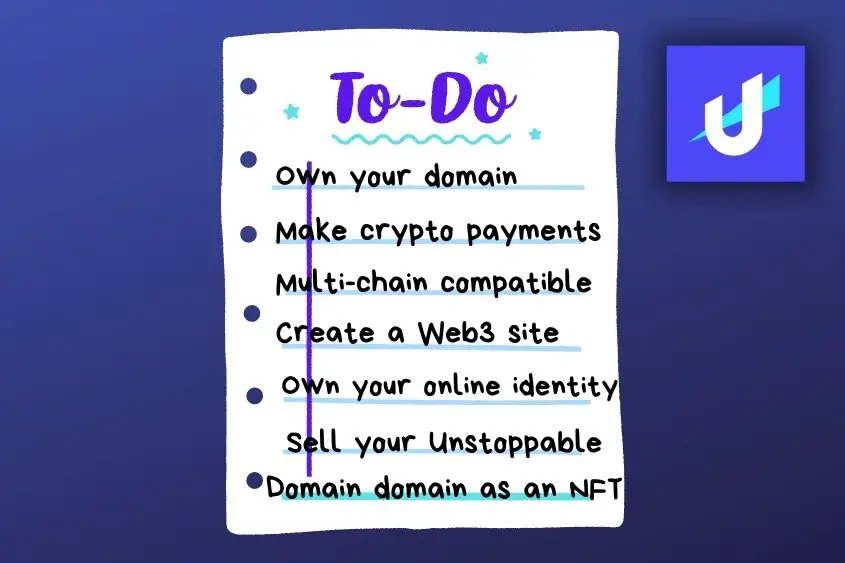 Here is what you can do with your Unstoppable Domain:
1. Pay a one-time fee (no renewal fees)
When you buy an Unstoppable Domain, you fully own and control your domain, meaning you never have to pay another renewal fee for owning a domain. Unlike traditional Web 2.0 domains (.com, .org, .net, etc.) where you are required to pay a yearly fee.
2. Make easy crypto payments
Generally, when you send or receive crypto, you have to worry about copying and pasting the correct wallet address. This can be difficult to actually confirm considering the address is a long string of letters and numbers.
Now with Unstoppable Domains, you only need to know your domain name, as this acts as your wallet address. 
For example, CyberScrilla.nft is a lot easier to remember than 0xc6b0349834d35ee4958237432b23ffe4f1e83607.
3. Have multi-chain compatibility
Unstoppable Domains have the ability to receive over 275 supported coins and tokens, with even more on the way. Regardless of the blockchain, you can now navigate your crypto transactions easily.
You can view all the currently supported cryptocurrencies on Unstoppable Domains' website.
4. Create your own decentralized website
Currently, ICANN controls the entire domain system (centralized) and has absolute authority to say yes or no to new domain extensions (.com, .net, .xyz, etc.). Domains must be purchased through approved registrars, like Name Cheap.
This system is flawed because there are many layers above you that can remove your content, or even seize your domain name if they disagree with you or your content.
The decentralized web bypasses ICANN and all of the red tape. With an NFT domain from Unstoppable Domains, you can build a decentralized website, safely stored in your crypto wallet and untouchable by anyone but you.
Unstoppable Domains allows you to easily create your own decentralized website. With just a few clicks using their pre-made templates, making your own site is a breeze.
You can even create a gallery-style website to showcase your collection of NFTs. Moreover, Unstoppable plans to add even more features and templates in the near future.
5. Own your online identity
Web3 is all about owning your digital identity, and as Web3 continues to expand, it'll become increasingly important to own your identity online. 
By owning an Unstoppable Domain, you ensure your identity is secured on the blockchain, and you also help progress the evolution of the internet. What more could you ask for?
6. Sell your Unstoppable Domain as an NFT
Let's say you have no use for your Unstoppable Domain anymore and you want to sell it.
Well, considering it's stored on the blockchain as an NFT, you can simply list your Unstoppable Domain for sale on an NFT marketplace where someone else can easily purchase it.
This may be a good investment opportunity if you can buy potentially desirable domain names before there is demand for them.
Pro's and con's of Unstoppable Domains?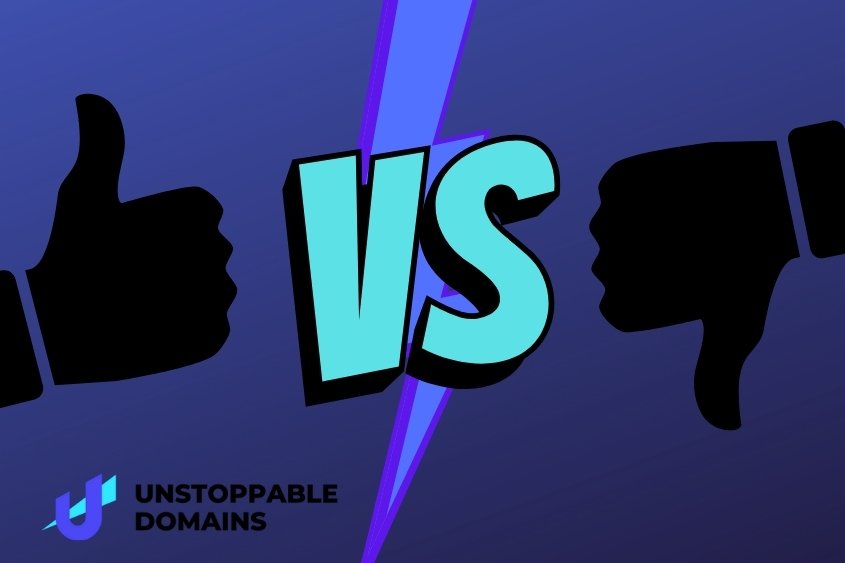 There are plenty of pros when it comes to Unstoppable Domains, and likewise, there are several cons.
Let's take a look at the pros and cons of Unstoppable Domains.
Pros:
You can create and own your own domain name without going through a third party, giving you more control over your online presence and making it easier to manage.

Unstoppable Domains are censorship-resistant, meaning that a government or other organization cannot take down your domain.

They are easy to use and can be set up in minutes.

Unstoppable Domains support close to 300 cryptocurrency assets.

Unstoppable Domains offers a wide range of domain extensions (.nft, .crypto, .wallet, .dao, .bitcoin, .zil, etc.)

The domains are backed by blockchain technology, ensuring your safety and security.

Affordable, one-time purchases (no renewal fees!).

Unstoppable Domains offers a wide range of features and tools, so you can customize your domain to suit your needs.
Unstoppable Domains are a great way to keep your website safe and secure.
They're also easy to use, so you don't have to worry about struggling with the technology. Plus, there's a significant chance of growth in the future, so it's worth checking them out now.
Cons:
Like everything good, Unstoppable Domains also have a few drawbacks worth looking into.
The company is relatively new, so some glitches may need to be worked out.

Not all browsers (or devices) support the use of Unstoppable Domains yet.

It's possible that the domains could become unavailable if the company goes out of business.
Overall, the pros of using Unstoppable Domains far outweigh the cons, making it an excellent choice for anyone looking for a decentralized web experience, or who may be considering investing in their own Unstoppable Domain.
Should you buy an Unstoppable Domain?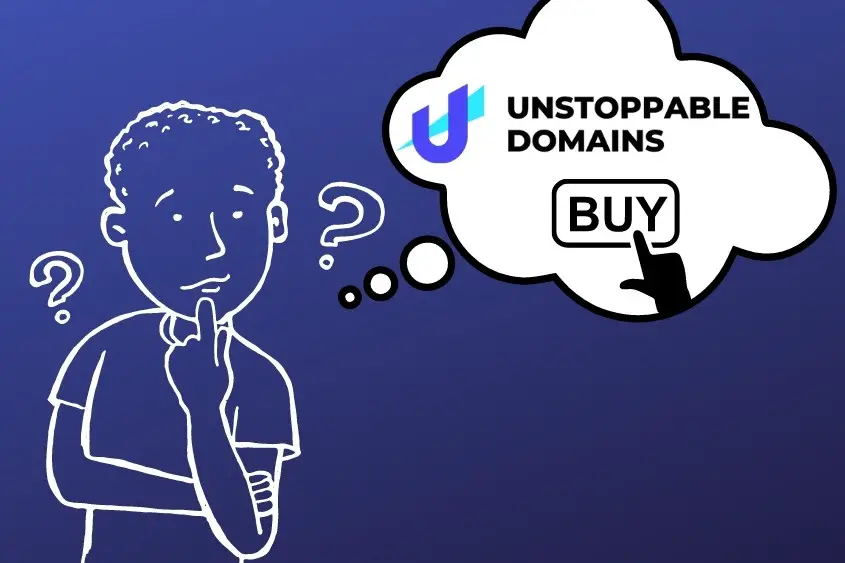 There are a lot of reasons you should consider buying an Unstoppable Domain, including:
They're incredibly affordable ($5 – $30)

You have complete ownership and control

They're stored safely as NFTs

You can use them as your Web3 address and identity

Unstoppable Domains may be a lucrative investment
If you are bullish on the future of Web3, then you should buy your own Unstoppable Domain because they ensure that your website will always stay online no matter what happens.
Furthermore, Unstoppable Domains are registered on the blockchain as NFTs, plus, you never know what you may end up using them for in the future.
If any of these reasons apply to you, then an Unstoppable Domain is likely a good investment.
Keep in mind that they are still new, so there may be some issues to work out. But overall, they offer a lot of potential.
Key takeaways
Unstoppable Domains is a blockchain-based NFT domain company that allows users to purchase domains not that are not subject to censorship (decentralized).
This means that the domains cannot be seized or blocked without your consent, and as the complete owner, you have full control over your domain name.
Unstoppable Domains has already gained a lot of traction and is starting to turn heads.
As with any investment, only time will tell. For now, you may consider investing in your own Unstoppable Domains for speculative reasons and because they are rather inexpensive, and as a result, low risk.