As the NFT market continues to advance, artists find themselves searching for the best blockchain to showcase their work. Although Ethereum is a popular choice, many creators are beginning to wonder if Tezos NFTs could be even better.
Tezos is one of the best blockchains for NFT artists. It's highly secure, scalable, and affordable for artists who are looking to profit from their artwork by minting it as an NFT. Tezos embraces long-term upgradability, participation, and collaboration, making it suitable for creators.
If you're a creator who's curious to know why Tezos is one of the most underrated blockchains for NFTs, then this article is for you.
Is Tezos A Good Option For NFT Artists?
The Tezos blockchain is an excellent choice for NFT creators and consumers alike. Fees to create an NFT on the network are low and so are the gas fees. Also, the Tezos network experienced record-breaking sales and smart contract deployments as more dapps are being launched, despite the bear market.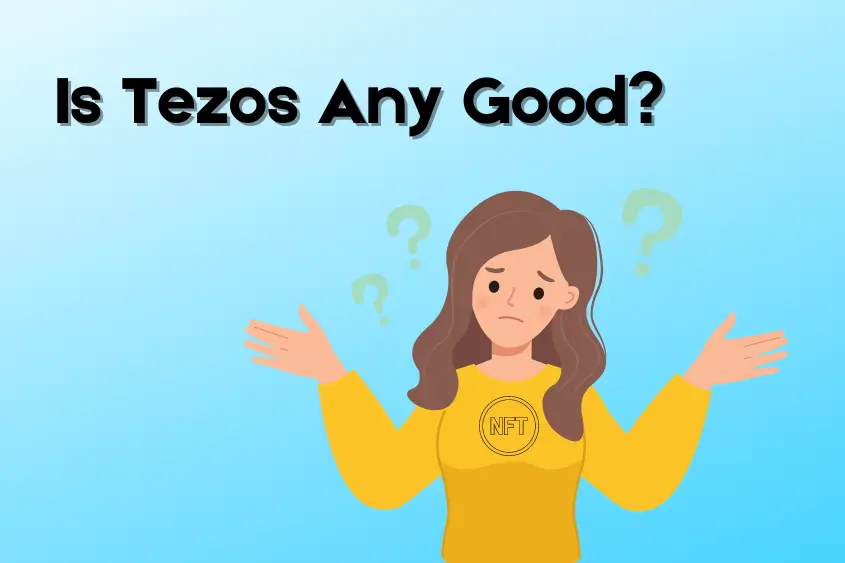 Moreover, Tezos leading generative art platform, fx(hash), recorded over $3,800,000 in NFT sales in July 2022. Keep in mind that these record-breaking numbers occurred in the midst of what's considered to be a bear market. 
Serbian conceptual and performance artist, Marina Abromović, made a whopping $300,000 alone in the first 24 hours of launching on the Circa Art platform. Her NFT debut titled "THE HERO", marks Abromović's entrance into web3 and is the first example of performance art minted on Tezos.
If that isn't enough, take generative artist Michaël Zancan for example. His NFT art, Garden, Monoliths #156, sold on the secondary market for $113,000, making it the second-highest individual sale on Tezos.
Besides experiencing record-breaking sales during a down market, the Tezos art community is one of the strongest NFT communities there is. The entire community ran an event called 1-of-1 Month, celebrating single-editions works of generative art minted on Tezos.
In total, 7,670 editions were made by a diverse group of 2,195 artists. The event ended up generating more than $300,000 in primary market sales.  
To further prove just how dedicated members of the Tezos community are to their craft, the auction platform VerticalCrypto Art hosted London's first in-person NFT festival, Proof of People, at the renowned Fabric London.
More than 2,000 people showed up, garnishing over $64,000 in NFT sales. The three-day event featured more than 70 artists including Misan Harriman, Mario Klingemann, Sofia Crespo, DJ Richie Hawtin, and many more.
These incredible record-sales figures and dedication from the community is proof of Tezo's dominance and influence over the NFT market today. It is likely that this upward trend will continue into the future as the entire market continues to mature.
Tezos Blockchain Pros
Before determining if the Tezos blockchain is right for you, let's review some of its pros.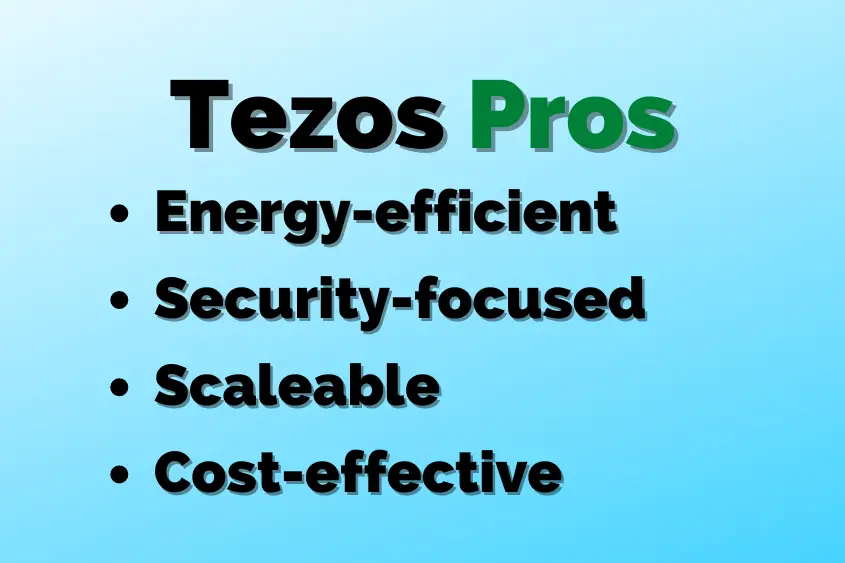 One of the greatest things about Tezos is that it's energy-efficient. Considering it's one of the first and longest-running Proof of Stake blockchains, it requires very little energy when compared to other popular networks. In fact, Tezos consumes two million times less energy than Ethereum.
The Tezos blockchain has only increased in efficiency on a per transaction basis by at least 70%. The estimated electricity requirement per transaction is 30% less than what it was in 2020.
And even though more NFT creators and dapps choose to build on Tezos, the energy consumption continues to decrease. This type of scaleable efficiency is what makes this network a real force to reckon with.
Tezos is designed with safety and code correctness in mind. The network leverages OCaml and Michelson to facilitate formal verification, a practice that is often used in mission-critical industries.
Furthermore, the platform is built with certain mechanisms to ensure active community governance and participation which is key in web3. Users can actively participate by evaluating, proposing, and approving amendments to the network.
Just because Tezos is secure doesn't mean that it's any less capable than other preferred blockchains. That's why it remains one of the leading smart contracts Proof of Stake blockchains.
Tezos smart contracts can use formal verification, allowing them to be mathematically verified, reliable, and secure.
Tezos was designed to be a scalable network from the beginning. Its on-chain governance mechanism enables continuous improvements to be proposed by participants on the network, voted on, adopted, and deployed without relying on hard forks for governance.
This means Tezos can adopt the latest technological advancements and adapt to the needs if its users, all while remaining at the forefront of innovation.
Not only is Tezos energy-efficient, secure, and scaleable, but it also remains one of the most cost-effective blockchains available. NFT creators can enjoy the low minting fees, whether minting a single NFT or an entire project. 
In addition, consumers will appreciate the extraordinarily low gas fees, especially if they have seen the wrath of blockchains such as Ethereum.
Tezos Blockchain Cons
Below is a list of cons that you might want to consider before using the Tezos blockchain for your NFT needs.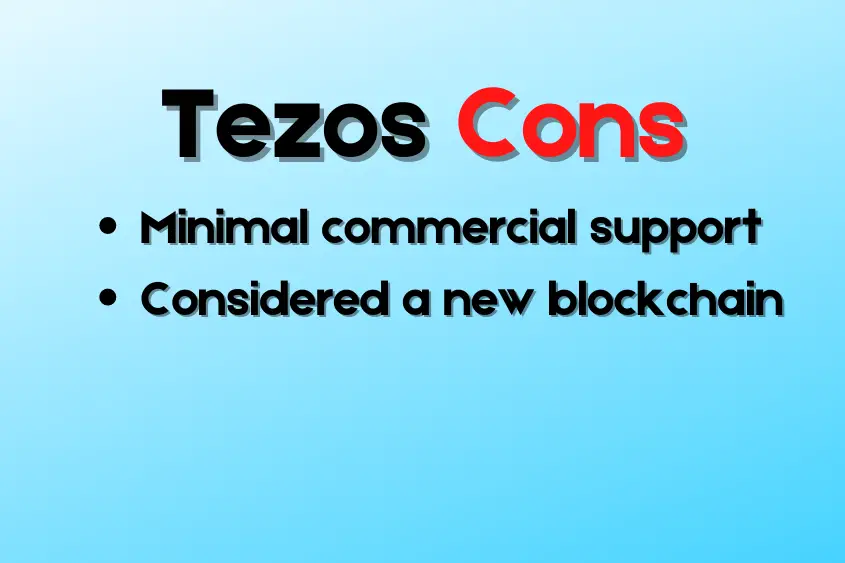 Lack of commercial support
A majority of creators still choose to build on Ethereum. Big name brands like Nike, Adidas, and Budlight have all chosen Ethereum to launch their projects—solidifying it as the preferred NFT blockchain.
That being said, we are still so early in the macro aspect of NFTs that there's no telling what will happen next, or where the next big innovative project will drop.
Considered a newer blockchain
Even though Tezos is regarded as one of the first Proof of Stake blockchains having been created in 2018, it is still new in comparison to Ethereum which dates back to 2015.
The main concern with age is that Tezos hasn't had as much time to work out any kinks it might have. Considering Ethereum has already experienced a large influx of users over the years, it has been able to work out a number of issues that have arisen in the past.
This con is really a temporary concern. As Tezos continues to age and attain more users, it will eventually become a more trustworthy network. Especially if it continues to evolve without any major issues.
How Much Does it Cost to Mint an NFT on Tezos?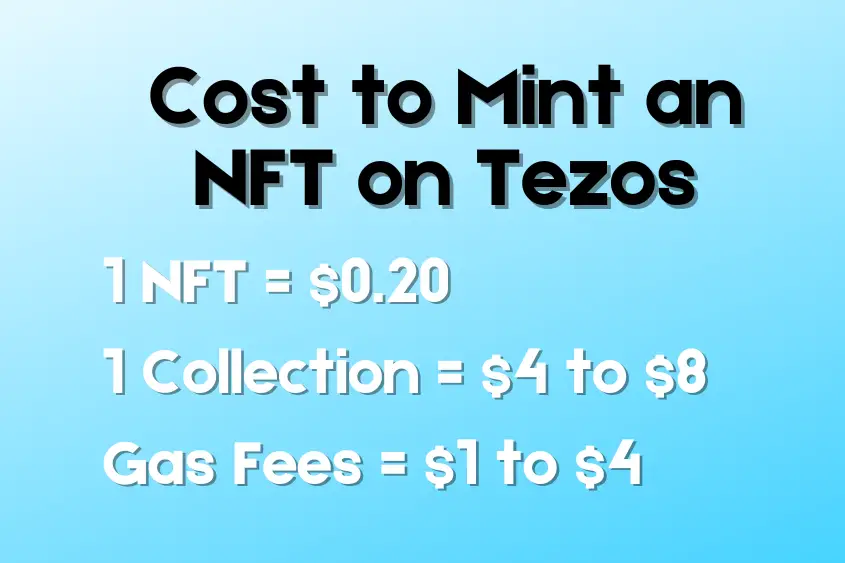 The cost to mint an NFT on Tezos is around $0.20. To mint an entire NFT collection will cost you approximately 1 XTZ (or $2-8) depending on the current value at the time of minting. Additionally, the average gas fee ranges from $1.00 to $4.00. This means collectors don't have to pay a fortune to buy an NFT.
You can always check the current average transaction fees for Tezos on messari.io.
Whether you are a creator or a consumer, rest-assured Tezos will continue to deliver low transaction fees while maintaining security using its Proof of Stake consensus mechanism.
What Are the Best Tezos NFT Marketplaces?
Below is a list of the best marketplaces on Tezos to buy and sell NFTs.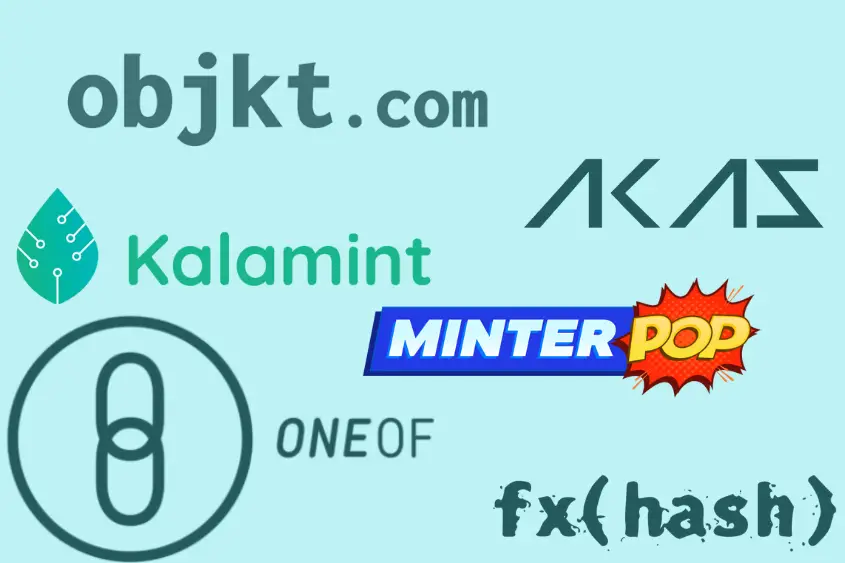 1. OBJKT
OBJKT is the largest marketplace for buying and selling NFTs on Tezos. This platform hosts an array of NFTs and well-known artists that are native to the digital space. If you are looking for the "Opensea" of Tezos, this is the marketplace for you.
As you can see below, it's no wonder why this platform remains the most popular marketplace on Tezos. Below are the main features found on OBJKT.
You can re-price NFTs without delisting
You can follow your favorite creators
Easily split royalties for shared distribution
Add the mint date on the token page
Turn on notifications for specific NFTs
Create collection collaborations
Mint tokens with multiple creators
Pros: 
The largest and most popular marketplace on Tezos
Multiple features
Easy to navigate
Cons:
Might be overwhelming if you're just getting started in NFTs
Fees: 2.5% fee on all successful transactions.
2. fx(hash)
fx(hash) is an up-and-coming marketplace following closely behind OBJKT with its record-breaking sales. The main difference is that fx(hash) is advertised as an open platform to create and collect generative NFTs, meaning you might not find as many types of NFTs as you would on OBJKT.
Being that it is a generative platform, fx(hash) allows artists to publish Generative Tokens that are written in HTML, CSS, and Javascript. Once an artist publishes their Generative Tokens, anyone can create unique iterations of it.
Pros:
Popular and trustworthy platform with record-breaking sales
More than 100,000 NFTs have been minted on fx(hash)
Unique generative art pieces only found on this platform
Cons:
Not as much variety as OBJKT
Fees: 2.5% transaction fee on all successful transactions.
3. Kalamint
Kalamint is one of the first NFT marketplaces created on the Tezos blockchain. It is a more premium marketplace, as it does require creators who are interested to submit an application before being able to list their NFT. This marketplace offers a nice selection of art, various collectibles, and photography.
That being said, Kalamint is backed by several firms and venture studios including Draper Goren Holm Ventures, Amesten Capital, and Moonwhale Ventures.
Furthermore, Kalamint utilizes its own native token $KALAM to reward creators, buyers, and sellers on the platform. Each week, the marketplace distributes 50% to buyers, 40% to sellers, and 10% to minters. 
Pros:
Premium NFTs
Offers a nice variety
Token rewards to creators, buyers, and sellers
Cons:
Still in beta mode
The process to become a creator is not as quick as other marketplaces
Fees: 2.5% fees on all successful transactions.
4. Versum
Versum is an NFT platform and metaverse that focuses on art and scalability. Versum, unlike other platforms, presents NFTs organically based on the user's preferences. 
This marketplace has implemented social features that strip the platform of unnecessary success metrics that might take away from the art. The goal of this is to give artists and collectors control of the content they see on their feed.
However, artist success indicators such as sales, views, likes, or followers will not be required to gain fame. As a result, it might be a good option for beginners.
Also, Versum has its own utility token called Materia (MTRIA). The amount of MTRIA you receive is based on your historic activity. This activity is processed daily. MTRIA is required to mint new tokens on Versum.
Pros:
Simple user-interface
Personalized feeds
A simple verification to ensure everyone is human
Cons:
The website is almost too simple (appears amateur)
Fees: Unknown at this time.
5. OneOf
OneOf is a unique NFT marketplace. They describe themselves as a green platform that connects fans and collectors to their favorite artists, athletes, and brands. OneOf also supports multiple energy-efficient blockchains (Tezos and Polygon.)
Since OneOf is a green marketplace, they offer $0 gas fees. Additionally, you can use cryptocurrency, debit, and credit cards to purchase NFTs, making it a good option for beginners who don't want to go through the process of buying cryptocurrency.
Pros:
$0 gas fees
Green marketplace
Multiple payment options
Good for beginners
Cons:
Limited types of NFTs available (only music, sports, and lifestyle)
Fees: There are no fees for using OneOf.
6. akaSwap
AkaSwap is Asia's first and largest open NFT marketplace on Tezos. It mainly focuses on simplicity, offering users a place to easily create, promote, trade, and buy various types of NFTs from all around the world.
AkaSwap also provides users with akaDAO—a virtual token that is obtained by trading on the platform and creating an economic cycle for the marketplace.
After each transaction, akaDAO is issued to buyers and issuers according to a certain rate of the price (any single transaction exceeding 50xtz is calculated as 50xtz).
In the future, akaDAO might be used as a ticket for special events in addition to being distributed to everyone as a reward.
Pros:
Large marketplace with a diverse supply of NFTs
Simple user interface
Royalty sharing for creators
Cons:
There are a limited amount of users compared to other Tezos marketplaces
Fees: There are no known fees.
7. Minterpop
Minterpop is unique in that it offers users exclusive artworks by legendary artists mainly focused on comic style and illustrations. 
As a collector, you can explore digital art from eminent figures in comics and culture, purchase NFT trading cards from the Emergents TCG, and take part in an active peer-to-peer marketplace.
Pros:
Exclusive artwork by legendary artists
Perfect for comic fans
Cons:
Not much variety beyond comic-style NFTs
High secondary transaction fees
Fees: All secondary sales on the Marketplace are subject to a 20% transactional administrative fee, which is paid by the seller.
Overall, the Tezos blockchain is an energy-efficient blockchain that offers low gas fees while still providing a secure network. If you are just getting into NFTs as an artist or a collector, then Tezos is a superb option.