ORDX is the safest Ordinals marketplace on the Bitcoin blockchain. The platform is exclusively dedicated to buying and selling Ordinal Digital Artifacts. ORDX connects artists, creators, and collectors in a trustless environment, providing a seamless and enjoyable user experience.
Table of Contents
What Is Ordinals Marketplace (ORDX)?
Ordinals Marketplace launched on February 15, 2023. The company is led by a team of experienced professionals with a proven track record of building successful brands and communities on Ethereum and Solana.
ORDX is transforming NFT marketplaces with a secure, community-driven platform that combines proven practices with cutting-edge web3 innovations. The team's experienced founders have been involved in web3 since the beginning, enabling them to avoid common mistakes and focus on the user. 
Undoubtedly, ORDX is committed to creating the safest possible marketplace while fostering a vibrant community of Ordinal NFT collectors, artists, and creators.
One thing that sets ORDX apart is the team's recognition of the potential of the Bitcoin chain beyond just transactional capabilities. They are eager to explore the many possibilities that this technology has to offer.
At the helm of Ordinals Marketplace is their founder, Atty, an accomplished entrepreneur with over 7 years of experience at Apple and a thriving IT consulting firm.
"The greatest challenge that ORDX has faced while building the platform is the lack of available smart contracts. Additionally, there are challenges in being able to send Ordinal NFTs without having a Bitcoin node. However, the team at ORDX is committed to finding cutting-edge solutions and has brought in experts who have worked on building Lightning and have experience on the Bitcoin chain to help solve these challenges."

Atty, Founder of Ordinals Marketplace
Atty strongly believes in the power of web3 to empower individuals and promote greater equity for all. With Atty's leadership and the expertise of the ORDX team, this marketplace is sure to make an impact in the world of web3.
What Wallets Are Compatible With ORDX?
The most compatible wallet is Sparrow Wallet. That said, you can also run your own node. Considering ORDX is in close collaboration with the Xverse Wallet team, they will likely soon implement Xverse's advanced wallet solution.
In the meantime, ORDX has prioritized the development of an advanced order book. Currently, the team handles each transaction manually to ensure the highest level of safety for users via their Discord server.
How Does ORDX Work?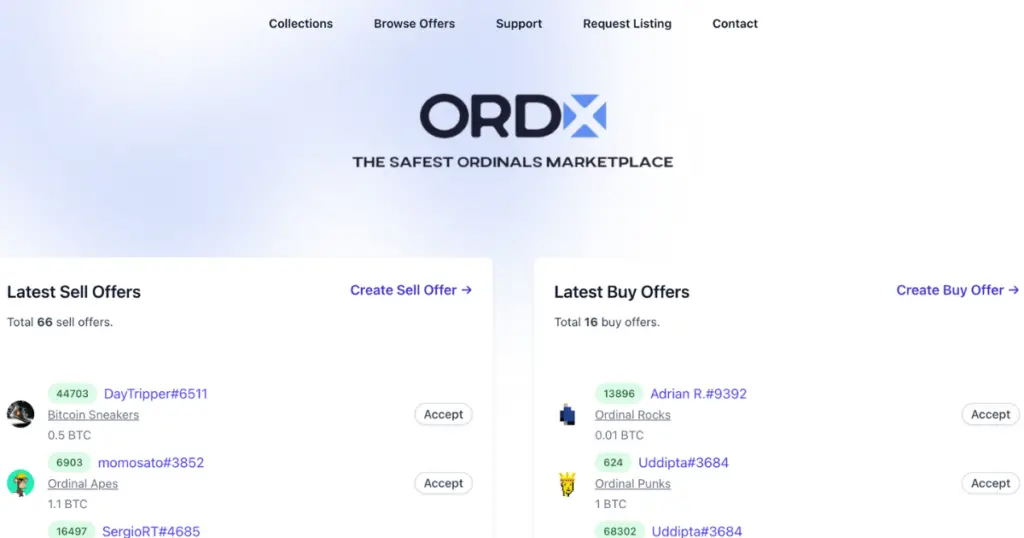 ORDX is still in the beta phase so it uses escrow for trading Ordinals. As a result, the marketplace does function a bit differently than you might expect. At first glance, it can be confusing to decipher what's for sale versus an offer made by a buyer.
After speaking with the ORDX team, we were able to clear this confusion up. Please note that ORDX charges 2% of every sale. This includes both buying and selling Ordinals on the ORDX marketplace.
Collections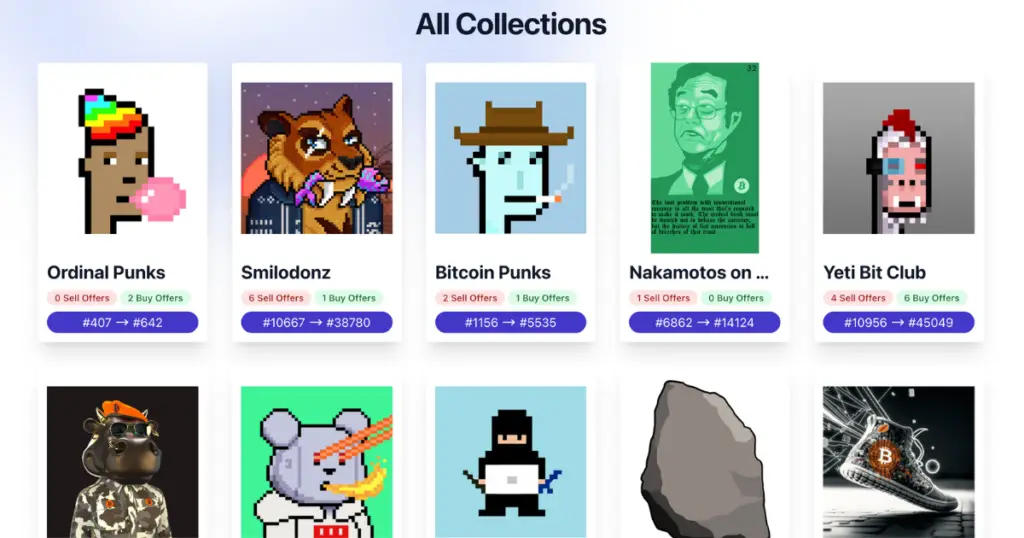 The "Collections" page is where you will find the Ordinal NFT projects listed. Note these projects are placed on the market by the ORDX team. ORDX doesn't showcase every Ordinals project that exists. Rather, only projects that request to be listed on the marketplace will appear under Collections.
Moreover, you can see current sell offers (listings) and buy offers (user offers) on any particular Ordinals collection.
Browse Offers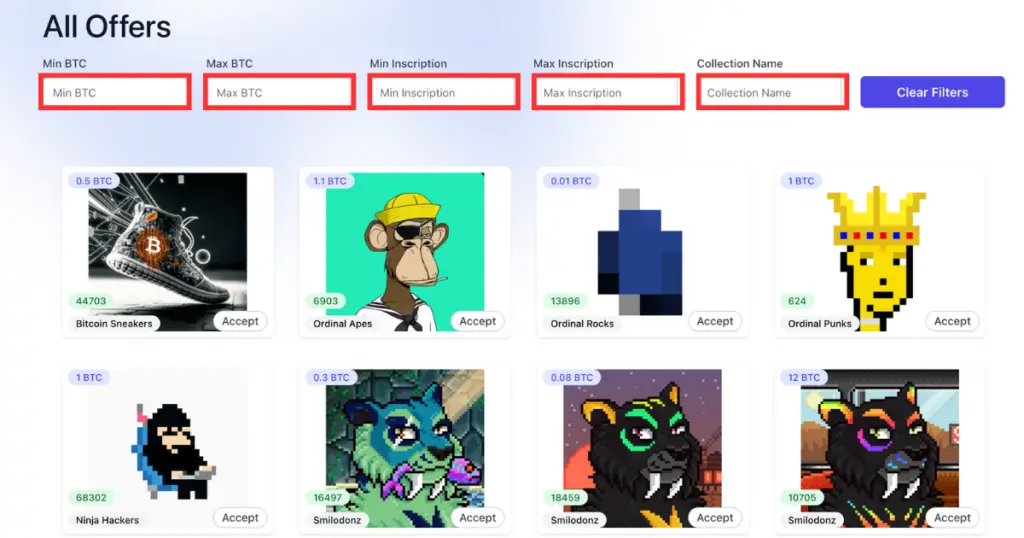 The "Browse Offers" tab enables you to quickly view Ordinals that are listed for sale and submit your own offer. You can filter offers by Min BTC, Max BTC, Min Inscription Number, Max Inscription Number, and Collection Name.
The way this works currently is you find an Ordinal that's listed for sale, tap Accept, and then you must input your Discord username which initiates a tentative, non-binding acceptance.
From there, a team member from Ordinals Marketplace will reach out to you via Discord to complete the transaction.
Request Listing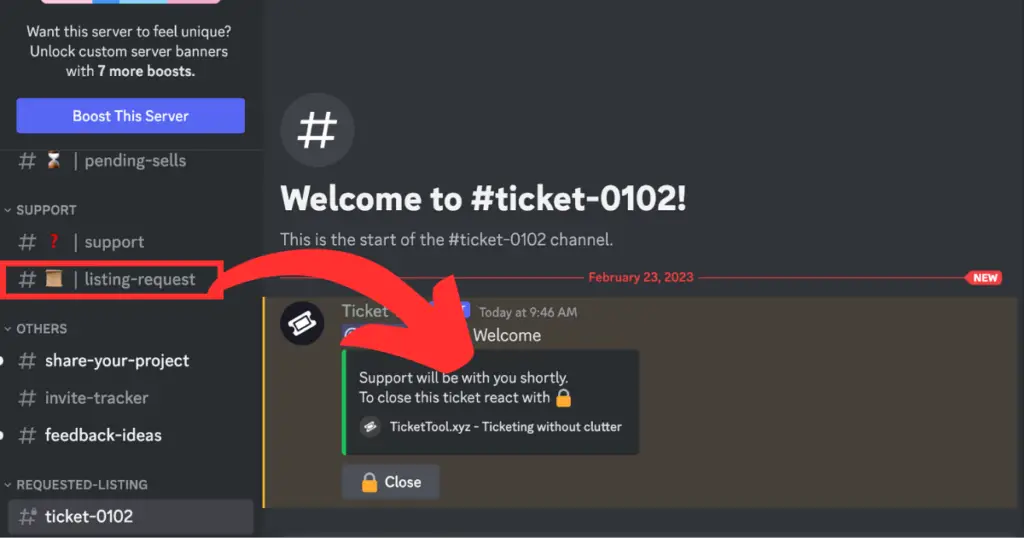 To list your Ordinals NFT on Ordinals Marketplace, you can go to the "Request Listing" page. To add your project collection, you have to join the ORDX Discord server and submit a ticket by clicking going to the "listing request" channel, under Support.
There you can open a ticket and submit your project's details. 
Is ORDX Safe? 
ORDX is the safest ordinals marketplace. It has implemented some of the most advanced security measures including multi-factor authentication, and experts have audited the code. Also, ORDX prioritizes users' education by providing clear guidelines on best practices for password security, avoiding scams, and keeping software up to date.
ORDX understands how important cold storage is to the entire crypto community, hence they're committed to implementing this measure as quickly as possible as they continue to evolve into a completely trustless marketplace.
What Does the Future of ORDX Look Like?
ORDX is committed to providing one of the safest Ordinal NFT marketplaces on Bitcoin which includes trustless trading. Moreover, the platform has plans to host global events to better connect the Ordinals community. 
Ultimately, ORDX aims to build a vibrant and thriving community of artists, creators, and collectors who can help shape the future of the Ordinal NFT space and beyond.
Does ORDX Support Creators Royalties?
ORDX is developing a tipping solution to allow users to support their favorite creators and explore ways to implement a royalty system in the future. As a decentralized marketplace, ORDX believes in giving its users the freedom to choose how they want to support creators and engage with the Ordinal NFT space.
ORDX Pros and Cons
Pros
ORDX is dedicated to providing a safe marketplace to buy and sell Ordinal NFTs.
ORDX's fees are minimal compared to other Bitcoin NFT marketplaces.
ORDX offers several collections to choose from.
Cons
To buy or sell an Ordinal NFT, you have to communicate with a team member before the transaction can be completed.
The marketplace can be confusing, especially if you've never bought Ordinals before.
There's an increased risk of getting scammed since all communication occurs through Discord.
Ordinals Marketplace is undoubtedly one of the best platforms for buying and selling Ordinal NFTs in a safe manner. That said, it's still in the beta phase so there will be plenty of updates to come.
To stay on top of these updates, make sure you follow Ordinals Marketplace on Twitter and join their Discord channel. For a full overview of Ordinal NFTs and how they work, make sure to check out our beginners' guide to Bitcoin Ordinals.