Framing your NFT is a fantastic way to show off your collection and wow your guests. However, there are so many digital frames to choose from, how do you know which one is right for displaying your NFTs?
There are some amazing models of digital frames on the market. Companies have worked hard to make perfect displays for their pieces of NFT art. 
After doing some research and acquiring my own NFT display frame, I came up with a list of the seven best frames for displaying your NFTs.
What Are the Best NFT Display Frames?
1. Tokenframe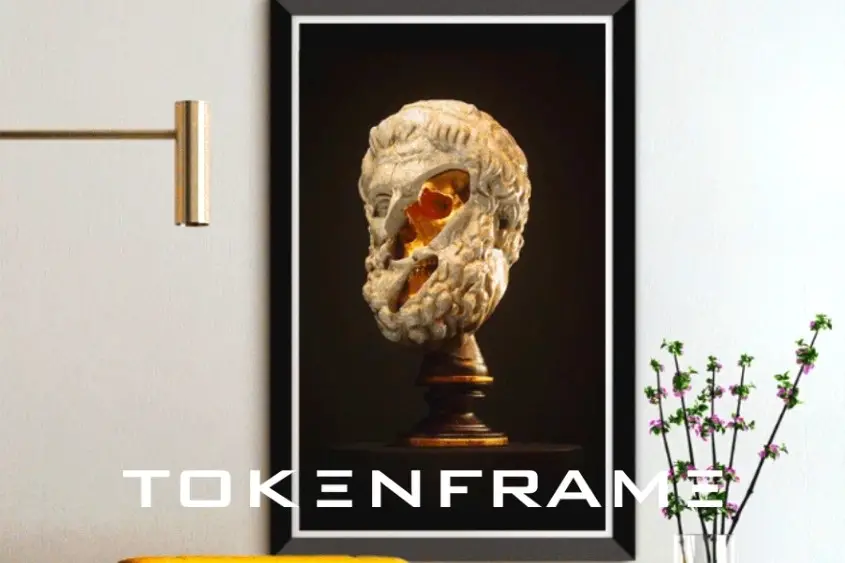 Tokenframe is one company that understands the importance of NFT art and build their frames with the importance of authenticity in mind. To display your NFTs, simply ​​sign in with your web3 wallet, connect your frame to WiFi, and then cast your NFTs. It's really that simple. 
Currently, there are four colors of frames offered by Tokenframe; birch, mahogany, solid white, and solid black. The frames are made with real wood and come equipped with 2K and 4K options with vivid, anti-glare screens specifically designed for digital art. The 10-inch tabletop frames come with 6 different frame options.
A great feature of the Tokenframe models is that they come in several different sizes ranging from as small as 10 inches, up to 55  inches. This means you have multiple options to display your NFTs. 
Whether you want to use the 10-inch option for your table, or even if you want your NFT to be the main focal point of your living area, Tokenframe delivers a quality product that works great in any setting, no matter the size.
Additionally, the Tokenframe app allows you to control the background color, artwork size, and more to ensure a perfect fit. Access your NFT Gallery by logging into your web3 wallet via Metamask, Fortmatic, or WalletConnect, which are all integrated into the app making Tokenframe one of the most optimized NFT displays on the market.
2. BlockframeNFT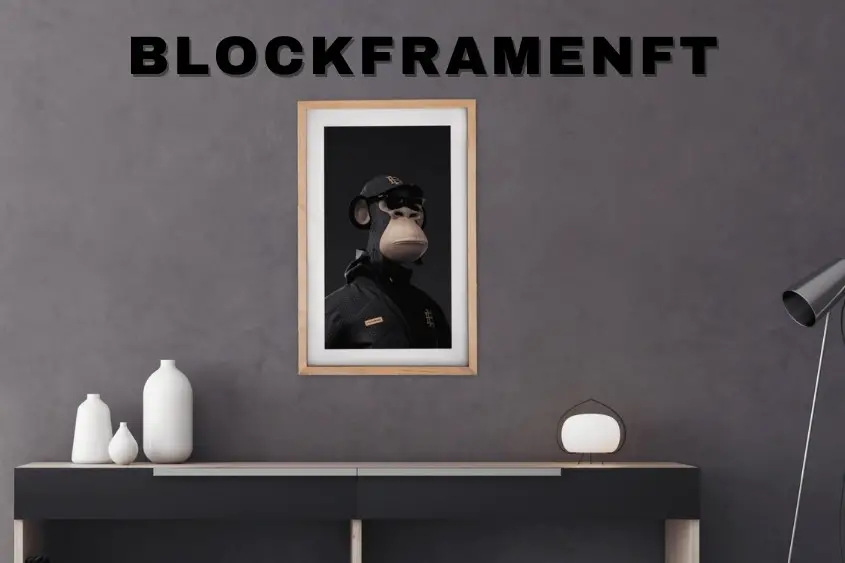 BlockframeNFT displays bring your favorite NFT collection into your home, office, or gallery with authentic and verifiable proof of ownership via your web3 wallet. Connect your web3 wallet and cast your uniquely owned NFTs on the Ethereum or Tezos blockchain to your own stylish digital frame.
This NFT display brand launched in the spring of 2021 and continues to develop as the NFT space continues to grow. Although there is only one product available currently, there are multiple products in the early stages of development and Blockframe plans to release additional display sizes and styles in the coming months.
The frames come in a single color and the 21.5-inch frames give a large display area for your NFT, making them easy to showcase anywhere. Also, you can change the size of your NFT, and choose to display it either vertically or horizontally using the Tokencast app which is integrated into the frame.
Finally, their prices are competitive, and their customer reviews are glowing recommendations.
3. Qonos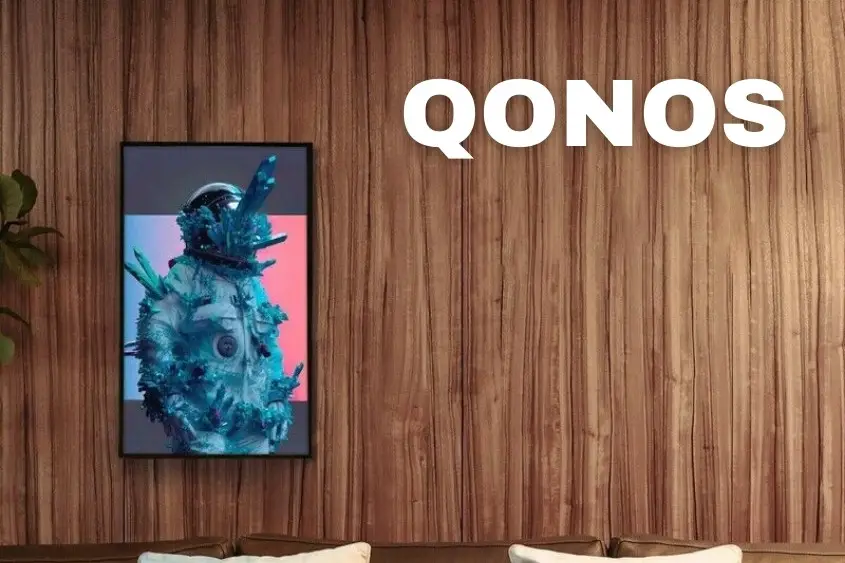 Qonos is a company that genuinely understands the value of NFT art. Qonos is just starting, meaning a long waitlist, but people rave about the ease of use and display. The NFT frame market is ripe with start-up companies, but not as many are heralded as Qonos. Taking the time to browse their products shows you how much innovation they put into the product.
Every NFT display frame from Qonos comes with a high-resolution screen, integrated graphics processing, and motion/proximity sensors. Further, it has a flush-mount design and a walnut finish frame.
One of the best things about Qonos is that they have created an easy-to-use interface. Working with the Qonos frames is a breeze because they have spent so much time making it easy to use.
Ease of use might not seem like a big deal, but NFT collectors are going to love how easy it is to take a newly purchased NFT and have it go directly to their frame.
(Currently, the Qonos site is under maintenance while the company catches up on their orders.)
4. Infinite Objects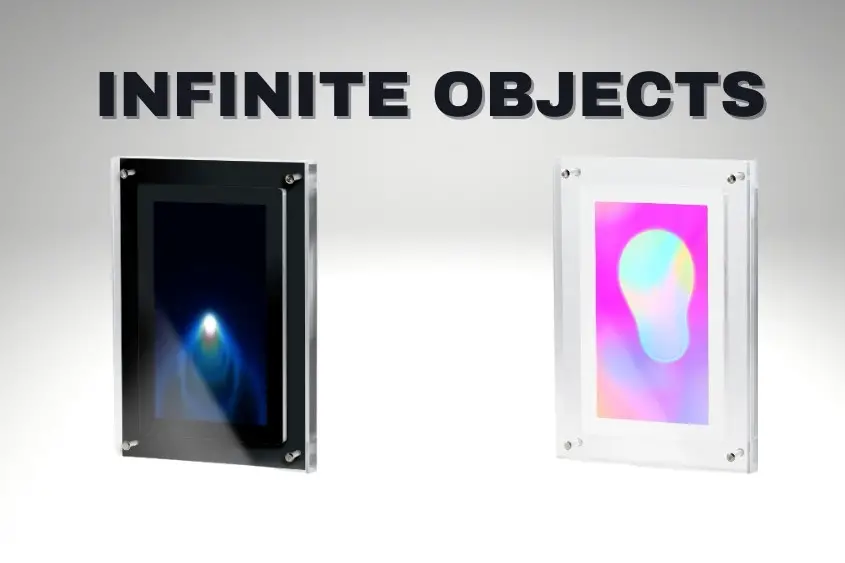 Infinite Objects does something that other NFT display companies haven't taken advantage of and lean into moving prints and ownership. These NFT displays are immutable and only display a single work that is uploaded to your frame before shipping to your home.
Furthermore, Infinite Objects have multiple options when it comes to their NFT displays. They offer both artists and collectors different options for displaying their NFT creations. Allow me to explain these options to you.
Creators:
As a creator, Infinite Objects displays allow your collectors to enjoy your work outside of the browser, in the real world, while maintaining control of your IP and receiving royalties for each sale. The IO Artist Registry is a smart contract that has several benefits:
Grants your collectors' permission to print your video NFTs 
Allows you to set the price point of your NFT video prints 
Ensures you receive royalties on each and every IO sold to your collectors
Infinite Objects aims to empower NFT artists by creating a new source of revenue for their digital artwork through their Video Prints products. These displays are immutable and play a single work on loop, allowing your collectors to enjoy your NFT creations without the hassle of messing with the technology.
Collectors:
As a collector, you can enjoy your NFT on loop with their permanently treated physical collectibles. Once the artist of your work signs up for Infinite Object's Artist Registry, you'll be able to connect to your web3 wallet and authenticate ownership of your NFTs. The video will automatically populate in a preview on the frame's tool. You have the option to zoom in and rotate the work so it fits your liking and then you simply add it to the cart to check out.
Infinite Objects is a company that operates at a higher level. Each screen has several different borders to choose from, making them versatile and trendy. They have many different options for NFT frames. With so many models and positive reviews, it is hard to look away from the Infinite Objects NFT frames.
5. Canvia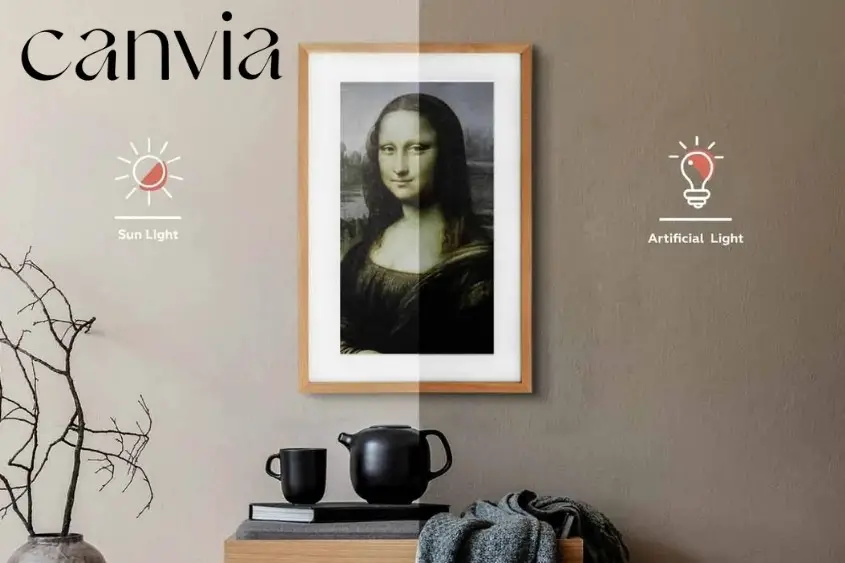 Canvia is a well-established company with a long track record of making quality frames for your NFT collection. Their frames all come with built-in software that adjusts the lighting and brightness of the display. This way, you get a vibrant version of your art no matter what time of day or night, all without having to adjust the settings.
Canvia frames integrate with several web3 wallets to enable the use of NFT images and videos. You can easily and securely display your personal NFT art collection in a stunning frame that comes in four different styles including black, white, cherry, and oak.
Moreover, you can use the Canvia app to zoom in on specific details or display additional information about an interesting piece all from your mobile device. If you are looking for a quality NFT frame with a solid reputation, look no further than Canvia.
6. Merual Canvas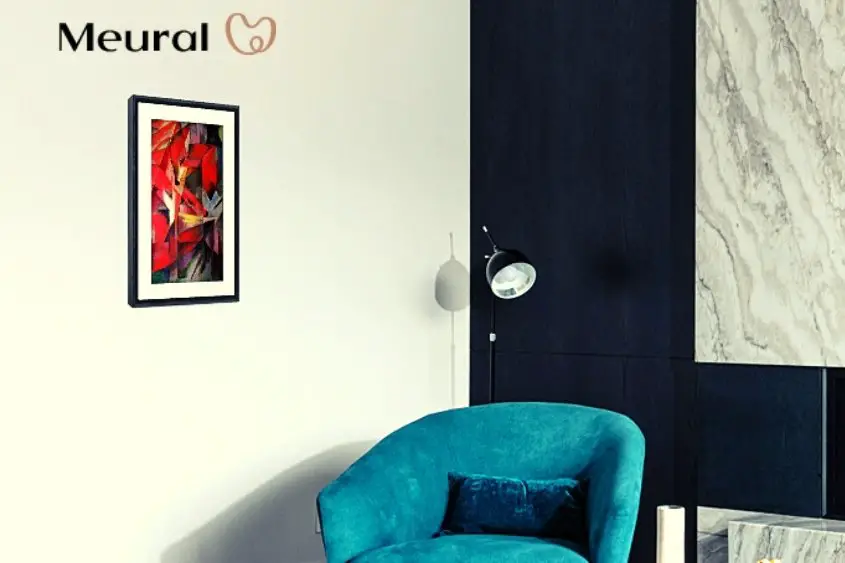 Meural Canvas is another easy-to-use NFT frame created by Netgear. They have several different types of frames to choose from and have an extensive online collection with pieces by Monet and Banksy.
Async Art's programmable NFT artwork is available to all Meural owners. These digital paintings are created in layers that change over time and are updated on your Meural throughout the day.
The app is the stand-out feature of Meural Canvas. It can be downloaded on any device and gives you access to your collection as well as theirs. The great thing about the app is that you can also have your NFT wallet installed, giving you access to buying and displaying NFTs with just a few clicks.
Experience NFT art in ways you've never seen before. Browse by museum, genre, artist, mood, or even color to coordinate with your decor. Meural Canvas is a great option for displaying your NFTs and is a reliable brand with a good record you can trust.
7. Tokencast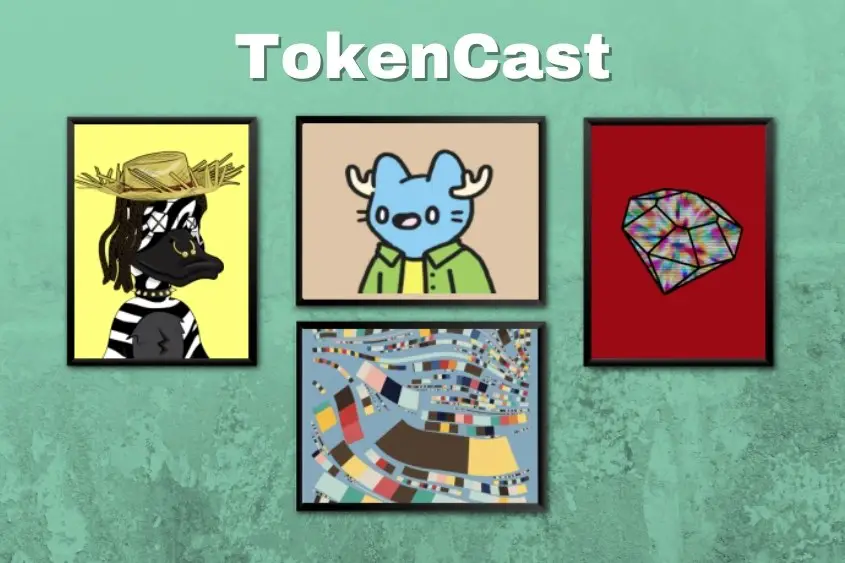 One other option for displaying your NFTs is to use Tokencast. Tokencast is the first software platform used for displaying your NFT artwork and collectibles. Tokencast allows you to display any NFT from your collection as long as it's on the Ethereum or Tezos blockchain.
With Tokencast, you have the option to download the Andriod mobile app and display your NFT from any Android device, or you can build your own frame using Raspberry Pi as the core to your display for only $360. This is a cheap and effective way to get your hands on your own NFT display, without breaking the bank.
Final thoughts
There are many options to choose from for displaying your NFT. Web3 wallets like Metamask and Rainbow are good options but are limited to the screen on your phone or tablet. If you want to show off your NFT collection and allow others to enjoy them as well, then you may want to consider purchasing your own NFT display frame.