Ordinals have gained immense popularity among crypto and NFT enthusiasts, leading to a demand for a comprehensive platform that allows users to buy, sell, and create these unique tokens. FlurryBTC, an up-and-coming Ordinals marketplace, aims to fulfill this need by offering an all-in-one solution for Ordinal NFTs.
What Is FlurryBTC?
FlurryBTC is an all-in-one platform created to make buying, holding, and selling Bitcoin Ordinals easy. Services include a Verified Ordinals Directory, and soon an Ordinals Wallet, Marketplace, and an Ordinals Project Launchpad.
In 2021, a team of developers founded Flurry. One of the first members to join the team was Chris Yeh, who remains the company's CEO to this day.
We asked the Flurry team about their biggest challenge in building the platform, and this is what they had to say:
"Ordinals is a rapidly growing community. You can imagine building a product and service in such an environment is always challenging. Flurry will keep building to provide and develop a one-stop innovative platform for Ordinals users and creators." – Chris Yeh, Flurry CEO
Although Flurry is now making waves as an Ordinals Marketplace, the company isn't new to the Web3 space. In fact, it initially started as Flurry Finance, a decentralized, open-source, non-custodial protocol that provides cross-chain yield aggregation.
The Flurry team has developed its own governance token called "FLURRY" that allows holders to participate in protocol governance. With this experience and innovation, the team behind the Ordinals Marketplace is well-equipped to create a platform that everyone will enjoy using.
In addition to their previous experience in building and operating a defi protocol, Flurry Finance has also announced a partnership with Monkey Kingdom, a popular NFT project on the Solana blockchain.
Together with Flurry's background in Bitcoin and centralized exchanges, and Monkey Kingdom's knowledge of the NFT space and cross-chain interactions, the two aim to build one of the most user-friendly Ordinals marketplaces and launchpads.
That said, they're focusing on 3 stages:
Launch a verification site for projects to verify which inscriptions belong to their project.
Launch Ordinals Marketplace & Wallet.
Launch Ordinals NFT Launchpad.
We'll be sure to update this article as these stages are rolled-out.
How Does FlurryBTC Work?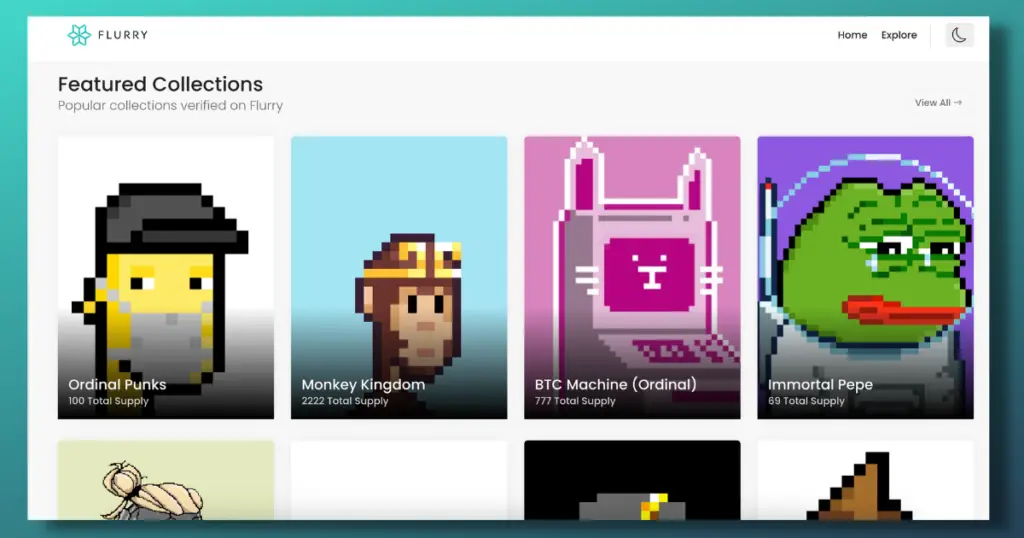 Currently, Flurry's platform offers a space for collectors to explore and find verified Ordinal NFTs. Although you can't buy Ordinal NFTs directly on Flurry, they only display legit collections along with each project's Discord channel and Twitter account so you can easily find authentic projects.
Soon Flurry will offer creators an option to list their collections and get verified on the platform as well.
I'd imagine that it's only a matter of time until Flurry offers a solution to search collections and buy Ordinals directly on the marketplace. Until then, Flurry remains a great option for exploring authentic and vetted collections.
What Wallets Are Compatible With Flurry?
The only wallet that's fully compatible with Flurry is the Ordinals Wallet combined with a full Bitcoin node. Sparrow Wallet is another option, however, there is a level of risk involved when using this wallet. Flurry aims to develop its own ordinals-compatible wallet soon.
What Are the Fees On Flurry?
Flurry will soon have fees for buying, selling, and inscribing Ordinal NFTs. That said, Flurry governance token holders will receive multiple-tiered discounts along with several zero-fee promotional campaigns year-round.
Although no fees are set in stone, it's likely Flurry's fees will be comparable to other Ordinals marketplaces and inscription services that charge a small BTC fee plus a 3-5% fee on sales and for inscribing Ordinals. 
Is Flurry Safe to Use?
Flurry uses multi-sig wallets to secure the platform's assets along with two-factor authentication for high-security standards. The platform only showcases vetted Ordinal projects so you can trust that the projects you see are legit.
Since Flurry doesn't provide a service to buy or inscribe Ordinals, it's hard to say how secure the platform will be once these services are operational.
What Does the Future of Flurry Look Like?
Flurry plans to create a platform that's similar to Opensea, but for Bitcoin Ordinals. The future of Flurry includes a fully-functional Ordinals marketplace and inscription service. Early users will enjoy zero fees for both buying and selling Ordinals. Quotes are limited to a first come first serve basis. 
Does Flurry Provide Royalties to Creators?
Flurry supports the feature to provide Royalties to creators. The team has planned to set forever royalties for creators who use their platform. Unfortunately, it's still too early to tell how Flurry aims to enforce royalties on Ordinals, but we'll keep you posted once we know how the team plans to achieve this.
Considering Flurry is still in its infancy, there's still a lot to be explored. As Flurry continues to release new info about the development of its platform, we will continually update this article.
Make sure to follow Flurry.BTC on Twitter for updates as well. Also, if you're still trying to comprehend exactly what an Ordinal is, be sure to check out our Ordinals beginner's guide.