There are numerous NFT wallets you can use on Opensea. But how do you know if you're using the best one? After all, you are spending your hard-earned money on these digital assets, it's only right that you store them as safely as possible to reduce your risk of being taken advantage of.
In this article, I'm going to give you an overview of the five best OpenSea NFT wallets. These are wallets that I have personal experience with and feel comfortable recommending.
What Are the Best OpenSea NFT Wallets?
Here are the best NFT wallets to use on Opensea.
Ledger
Trezor
Coinbase Wallet
MetaMask
Trust Wallet
In order for an NFT wallet to rise in the ranks in this competitive market, it can't be a hassle or dangerous to use. It needs to accomplish at least four important things:
Manage all of your NFTs in one place, as intended.
Be able to send and receive NFTs from anywhere in the world.
Be able to connect with OpenSea and preferably be compatible with other decentralized apps (Dapps).
Cross-blockchain compatibility to keep safe a variety of crypto and NFTs.
1. Ledger
First launched in 2017, Ledger remains one of the most secure NFT wallets you can get your hands on. Ledger is different from other wallets on this list, as it's a hardware wallet.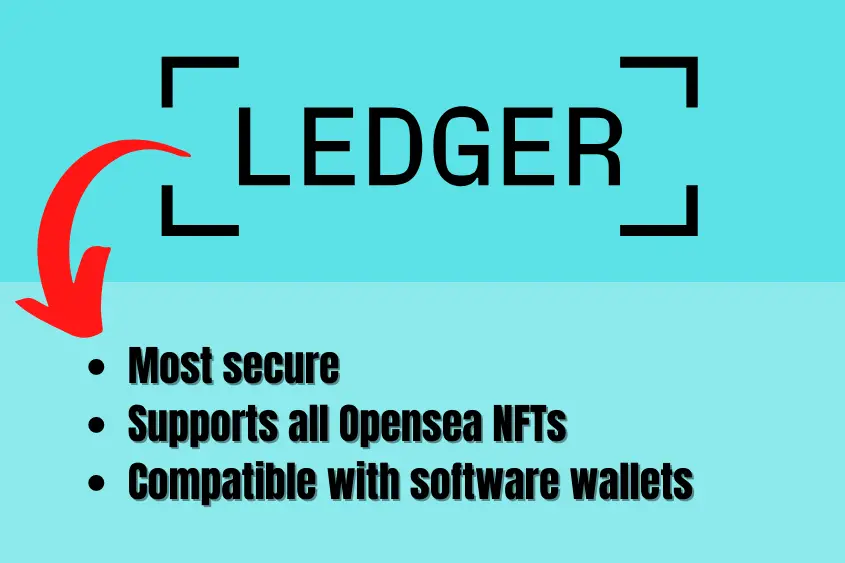 This type of wallet is more secure because it stores all of your wallet's private info offline, which means your NFTs and other digital assets remain safe from hackers who target online wallets.
That being said, Ledger wallets are able to easily connect to Opensea via Metamask or WalletConnect. Furthermore, Ledger wallets support all of the blockchains that Opensea supports (Ethereum, Solana, Polygon, Klaytn), plus more.
So not only is Ledger the safest option for buying, selling, and storing your NFTs, but it's also the most versatile option.
Ledger provides great transparency in how its tech operates to provide viable proof of its reliability. They serve various clientele from casual crypto individuals to whole enterprises.
In addition to supporting numerous NFT blockchains, Ledger directly supports 23 types of cryptocurrencies and more than 1,100 cryptocurrencies and tokens via installed third-party apps.
Here are just some of the most popular cryptocurrencies Ledger supports.
Bitcoin
Bitcoin Cash
Binance Coin (Bep20) (BNB)
Litecoin (LTC)
Ethereum
XRP
USD Tether
Polkadot (DOT)
EOS
Tezos (XTZ)
And much, much more.
The support they offer for these options varies, so be sure to check what actions they support for the crypto you're most interested in.
Pros:
Most secure NFT wallet
Easy to connect to Opensea
Supports all Opensea NFTs
Compatible with several software wallets
Cons:
More expensive than software wallet (Ledger wallets cost $69 to $150)
Not as easy to set up as a software wallet
Supported Opensea NFTs:
Ethereum, Solana, Polygon, Klaytn
2. Trezor 
The original hardware wallet, Trezor is a very secure method of keeping your NFTs in one place because your information is not stored online.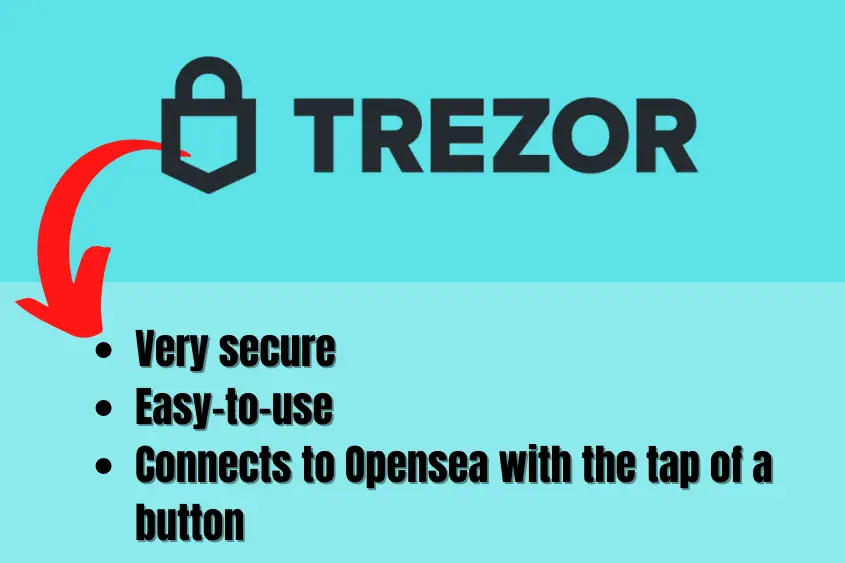 Similar to Ledger, Trezor stores your private keys and other important wallet information offline on the device itself. That means as long as your wallet isn't connected to the internet, there's virtually no way a hacker could gain access to it.
Best of all, Trezor provides an easy-to-use interface from your desktop. From it, you can compare rates, buy, exchange, and sell as you see fit. If you do experience any difficulties, they have a renowned customer support network.
The main difference between Trezor and Ledger wallets when it comes to Opensea and NFTs is that Trezor does not currently support Solana NFTs.
So if you are planning on trading Solana-based NFTs, you need to consider a different wallet. Otherwise, Trezor is capable of supporting all other NFTs that Opensea supports.
However, Trezor does support more than 1000 varieties of cryptocurrencies, including altcoins such as
ETC (Ethereum Classic)
ETH (Ethereum)
XRP (Ripple)
As long as you don't plan on purchasing Solana NFTs, Trezor is one of the best wallets for keeping all of your digital assets safe and can easily be connected to Opensea via Metamasl and WalletConnect.
Pros:
More secure than any software wallet
Easy-to-use interface
Connects to Opensea with the tap of a button
Cons:
More expensive than Ledger and all software wallet
Doesn't support Solana NFTs
Supported Opensea NFTs:
Ethereum, Polygon, Klaytn
3. Coinbase Wallet
Coinbase Wallet is fantastic for anyone new to the world of NFTs, thanks to its simple user-friendly interface. Unlike Ledger and Trezor, Coinbase Wallet is a software wallet.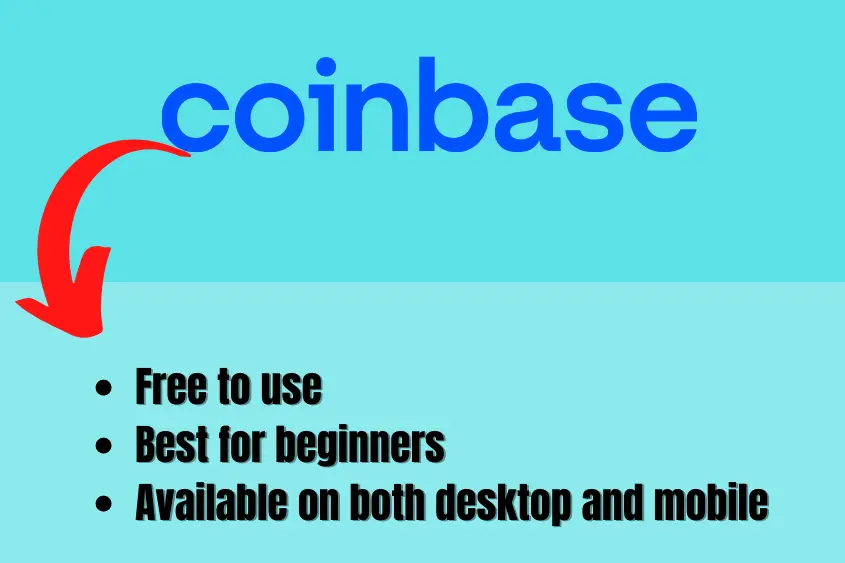 A software wallet is easier to set up compared to a hardware wallet, simply because all you need to do is install an extension on your web browser or download the app on your phone.
However, it's important to understand that software wallets are less secure compared to hardware wallets.
Since software wallets have all their private information stored in the software—which is stored on your device that's connected to the internet—this makes them more susceptible to hackers.
That's not to say that software wallets are a bad option for Opensea, but you have to use them with increased awareness, otherwise, you risked being hacked.
Plus, Coinbase Wallet is one of the easiest wallets to connect to Opensea considering it's one of the first wallets listed under the connect tab.
Moreover, you can view all of the NFTs you've bought from within Coinbase Wallet itself by selecting the NFT tab.
Pros:
Simple to use
Free to download
Available on both desktop and mobile devices
Great if you're just getting started
Compatible with Opensea
Cons:
Not as secure as a hardware wallet
Lacks support for both Solana and Klaytn NFTs
Supported Opensea NFTs:
Ethereum, Polygon
4. MetaMask
Metamask is one of the most popular NFT wallets on the market. It was the first wallet I ever used and can easily connect to Opensea.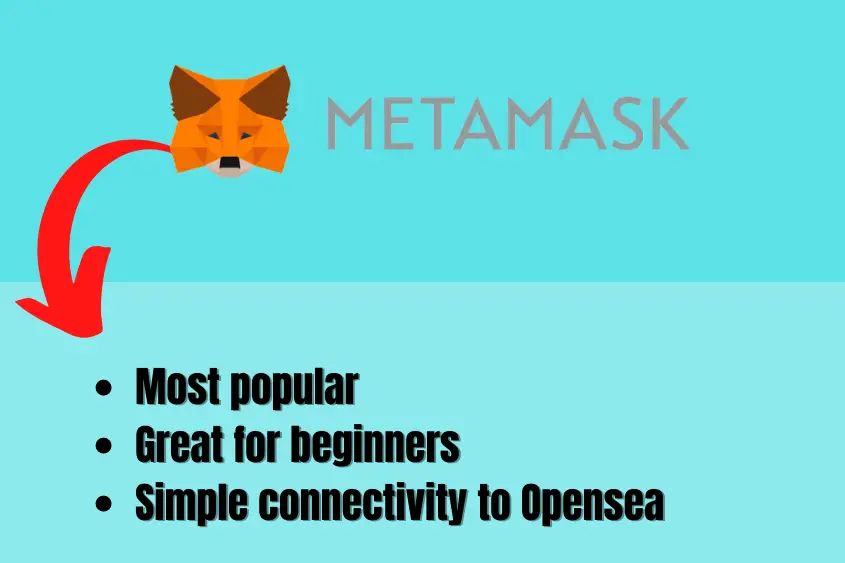 Registration with MetaMask is quick and easy and its interface is equally as simple to use. Plus, if you have any questions regarding Metamask, there's an abundance of helpful articles and videos online that are sure to answer any question you might come across.
Metamask is a good option for Opensea because it connects to various blockchains utilized by Opensea, such as:
The only NFT blockchain Metamask doesn't support is Solana. 
As far as security is concerned, Metamask is decentralized so no one entity owns or controls your wallet. Therefore, you are in full control of your wallet and the assets within.
Lastly, MetaMask works on several operating systems, such as Windows, Android, and iOS, and can be installed on the following key browsers:
Brave
Chrome
Microsoft Edge
Firefox
Opera
Pros:
Metamask is used by millions of people
It's free and easy to install
Great for first-timers
Simple connectivity to Opensea
Supports a majority of NFTs found on Opensea
Works with most mobile devices and browsers
Cons:
Metamask wallets have been hacked before
No support for the Solana blockchain
Supported Opensea NFTs:
Ethereum, Polygon, Klaytn
5. Trust Wallet
Last, but definitely not least, is Trust Wallet. Trust wallet has a lot of features that make it one of the top NFT wallets you can opt for in conjunction with Opensea.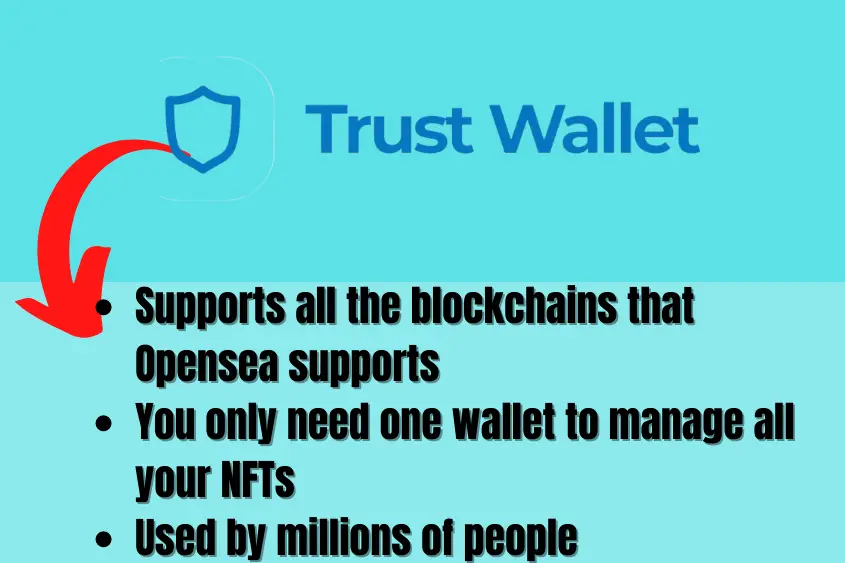 Here are some of the key features I like about Trust Wallet:
It's compatible with dozens of marketplaces in addition to OpenSea
Because of its compatibility, it's not hard to buy, sell, or exchange with friends with other wallets on other marketplaces.
You can stake your NFTs on Dapps
Your data is not collected
Your private keys are encrypted
Trust Wallet supports all of the same blockchains that Opensea supports. That means you don't need multiple wallets to manage NFTs from different networks. All you need is your Trust Wallet.
With that, you can easily connect Trust Wallet to Opensea using the Trust Wallet app on your mobile device or your desktop browser.
If you are looking for a super compatible and user-friendly software wallet, Trust Wallet is one of the best options.
Pros:
Easily connects to Opensea
Supports all the same blockchains that Opensea supports
You only need one wallet to manage all your NFTs
Free to download and use
Used by millions of people
Cons:
Not secure as hardware wallets
Coinbase and Metamask remain the more popular option
Mobile-only
Supported Opensea NFTs:
Ethereum, Solana, Polygon, Klaytn
Which Wallet Should You Choose for Opensea?
If you want the most secure NFT wallet for buying, selling, and storing your digital assets in conjunction with Opensea, Ledger wallets are your best choice. If you're a beginner who's looking to buy your first NFT and gain experience, Coinbase Wallet is your best option due to its simplicity of use.
Here is a list of other crypto wallets that are compatible with Opensea.
| Wallet | Easy Sign-Up? | Mobile-Only? | Purchase Crypto with Card? | Notes |
| --- | --- | --- | --- | --- |
| Ledger | No | No | Yes | Hardware wallet |
| Trezor | No | No | Yes | Hardware wallet |
| Coinbase | Yes | No | | Software wallet |
| Metamask | Yes | No | Yes | Software wallet |
| TrustWallet | Yes | Yes | Yes | Software wallet |
| Portis | Yes | No | Yes | Software wallet |
| Fortmatic/ Matic | Yes | No | Yes | Software wallet |
| Venly | Yes | No | No | Software wallet |
| Authereum | Yes | No | Yes | Ethereum-only |
| Bitski | Yes | No | Yes | Software wallet |
| Dapper | No | No | Yes | Software wallet |
| Kaikas | No | No | No | Klaytn-only |
| OperaTouch | Yes | Yes | No | Software wallet |
| Torus | Yes | No | Yes | Software wallet |
| Phantom | Yes | No | Yes | Solana-only |
| Glow | Yes | No | Yes | Solana-only |
Crypto wallets compatible with Opensea
Ultimately, connecting your NFT wallet to Opensea is simple. All you have to do is decide which one is best for you. Once you have chosen your wallet and you're ready to connect it to Opensea, follow this step-by-step video below to get started.
There are so many NFT wallets out there that can be used with Opensea, but when it comes to having the best features as well as being fully compatible, you'll be pretty hard-pressed to find better options than what I've listed.
Regardless of which wallet you decide to choose, please make sure you learn how to properly store your NFTs before moving forward. Buying an NFT should be a fun experience, not a scary one. Taking the proper measures to ensure your assets remain safe is the key to a good experience.
Frequently Asked Questions
What is the best wallet to have for OpenSea?
For storage, a hardware wallet like Ledger or Trezor is the best wallet for OpenSea. For everyday transactions and trading, MetaMask is the most compatible wallet and is easy to use.
Do I need MetaMask to buy on OpenSea?
No, you don't need MetaMask to buy an NFT on OpenSea. You do need a wallet that is compatible with the platform though such as; MetaMask, Coinbase Wallet, Trust Wallet, or Rainbow Wallet.
Should I connect my wallet to OpenSea?
You need to connect your wallet to Opensea if you want to buy or sell NFTs on the platform. It's best to have two separate wallets, one for transacting and one for storage. This keeps your assets safe.