Veve has made it super simple to buy and sell digital collectibles. However, if you've never sold on the platform, then you might be curious to know how to sell your NFT on Veve. After listing my own NFT, I learned the exact steps you need to take.
How to Sell Your Veve NFT
To sell your NFT on Veve, follow these four quick and easy steps below.
1. Login to your Veve Profile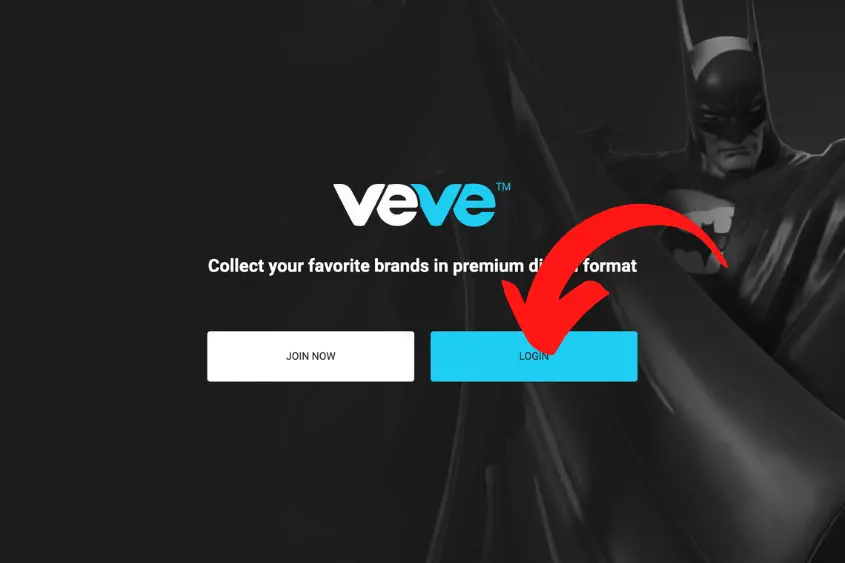 First, sign in to your Veve profile. You can list your NFT using both the mobile and web app. It's up to you to decide which one you prefer to use. For this tutorial, I'm using the web app.
2. Go to the Collection tab and select the NFT you want to sell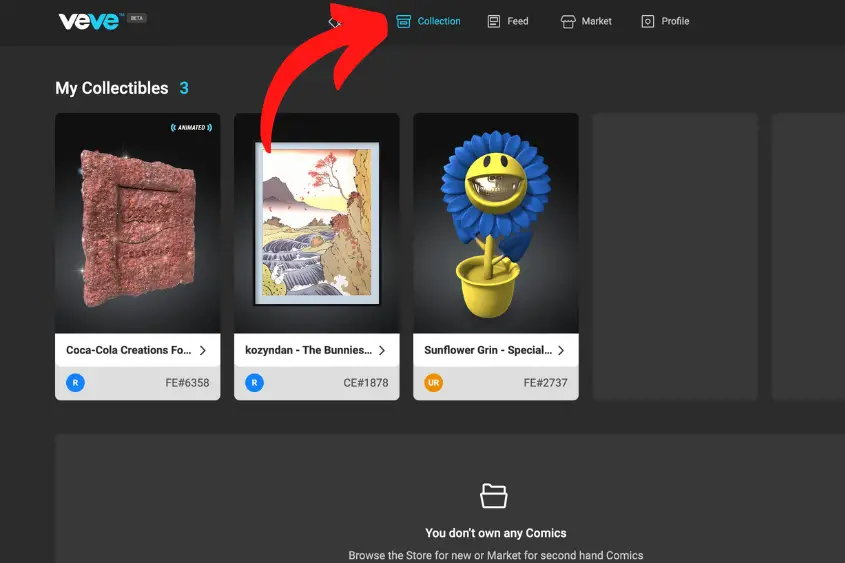 Once you're signed into your profile, go to the Collection tab and select the NFT that you want to sell.
3. Tap the Sell button
Once you are on the NFT that you wish to sell, simply tap the Sell button. Note that there are a couple of details you should take into consideration before listing your Veve NFT for sale, including: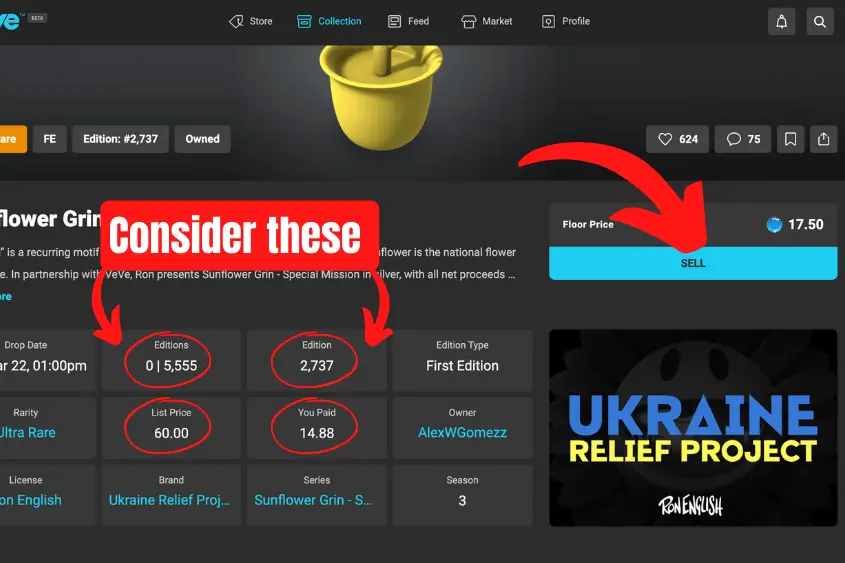 Floor Price. This is the lowest price that your NFT is already listed for on the Market.

Generally, you will either want to list your NFT slightly below (if you want to sell it quickly) or slightly above (if you don't mind waiting for others to sell first) the floor price.
You Paid. This is the price that you paid for the NFT. To avoid losing money on your initial purchase, avoid listing your NFT for a lower price than what you paid for it.

Also, make sure to factor in the 2.5% – 8.5% Success Fee that is taken out of the sale amount. This fee depends on the brand of NFT you're selling.
List Price. This is the price that your NFT originally dropped for on Veve's Store.

Although it's not a super important factor when listing your NFT, it does help you determine if the demand for your collectible has increased or decreased.

If the floor price is above the list price, demand has increased. If it's below the floor price, demand has decreased. This can help you decide if your NFT will sell quickly or not.

Editions and Edition. Editions tell you how many of your NFTs exist, while Edition tells you your exact number out of the total number in existence.

It's important to consider your Edition when listing your NFT. 
In general, lower Edition collectibles are worth more to collectors versus an Edition that is a higher number.
For example, if there are 5,555 Editions, then Edition 10 would potentially be worth more than edition 5,555. 
To see how much the low editions are listed for, click on Series, choose your Edition, then view Listing for Sale, then sort by Edition – Low. 
This will give you a good idea of what to list your Edition for. Of course, just because an NFT is listed for a certain price doesn't mean it's selling for the price. 
You can always try listing for a specific price, and if it doesn't sell, you can simply lower the price by canceling and re-listing your NFT. Don't worry, there are no fees to cancel a listing.
4. List your Veve NFT for sale
After you decide how much you want to sell your Veve NFT for, you have two listing options to choose from: Sell at Auction or sell for a Fixed Price.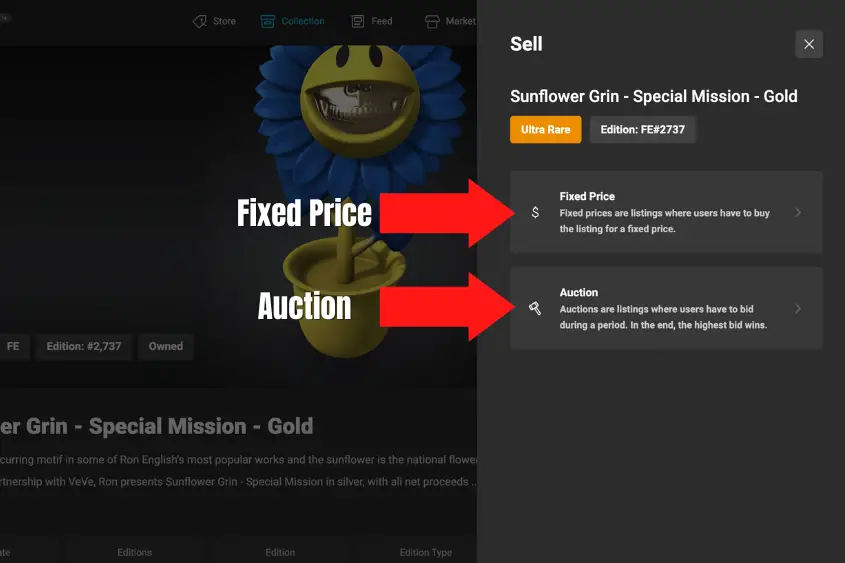 Fixed Price. Listings where users have to buy your NFT for a fixed price. This is a good option if you want to sell your NFT fast and aren't willing to budge on the price.

Sell at Auction. Listings where users have to bid during a set period. Once time is up, the highest bid wins. This is a good option if you're okay with waiting a while longer for your collectible to sell.
An auction will last for 3 days, starting from the time you list your NFT. Once a bid has been placed, you can't cancel or edit your listing. Auctions are final and can't be reversed.
Regardless of which listing option you choose, simply input the price you want to sell your NFT for and then hit Agree and List In Market.
Congratulations, you have successfully listed your Veve NFT for sale!
Can I Cash Out GEMs on Veve?
You can withdraw Veve Gems into your bank account for fiat currency or into your crypto wallet for crypto. There is a 10% fee to withdraw your Gems. The minimum withdrawal amount is 100 Gems and the maximum is 50,000 Gems in a 7-day period. You must complete KYC verification before using payout.
You can use Veve's Payout system to withdraw your Gems from your Veve wallet, and have the funds put back into your bank account in your local currency or into your crypto wallet.
The Payout system currently supports the following methods:
Bank Transfer (fiat)
Cryptocurrency (USDT, ETH, Binance USD (all ERC20), and BTC.
Please note that the crypto Payout feature is temporarily on hold for users with under 1,000 Gems in their wallet.
What Are Veve's Payout Requirements?
Before you can withdraw your Gems, you must adhere to Veve's requirements.
You may only withdraw to your personal bank account or crypto wallet.
Currently, you must hold a minimum of 1,000 Gems to qualify for a Payout.
The minimum withdrawal amount is 100 Gems.
The maximum withdrawal amount is 50,000 Gems in any 7-day period.
Most bank transfers will arrive within 5 business days (there's no guarantee of the exact time).
Crypto payouts generally arrive in your wallet within standard block time (Wyre is providing this service).
Wyre must approve their own compliance check before approving a Payout.
How to Cash Out Veve Gems Using Payout
To withdraw your Gems for fiat directly into your bank account, follow these four steps.
1. Sign Into Your VeVe Profile and Choose Payout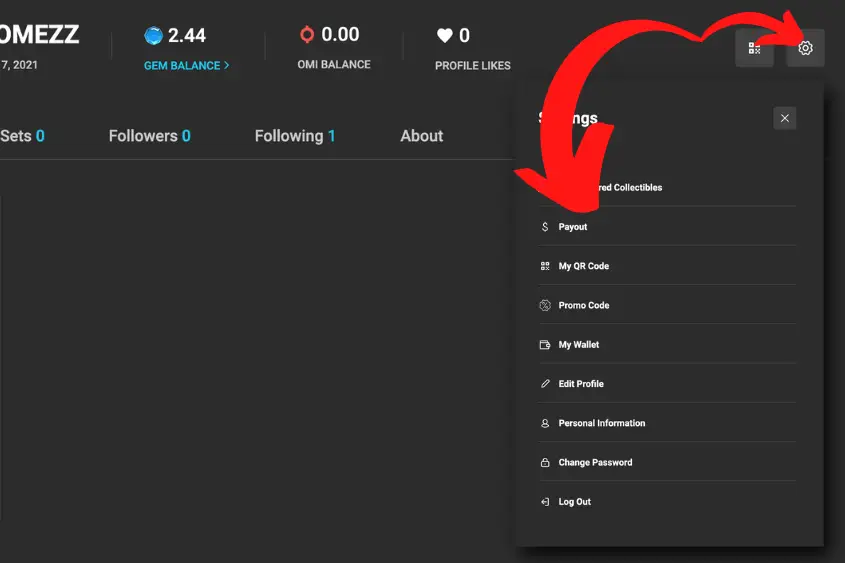 First, you need to sign in to your Veve Account and go to your Profile. From there, go to Settings and select Payout. Next, enter the number of Gems you'd like to withdraw.
2. Choose Your Payout Method (Fiat or Crypto)
You have two Payout methods to choose from; Bank Transfer (fiat) or Crypto Wallet (crypto).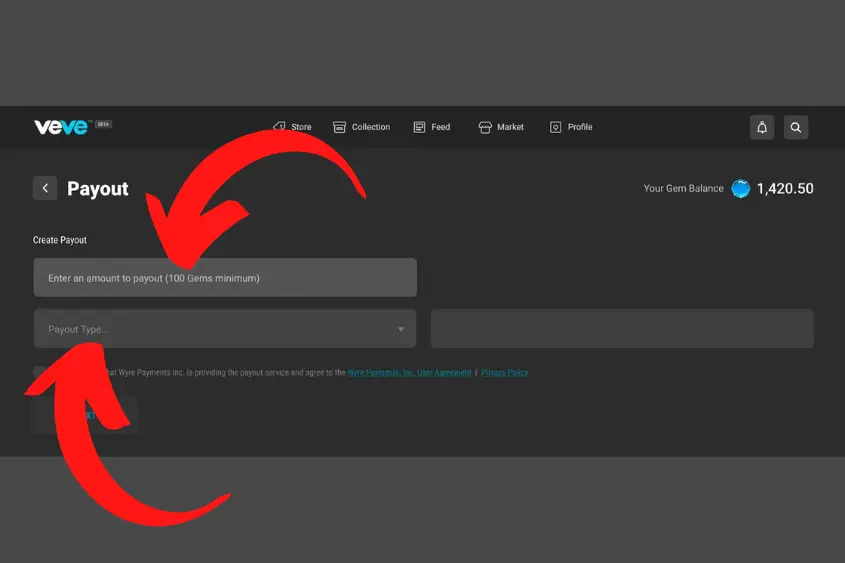 The bank transfer option will take longer to receive your funds and more information is required to initiate the transaction.
If you want your funds as soon as possible, I recommended choosing the cryptocurrency option when requesting a payout.
3. Request a Payout.
Once you decide which payout method you'd like to use, you can request a payout.
Bank Transfer
For your first bank transfer payout, you will need to add your bank account details. To do this, choose Bank Transfer and then Add Account.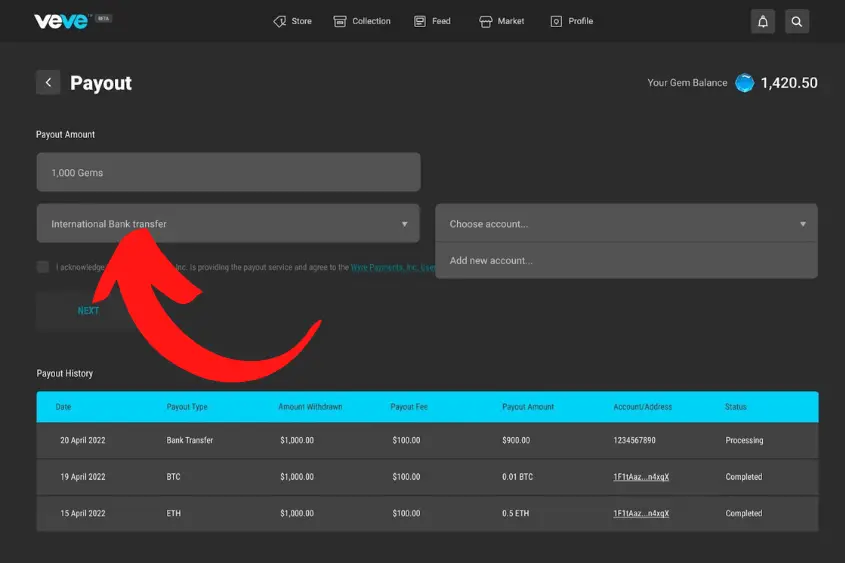 Please note that Veve gives you 5 minutes to complete the steps below.
Choose your local currency. If it's not shown, select USD and it will be automatically converted to your local currency.
Beneficiary details. This section will default to the name you used to get verified for your Veve account.
Enter bank account details. Accounting number, Routing number (US only), BIC / SWIFT, bank name, bank country.
Once all these details are entered, press Add Account. If all of the details look good, click Withdraw.
Note: If you live in a country that uses an International Bank Account Number (IBAN), you will need to enter it when inputting your bank account number in the Payout screen.
Cryptocurrency
The cryptocurrency payout method is much quicker compared to the bank transfer option. Follow the steps below to withdraw your Gems for crypto.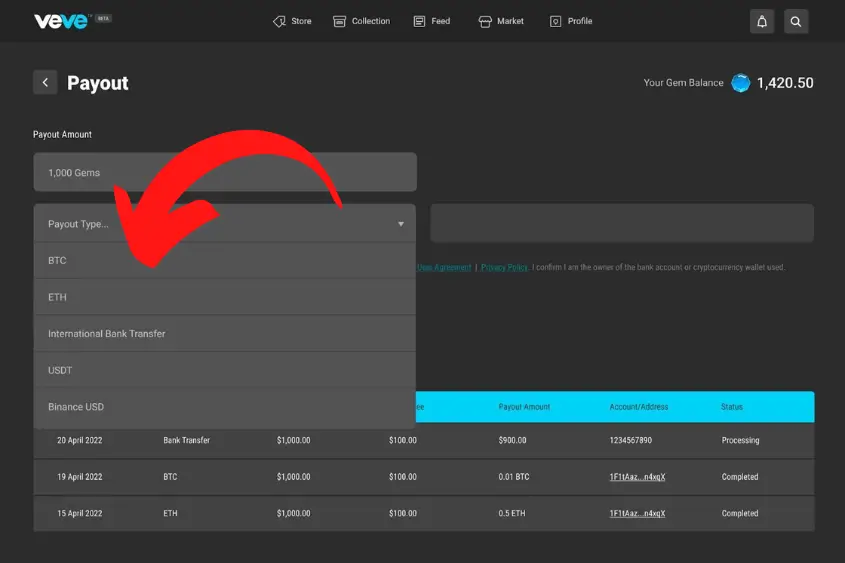 Choose your preferred cryptocurrency 
Enter your cryptocurrency wallet address
Agree to the payout terms and conditions tap Next
If all of the details look good, click Withdraw.
What Are the Fees Associated with Veve Payout?
There is a 10% fee for all Payout transactions on Veve. Also, the following fees may apply.
For applicable U.S. users, a $1 USD ACH transfer fee applies.
For users not eligible for ACH payment (such as international users), the payout will be done via a wire transfer for a fee of $15.
Bank fees (including foreign exchange conversion fees if you're withdrawing into a non-USD account) may also apply.
Can I Sell My Veve NFT on Opensea?
You can't sell your Veve NFT on Opensea. The only marketplace where you are able to list your NFT is the Veve Market. If you see an apparent Veve NFT listed on Opensea, it is not an authentic Veve collectible.
However, there's a possibility that Veve NFTs will be available for trade on Opensea in the future if Immutable X (Veve's blockchain) and Opensea (Ethereum blockchain) decide to work together.
Can You Move Your NFT from Veve?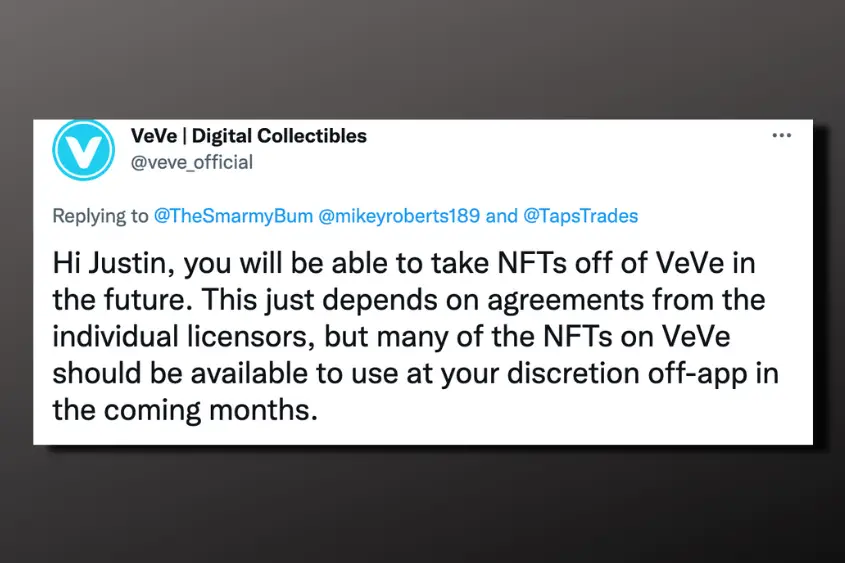 All Veve NFTs remain on the platform. There is a possibility that you will be able to take NFTs off of Veve in the future (and move them to the Ethereum mainnet), but not yet. According to Veve, this depends on agreements from the individual licensors.