I was recently browsing a popular NFT marketplace when I noticed virtual real estate was listed for sale. At first, I had no idea what virtual real estate was. However, I was able to find out more information after a bit of research and a whole lot of digging.
NFT real estate is parcels of virtual land minted on the blockchain. These parcels include but aren't limited to:
Virtual Businesses/Houses/Estates
Virtual Countries/States/Cities
Decentraland Properties
Cryptovoxels Properties
Gaming Maps and Land
As you can see, NFT real estate has the potential to be quite lucrative, especially when real-world properties are tied to an NFT property for ease of transaction. This is the future of real estate as we know it!
Here are some examples of NFT real estate which sold for outstanding prices.
Creator/Property Type
Price Sold For $US
Creator: Krista Kim
Property Type: Mars House
$500,000
Creator: The Sandbox (Fantasy RPG adventure game) 
Property Type: Virtual Land
$2.8 million
Creator: Axe Infinity (Virtual pet universe)
Property Type: 9 lots of virtual land
$1.5 million
It looks like the real estate bubble has now moved to the virtual world. Is this the height of frivolous spending or is it the new world of opportunities opening up? If I'm being completely honest, it's a little bit of both.
Since gaming and virtual worlds are so popular, people are looking to buy, sell and make money from ownership of the virtual real estate. Some of the popular virtual worlds are Decentraland and Cryptovoxels. Apart from these, there are gaming sites that are selling land on their gaming platform.
Who Buys NFT Real Estate?
Alright, I know what you're thinking. Who in their right mind would actually buy virtual real estate? Well, to be honest, a ton of people are eager to purchase their first piece of NFT property.
Gamers, collectors, investors, and even large companies are taking advantage of NFT real estate. The potential virtual land carries is huge! Dominos set up a storefront and started selling pizza from their virtual Store and Nike is not far behind. 
What Fuels The NFT Real Estate Trend?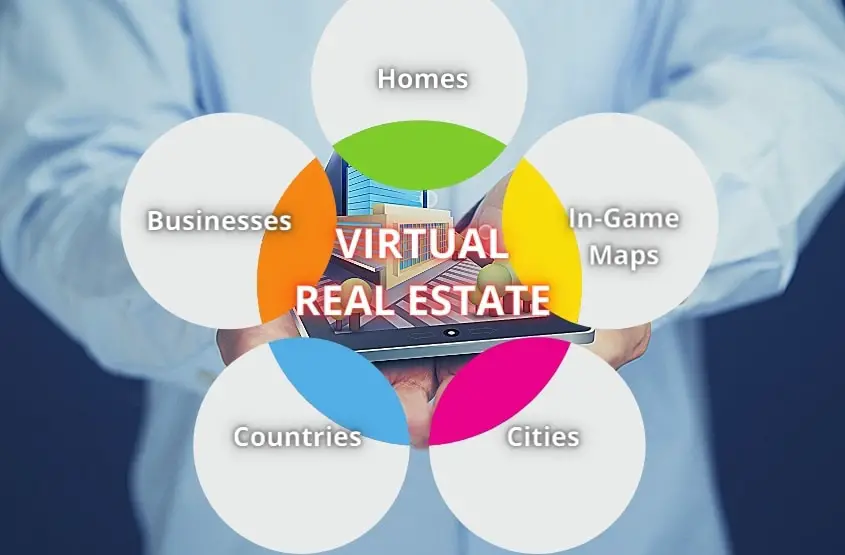 The virtual real estate trend is fueled by an increase in scope, created from fascinating environments where people can communicate with each other, shop, earn money and socialize as they do in the real world. An increasing number of people are becoming aware of the business potential of the virtual world. Many are seeking investment and money-making opportunities in this space.
A great alternative to the real world.
In video games, the players were already buying virtual accessories for their games. In the virtual world you can interact with others shop, play games, earn money and find companionship. Isn't that what we want from any world? To add to that the virtual world is fascinating made out of the imagination of game developers and artists.
Everything is pleasing exciting and fun. And now you are offered an opportunity to own a piece of this world. Sounds like a great opportunity for many. No wonder, increasing number of people are choosing to invest their millions here. In the real world, the shops are closing down and hotels are empty. People are spending a lot of time online. Transactions are moving online. So why not invest online?
Opportunities are abounding in NFT real estate.
Land is being created and sold in games as well as in virtual worlds. There seem to be unlimited opportunities in virtual real estate. The digital deals are backed by blockchain technology which verifies the authenticity and ownership of the virtual land. The land parcel that one owns is unique and non-replicable. Once you own a piece of land in the virtual world you can build whatever you want there. You can build a store, a home, a business, and a community. You can then commercialize it as more and more people start visiting these worlds. Once the virtual world becomes more populated, landowners can rent out their land, sell it, and trade it for other NFTs.
NFT Real Estate Lives In The Metaverse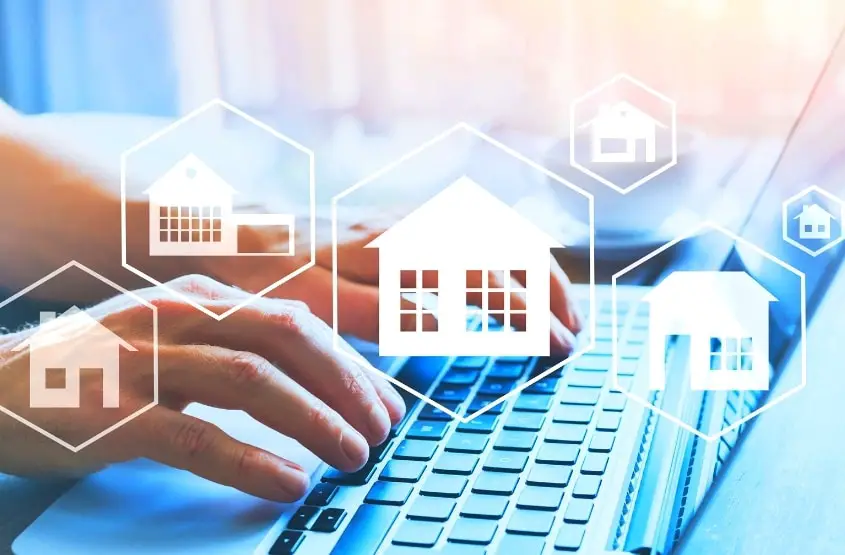 The Metaverse has been studied by experts for its potential to have an impact in education, business, and research. The gaming industry has fueled this trend of buying digital real estate and items. When players engage with augmented reality video games, they also buy items to enhance their in-game experience such as virtual land.
NFTs and their utility in determining authenticity and ownership based on blockchain technology has become an invaluable tool to conduct business online. Being supported by the blockchain and secure transactions, there seems to be nothing that will stop the gaming industry from listing virtual goods along with virtual real estate for sale.
Presently, the Metaverse is a shared virtual space where people represented by digital avatars, form communities and these communities evolve and form societies. With the development of virtual reality and augmented reality tools, connecting them to the virtual world transitioning seems to be the natural step. Many are realizing this and are looking to transition into the metaverse. Currently, the most popular virtual worlds are Decentraland and Cryptovoxels. Both worlds allow the purchase of parcels of land which individuals can buy for future use. Bloomberg reported that investors are increasingly finding virtual reality investments as promising.
There is now even a real estate fund started by a company called, Republic Real Estate Inc. set up exclusively to buy and develop properties in the online world.
In fact, most people are finding investing in the virtual world much more attractive than in the real world as we make the technological transition into the future. The main opportunity seems to be arising in these virtual worlds. Buying a lot and developing digital property seems to be an intelligent move for many.
In the virtual world Cryptovoxels, the land prices skyrocketed from $800 to $3900 in the first 2-3 months of 2021. This is an incredible boom and there are opportunities for people to cash in big on this trend. Currently, the greatest fear is missing out on this phenomenon. The buyers are grabbing up the rare places and the secondary market is seeing increased demand as well. Many are making money by flipping their lands for more than they initially purchased it for.
How To Purchase NFT Real Estate
Purchasing NFT real estate is as simple as setting up your crypto-wallet, adding the proper funds, then visiting a marketplace that offers NFT property's for sale such as;
You can buy virtual land in virtual worlds. The most popular virtual land options are Decentraland and Crytovoxels. Let's take a closer look at each one.
Decentraland
Decentraland is a virtual world that is built on the Ethereum blockchain. It can be very well called a Cyber Utopia. People visit Decentraland to shop, interact, sell and service the community. MANA is the currency that is used in Decentraland, which can be converted to real-world currency.
While it is not necessary to own land in Decentraland to just visit, now is definitely a good time to buy a piece of land to potentially profit in the future. They are offering NFT land for sale which is converted into parcels. Each land parcel is an NFT on the blockchain. That means that it is unique, immutable, and irreplaceable. This is similar to land in the real world, except a lot easier to attain thanks to NFTs and the blockchain.
Anyone can buy, sell or rent their land here. To buy land you can use an Ethereum marketplace such as OpenSea and get a land token with unique coordinates to a specific location on Decentraland.
You will also need to use Metamask to buy and sell land in Decentraland. After you own the land you can rent it out or sell it in an auction to the highest bidder. You can also develop your land by opening put up a shop or building a house.
Like in the real world, the land available here is limited. The total land here is 43689 private land parcels along with 33886 district land, 9438 roads 3588 plazas. The land size here is 16m by 16m square spaces.
You can go to the official Decentraland Marketplace or the OpenSea Marketplace to view the current rates of real estate. In the official Decentraland marketplace, the currency used is MANA or you can use Ethereum as well.  OpenSea offers the option to buy virtual land using both ETH and MANA.
Cryptovoxels
Most people believe that Cryptovoxels is a blend of Minecraft and Facebook and prefer it over Decentraland. Cryptovoxel parcels can be procured on Opensea also. The CryptoVoxel parcels have six dimensions. These dimensions define where the parcel of land is exactly in the Cryptovoxel world.
The CryptoVoxel word is steadily gaining residents. About 80% of the land sold has been developed. The center of this world — a city called Origin city; has streets, shops, and houses just like any city. To visit, you can go to the Cryptovoxel Website and then go to specific land areas from the site menu. If you like any of the land, you can select it and make a purchase using your Metamask wallet.
Building something in Cryptovoxels is very intuitive. Once you have been given permission you can open a builder panel and find a lot of controls that will assist you with the build.
You can start building using the browser, you can add in color, images, and even audio files.
Now, you do not need to own anything just to visit and view. Cryptovoxels is offering NFT parcels so that nothing can be forged or duplicated. All transactions executed are in the form of NFTs and will be stored on the Ethereum blockchain. Cryptovoxels have land with unique coordinates for specific locations. Unlike Decentraland, there are no specific sizes you are limited to.
Most people purchase parcels of their own or buy the built ones. Cryptovoxels platforms are compatible with Oculus Quest, Oculus Rift, and similar VR gadgets. These gadgets will help connect the real world to the digital world and a lot of work has been going on on this front.
All the building is done through the browser and you don't need to have coding skills. It operates with blocks for everything. All you have to do is click the blocks and build your parcel. Sales of the parcels go to funding the Cryptovoxel development.
There are other crypto-based worlds such as Somnium Space, Axe infinity, and The Sandbox, which are also seeing an increase in their member and visitor counts.
Why NFT Real Estate Value Will Appreciate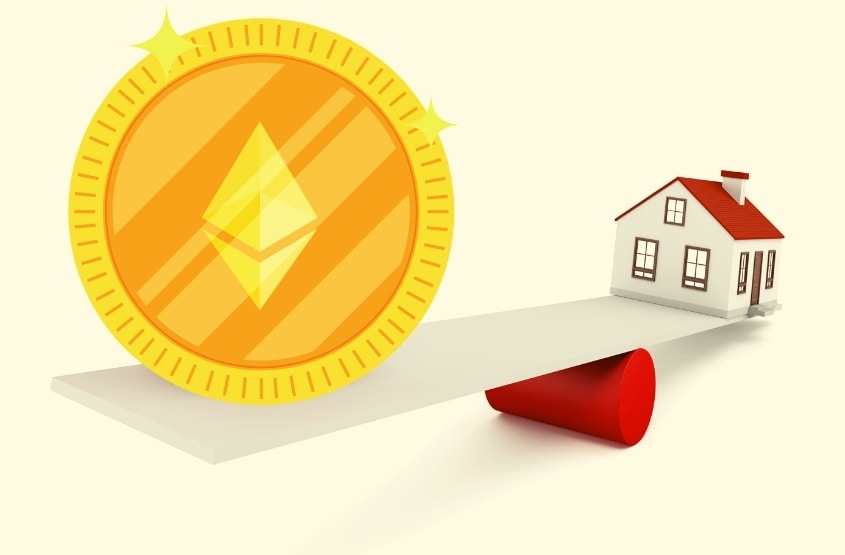 You can see that NFTs are doing extremely well as news of the various high price sales demonstrate. NFT real estate will also explode as curiosity about NFTs keeps rising. Because virtual land runs on the blockchain, the security is high and people find it to be a somewhat safe investment. In fact, you can even take mortgages on your NFT real estate. 
Moreover, virtual worlds are not a new concept, they have been around for some time and were fairly popularized by websites like Second Life and Eve Online. In these virtual worlds, players had built complex economies and were gaining in popularity.
While people did visit these worlds, their activities and interactions remained primarily in the real world. The turning point was the lockdown and pandemic of 2020 which pushed people to socialize more using the internet rather than in-person. This has created a tremendous global shift to the virtual worlds and has tremendously increased the value of NFT real estate. 
Increasing traffic to these gaming and virtual sites has opened the eyes of investors and collectors alike, with the possibilities and the potential inherent in the NFT real estate boom. Some people are shelling out huge amounts of cryptocurrency to buy parcels that are strategically located. They have no doubt that this is the future and they want to get in on the action as soon as they can. Once they get on to these platforms they are eager to build, rent or flip for a profit.
Should You Buy NFT Real Estate?
Purchasing NFT real estate may seem like a farfetched idea, but is it? For example, many people already buy virtual land. Popular online games offer downloadable maps, special assets, and unique items for a price of course. So, should you purchase your own piece of NFT real estate?
You should consider purchasing NFT real estate (virtual land) if you're an investor, collector, or gamer who enjoys access to a variety of different land options and the potential to receive an ROI. Purchasing NFT real estate early in the development stages is likely a good idea, as the property value and demand begin to rise for these virtual parcels.
Although much of the virtual land is set at a steep price, that doesn't mean you shouldn't consider owning your own piece of NFT real estate. Considering virtual real estate is just beginning to gain traction, buying in early may result in large returns in the future. With the implementation of virtual reality, cryptocurrency, and blockchain combined, this scenario creates a promising view into the future of virtual land and assets.
On the flip-side, due to the unknown certainty in which the future holds, I can't say for sure that purchasing a virtual parcel payoffs in the future. So, remember to take into consideration the pros and cons of owning your own virtual real estate.
| PROS of owning virtual real estate | CONS of owning virtual real estate |
| --- | --- |
| Virtual real estate may be a good investment. | Virtual real estate is not cost-effective for some people. |
| Virtual real estate offers options to build businesses, communities, and interact with others. | The future of virtual real estate is uncertain. |
| Purchasing NFT real estate is safe, secure, and frictionless. | There is no guarantee the blockchain you purchase your land on will be adapted in the future. |
Considering the pros and cons, you'll have to decide whether buying your own NFT real estate is worth the risk. If you are someone who is expecting to solely gain from owning virtual land, you may be disappointed in the future. That's why it is important to do research on any virtual asset before buying.
On the other hand, if you are a collector or enthusiast, then purchasing whichever virtual parcel appeals to you the most is a wise decision.
NFT real estate craze is not propelled only by money. People who participate in virtual worlds or in video games find that virtual land can fulfill their social needs. This is the reason why more and more people are joining these platforms. We are seeing an opportunity like never before with NFT real estate. Are you ready?