Hardware wallets are the most secure way to store blockchain-based assets like crypto and NFTs. But, how do you know what hardware wallet is the safest? 
We gathered the most reputable hardware wallets to compare all their security features so you don't have to. All you need to do is choose the one that best suits you.
In this guide you will learn:
What Is the Safest Hardware Wallet?
1. Ledger Nano X (Safest Overall)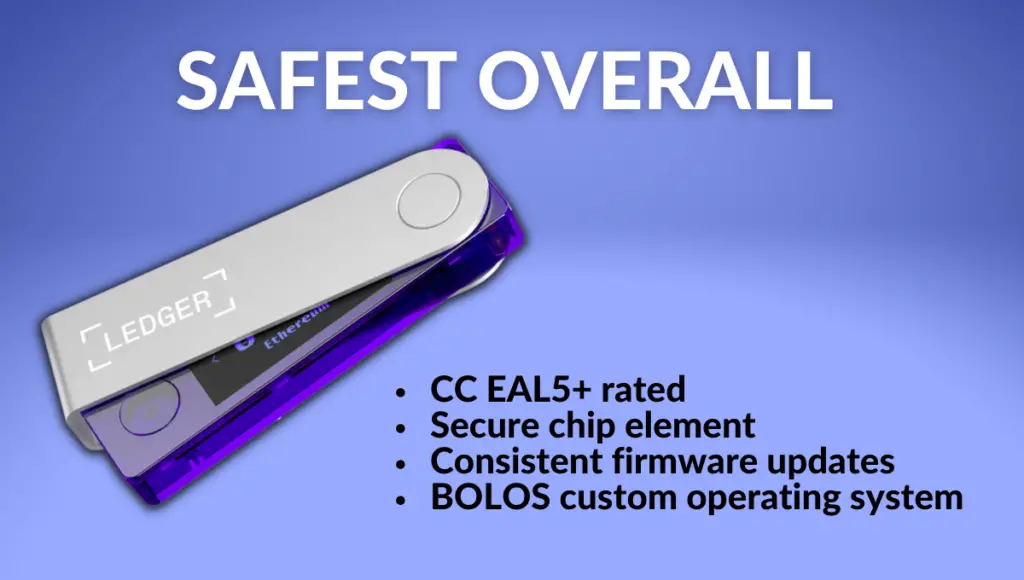 The Ledger Nano X is one of my personal favorite hardware wallets. I've used this wallet for years to keep both my crypto and NFTs safe, without any issues or concerns for security.
If you know anything about hardware wallets, then you know Ledger is the most reputable brand in the industry. The Ledger Nano X utilizes a CC EAL5+ secure chip element which keeps hackers and scammers out.
It even has its own custom operating system that's designed to isolate apps downloaded to the device. This is done to ensure security isn't compromised in case a malicious app is downloaded onto your device.
I have no doubts that the Ledger Nano X is secure. That said, the device is very basic. Hence the screen is small, there are only two buttons for navigating, and the battery might not last as long as some of the other wallets.
Nonetheless, it's affordable and has successfully protected my assets for years.
Compatible with:
Ethereum, Bitcoin, Solana, Ethereum NFTs (ERC721 and ERC1155) on Ethereum and Polygon networks in Ledger Live, Solana NFTs, and 5000+ other coins.
Security features
CC EAL5+ rated
Secure chip element
Consistent firmware updates
BOLOS custom operating system
2. NGRAVE Zero (Highest-Rated Security Chip)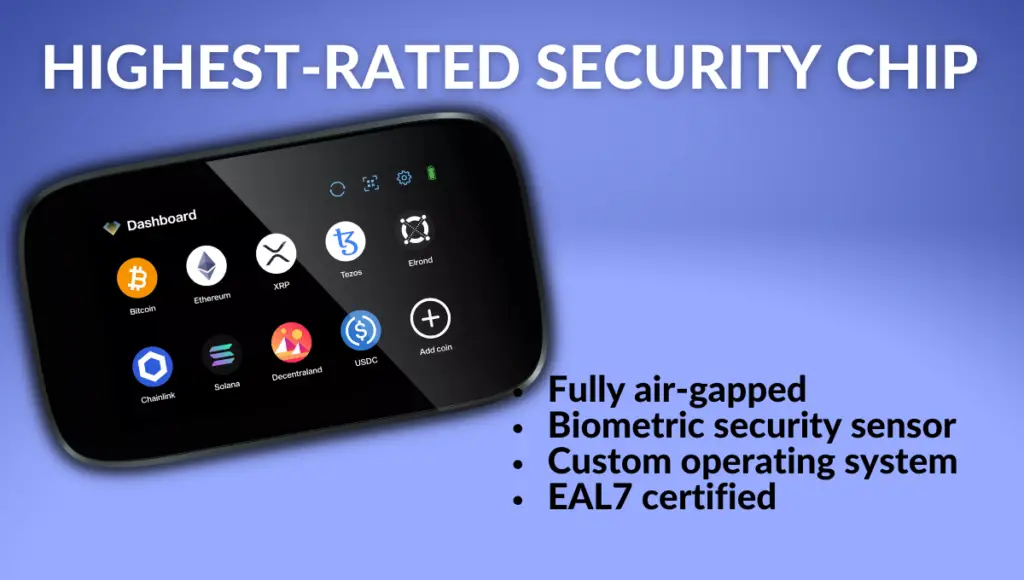 Ngrave Zero is arguably one of the most secure hardware wallets on the market. Its security comes from its air-gapped technology, multi-factor authentication, and a separate tamper-proof card that contains your secret recovery phrase.
Another security feature that many wallet users are in search of is its open-source software. Open-source software is highly sought-after because that means the code can be audited by anyone to ensure there are no vulnerabilities.
Even though it's secure, that doesn't mean it's not user-friendly. With its premium 4-inch touchscreen, you can easily navigate your device and view everything you're doing, which reduces the likelihood of making a mistake when transacting.
Compatible with:
Bitcoin, Ethereum, Tezos, Solana, ETH NFTs, 14 blockchains, plus thousands of coins.
Security features
Fully air-gapped
Biometric security sensor (fingerprint and QR scanner)
Custom operating system
EAL7 certified (highest level of security in the blockchain industry)
Price: $411
3. Trezor Model T (Most Popular)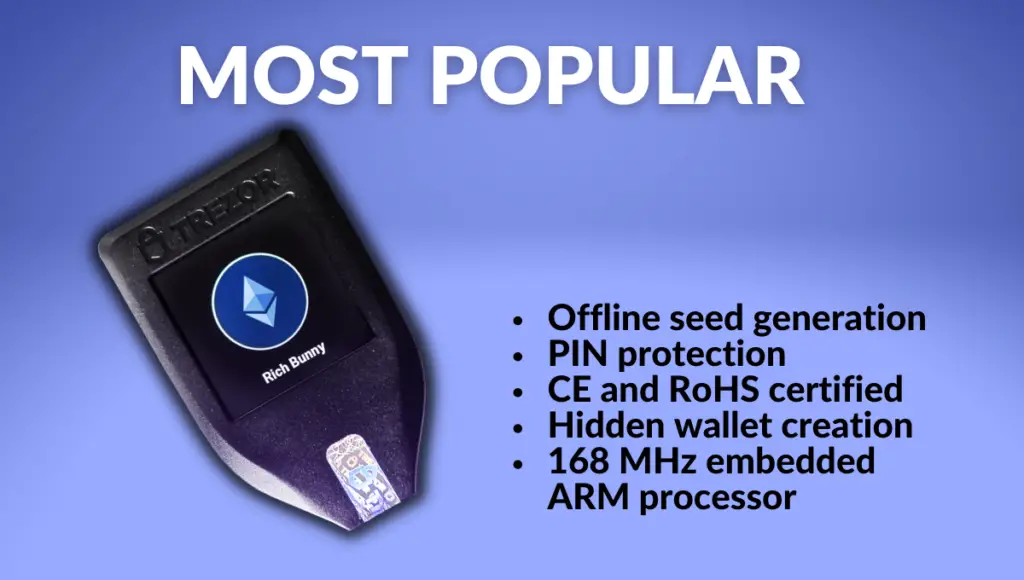 Trezor is one of the most popular hardware wallet brands on the market, and the Trezor Model T is partially to blame for that.
The Trezor Model T provides you with everything you'd expect from a secure wallet including a 12-word secret phrase, PIN, and passphrase protection, along with a user-friendly interface.
Moreover, the Trezor Model T is the first hardware wallet to use Shamir Backup (SLIP39) which increases security further, and in some cases, beyond other hardware wallets. Plus, it has a decently-sized touch screen that makes using the wallet a breeze. 
Compatible with:
Bitcoin, Ethereum, Tether, Cardano, Solana, and NFTs (through a third-party interface like MetaMask)
Security features
Offline seed generation and backup 
PIN & passphrase protection 
CE and RoHS certified
Hidden wallet creation
168 MHz embedded ARM processor (Cortex-M4)
Price: $219
4. Ledger Stax (Most Innovative)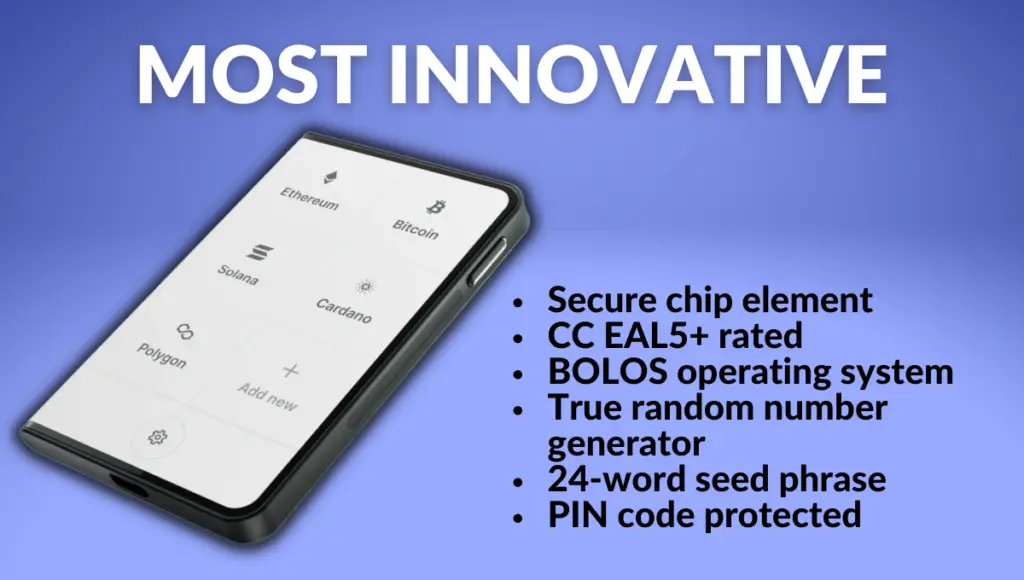 The Ledger Stax is Ledger's newest and most innovative hardware wallet. Created by the same person who designed the iPhone, the Stax isn't only extremely secure, but it's also the most premium hardware wallet available.
In fact, it's the first-ever device to use a curved e-ink touchscreen, and can be stacked with other Stax wallets with its magnetic casing for convenient storage.
Along with its 3.7-inch screen and compact design, this iPhone-esque wallet utilizes the same security features found in all Ledger devices.
If you want a customizable and super user-friendly wallet from one of the most trusted brands in the blockchain industry, the Ledger Stax is for you.
Compatible with:
Bitcoin, Ethereum, Solana, various NFTs, and over 5,000 coins & tokens.
Security features
Secure chip element
CC EAL5+ rated
BOLOS custom operating system
True random number generator
24-word seed phrase
PIN code protected
Price: $279
5. Ledger Nano S Plus (Best Value)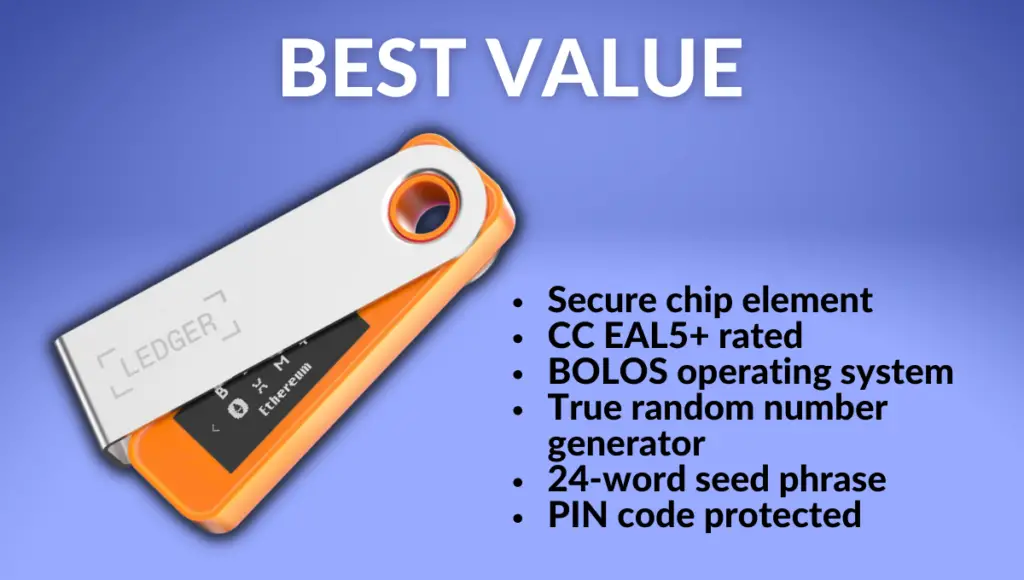 The Leder Nano S Plus is like the Nano X's little sibling. As far as security is concerned, all Ledger wallets utilize the same security technology. Hence, the Ledger Nano S Plus is equally secure as the Nano X and even the Ledger Stax.
So, what's different about the Nano S Plus?
The main difference is that it doesn't have Bluetooth or a battery. It only functions if it's plugged in.
You could argue this actually makes the Nano S Plus more secure, since Bluetooth can invite malicious activities.
Of course, many users may prefer a device that comes with a battery. Nevertheless, the Ledger Nano S Plus is priced accordingly and will only set you back $79.
That's not a bad deal considering Ledger remains one of the most trusted hardware wallet providers.
Compatible with:
Bitcoin, Ethereum, Solana, various NFTs, and over 5,000 coins & tokens.
Security features
Secure chip element
CC EAL5+ rated
BOLOS custom operating system
True random number generator
24-word seed phrase
PIN code protected
Price: $70
6. Ellipal Titan (Most Security Features)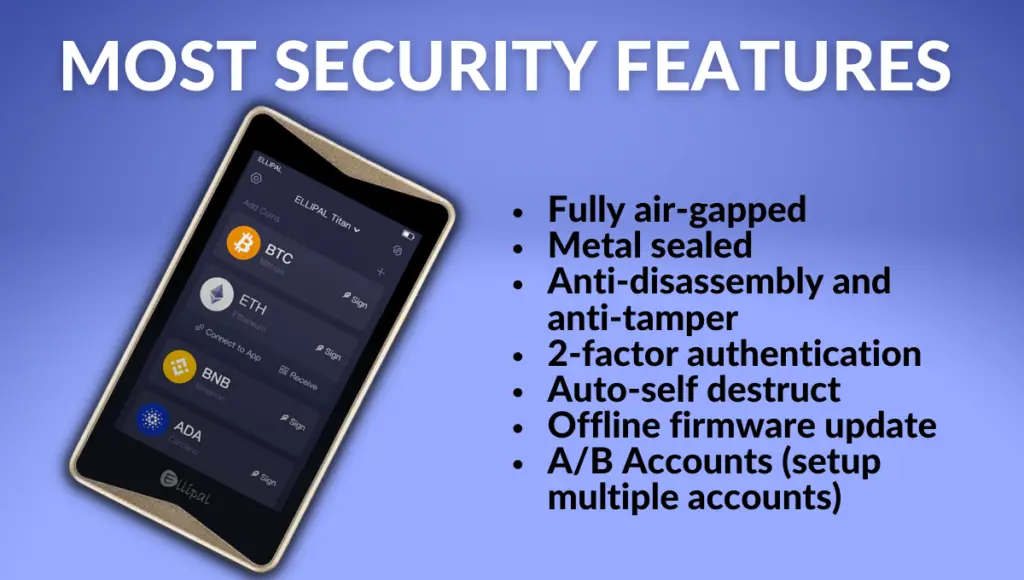 The Ellipal Titan hardware wallet is advertised as a 100% air-gapped device, meaning it's completely disconnected from the internet and has limited options for connecting to other devices. This provides the utmost security to users and their assets.
That said, the Ellipal Titan has no USB, no Bluetooth capabilities, can't connect to WIFI, no NFC, and absolutely no cellular connection.
This thing is basically a brick that stores your private keys.
Nonetheless, it's much more attractive than a brick with its large 4-inch touch screen, triangular camera, and sleek phone-like look.
If you want the most secure hardware wallet without sacrificing a good user interface, look no further than the Ellipal Titan.
Compatible with:
Bitcoin, Ethereum, Solana, various NFTs, and over 10,000 coins & tokens.
Security features
Fully air-gapped
Metal sealed
Anti-disassembly and anti-tamper
2-factor authentication
Auto-self destruct
Offline firmware update
A/B Accounts (setup multiple accounts)
Price: $139
7. SafePal S1 (Most Budget Friendly)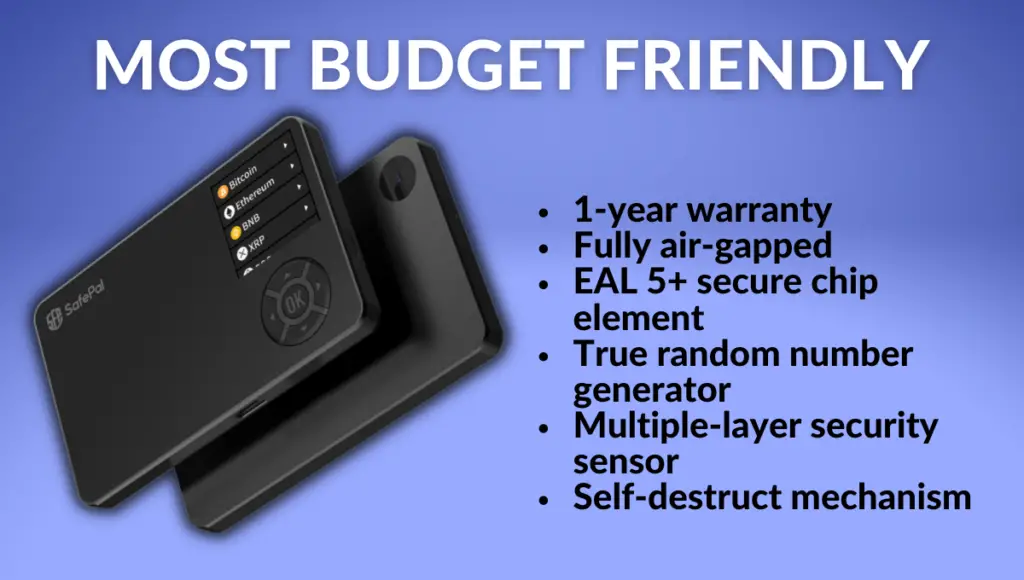 The SafePal S1 hardware wallet is a super simple device, making it one of the most secure and affordable options on the market.
It's fully air-gapped and uses the same secure chip element that's found in more popular brands like Ledger. Don't let the cheap-looking website and simple design of the SafePal S1 fool you, this wallet is secure as they come.
For only $49, it's hard to match the level of security offered by the SafePal S1 hardware wallet.
Compatible with:
Bitcoin, Ethereum, Polygon, Solana, plus 54 blockchains and unlimited tokens.
Security features
1-year warranty
Fully air-gapped
EAL 5+ secure chip element
True random number generator
Multiple-layer security sensor
Self-destruct mechanism
Price: $49
8. Keystone Pro (Best Open Source)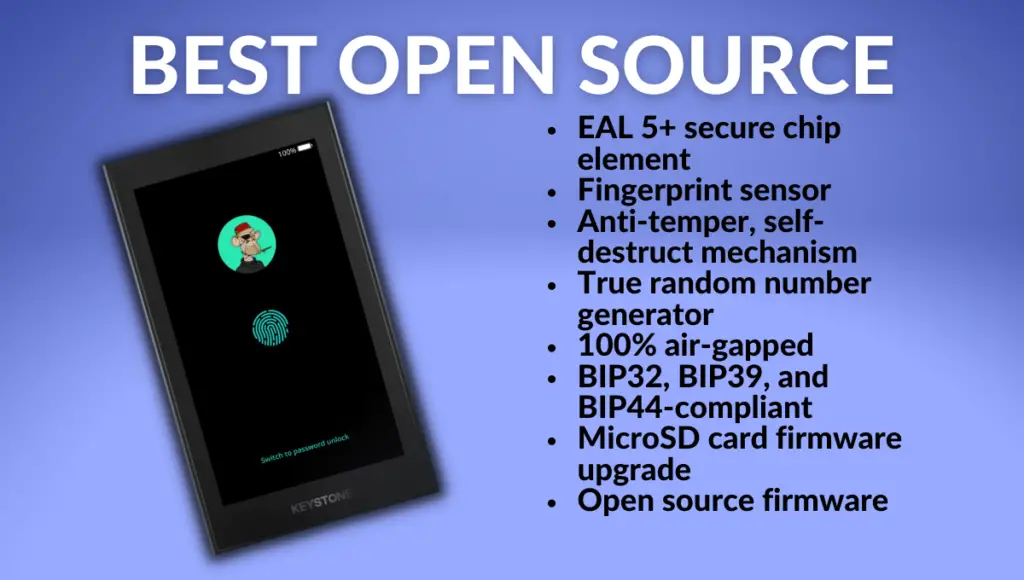 Keystone was founded in 2017 and has been pumping out top-notch hardware wallets since, and the Keystone Pro is no exception.
This hardware wallet provides users with a simplified experience via a fingerprint scanner and 100% air-gapped QR code technology. This eliminates the risk of malware infections and other types of hacks.
The device itself is lightweight and has a 4-inch touchscreen that makes verifying transactions a breeze. Although Keystone isn't as popular as say, Ledger or Trezor, they have been delivering crypto users reputable products from day one.
Compatible with:
Bitcoin, Ethereum, Solana, Polygon, and 1,000+ coins, plus NFT support via third-party apps using QR codes.
Security features
EAL 5+ secure chip element
Fingerprint sensor
Anti-temper, self-destruct mechanism
True random number generator
100% air-gapped QR code experience
BIP32, BIP39, and BIP44-compliant
MicroSD card firmware upgrade
Open source firmware
Price: $169
9. CoolWallet Pro (Most Durable)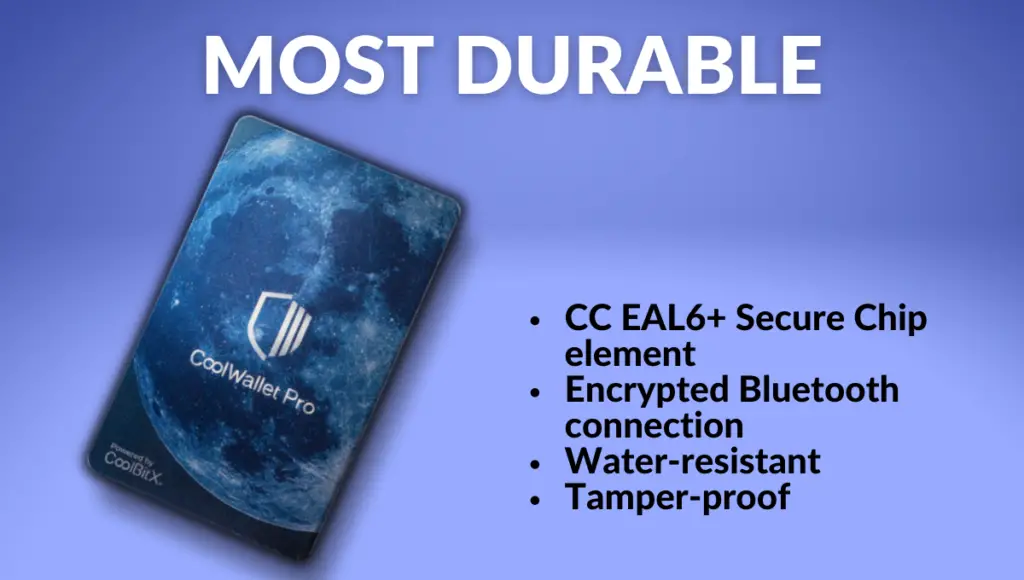 CoolWallet Pro is a super secure hardware wallet that offers some of the best technology in the industry. It utilizes a CC EAL6+ secure chip element (one of the highest security standards in the blockchain industry) and provides users with an encrypted Bluetooth connection for safer connecting.
Thanks to its compact size (about the size of a credit card), the CoolWallet Pro is tamper-proof and even water-resistant, making this wallet extra durable both physically and digitally.
Compatible with:
Bitcoin, Ethereum, Solana, Avalanche, plus 27 blockchains and 12,000+ coins and tokens.
Security features
CC EAL6+ Secure Chip element
Encrypted Bluetooth connection
Water-resistant
Tamper-proof
Price: $149
10. BitBox02 (Most Discreet)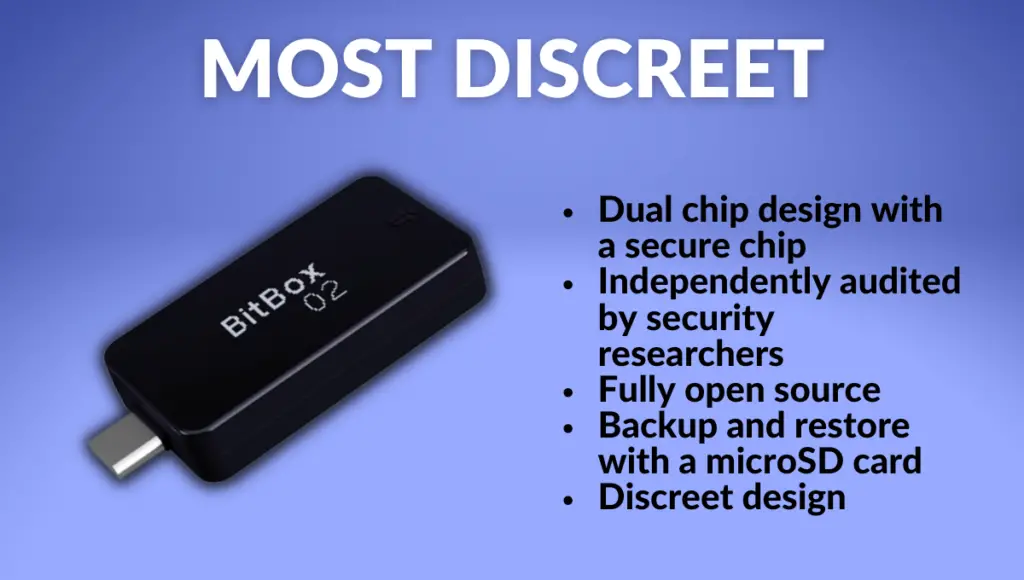 Designed by Shift Cryptosecurity, a hardware wallet company based in Switzerland, the Bitbox02 is crafted by experts whose main focus is security.
The BitBox02 hardware wallet isn't only extremely secure, but it's also sleek and discreet looking. 
As for security, It's completely open source and has been independently audited by security researchers. That combined with its unique microSD card used to back up and store your private keys makes the Bitbox02 wallet a great option for those looking for a wallet they can trust.
It's important to note there are two types of BitBox hardware wallets available. One is Bitcoin-only, while the other is multi-edition (multi-chain compatible). Be sure to choose accordingly.
Compatible with:
Bitcoin, Litecoin, Cardano, Ethereum, Chainlink, BAT, and 1500+ ERC20 tokens
Security features
Dual chip design with a secure chip
Independently audited by security researchers
Fully open source
Backup and restore with a microSD card
Discreet design
Price: $147
11. SecuX V20 (Most Versatile)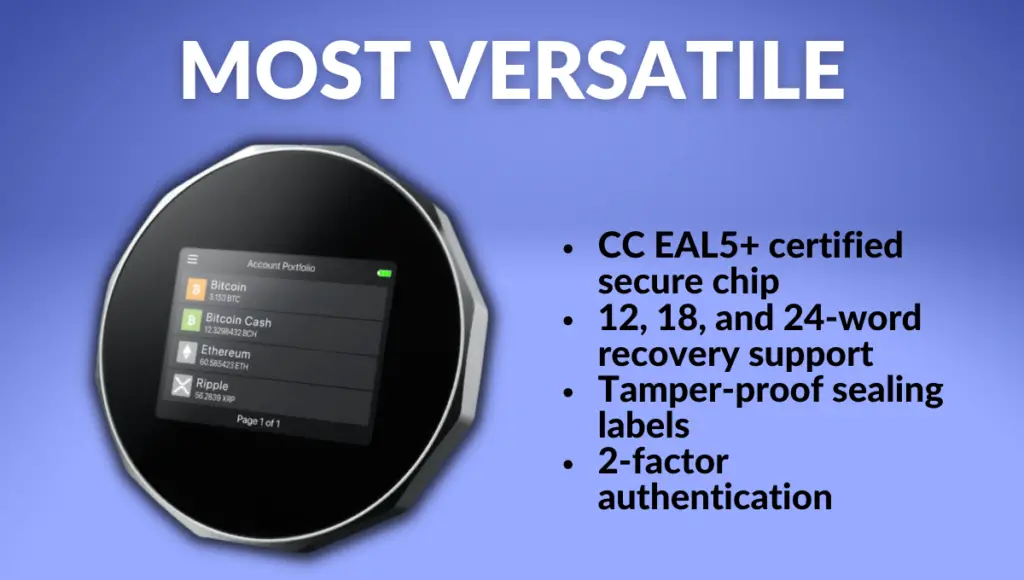 The Secux V20 might not be the most well-known hardware wallet, but that doesn't mean it's not secure. Similar to the Ledger wallets, the SecuX V20 utilizes an Infineon, EAL5+ secure chip element for ultimate protection.
Something that's unique to this wallet is that it's compatible with multiple recovery phrase standards, meaning it can generate 12, 18, and 24-word seed phrases. 
It's also uniquely designed considering it's one of the only rounded wallets and has a 2.8-inch colored touchscreen for easy viewing and enjoyable navigation.
Compatible with:
Bitcoin, Ethereum, Solana, Cardano, ERC-20, ERC-721, ERC-1155, and 1,000+ coins.
Security features
Infineon CC EAL5+ certified Secure Element chip
BIP32, BIP39, and BIP44 Standard 12, 18, 24-word recovery phrase support
Tamper-proof sealing labels
2-factor authentication during Bluetooth connection
Price: $139
12. KeepKey (Most Basic)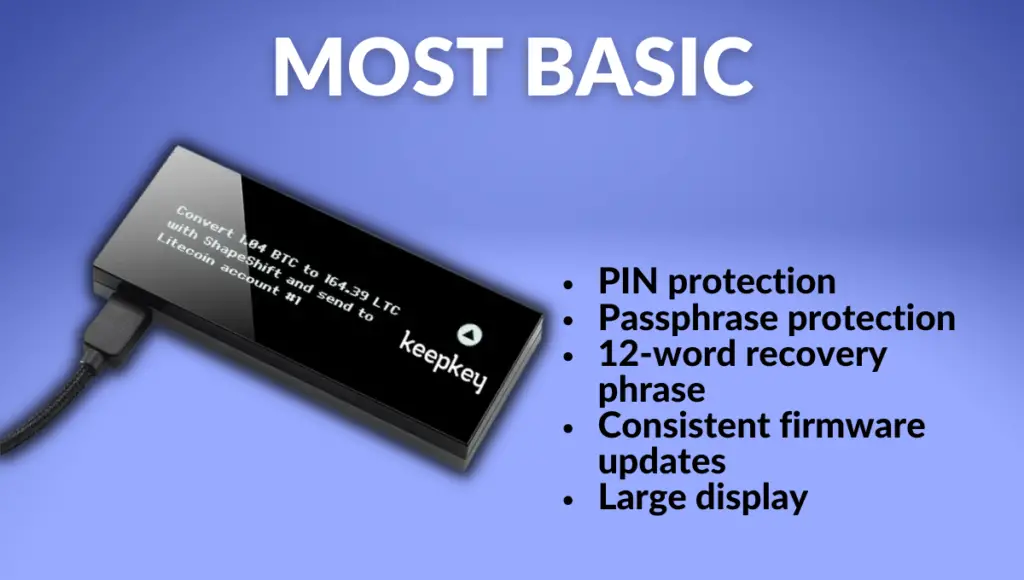 KeepKey is a low-key hardware wallet you might not have heard of. They only offer one wallet, simply called the "KeepKey Hardware Wallet". But, simple is good in this case.
The KeepKey wallet isn't air-gapped, rather, it's a USB HID-class device. It does offer users standard protection including a user-generated PIN code, a 12-word secret recovery phrase, consistent firmware updates, and a large touchscreen.
Something else that's interesting about this wallet is that it doesn't have an operating system. This is done on purpose so that viruses, malware, and keyloggers can't infect the device.
As a result, the KeepKey hardware wallet is one of the cheapest wallets on the market. You can pick one up for only $49. 
Again, don't expect anything fancy though.
Important: The KeepKey Chrome app no longer exists. That said, there are scam versions that can steal your funds. Never enter your recovery phrase into any software unencrypted. Official clients will always use KeepKey's built-in text cipher.
Compatible with:
Bitcoin, Bitcoin Cash, Ethereum, Litecoin, Dogecoin, Dash, ERC-20 tokens, 2,500+ coins, and over 300 blockchains. 
Security features
PIN protection
Additional passphrase protection
Guarded from computer vulnerabilities and viruses
12-word recovery phrase
Consistent firmware updates
Large display
Price: $49
What Is a Hardware Wallet?
A hardware wallet is a physical device that stores your seed phrase and other private info offline. These wallets typically connect to your computer or mobile device via USB or Bluetooth and are secured with a PIN, passphrase, and secret recovery phrase.
You can think of it like a digital piggy bank that keeps your savings safe and sound.
In addition to securing your private keys, hardware wallets offer other security features that make them the go-to choice for crypto enthusiasts. 
For example, hardware wallets typically include tamper-resistant elements, such as secure chips that make it virtually impossible for someone to steal your private keys even if they have physical access to your wallet.
Another important feature is their ability to support multi-signature transactions. This feature adds an additional layer of security to your cryptocurrency holdings. If you're serious about securing your digital assets, using a hardware wallet is crucial. 
Importance of Security in Blockchain Storage
Blockchain technology's openness and decentralization have numerous advantages, but it also presents new security risks.
That's why security is so crucial for proper blockchain storage. Your digital assets are valuable, hence they're heavily targeted by cybercriminals. 
Despite what many believe, digital assets including crypto and NFTs can be stolen if your private keys are exposed. The worst part is that there's no way to get them back if this happens to you.
Since blockchain transactions are irreversible, there's no way to undo a transaction or retrieve your money if someone steals your private keys and transfers your assets to their own wallet.
Hence, it's impossible to overestimate the significance of security in blockchain storage. Fortunately, you can ensure your digital assets are protected from potential dangers by utilizing a hardware wallet.
What Makes a Hardware Wallet Secure?
Cold Storage
Cold storage describes the foundational structure of all crypto hardware wallets. It simply means your private keys are stored offline on a separate device. This eliminates external risk factors like malware, scammers, and hackers from accessing your funds.
As a result, no one can access your wallet or the funds within. Especially if they don't have physical access to your device. Even then, the most secure hardware wallets on the market remain nearly unhackable.
The desire for cold storage wallets comes from the lack of security provided by even the most popular software wallets like MetaMask.
Although hot wallets are convenient and free to use, they are not an acceptable means for storing your digital investments. If you are serious about investing or collecting digital assets like crypto or NFTs, then you need a cold storage hardware wallet. End of story.
User Authentication
Authentication is an important factor in wallet security. This describes how someone can gain access to your hardware wallet. Things like PIN codes, passphrases, biometrics, and seed phrase generation are all part of authentication.
If someone gets ahold of your wallet, you want to ensure they can't gain access to your funds. That's why it's so important to consider the kind of authorization required to access whichever hardware wallet you use.
Some wallets even include a self-destruct mechanism that wipes your wallet clear in case someone tries to force their way in. But, don't worry, your assets still remain safe on the blockchain. All you'd have to do in that scenario is get a new device, enter your recovery phrase, and you're good to go.
Ultimately, the more authentication that's required to access a wallet, the safer it is for the owner, and the harder it is for a hacker to gain access.
Air gap technology
Air gap technology is arguably one of the greatest layers of defense a hardware wallet can utilize. Air gap means your wallet is completely disconnected from external sources like the internet and other devices such as your computer. That means it doesn't have Bluetooth capabilities, USB ports, or WIFI. All it has is a camera for QR code authentication.
This eliminates potential threats like viruses, hackers, and malware. This isolation of the hardware wallet makes it virtually impossible for a hacker to access your private keys or steal your funds.
As a result, expect some convenience to go away. Certain users might prefer having a device that can connect to their computers or smartphones with little effort. You can't do that with an air-gapped device.
Multi-signature (multi-sig)
Multi-signature transactions ensure attackers can't execute any transactions even if they gain access to your hardware wallet or seed phrase. By requiring several signatures from pre-authorized parties, you create an additional layer of security.
For example, if you set up a multi-sig that requires two additional signatures along with your own approval, a transaction could only be completed if all parties sign for it.
Moreover, some hardware wallets allow for the delegation of required signatures to a trusted third party, such as a lawyer or trusted family member. 
This delegation adds an extra level of security in emergency situations, ensuring that your digital assets remain secure even if you're unavailable.
Firmware Updates
Consistent firmware updates are critical to the security of every hardware wallet. By regularly releasing firmware updates, hardware wallet manufacturers can address any new threats and vulnerabilities that may be discovered by the community or security auditors. 
This is especially important as the cryptocurrency landscape is constantly evolving, and new threats and attacks can emerge at any time.
Moreover, regular firmware updates guarantee that your wallet remains compatible even with the most recent applications and communication standards used in the blockchain ecosystem. 
So, as new cryptocurrencies and blockchain networks are introduced, your hardware wallet will continue to work.
Frequently Asked Questions
Which is the most secure hardware wallet?
I've used the Ledger Nano X for years and can confirm it's the most secure hardware wallet. It uses a secure chip element and a custom operating system that isolates any malicious apps. Ledger is the most trusted manufacturer in the blockchain industry.
Are hardware wallets 100% safe?
No, they aren't 100% safe against scams and hacks. If you voluntarily grant access to a scammer via a phishing link or other scams, nothing is safe. But when combined with wallet best practices, hardware wallets are the most secure solution for storing digital assets.
How to safely purchase a hardware wallet?
Always purchase hardware wallets directly from the manufacturer. If buying from a retailer, you risk purchasing a compromised wallet. If you must buy one from a retailer, confirm with the manufacturer that they're an authorized seller first.