Looking for an honest, non-biased, hands-on review of the SecuX Nifty hardware wallet? Look no further. I recently received my Nifty wallet and decided it was time for an in-depth review. So, here you go. Enjoy!
In my experience, the SecuX Nifty hardware wallet is affordable, secure, and great for beginners. It's easy to set up and its Bluetooth connectivity combined with the Secux Mobile app makes managing your funds a breeze. If you want a secure and user-friendly crypto wallet, check out the Nifty.
Contents
SecuX Nifty Hardware Wallet Review
Here is a quick overview of the SecuX Nifty hardware wallet.
| | |
| --- | --- |
| Price | $199 |
| Features | 2.8-inch color touchscreen, Bluetooth, USB port, NFT artwork display |
| Security elements | EAL5+ secure chip element, PIN code + PIN scrambler, hands-on clear-sign |
| Encryption support | BIP32, BIP39, and BIP44 Standard 12, 18, 24 Recovery Words |
| Device size and weight | 100mm х 60 mm х 12mm; 78 grams |
| Supported coins and tokens | BTC, ETH, MATIC, BNB, SOL, and more |
| Supported blockchains | Cross Chain Support: Bitcoin, Ethereum, Binance Smart Chain, Polygon, and Solana |
| Compatible software wallets | N/a |
| Mobile app | Android and iOS |
| Warranty | 1 year |
| Manufacture origin | Taiwan |
If you are more of a video person, you can watch my full review of the SecuX Nifty hardware wallet below.
SecuX Nifty Features
Touchscreen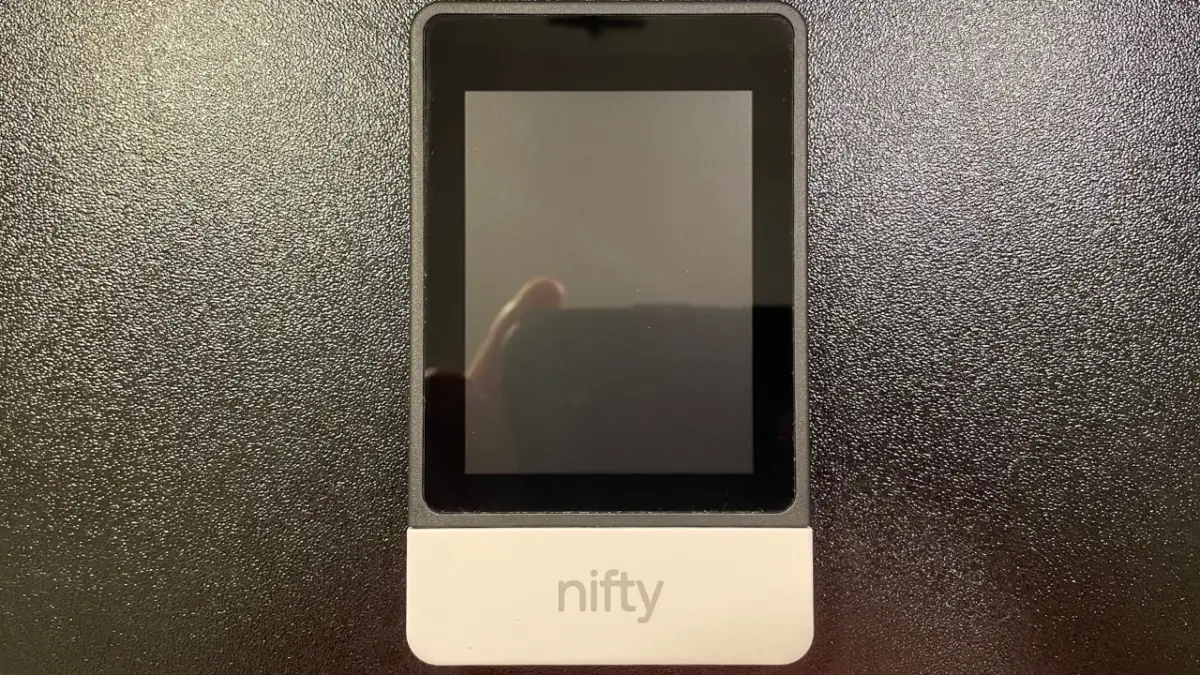 The SecuX Nifty has a responsive 2.8-inch color touchscreen that simplifies navigating the wallet.
You can use the large screen to personalize how your NFT collection displays and choose an NFT to view on your device.
Overall, the Nifty weighs a mere 78 grams, making it one of the most lightweight hardware wallets with a touchscreen and one of the best designed.
You don't have to take my word for it though. The SecuX Nifty has won multiple design awards including the 2022 European Product Design Award and the 2023 IF Design Award.
Rechargeable battery
Nifty's built-in 600mAH rechargeable lithium-ion battery is capable of remaining fully charged for several months when not in use.
Or you can enjoy 7 hours of uninterrupted continuous use at full charge.
The device's smaller touch screen and proper battery size enable the battery last longer as it doesn't require as much energy versus other wallets on the market with larger screens.
In my experience, it takes about 2 hours to fully charge the SecuX Nifty NFT wallet.
Bluetooth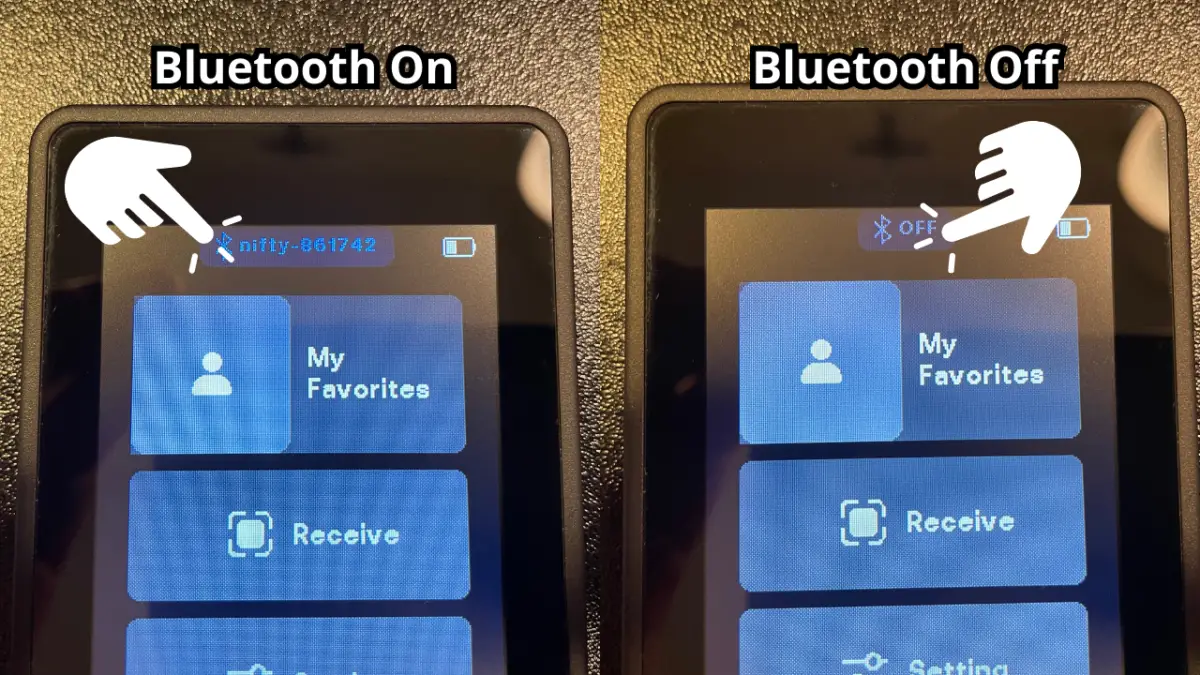 Love it or hate it, the Nifty comes equipped with Bluetooth so that you can connect it to your mobile device.
But don't worry. If you aren't a fan of your hardware wallet having Bluetooth, you can disable it by tapping the Bluetooth button located on the top of the device's screen.
SecuX Mobile app
The SecuX Mobile app is available for both iOS and Android devices and supports the management of your digital assets on the SecuX Nifty.
Once you download the app, you can use it in conjunction with your wallet to:
Manage transactions. The Bluetooth connection is established with multiple layers of authentication including PIN, password, and One-Time-Password, to ensure secure transactions including receiving, sending, and portfolio balance inquiry of your crypto assets.
Access decentralized applications (dapps). Nifty wallet users can use WalletConnect to connect to decentralized applications including Opensea, Rarible, Unstoppable Domains, and LooksRare directly through the app.
Manage assets. The app currently supports 1000+ coins and tokens including Bitcoin (BTC), Ethereum (ETH), Litecoin (LTC), Ripple (XRP), Binance Coin (BNB), Binance Smart Chain BEP-20 tokens, Tron TRC-10/20 tokens and all ERC-20 tokens.
Secure Chip Element
The Nifty hardware wallet features an Infineon SLE 97 Chip EAL5+ Secure Chip Element for maximum security.
I consider this chip a standard in hardware wallets considering the most reputable wallet manufacturers like Keystone and Ledger utilize the same chip for optimal security in their devices.
This type of chip is similar to the ones found in credit cards, electronic passports, and mobile phones and is used to prevent unauthorized access in addition to storing confidential and cryptographic data.
Dynamic keypad entry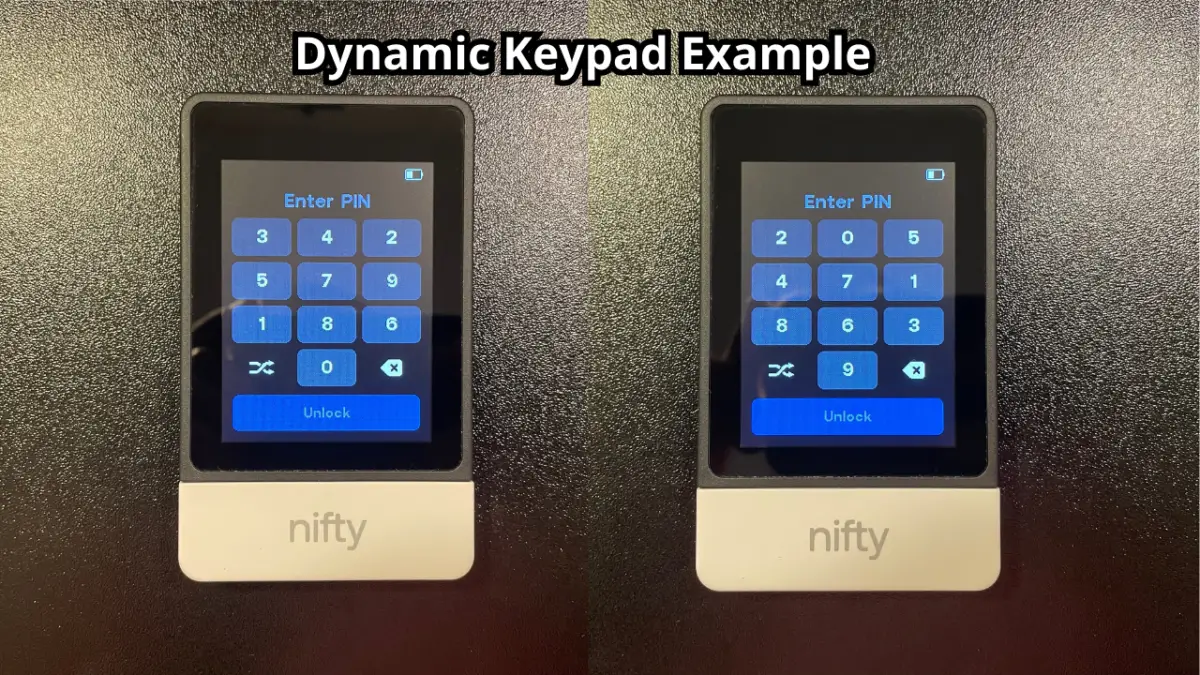 Before I learned about this feature, I was confused as to why the numbers on my keypad changed every time I entered my PIN code.
Come to find out this is a unique security feature used to prevent wandering eyes from learning your PIN simply by observing where you tap on the screen.
By shuffling the numbers' location on the screen every time you enter your PIN, it makes it near impossible for someone else to learn the positioning of your PIN code.
Hands-on, Clear Sign
The 2.8-inch touchscreen isn't just pleasant to look at, it also enables you to clearly view transactions before approving them.
Thus, transactions aren't approved unless signed for on the device. This ensures you remain in complete control of your device and your funds.
Even when using your mobile device to initiate transactions, you have to approve them on your hardware wallet before the transaction can be submitted.
Automatic reset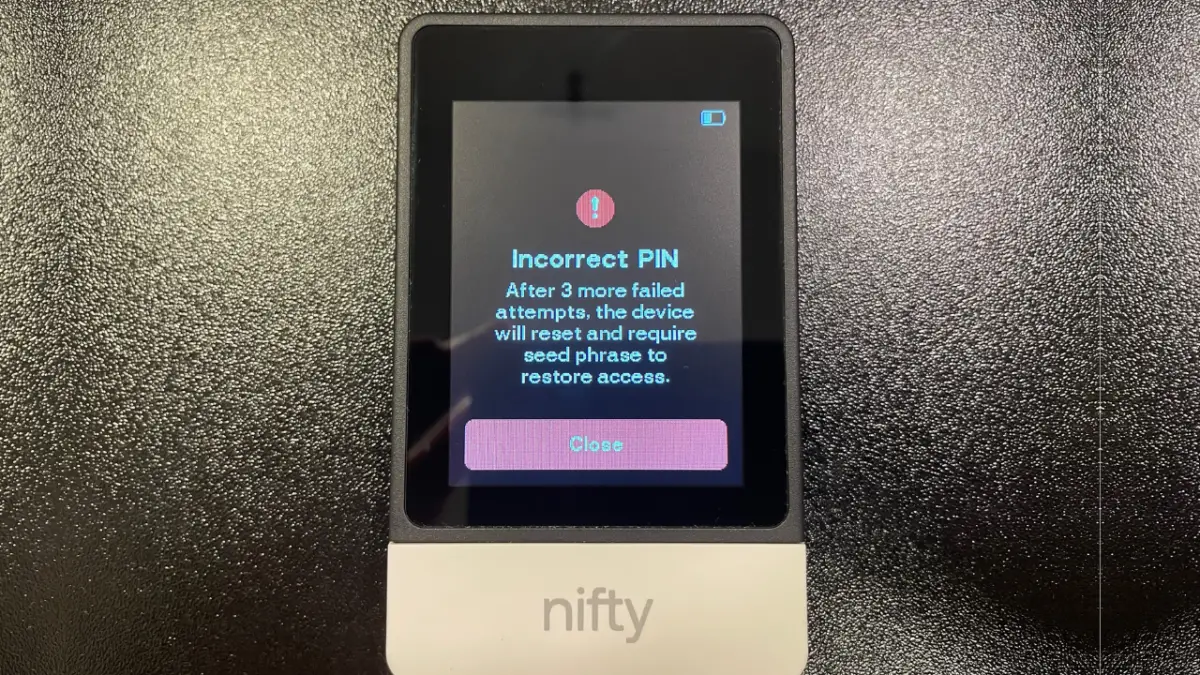 Often referred to as a self-destruct mechanism, the SecuX Nifty automatically resets if more than 5 failed PIN attempts are made.
Don't worry. The reset function doesn't erase your funds. They remain secure on their respective blockchain networks.
However, to access them you will need to sign back into your wallet using the secret recovery phrase associated with that wallet account, at which point you can enter a new PIN code if you did forget it.
Ultimately, this is yet another security feature that ensures intruders can't gain unwarranted access to your wallet.
Unboxing the SecuX Nifty Wallet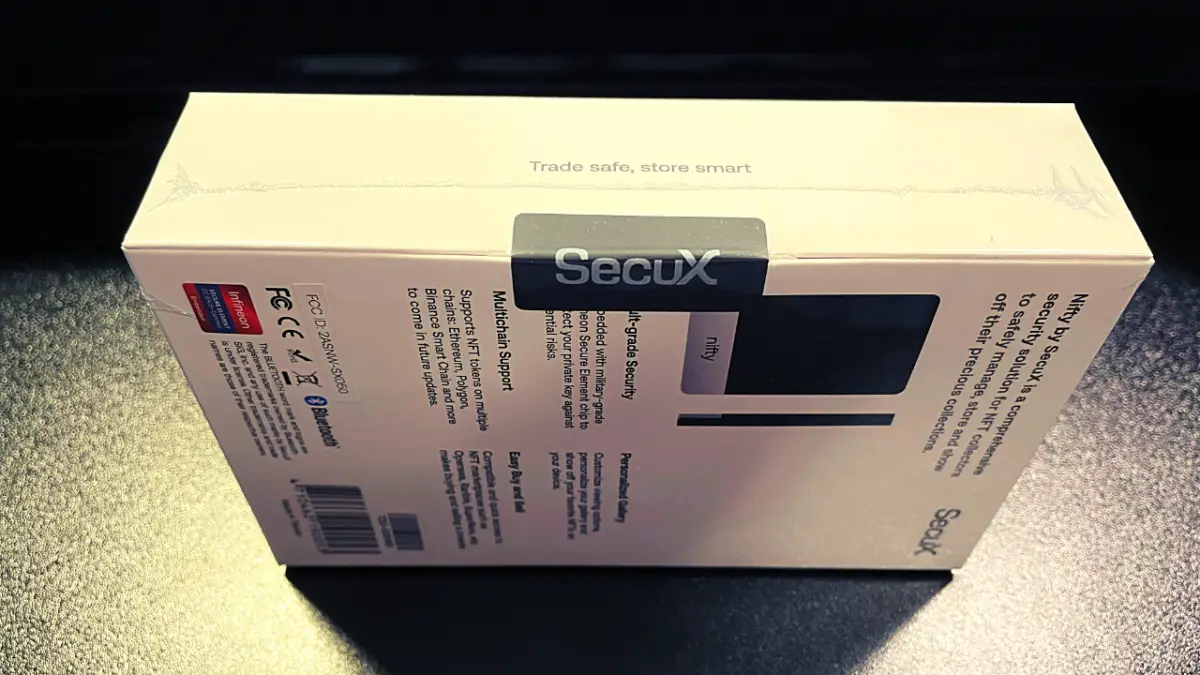 The SecuX Nifty arrives well-packed and is secured by branded SecuX security tape to guarantee the contents inside are not tampered with during transit.
Here is what you will find upon unboxing the SecuX Nifty hardware wallet:
Nifty hardware wallet (1)
USB charging cable (1)
X-SEED aluminum backup sheet (1)
Paper recovery sheets (2)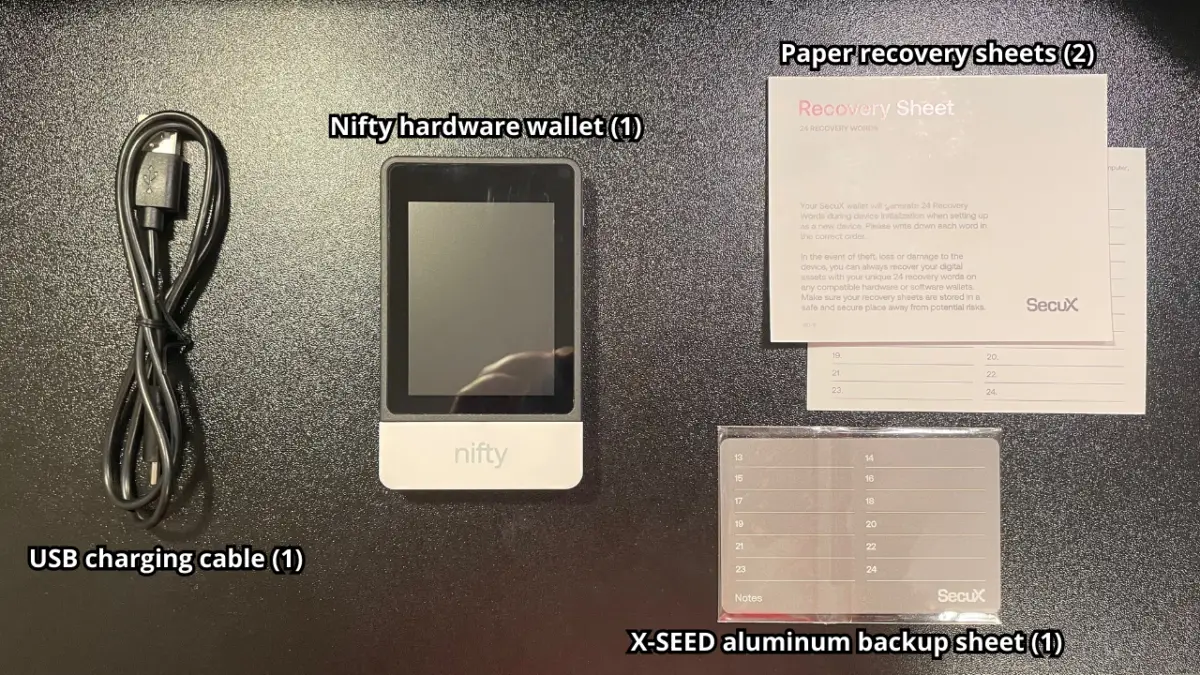 Secux packaging is by far the best I've seen when it comes to overall hardware wallet presentation from a brand.
The interior of the box also includes a "Getting Started" section to help you quickly set up your wallet and begin using it right away.
Even the device itself has security tape on the USB-C port to ensure no one has accessed it before you get your hands on it.
How to Setup the SecuX Nifty Wallet
1. Check your package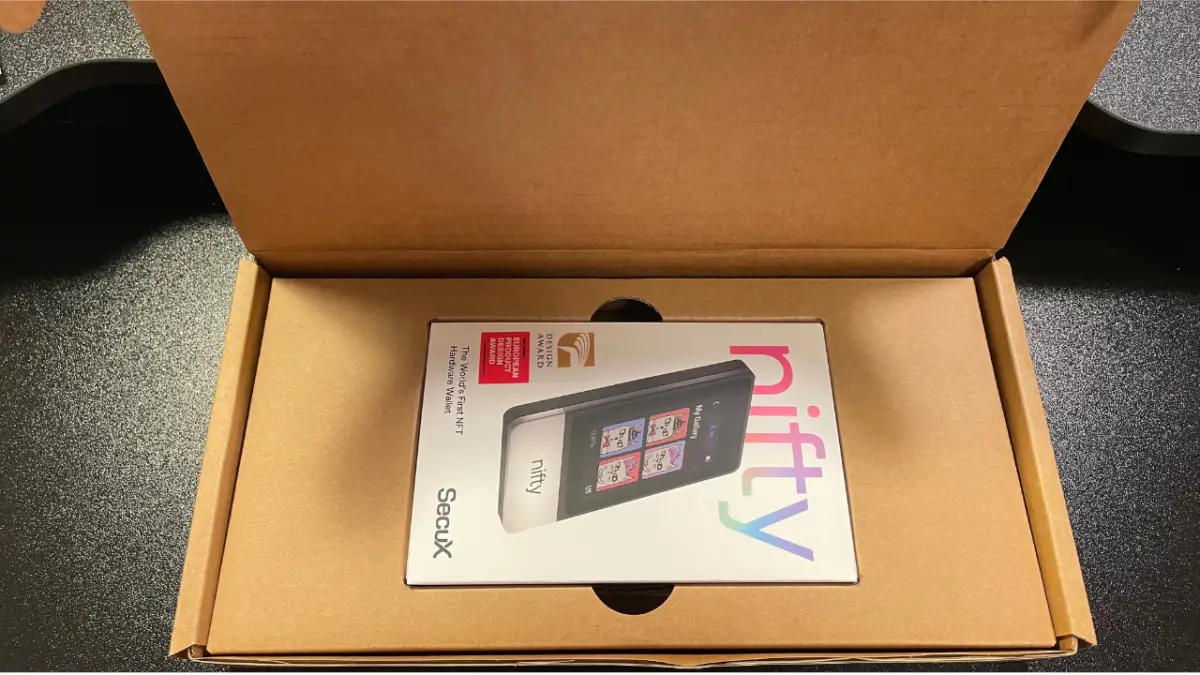 Before setting up the SecuX Nifty, make sure to confirm you received everything and that nothing looks out of place.
The branded Nifty box should come plastic wrapped with a small piece of security tape on the opening side which keeps it closed.
Furthermore, double-check that you received all the contents and that the device has a piece of security tape over the USB-C port.
If anything looks out of place or you are missing items, don't use the wallet. Contact SecuX customer support immediately.
2. Charge the wallet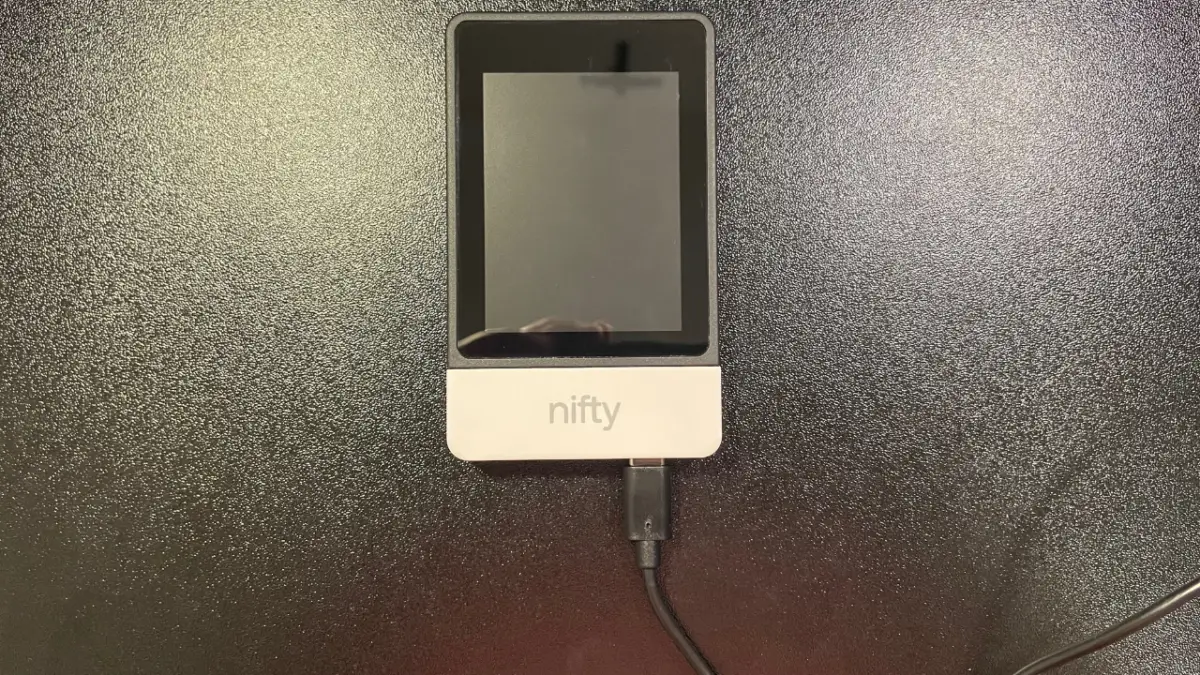 Although my wallet came pre-charged (the battery was at 50%), you should still charge it to 100% if you plan on storing it for long periods of time or immediately transacting with it.
I was able to set up my device in a matter of minutes, so the 50% charge was more than enough for the initial setup.
3. Download the SecuX App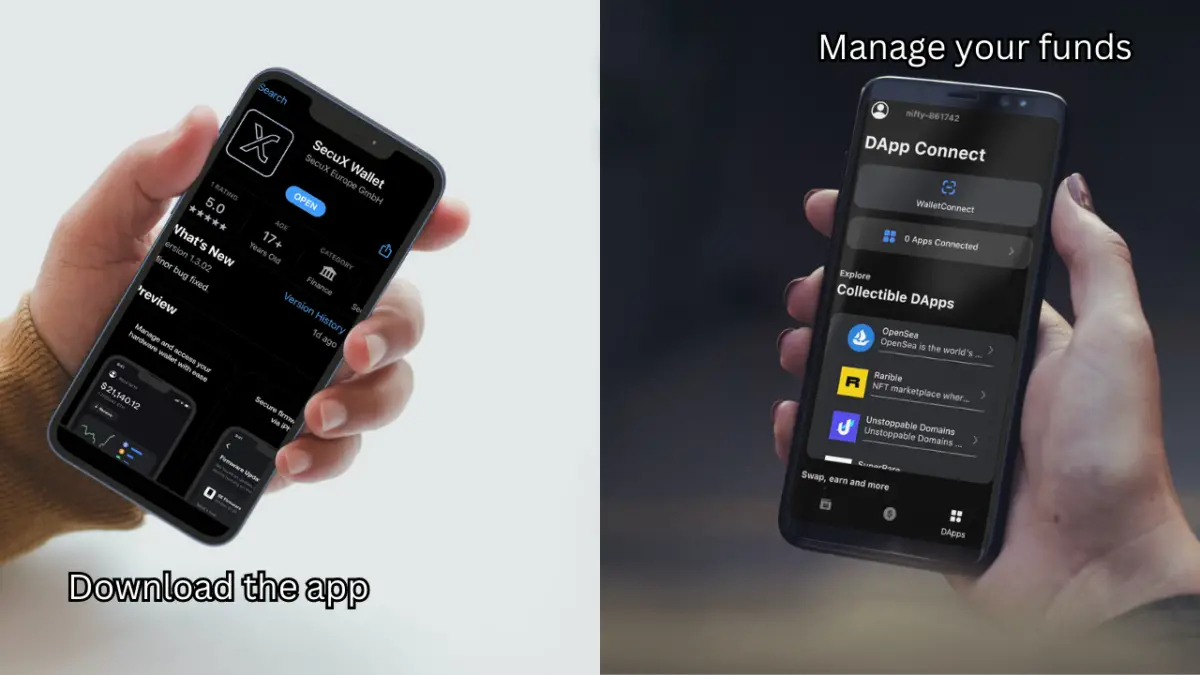 Downloading the SecuX app is part of the setup process. Simply scan the QR code on your device during the setup process to safely install the SecuX App.
To connect your Nifty wallet to the app, make sure Bluetooth is enabled on both devices.
The Bluetooth button is found on the top of your wallet's screen. Tap once to disable it and again to enable it.  
4. Set a PIN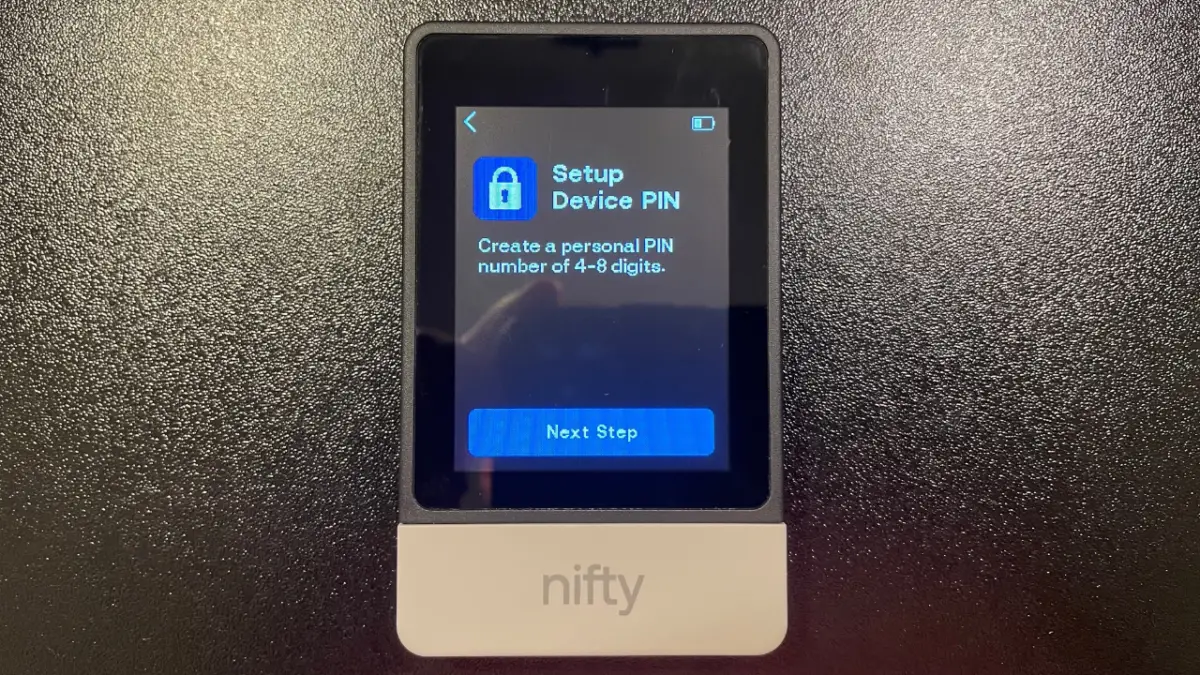 You can set a 4 to 8-digit PIN. I recommend using all 8 digits as it's more difficult to guess. 
Never store your PIN online or anywhere that it is easily accessible by someone who you don't want accessing your wallet.
5. Generate a recovery phrase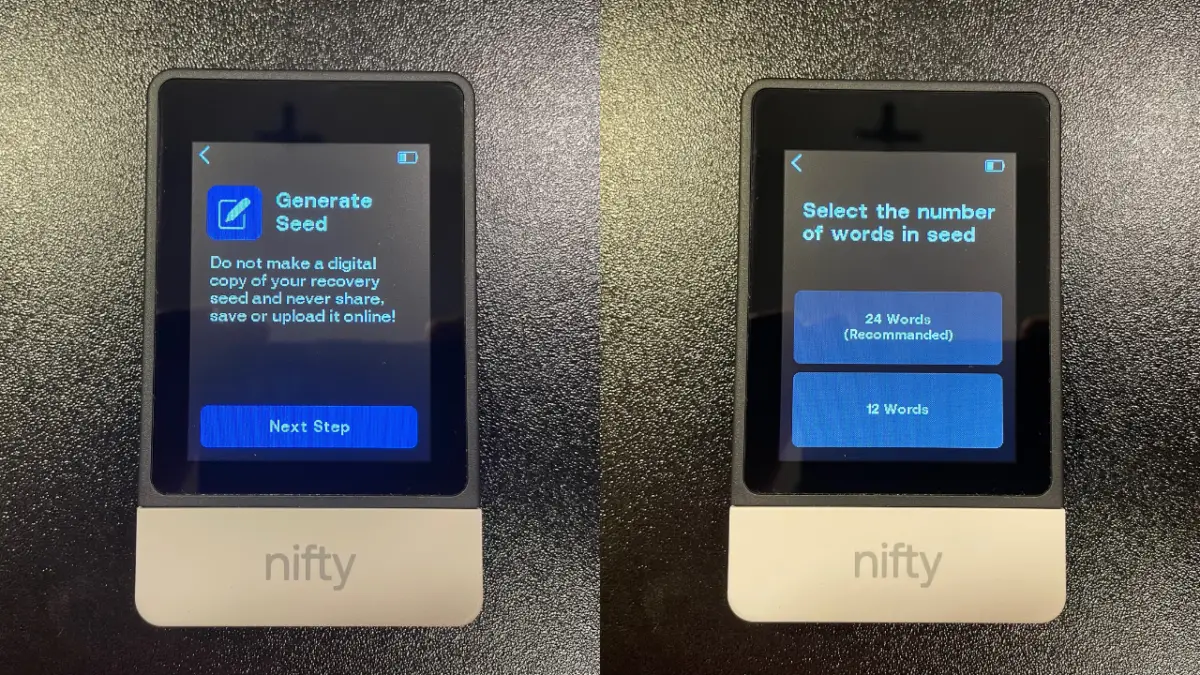 The final step to setting up the SecuX Nifty is to create a new wallet or import one of your existing wallets.
If you create a new wallet, you can choose either a 12 or 24-word recovery phrase. I highly recommend going with 24-words as it's much more secure.
You'll need to write down your recovery phrase and store it in a safe place. Again, never store this phrase anywhere online as it is the master key to your wallet and any funds you have stored on it.
Moreover, the Nifty comes with an aluminum recovery plate you can use to engrave your phrase.
If you are importing an existing wallet, simply enter your seed phrase and you're good to go.
SecuX Nifty Wallet Pros and Cons
| Pros | Cons |
| --- | --- |
| 2.8-inch touchscreen is easy to use. | It's not air-gapped. |
| Super quick setup and extremely user-friendly. | Wallets with similar features and security can be bought for less money. |
| Easy access to dapps with the SecuX App. | Offers less coin support than other similarly priced hardware wallets. |
| Solid plastic material is lightweight and durable. | |
| Private key is generated and stored offline. | |
| More secure than software wallets like MetaMask. | |
Is the SecuX Nifty Hardware Wallet Worth It?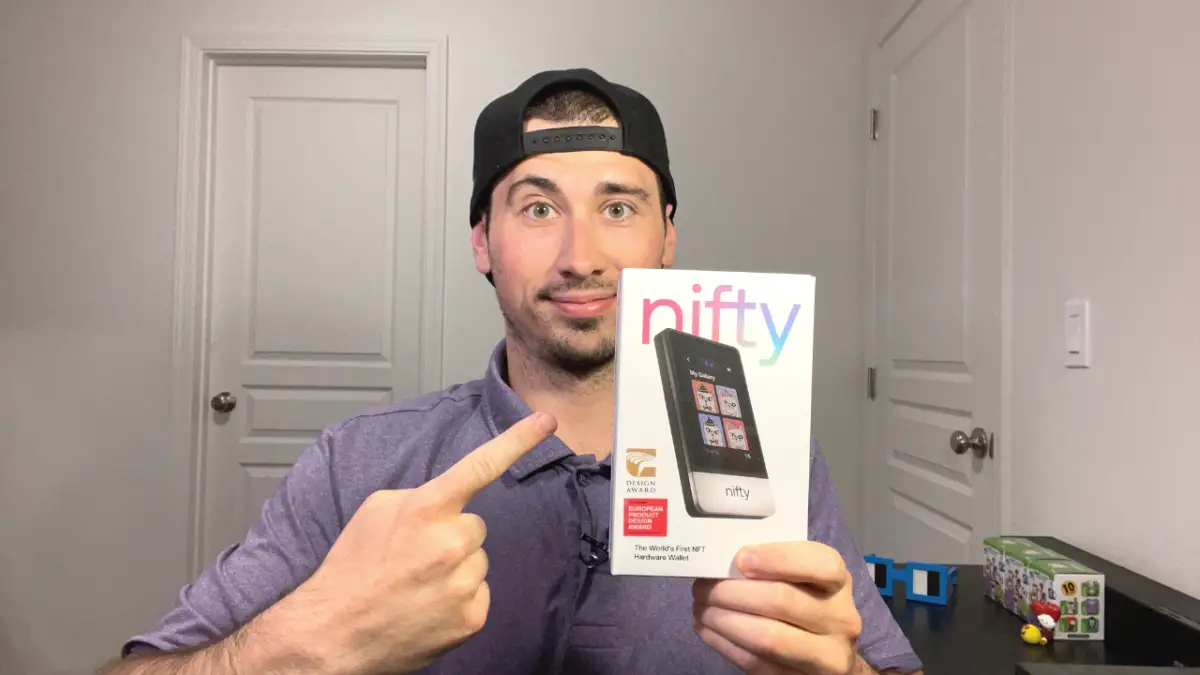 If you're in search of a user-friendly and secure hardware wallet, the SecuX Nifty is an excellent choice. It's ideal for beginners and those seeking a reliable cold storage device to replace their software wallet. Priced at $199, it offers great value that's hard to beat.
Personally, I prefer to use the Nifty wallet as my everyday transaction wallet. That's not to say it's not a good storage wallet, because it is.
However, I prefer using an air-gapped wallet for storage. But, if you prefer to use one wallet to store and manage all of your funds, the SecuX Nifty is a good option.
Where to Buy the SecuX Nifty
To ensure you purchase a genuine SecuX Nifty hardware wallet, it's best to purchase it directly from the manufacturer. While some websites like Amazon offer discounts, buying elsewhere poses the risk of receiving a compromised device. Prioritize authenticity and buy from SecuX directly.
That said, you can still get a discount on SecuX's website by using my affiliate link above. You'll save $20 (10%) on your entire order.
It doesn't get any better than that… I hope you enjoy.
Frequently Asked Questions
Is the SecuX Nifty Safe?
The SecuX Nifty hardware wallet is a secure option for storing digital assets. It includes features like a secure chip, PIN protection, and the choice of a 12 or 24-word recovery phrase. It offers a user-friendly interface for easy signing but lacks an air gap for added security.
What are the features of the SecuX Nifty hardware wallet?
The SecuX Nifty hardware wallet includes several user-friendly features such as a responsive 2.8-inch color touchscreen, Bluetooth, a USB-C port, and a lightweight, award-winning design. Funds are easily managed using the SecuX Mobile app.
How does the SecuX Nifty hardware wallet work?
To operate the Nifty hardware wallet, first charge the device. Then power it on, download the SecuX app, set your PIN, and record your randomly generated recovery phrase that's used to access your wallet. From there you can use the app to manage all your funds.