Buying, selling, and trading NFTs is quite an experience. With so many different NFT marketplaces available for you to trade your digital assets, it can be difficult to decide which one is the best marketplace for you.
That's why in this article, I am going to break down each one of the top NFT marketplaces in hopes of helping you find the right one.
Here are the 13 best NFT marketplaces for buying NFTs.
Where to Buy NFTs?
1. OpenSea
I like to refer to OpenSea as the "OG" of NFT marketplaces. In fact, OpenSea is the first and largest NFT marketplace on the internet, created in 2017. Opensea currently supports four blockchains: Ethereum, Polygon, Klatyn, and Solana.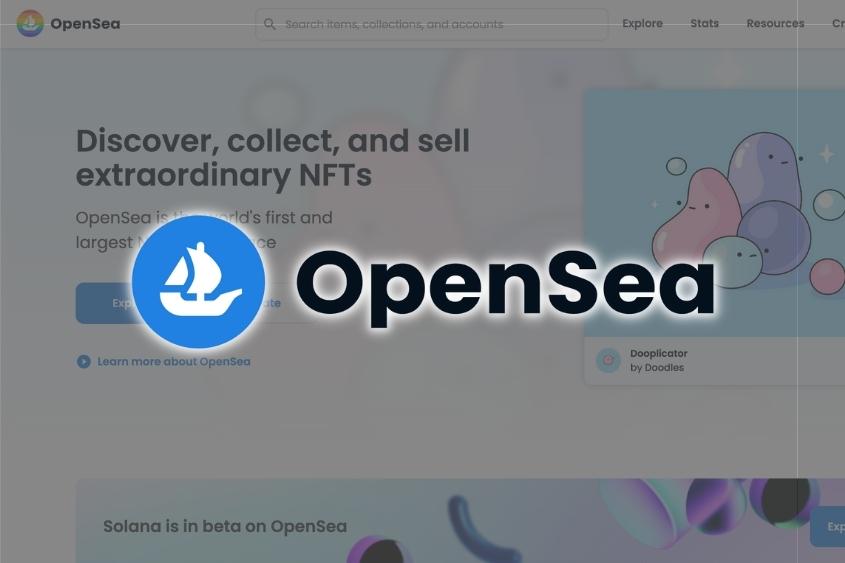 Considering a majority of NFTs are traded on the Ethereum blockchain, OpenSea is packed full of users. OpenSea currently welcomes over 1.5 million users to its site. If you are looking to shop in the mega-mall of NFTs, OpenSea is the marketplace for you.
You can find practically every kind of NFT on OpenSea. With a wide array of categories from art, to collectibles, down to utility-based NFTs. This kind of categorization makes OpenSea easy to navigate for anyone that knows how to use the internet.
If you are looking to trade some of the more popular NFT projects such as CryptoPunks, Bored Ape Yacht Club, and VeeFriends, OpenSea has all those projects available for you to buy, sell, and browse around.
Some other useful features that OpenSea provides to users are NFT stats, which include NFT collections ranked by overall ETH volume. Another cool data point that is provided is OpenSea's activity, which shows the marketplace's most recent activity down to the seconds. These stats can help users make better decisions when it comes to buying and selling their NFTs.
Additionally, OpenSea lets you mint your very own NFT onto the Ethereum blockchain, directly from their site. This gives creators the ability to turn their works of art into NFTs at the touch of a button, allowing people to build their own personal brands.
If I had to choose one NFT marketplace to trade my NFTs, I would pick OpenSea for its user-friendly interface and helpful statistics. Pair that with a robust collection of NFTs and your own minting capabilities, and you've got yourself a solid NFT marketplace!
Pros:
Opensea is the most popular NFT marketplace
Accepts over 150 cryptocurrencies
Cons:
Due to its popularity, there's a lot of junk and replicas
Supported blockchains:
Ethereum, Polygon, Klatyn, and Solana
Fees:
Opensea charges 2.5% of the transaction volume. (Every time an NFT is sold Opensea receives 2.5% of the sale price as revenue.)
2. Rarible
Rarible is another great option when it comes to marketplaces. You can easily buy, sell, and create your own NFT using their platform. Plus, Rarible's social aspect makes this marketplace more interactive compared to others. You can follow other users, gain followers, and track what everyone else is doing.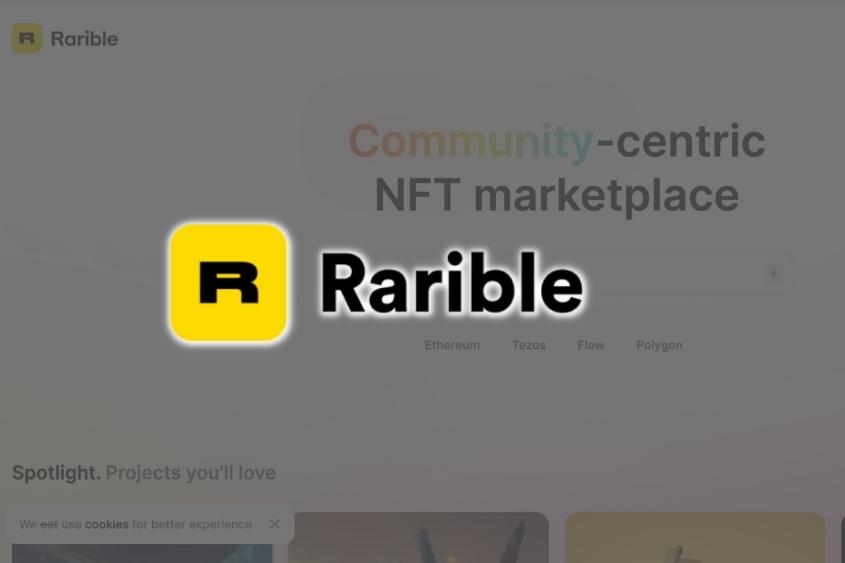 Another major difference with Rarible is their native token called $RARI. This was the first governance token in the NFT space. To earn $RARI on Rarible is super simple, you just have to participate on the platform. That's it. So this means that if you are buying, selling, or trading NFTs on the platform you will be earning $RARI tokens for your participation which are paid out on a weekly basis.
I already know what you're thinking; "this sounds too good to be true", but it's true! I kid you not, I was buying NFTs on Rarible for a few weeks in a row and came to find out I had $80 worth of $RARI waiting to be collected. After you receive $RARI tokens you are then able to convert your tokens into another currency of your choice or bid on NFTs listed on Rarible.
Like OpenSea, Rarible offers users the ability to mint their own ERC-721 token (a smart contract standard token hosted on Ethereum). The process to mint your own NFT on Rarible is as simple as listing an item on eBay, except with a few added perks. As the minter, you are able to add in your own royalties and create your own smart contract.
Part of this contract includes choosing whether or not you want to add unlockable content to your NFT. An unlockable is a feature that allows creators to add in unlockable content that is only accessible once you buy the NFT. What this feature really does is allow users to add more value to their NFTs by creating another layer of utility.
Pros:
Rarible has been around since 2020
Supports Ethereum, Tezos, Flow, and Polygon
It offers users cool social features
It's easy to create your own NFT (including adding royalties and unlockables)
Community-owned ($RARI token)
Cons:
Rarible remains an underdog in the NFT space
Supported blockchains:
Ethereum, Polygon, Flow, and Tezos
Fees:
Rarible fees are 1% of transaction volume for the buyer, and 1% for the seller.
3. Nifty Gateway
Nifty Gateway is not a marketplace you would go to if you're looking to browse a variety of NFTs. Rather, Nifty has crafted an NFT marketplace that only teams up with top artists and brands to create a collection of limited edition NFTs known as Nifties.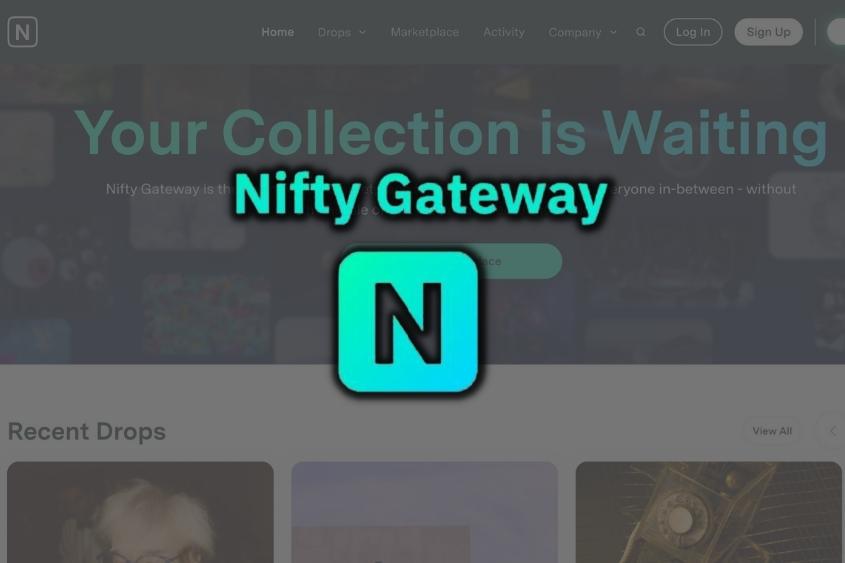 You are able to display your Nifties, transfer them externally to your own wallet, and even import your own Nifties into your collection.
As a creator, the only way to get your NFT collection onto the Nifty platform is by submitting an application—which if approved, will get you a spot on the drop. Once you are on their drop list Nifty will schedule your NFT collection at a specific time and they will only offer your collection for a limited amount of time as well.
This type of drop can actually benefit creators by triggering fear of missing out (FOMO) in the buyers. This fear entices more people to bid, steadily helping increase the price as more bidders join in.
From a collector's perspective, I consider Nifty Gateway to be a high-quality marketplace to collect limited edition NFTs. Although, due to the restriction on the kinds of NFTs being offered on Nifty, you won't be able to browse all the trending projects like you are able to do on OpenSea.
Ultimately, Nifty Gateway is a great NFT marketplace to use if you enjoy collecting unique NFT art or if you are an NFT artist looking to drop your NFT art on a more curated marketplace. Nifty's limited-edition drops combined with their limited-time policy make for a more exclusive vibe within the Nifty community.
Pros:
You can buy NFTs using fiat
You'll find exclusive NFT drops
Cons:
If you want to pay using crypto you must have ETH
Because it's a premium platform, the NFTs can be expensive
Supported blockchains:
Fees:
Nifty Gateway takes 5% + 30 cents on each secondary sale, to cover credit card processing fees and platform management costs.
4. Coinbase NFT
Coinbase is already known as the number one cryptocurrency exchange platform in the world and is also the first publicly listed U.S. crypto exchange. So, it was a no-brainer when Coinbase decided to launch its own NFT marketplace Coinbase NFT.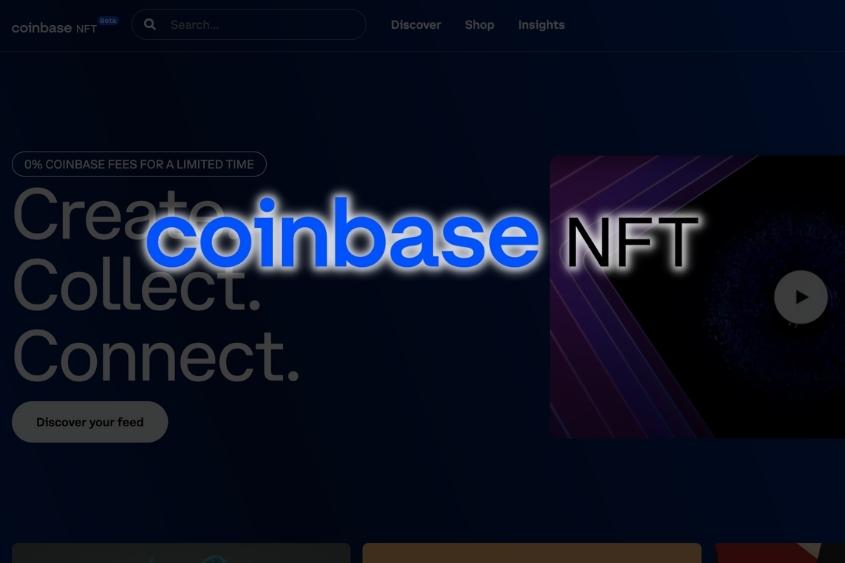 Coinbase NFT is a peer-to-peer marketplace that makes minting, buying, showcasing, and discovering NFTs simpler than ever before. Coinbase NFT has incorporated social features which opens up a new avenue for creators and collectors to converse and discover.
"We're building a social marketplace powered by web3. You won't need a username and password. Instead, you'll use a self-custody crypto wallet as your digital passport to log in. You'll also use it to pay for stuff and store NFTs. Right now, we support Coinbase Wallet, MetaMask, and more."
When it comes to Coinbase NFT, they are really focusing on the creator and the creative first. Coinbase NFT believes that minting NFTs should be as easy as tapping a few buttons. They also plan to make it effortless for creators to maintain creative control through smart contracts and transparent metadata.
All NFTs are minted on-chain and the initial launch will support Ethereum-based ERC-721 and ERC-1155 standards, with more multi-chain support coming soon after the initial launch.
Moreover, Coinbase NFT is striving to create a marketplace where users will be able to develop their own community. The platform will curate your personal feed based on your interests. As well, your profile showcases all your NFTs in one place allowing you to better connect with friends and like-minded individuals.
The social elements of the Coinbase NFT marketplace are a huge step in the right direction by empowering users to share their passions, collaborate, and ignite their imagination.
Pros:
A prime focus on social elements
Zero marketplace fees for a limited time
An emphasis on easy to user interface
Cons:
The platform is new (still in beta)
Supported blockchains:
Fees:
Users only have to pay gas fees when transacting.
5. SoRare
If you enjoy fantasy football, then you will really enjoy Sorare's one-of-a-kind platform.
Sorare is a fantasy football game in which you use NFT player cards to buy, sell, trade, and manage a virtual team. The game uses Ethereum-based blockchain technology and was developed in 2018 by Nicolas Julia and Adrien Montfort.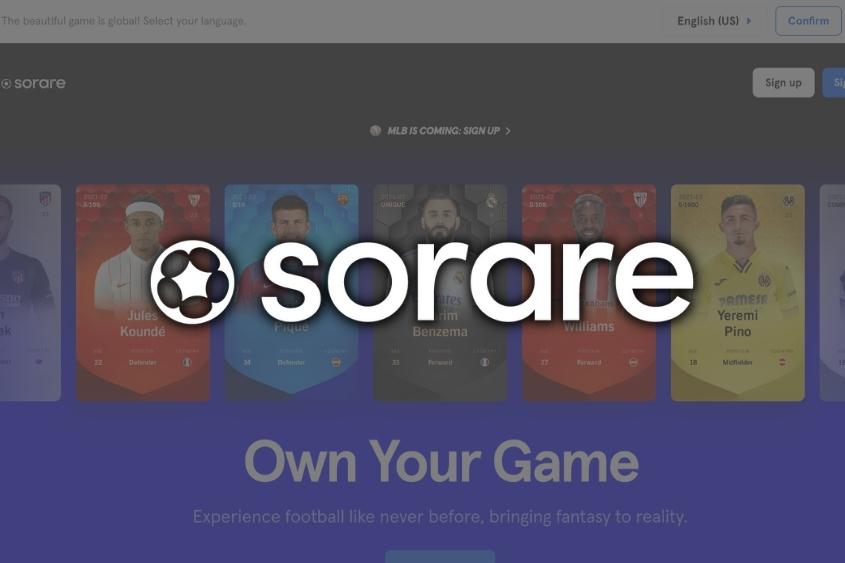 The platform has been growing quickly with a global audience buying, selling, and trading their favorite players in the form of NFTs. Sorare has secured the rights to European giants like Atletico Madrid, Juventus, and Bayern Munich, as well as the MLS, Korean League, and Japanese League.
Players structure virtual teams of five fútbol players, choosing from the NFT trading cards on the Sorare platform. Teams are ranked based on the performance of their players in the real world, and attributed points, similarly to traditional fantasy football.
Every digital trading card on the SoRare platform is your standard ERC-721 token, allowing collectors to buy and trade these NFT cards on secondary marketplaces like OpenSea.
If you want to learn more about the SoRare platform and how you can buy, sell, and play the game using your digital NFT trading cards, be sure to check out this in-depth SoRare Guide.
If you're not a fan of futbol don't worry. SoRare also announced they are integrating MLB into its platform soon. You can signup here to be notified of new updates as well as when the game becomes available.
Pros:
One of the only fantasy football NFT platforms
MLB is soon to be integrated
Not just an NFT platform, it's a game
Cons:
Not your typical NFT marketplace
If you don't like sports, avoid this platform
Supported blockchains:
Fees:
The fee for wallet transfers can vary depending on the method and any ongoing promotions that reduce fees. Before making transactions, be familiar with your wallet provider and their service fees.
6. Foundation
Foundation is another NFT marketplace that is aimed at providing artists with a community that is fostered around helping each other out. In fact, in order to be able to mint your own NFTs on Foundation, you have to be invited by a member of the Foundation platform. As for collectors, they can come and go as they please.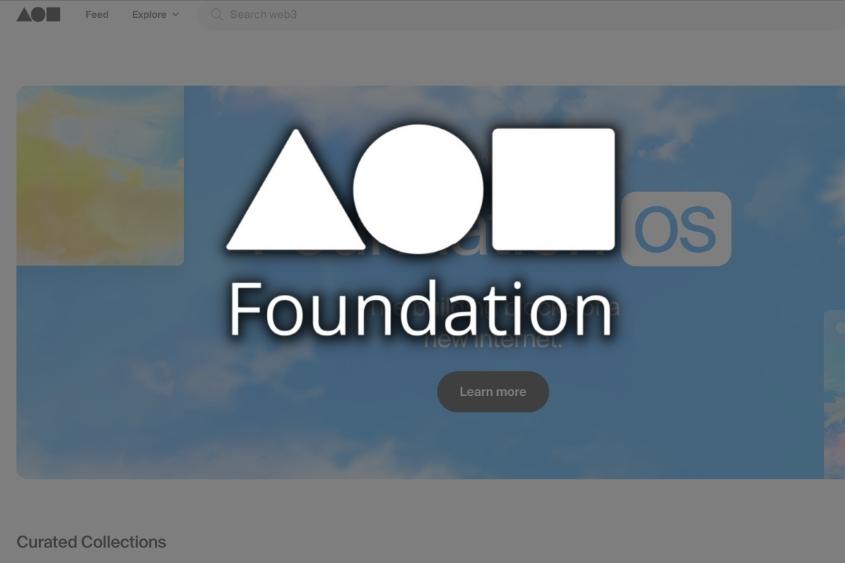 Once you have been invited to join Foundation by a community member, you can then set up your artist profile in preparation for minting your own NFT art. As a creator, you will only receive 85% of the total sale price when you sell a piece. However, you will receive a 10% royalty fee every time your NFT is resold—in perpetuity.
Luckily for NFT collectors, Foundation seems to give them a break. Anyone is able to create their own Foundation profile used for collecting NFTs without the hassle of a community member needing to grant access. Nevertheless, Foundation is still very different from the likes of an NFT marketplace such as OpenSea.
As soon as collectors make their first bid that meets the reserve price of an NFT, the clock begins to count down from 24 hours. If a bid is placed in the last 15 minutes of an auction, the auction will automatically extend the timer another 15 minutes, until the piece is sold.
In my experience, Foundation.app is an excellent NFT marketplace to source works of art from crypto art influencers like Sarah Zucker and other artists who share the same passion for creating exquisite works of digital art. For creators, Foundation has literally become the place to be if you want to be known as a quality artist.
Pros:
Curated and limited NFTs
Community driven
Premium art and projects
Cons:
Limited and exclusive creator list
High fees
Supported blockchains:
Fees:
5% for all sales on the primary and secondary market.
7. SuperRare
SuperRare.com is self-explanatory in its name. The SuperRare NFT marketplace is focused on creating unique, one-of-one collectible NFT art. SuperRare compares its platform to the likes of Instagram combined with Christie's auction house. A place where artists and collectors come to connect, collect, and interact with art.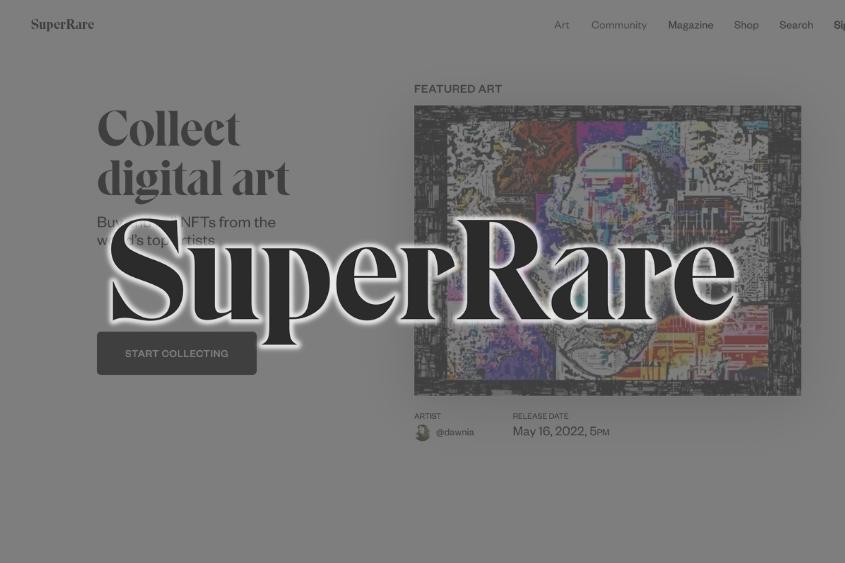 In order to become a creator on the Super Rare platform, you have to submit your artist profile. The artist profile is more in-depth than any of the other NFT marketplaces where you need approval to create a profile. Along with your social media handles and a link to 3-5 individual pieces of your art, you will also need to record a short 1-minute application video of yourself.
If you are a creator of SuperRare, expect to receive 85 percent of your total sale price on any art you sell. This is because there is a 15 percent commission on any primary sales on SuperRare. To be fair, creators will receive a 10 percent royalty on any secondary sales that occur with the art that they originally created.
As for the buyers, there is a 3 percent transaction fee for every transaction, which is paid for by the buyer. Moreover, all transactions that occur on the SuperRare marketplace will be paid for with ETH. As of now, SuperRare does not accept any other form of payment.
If you consider yourself to be a niche artist and you have some unique pieces to offer, I believe that SuperRare is going to be one of the best marketplaces for you to build your brand.
Pros:
Curated and rare digital artwork
Has a fine gallery vibe
Focuses exclusively on premium digital art
Cons:
Supported blockchains:
Fees:
There is a 3% transaction fee for all purchases on SuperRare, paid by the buyer. Also, there's a 15% artist gallery commission for primary sales, and artists receive a 10% royalty on secondary sales.
8. MakersPlace
MakersPlace aims to be the marketplace where artists can form the most authentic relationship with their collectors. Every NFT that is minted on the MakersPlace platform is digitally signed and issued by the creators themselves.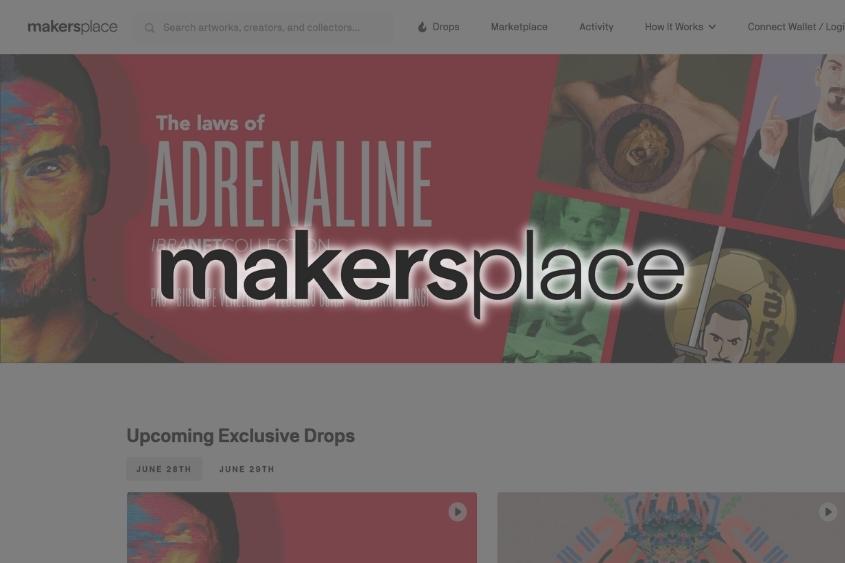 When you upload your creation to MakersPlace, you can define the number of editions you want to release. Everything is handled for you on the blockchain, this allows you to focus on creating art and building relationships with your collectors.
In reality, MakersPlace truly did design its platform with the creators in mind. MakersPlace focuses on the core essentials of NFTs and highlights all the significance of blockchain technology, scarcity, authenticity, and ownership. MakersPlace is simply offering a service that makes blockchain technology easy and allows creators to benefit from all the opportunity that comes with blockchain technology.
Similar to other marketplaces, MakersPlace takes a 15 percent commission on all successful sales in ETH. As well, since MakersPlace allows you to purchase NFTs with your credit card, there's also a credit card transaction fee. Like SuperRare, MakersPlace is invite-only. If you would like to be a creator on MakersPlace, ensure that you fill out their invitation request.
Something that I really admire about MakersPlace is that it stores your files in a secure location only the creator and future owners can access after purchase.
Furthermore, MakersPlace only displays previews of your image and also allows creators to upload watermarked images for the public to view. Again, this just goes to show how the people behind the MakersPlace brand really considered the creators when developing their marketplace.
If you are an artist with a passion to create and connect with your beloved collectors, try out MakersPlace.
Pros:
Buy NFTs from established artists
A true creator-catered platform
Digitally signed and issued NFTs from the creator
Cons:
Supported blockchains:
Fees:
On successful sales, MakersPlace takes a 15% commission on all purchases in ETH and additionally a credit card transaction fee for purchases done via credit card.
9. Mintable
Mintable is an NFT marketplace where you can create, buy, and sell digital items in a simple fashion, even if you've never done it before. Anyone can easily manage their NFTs while also browsing the other collectibles in the marketplace.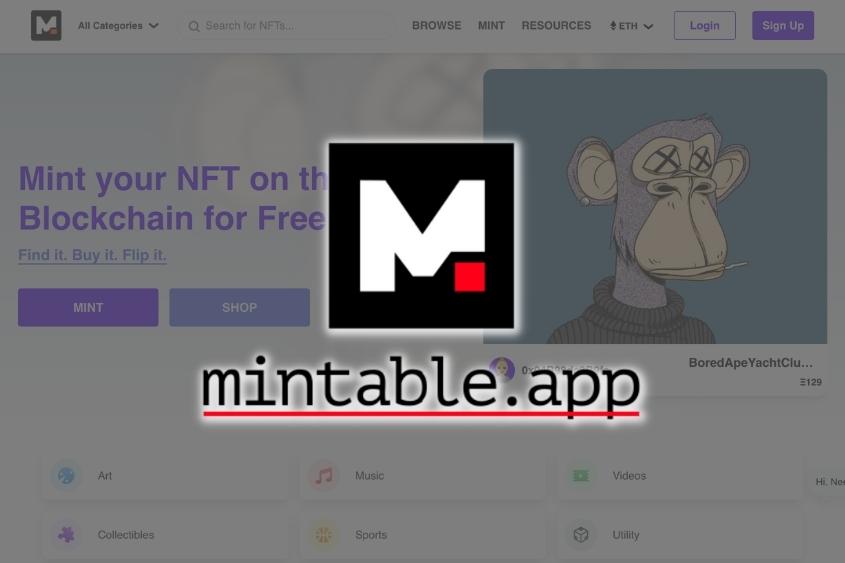 Reducing friction is one of the main goals for Mintable, meaning everything is available without requiring any sort of native cryptocurrency.
Yes, you can buy NFTs on mintable using your bank card. Mintable's approach is a touch different when it comes to fees. Mintable takes a transaction fee anytime an item is sold on the marketplace.
2.5 percent on normal items
5 percent on gasless items
10 percent on printable series
Alright, that's simple to understand. But what's with the different options? Let me explain.
Mintable offers three variations of minting, all of which have their own pros and cons. Your first option to
Normal items: These items are minted via a transaction on the blockchain.
Gasless items: Gasless minting allows you to put your token on the blockchain without having to actually mint anything. The minting only takes place if someone buys an NFT or if you transfer it.
Printable items: A printable series allows you to create any amount of NFTs and make them available for sale, without actually minting them. The tokens are not minted until purchased, keeping the quantity true to only people who have actually purchased an NFT. The printable series only counts as one transaction even though you are creating multiple NFTs.
Mintable made their marketplace friendly to use for everyone. With the ability to mint NFTs before paying, along with the option to buy NFTs using a bank card, Mintable esnures its platform is simple to use for even the most novice of NFT creators and collectors.
Pros:
Normal, gasless, and printable items
You can buy NFTs using fiat or crypto
Ideal for novice users
Cons:
Fees can be high depending on which mint option you select
Supported blockchains:
Fees:
2.5% on normal items, 5% on gasless items
10% on printable series
10. Lazy
Lazy.com is Mark Cuban's NFT platform. Advertised as the lazy way to show off your NFTs. Lazy isn't so much an NFT marketplace as it is a place to simply show off your NFT collection and share it with others. You can easily share your entire NFT collection using your Lazy.com custom URL, which is Lazy.com/(your username). This makes showing off your collection incredibly simple.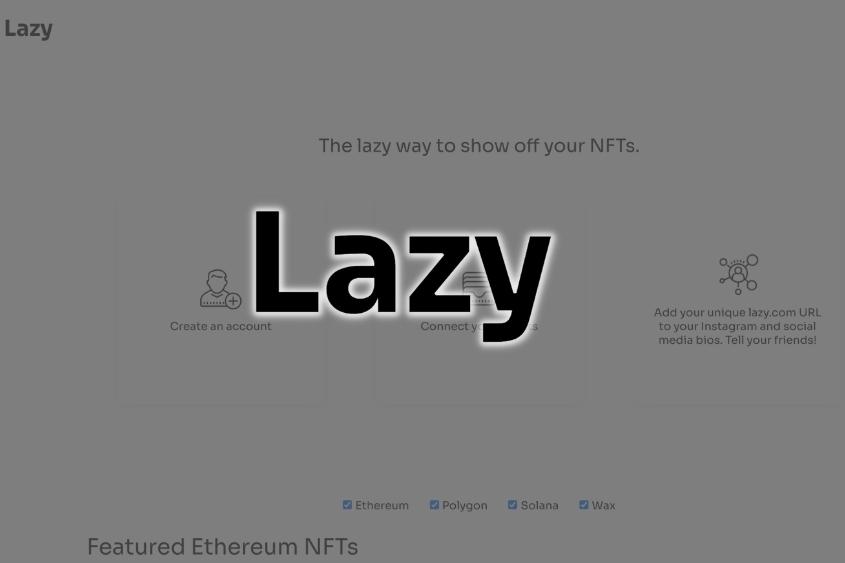 With Lazy, you can set up an account by entering your Email, Username, and Password. In order to display your NFT collection, you will need to connect your wallet to the site. Lazy does allow users to post their NFTs for sale on the platform, or you can just as easily click the View on OpenSea button which will take you directly to the OpenSea listing.
Although Lazy may not be the most innovative NFT platform, its simplicity speaks for itself. The super-simple white background emphasizes the large exhibit of NFTs. Additionally, Lazy is one of the only platforms which allows users to display and shop Ethereum, Polygon, and Solana blockchain-based NFTs.
It's important to note that Lazy does not allow you to create any NFTs. At this point, Lazy is only used for purchasing and showing off NFTs. Be aware that if you do post an NFT for sale on Lazy, you will still have to pay any gas fees associated with the Ethereum blockchain.
"The excitement right now is for art and collectibles, but I think it will extend to so much more across the business universe. Smart contracts have unlimited possibilities in the future."

Mark Cuban
Pros:
Easily display your collection of NFTs
Simple user-interface
Lazy showcases NFTs from Ethereum, Solana, Polygon, and Wax
Cons:
Lazy is more of a showcasing platform than a marketplace
You can't create NFTs on the platform
Supported blockchains:
Ethereum, Solana, and Wax
Fees:
Users only pay gas fees to list their NFTs for sale.
11. Known Origin
Known Origin is the second oldest NFT marketplace on Ethereum, following closely behind Opensea. You can easily discover, collect, buy and sell NFTs using the platform. As a creator, you can create unique, authentic, digital collectibles.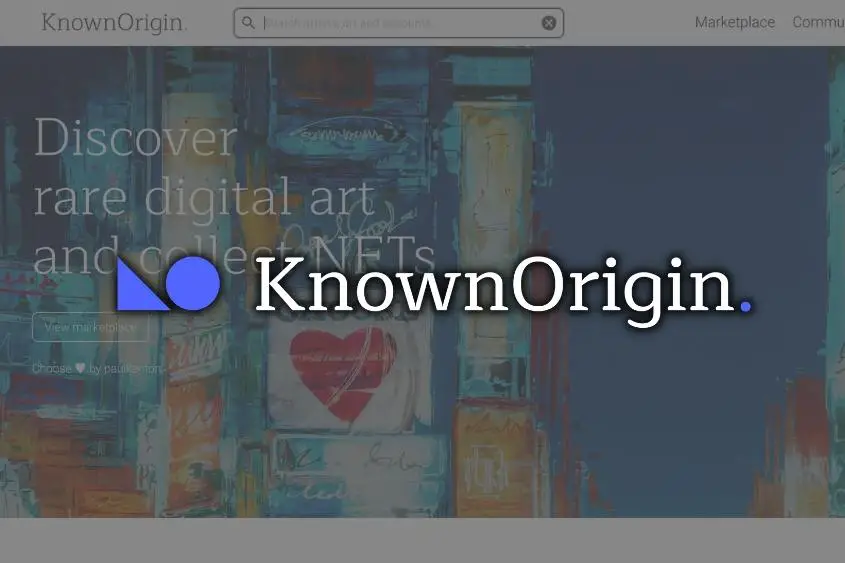 Similar to Nifty Gateway and SuperRare, to sell your NFT on Known Origin you must apply to join the platform. In addition to the premium feel of the platform, creators digitally sign all their work by creating a tokenized certificate to go with each NFT.
Using the power of Ethereum and smart contracts, Known Origin provides a trusted way to ensure provenance and chain-of-custody is permanently maintained for digital art which is sold on the platform.
Something else that's worth noting is the platform's partnership with the mega-popular e-commerce platform eBay.
"eBay is the first stop for people across the globe who are searching for that perfect, hard-to-find, or unique addition to their collection and, with this acquisition, we will remain a leading site as our community is increasingly adding digital collectibles," said eBay CEO Jamie Iannone in a statement.
"KnownOrigin has built up an impressive, passionate, and loyal group of artists and collectors making them a perfect addition to our community of sellers and buyers. We look forward to welcoming these innovators as they join the eBay community."
If you're looking to source high-quality digital artwork and join an innovative company in its journey to provide everyone with digital collectibles, then this is the perfect platform for you.
Pros:
Digitally signed certificate to go with each NFT
A partnership with eBay
High-quality digital creations
Fair royalty fees for creators
Cons:
High fees
A limited selection of NFTs
Supported blockchains:
Fees:
Upon the first primary sale 85% goes to the artist, 15% goes to the commission fee. For a secondary sale (and all sales made after the first sale) 85% goes to the Seller, 12.5% goes to the Artist, and 2.5% goes to the commission fee.
12. Solsea
Solsea is the first open marketplace on Solana where you also have the ability to mint your own NFT collection. Also, it offers embedded licenses (NFT-PROs), calculates Rarity Rank for collections, supports wallet funding via FTX-Pay and Moonpay, and the platform is updated with new features often.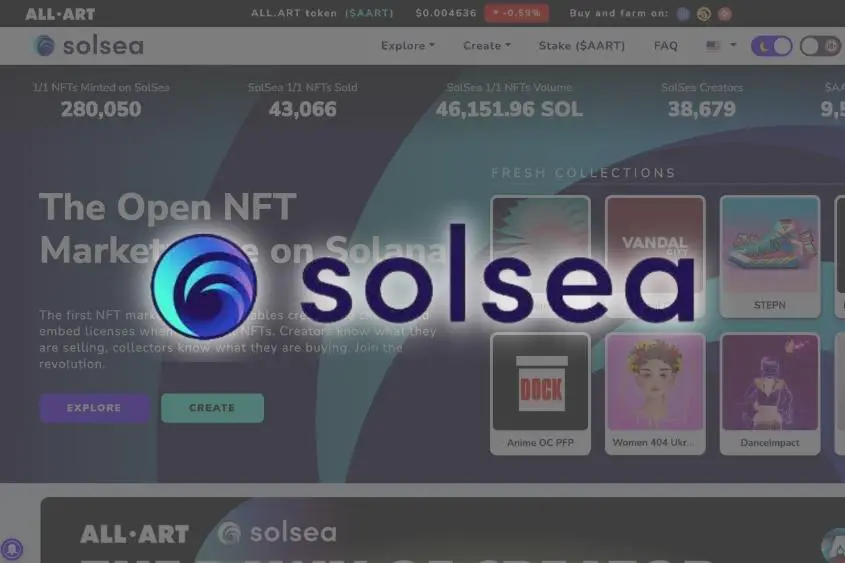 Furthermore, Solsea offers users ultra-low fees and multi-currency support including SOL, USDC, and USDT. The average cost to mint an NFT on Solsea is a measly $0.015.
You can easily track rank and rarity since the platform calculates rarity rank, score, and trait statistics for every fully minted verified collection. You also have the ability to make your listed NFTs that are on sale visible to the public or only privately. This ensures that you have full control over your creations.
Although Solana isn't the most popular blockchain for NFT transactions, it still remains the third most popular according to Cryptoslam.io. With Solana's uber-low gas fees and Solsea's dedication to providing its users with the best experience, I'd say it's the go-to marketplace if you are thinking about buying, selling, or creating NFTs on Solana.
Pros:
Extremely low user-fees
Low minting costs
Embedded license options when creating NFTs
Multi-currency support
Cons:
Supported blockchains:
Fees:
There's a 3% marketplace fee that occurs on every successful NFT sale. Artists decide their own creator's fee (royalties).
13. Objkt
Objkt is currently the largest marketplace for buying and selling NFTs on the Tezos blockchain. The platform hosts numerous types of NFTs and well-known artists from the digital space, such as XCOPY.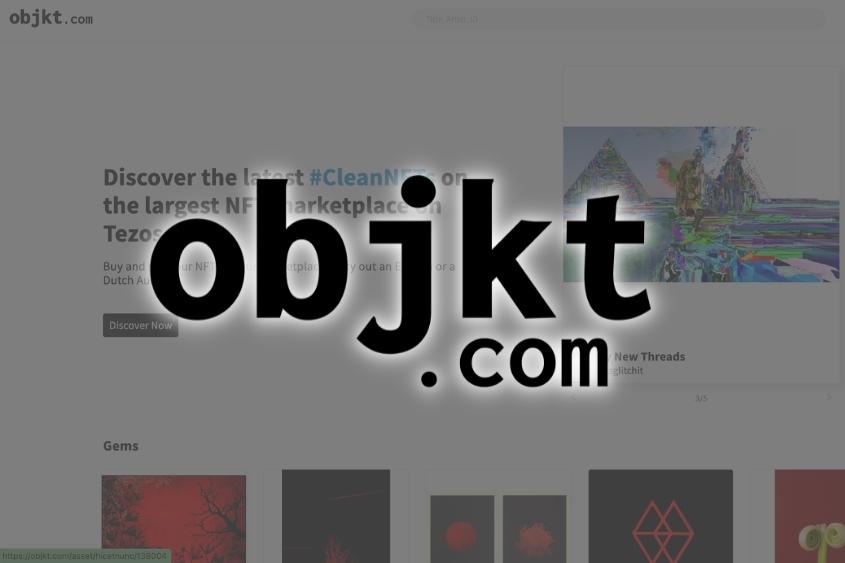 In May 2022, Objkt surpassed $100 million in NFT sales making it the leading Tezos NFT marketplace by transaction volume. Moreover, Objkt aggregates NFTs from existing marketplaces like the hicetnunc (previously the most popular marketplace on Tezos before it was unexpectedly discontinued), and Kalamint, and even supports tokens minted on custom smart contracts.
Being that Objkt is on the Tezos blockchain, it's considered energy-efficient thanks to the network's proof of stake consensus mechanism. That means cheaper gas fees for both collectors and creators. The average gas fee on the Tezos blockchain is only $1.40 compared to Ethereum where gas fees range from $25 to over $150.
Pros:
Low gas fees
Energy efficient
It's the number one marketplace on Tezos
Cons:
The Tezos blockchain isn't as popular as Ethereum
There are fewer creators on Tezos compared to Ethereum marketplaces
Supported blockchains:
Fees:
Objkt charges 2.5% on all successful transactions (this includes auctions, listings, and offers).