For decades, trading cards have been one of the most valued assets you can own as a collector. Now, with the fast-growing NFT community, NFT trading cards are quickly becoming just as valuable, if not more.
As I was sitting here browsing various NFT trading cards, I couldn't help but wonder, what are the top NFT trading cards?
What Are the Best NFT Trading Cards?
NFT trading cards are becoming the new norm amongst collectors and investors alike. They're conveniently traded using a digital wallet, and you can store them without having to worry about physical damage.
Moreover, some NFT cards even allow you to earn money for playing.
Here are the 12 best NFT trading cards available on the market today.
1. SoRare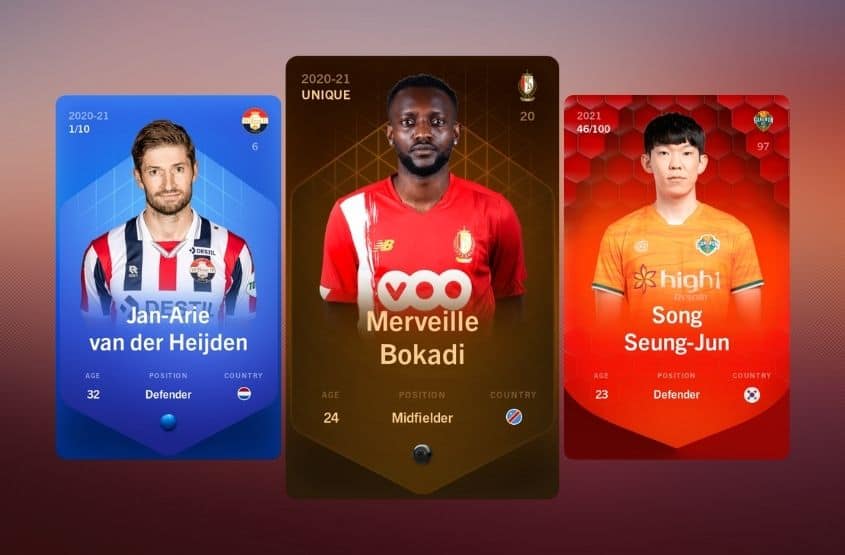 Sorare offers its cardholders an interactive free-to-play fantasy game of digital fútbol. With over 280 officially licensed fútbol clubs, you can buy, sell, trade, and manage your virtual team using NFT player cards.
More recently, SoRare also became one of the only officially licensed, free-to-play MLB NFT games. Build your best 7-player lineup with cards from your collection and earn points based on your player's real-life performance, and enjoy competing in numerous fantasy competitions each week.
This one-of-a-kind game utilizes Ethereum-based blockchain technology. It was developed in 2018 by Nicolas Julia and Adrien Montfort, and continued to grow substantially since. With its global audience, SoRare has secured the rights to European giants like Atletico Madrid, Juventus, and Bayern Munich, as well as the MLS, Korean League, and Japanese League.
Teams are ranked based on the performance of their players in the real world, and attributed points, similarly to traditional fantasy football.
Every digital trading card on the SoRare platform is your standard ERC-721 token, allowing you to buy and trade these NFT cards for money on secondary marketplaces like OpenSea.
Card type: Collectible / sport / play-to-earn
2. Curio Cards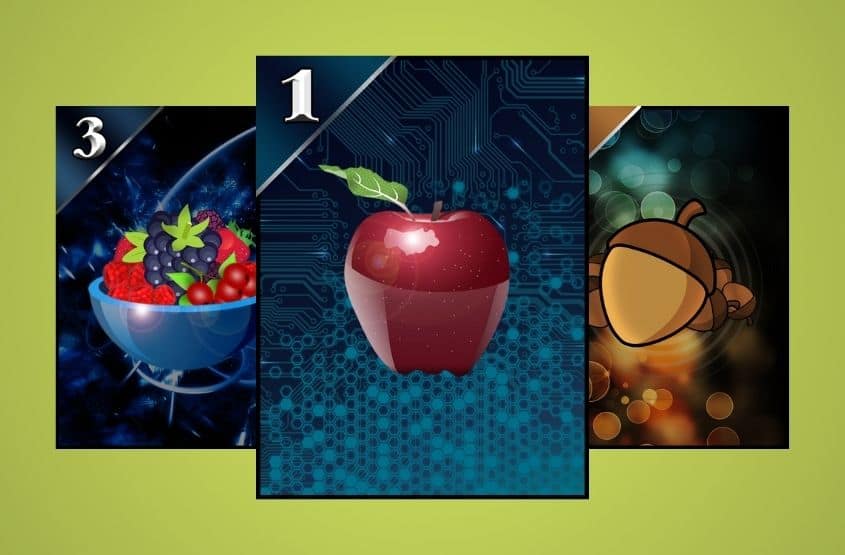 If you are new to collecting digital NFT trading cards, then you have likely heard of Curio Cards. Curio Cards are a digital set of 30 unique cards which are considered to be the first NFT art project on the Ethereum blockchain.
These cards were launched on May 9th, 2017 as an online art gallery. The Curio Card collection is a set of cards numbered 1 to 30 and features artwork from 7 different artists, all with their own style.
Each numbered series contains unique artwork and a set supply of digital prints. The supply of these NFT cards ranges from as low as 111 to 2,000. There were a total of 29.7k cards ever minted, with an estimated 4,000 cards lost or destroyed.
Considering Curio Cards are of the first NFTs to be minted on the Ethereum blockchain, they're not only the most original cards you can buy, but they are also arguably the most valuable as well.
A full set of 30 cards, plus the 17b misprint sold at Christie's auction house for a stunning $1.2M (393 ETH), on October 1st, 2021. You can find Curio Cards for sale on OpenSea.
Card type: Collectible / art
3. Crypto Strikers (Wrapped Strikers)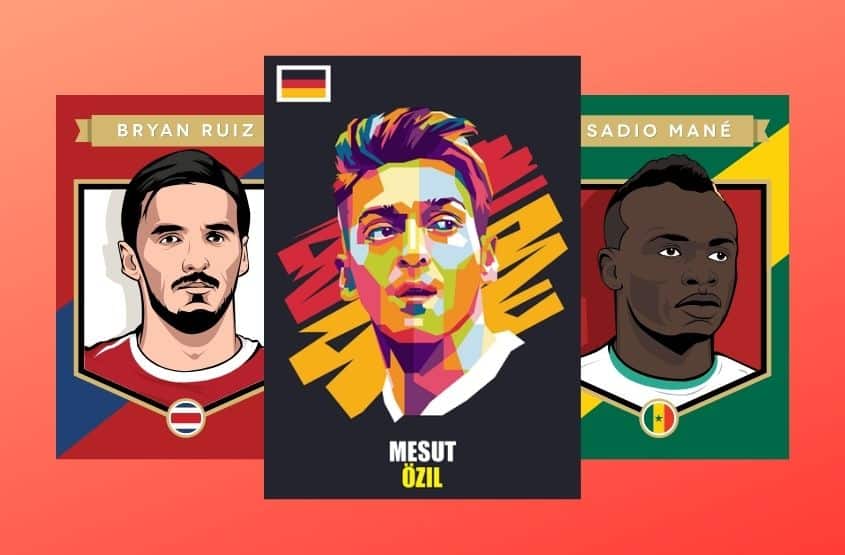 Crypto Strikers, aka, Wrapped Strikers are the first sports NFT project on Ethereum having launched in June 2018. Crypto Strikers is a collection of 10,261 digital soccer trading cards, featuring 100 players from the 2018 Fifa World Cup, and 32 of those players are a limited mint in the Iconic Set.
The reason that Crypto Strikers are also called Wrapper Strikers is that these NFTs were minted using an early and incomplete implementation of ERC-721, making these NFTs incompatible with some of the new protocols.
To make up for the early tech, each NFT needs to be "wrapped" in order to be listed on a marketplace such as OpenSea. Of course, you can always unwrap a card back to its original form if you would like.
Originally, the Crypto Strikers collection was created leading up to the 2018 Fifa World Cup. The creators, Benn Gurton and Gianni Settino were able to finish creating the cards in May and successfully launched them on June 11th, 2018, making them the first sports cards on the Ethereum blockchain.
32 out of 100 Originals Fifa World Cup players were used to create a limited-edition run called the Iconic Set. The Iconic Set isn't only separated by its limited quantity, but also by its distinct artwork.
If you're a sports fan and want to get your hands on a piece of history, then Crypto Strikers may be the NFT trading cards you've been looking for. You can purchase the Wrapped Strikers on OpenSea. 
Card type: Collectible / sport
Official Site: Strikers.Auction
4. Rare Pepe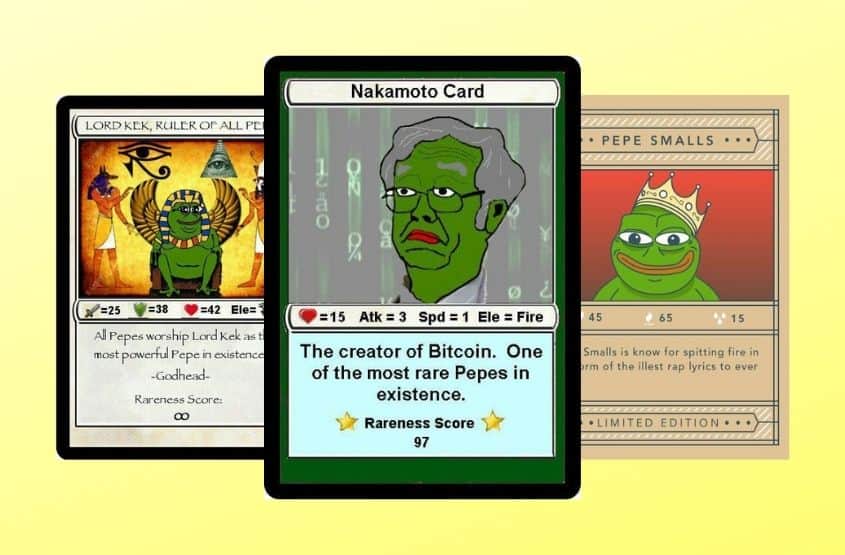 The Rare Pepe NFT trading cards are a digital collection of the popular Pepe memes and were originally minted on the Counterparty protocol and traded as XCP assets via the Bitcoin blockchain.
Minted back in 2016, Rare Pepes are referred to as one of the first-ever NFTs. The Pepe collection features a total of 36 series (and growing), all with various production quantities and rarities.
The popular Pepe frog was actually created by Matt Furie in 2005. Not even knowing what a meme was at the time, Matt shared Pepe on the internet and the frog gradually gained attention over time—before becoming the star of several memes. 
In 2016, the first Rare Pepe trading card was minted on the Counterparty blockchain. Series 1, Card 1, depicts a green Satoshi Nakamoto, rightfully named RAREPEPE NAKAMOTO. This rare NFT trading card has already fetched a whopping 147 ETH sale (about $500,000), on November 5 during the third annual NFT.NYC Conference.
Considering Rare Pepe's origin, these NFTs have to be wrapped as well in order to function on platforms like Opensea.
As of now, collectors of the original Rare Pepe NFTs have been using a decentralized wallet token called Emblem Vault, which allows users to combine different blockchain tokens into a single token and trade tokens from any blockchain on any Ethereum Virtual Machine (EVM).
There are a lot of Rare Pepe cards, and some of them have vast supplies of over 100,000 units, making them less desirable and not as valuable. You can purchase Rare Pepe trading cards wrapped on OpenSea from Emblem Vault.
Card type: Collectible / meme
Official site: RarePepeDirectory.com
5. Candy Digital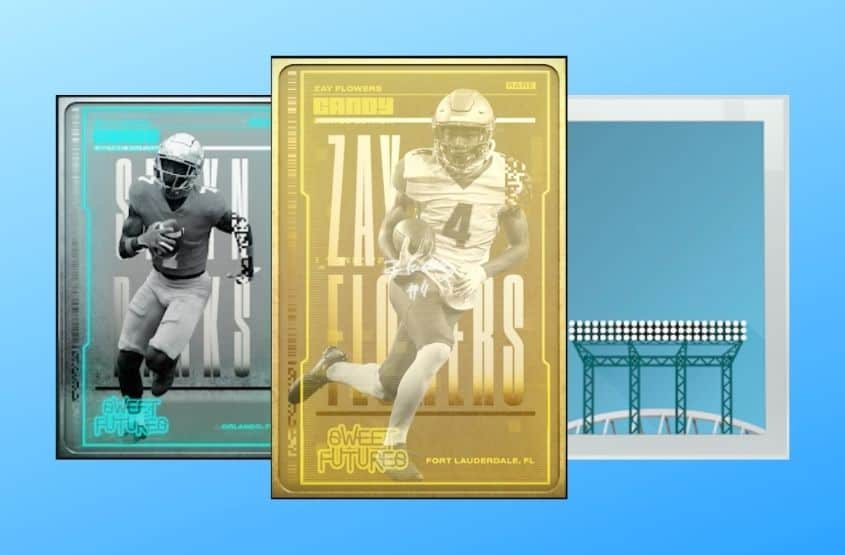 Candy Digital is Major League Baseball's official NFT platform where fans and collectors are able to buy, trade, and share officially licensed MLB NFTs.
Candy's mission is to develop next-generation sports and culture digital assets by providing authentic products and experiences that heighten fan engagement and connect people to their passion for sports and collectibles.
The Candy Digital brand creates and sells numerous digitized sports memorabilia pieces, not just sports cards. These collectibles range from digital goods to personalized experiences, such as throwing the pitch at your favorite MLB team's game. Investors in Candy Digital include Payton Manning and Gary Vaynerchuck.
If you are looking to buy your own Candy collectible, you can view current drops on Candy.com, or you can purchase past drops on Candy's official OpenSea profile.
Card type: Collectible / sport
Official site: Candy.com
6. Gods Unchained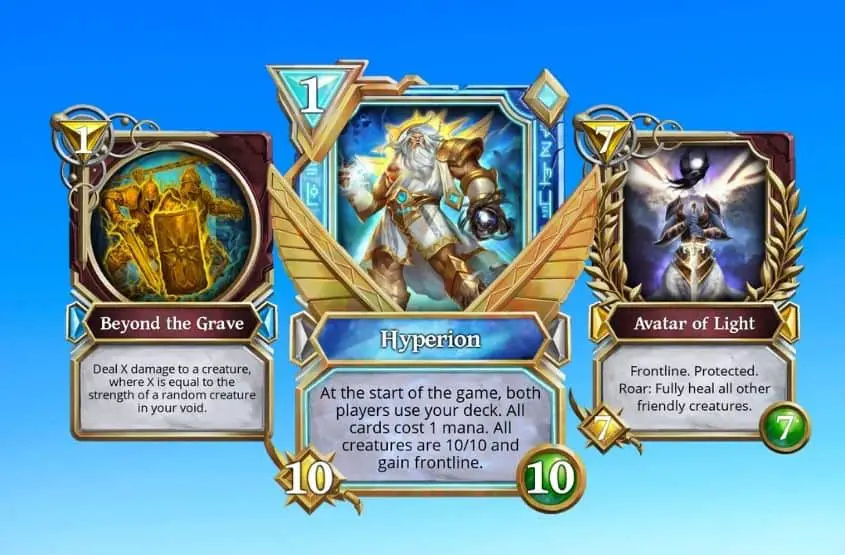 Gods Unchained is the world's first free-to-play multiplayer blockchain-based game, the first blockchain trading card game, and the first ZK Rollup for NFTs on Ethereum. Gods Unchained is an NFT trading card game that pays to play. 
Founded by brothers James and Robbie Ferguson, Gods Unchained focuses on competitive play, meaning players must strategically outsmart their opponents by creating decks that are able to combat a wide array of tactics.
In the game, players completely own their digital NFT cards, giving them the freedom to trade, sell and use their cards any way they like.
Play-to-Earn (P2E) means you can earn real money by simply playing the game. In Gods Unchained, this is seen through the ability to earn in-game items that you can sell for real-world cash. This is how the play-to-earn works with the Gods Unchained game:
By playing games you unlock packs that give you digital cards. These are Common Core cards and are not minted onto the Ethereum blockchain.
By winning games in Ranked, you earn Flux. Flux is a crafting tool that allows you to make Common Core cards more valuable.
Once you have enough Flux, you can head to the Forge in the game launcher and fuse Core cards together to create higher-quality cards. These become minted to the Ethereum network, giving the cards real-world value. 
The final step is to trade these cards in the Marketplace for real-world money. From there, you can buy new cards with your current earnings or convert them to your currency of choice and spend it however you'd like.
Gods Unchained has made it possible to work your way up the ranks without spending any money via the process outlined above.
Although some cards are more valuable than others, the creators of the Gods Unchained NFT card game ensured that you don't need to spend a lot of money to obtain a highly competitive deck.
Considering the cards are tradable, it's also possible to purchase what you need from other players in order to build your dream deck.
You can purchase and begin to build your very own Gods Unchained NFT deck on the gas-free Immutable X marketplace, or on OpenSea. 
Card type: Collectible / play-to-earn
Official site: GodsUnchained.com
7. Spells of Genesis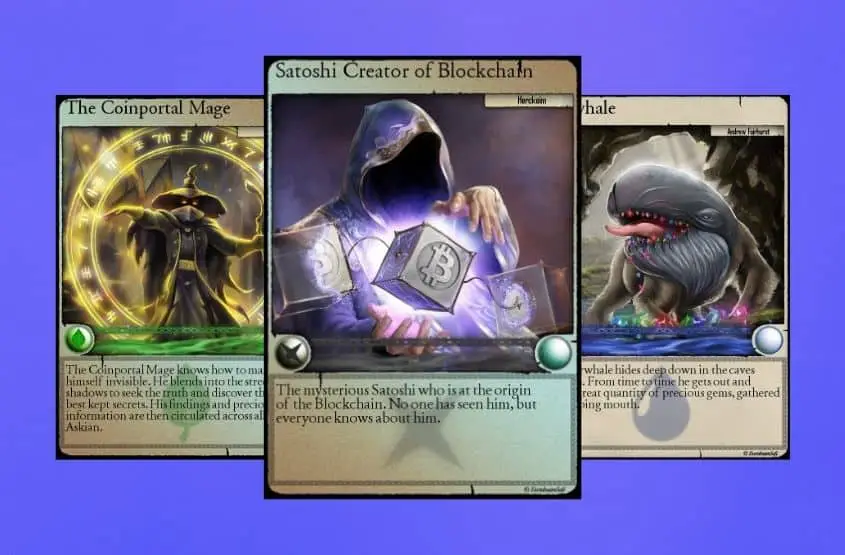 Spells of Genesis (SoG) is the very first blockchain-based NFT mobile game ever. Created in 2017, SoG combines Trading Card Game (TCG) functionalities with the point-and-shoot style of arcade games. Players have to collect and combine cards to create the strongest deck in order to fight their enemies.
In the SoG game, you can collect, trade, and combine cards to build the strongest team and challenge your opponents while exploring the fantasy realm of Askian.
Moreover, you can use the SoG NFTs you have in your wallet, or buy in-game cards and mint them later. The principle of SoG is very simple and can be quite addictive. As you progress further in the game, you will need to develop a crafty strategy in order to defeat all your enemies.
As far as actual gameplay is concerned, you can choose to collect cards and combine them to create a stronger deck to fight your enemies. You can get new cards or trade them with other players and compose your deck, combining different characters and their spells which are special skills they can cast and defeat your enemies.
To play Spells of Genesis you need a deck of four cards. Choose the best combination of characters, their skills, and spells, based on your opponent's abilities, the environment, and the level bonuses.
SoG refers to minting cards as blockchainization—the process of converting in-game cards into NFTs. You can combine four cards together and level them up to unlock the blockchanization. Minted cards can then be transferred to your wallet. 
Additionally, you can buy different packs of in-game cards, and mint them later. You can also purchase Gems which are an in-game currency that allow you to obtain better and more valuable cards and boost your stamina, allowing you to play longer.
You can purchase SoG NFT trading cards on their official OpenSea profile.
Card type: Collectible / play-to-earn
Official site: SpellsofGenesis.com
8. Age of Chains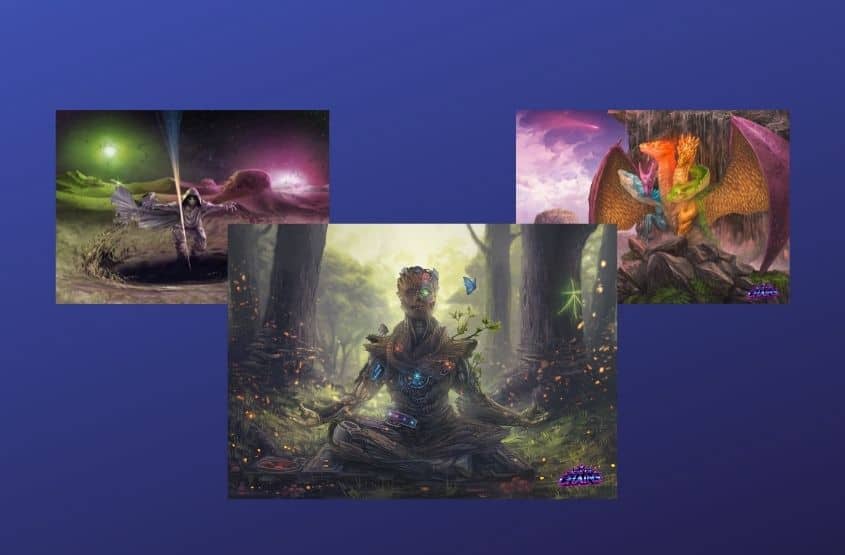 Age of Chains is an NFT trading card game created in 2016 and built on the Bitcoin blockchain, set in an intergalactic clash of cultures, billions of years in the future. As a player, you can use your skills to build powerful decks of NFT cards and outplay your opponent in epic 1-on-1 player-versus-player battles.
The existence of Age of Chains began in November 2016, starting with the release of Woodcoin's Guardian as the first card. The Age of Chains NFT trading cards operate on the Bitcoin blockchain using the Counterparty protocol. You can use any regular Bitcoin address of your choice to store Age of Chains cards.
Age of Chains is being developed by Streamstars UG, a Berlin-based company founded by Kilian Kunst.
As an immediate goal, the team is currently developing a haptic (kinaesthetic communication or 3D touch) prototype of the game that will enable them to further improve the game through playtesting with their core community.
From what I can tell, Age of Chains is one of the least active NFT trading card brands on this list, but that doesn't mean great things aren't to come in the future.
If you want to collect your own Age of Chains NFTs, you should visit the Card Shop on their official site, or you can find some cards wrapped through Emblem Vault on OpenSea.
Card type: Collectible / play-to-earn
Official site: AgeofChains.com
9. Bitcorns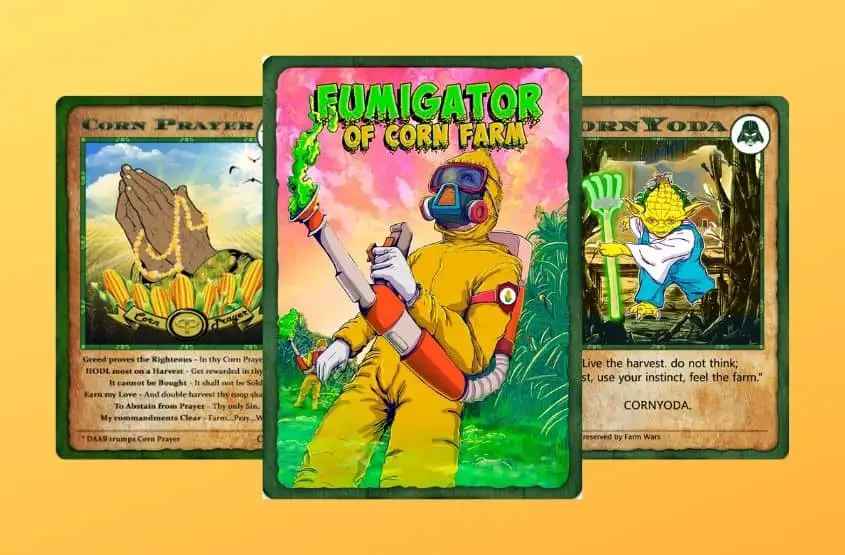 Bitcorns is an idle game of accumulation and the only goal is to collect the most Bitcorn. Although the task is super simple, in order to accumulate Bitcorn you need to have CROPS, which most people do not have. The Bitcorns trading cards are created by meme engineers on the Counterparty protocol in order to earn CORN from the farmers.
There are 278 different styled Bitcorns trading cards in the collection, totaling 15 harvest lots at the time of writing this article. The first edition Bitcorns NFT trading card was minted on January 30, 2018, making it a potentially valuable collectible. 
In terms of the objective of the Bitcorns game, you're supposed to become the wealthiest player by collecting the most Bitcorn. The player who holds the most Bitcorn at the end of the game wins.
You can own CROPS and establish your Bitcoin address as farms on Bitcorn.com. If you own a farm, you can harvest crops for a Bitcorn reward. In between harvests, players can also customize the look of their farm, location, and even in-game assets.
Card type: Collectible / meme
Official site: Bitcorns.com
10. Force of Will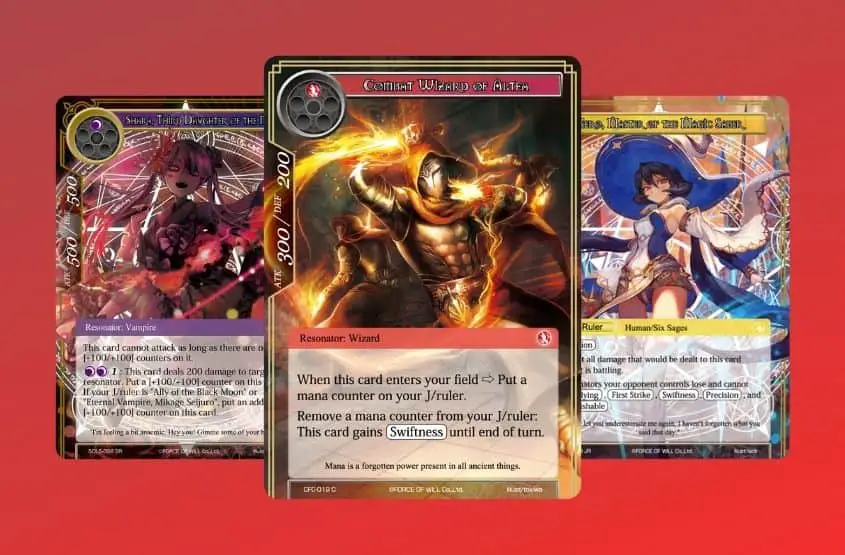 Force of Will is a Japanese fantasy series centered around two major parts, an NFT trading card game, and the story articles. These two pieces come together to form a game and universe full of fun and customization. The NFT cards were officially dispensed in 2016 by Everdream in an official partnership with FowTCG.com to facilitate on-chain play of the game. 
Each card has an Issuance of 1000, 500 of each card have been burned, decreasing the total issuance to 1/500 each. These NFTs were created on the XCP protocol on the Bitcoin blockchain.
Considering that these NFT cards were minted in 2016 and the quantity is so limited, I believe these cards may hold value better than some new cards with larger supplies.
If you are looking to purchase your own Force of Will NFT trading card, you can do so through Emblem Vault on OpenSea.
Card type: Collectible / play-to-earn
Official site: FowTCG.com
11. Ether Legends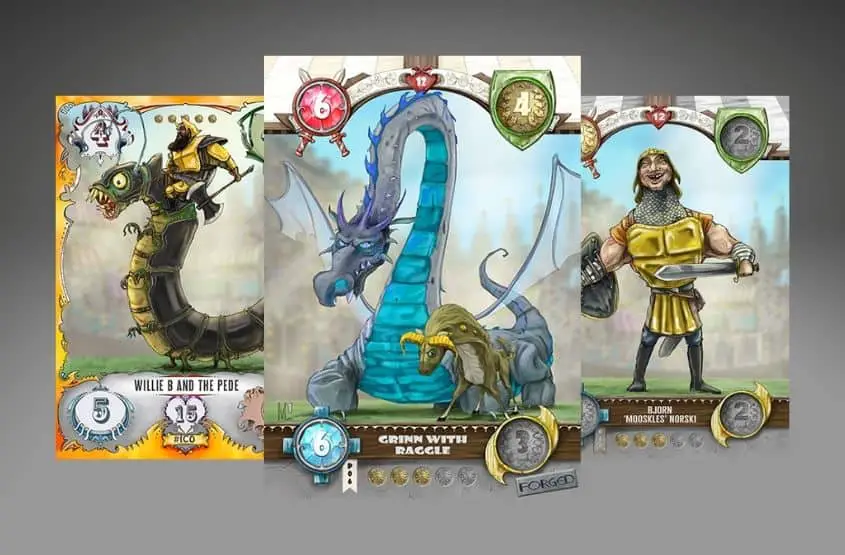 Ether Legends is an NFT Trading Card Game (TCG) originally created on the Ethereum blockchain, in 2018. The cards feature superb illustrative art and skill-based gameplay, leaving room for the platform to expand and release more games in the future. The token, Elementeum, is the reward and currency that supports the digital ecosystem on this gaming platform.
Elementeum Gaming LLC was originally founded in 2017, with its main focus being on improving the experience for collectible trading card game players.
The Elementeum team noticed an opportunity to introduce Ether Legends and its digital currency, to provide players with secure, tangible ownership of their digital trading cards and other digital assets.
In Q3 of 2018, production runs of the physical trading cards begin in addition to the TCG Marketplace launching their Alpha release of the NFT trading card game.
In Q4, 2018, a Beta version of Ether Legends NFT card game was released in preparation for the official release in 2019. From there, Ether Legends has decided they will move forward with quarterly updates to the digital ecosystem and semi-annual release of the physical and digital NFT trading cards.
As far as gameplay is concerned, at least 3 digital token character cards are necessary to unlock and explore all the features awaiting in the digital trading card game.
There are a limited number of NFT characters and companion trading cards available on the Ether Legends shop. You can also purchase your Ether Legends NFT trading cards on their official OpenSea profile or the Enjin marketplace. 
Card type: Collectible / play-to-earn
Official site: TCG.EtherLegends.com
12. VeeFriends (BONUS)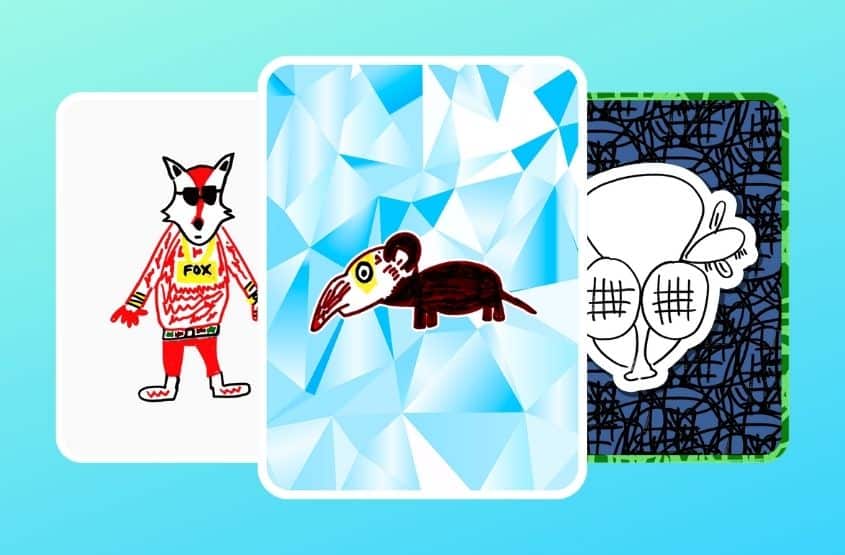 Last, but surely not least is VeeFriends. VeeFriends is an NFT project created by Gary Vaynerchuk that is created around meaningful intellectual property and an extraordinary community. VeeFriends V1 contains 268 characters, which Gary himself illustrated. 
Now, VeeFriends isn't necessarily advertised as an NFT trading card, but the NFT itself is technically a trading card, and each one comes with its own real-life perks which you unlock as a holder of that specific NFT.
We will refer to the numerous NFTs as tokens. There are three types of VeeFriends tokens; Admission, Gift, and Access. All of these tokens add up to a total of 10,255 VeeFriends, all with their own unique perks.
The idea behind the VeeFriends NFT project is to create access and provide value to the VeeFriends community, and each NFT has its own versions of access as well as various perks. The VeeFriends tokens are marketed as the key that opens the door to Gary's world.
As a holder of the VeeFriends NFT, you gain instant access to a multi-year mega-conference, as well as the terms stated within the smart contract of your VeeFriends NFT, and of course, the NFT itself which acts as a collectible that is forever stored on the blockchain. 
In addition to all the upfront perks gained when purchasing a VeeFriends NFT, you are also investing in Gary and the future of the VeeFriends brand. For as long as you hold a VeeFriends NFT, you have a piece of history and are a part of what Gary is building for the next 40+ years.
Card type: Collectible / utility / investment 
Official site: VeeFriends.com
Ultimately, there are a ton of NFT trading cards to choose from. That being said, the ones listed in this article have the potential to be the most valuable, due to their age, historical significance, and utility.
Disclaimer: The author of this article is a VeeFriends NFT holder.