The 2018 World Cup marked the debut of NFT sports cards. The clubs during that time had some of the best football players in history. Since then, various platforms have introduced collectible NFT cards for baseball, basketball, WWE, NASCAR, and others. 
The value of NFT cards increases or decreases with the players' performance in the real world. So, if you bet on the right player, your NFT sports card can be a reasonably rewarding investment.
What Are the Best NFT Sports Cards?
Following the recent popularity of blockchain-based assets, many sports companies have introduced NFT trading cards for their fans. Consequently, these cards became integral to fantasy sports practices. In the following discussion, you will learn about some of the best NFT sports cards in the industry. 
Here are the seven best platforms to find NFT sports cards.
1. SoRare
SoRare is primarily a platform for fantasy football (and more recently Major League Baseball). Users can build virtual teams of five players with NFT sports cards available from SoRare. Your fantasy team gains points based on the performance of the selected players in real life.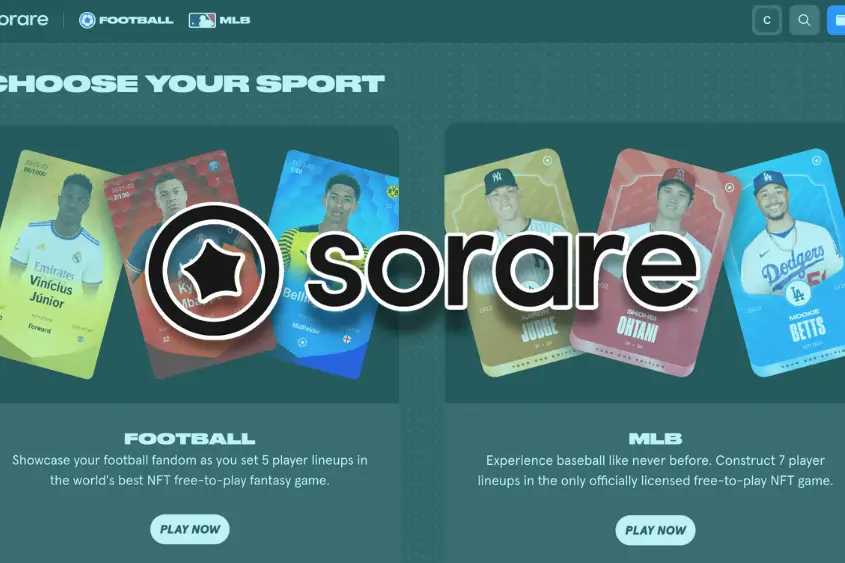 These points determine how your team ranks in SoRare's fantasy football scene. Besides football, SoRare has also introduced the first official MLB NFT cards. 
The SoRare sports cards are digital collectibles recorded on the Ethereum blockchain.
Types of cards range from common, rare, super-rare, limited, and unique cards. The token standard for most of these cards is ERC-721. You can sell, trade, and buy these player cards as a platform user. Therefore, SoRare users are also called 'Managers.' 
To participate in a competition, you need five NFT sports cards. Each of these cards represents a player who makes up your team. An eligible group must contain one forward, one defender, a goalkeeper, a midfielder, and a captain. The scarcity type of your card will determine what kind of competition you get to participate in.
Ultimately, if you build a good team and win competitions, you can make money playing SoRare. 
As a 'manager,' you can play in the All-star, Under-23, Regional, Training league, or Weekly challenges. In all cases, you can use a combination of Unique, Rare, and Super Rare cards. 
You can obtain these cards from auctions or buy them from other players, as well as find them available on the open market, like Opensea. 
Also, you can win them in tournaments. Apart from that, there are free cards available in the common category. But these are not 'rare or limited.' 
You can get your winnings in the form of digital collectibles or Cryptocurrency. The type of tournament and your ranking will determine how scarce your prize is.
Also, the platform can award your winnings in the form of Ether. If you win, the platform will notify you in your account within the game and directly transfer the prizes to your wallet.
User expereince:
SoRare is focused on providing both native and non-native crypto users with a fun, easy-to-understand, fantasy sports experience. 
If you're looking to get started in collecting digital sports cards, SoRare is one of the most simple platforms considering you can use either fiat or cryptocurrency for purchasing their cards.
Basically, if you enjoy participating in fantasy football, you'll do fine collecting cards and competing against other collectors using the SoRare platform.
Facts to consider:
SoRare is one of the first NFT sports card platforms to exist. It was founded in 2018 by Nicolas Julia and Adrien Montfort.
SoRare managed to raise $680 million from SoftBank's Vision Fund 2, which values the company at $4.3 billion.
In 2021, SoRare NFT card sales totaled over $150 million.
Benefits:
Drawbacks:
There's always a risk that you'll lose money.
You have to be knowledgeable about the team's performance in real life if you want to buy good cards and be competitive.
It can cost anywhere from $100 to $1,000+ to build a solid team and own rare cards. 
2. DraftKings
Draftkings is another fantasy sports platform that distributes digital collectible cards based on the Ethereum blockchain.
However, the opportunity to trade with cryptocurrency isn't open yet. So, you have to obtain those NFT sports cards with traditional (fiat) money.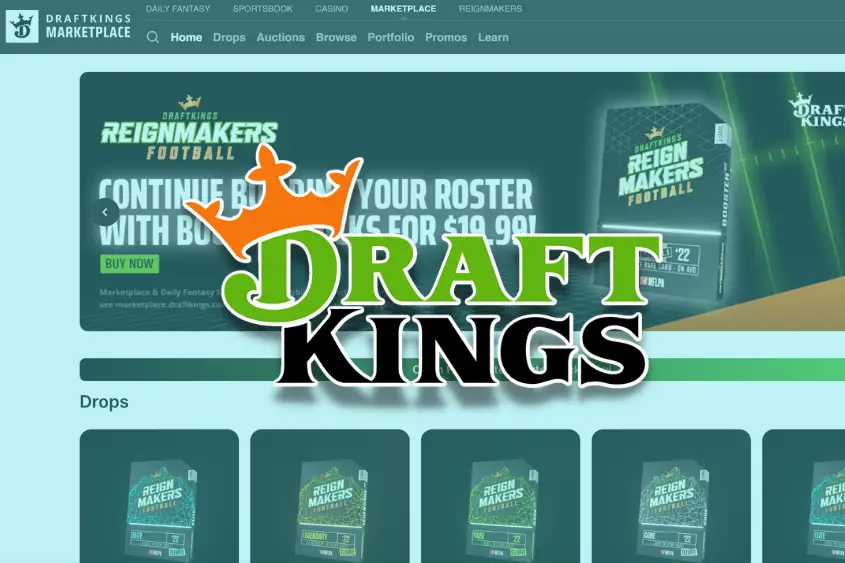 The fees and cost for these NFT cards vary according to the individual collectible and its creator. Since 2012, when it started its journey, Draftkings has established itself in fantasy sports. 
Later, in 2021 it introduced NFT sports collectibles. This is currently one of the hottest platforms for sports-related digital collectibles, with regularly updated listings.
Apart from buying new NFTs, you can also use the platform to trade collectibles you have previously purchased.
Essentially, Draftkings provides a secondary marketplace for your NFT trading cards. So, when you join, you get access to a large community of enthusiasts with whom you can exchange, buy and sell your digital assets.
You must join the 'Drop' queues to purchase NFT collections on the platform. During an NFT Drop, Draftkings will release a single or group of NFTs on its marketplace on a predefined date and time.
Half an hour before this moment, the 'Waiting Area' will open. And users will enter the virtual spot and secure their positions. 
To trade NFTs on the platform and participate in fantasy sports, you need to be at least 18 (in some states, you need to be 19 or 21).
Also, you cannot participate in the platform's activities if you live outside the US or Canada.
User expereince:
Draftkings is another user-friendly NFT sports card platform that ensures an easy experience whether you are a novice or a pro. Although you can't use crypto to buy your cards, you can use your debit or credit card for all your purchase.
In addition, DraftKings allows users to store their NFTs in the platform's own custodial storage layer-2 wallet. That means you don't have to pay costly gas fees to transact.
Facts to consider:
DraftKings has a solid reputation in the sports industry having been founded in 2012.
The company is currently worth an estimated $7.65 billion.
DraftKings offers weekly or daily fantasy sports contests for 13 sports: NFL, MLB, NBA, NHL, Golf, Men and Women's Soccer, Tennis, CFL, NASCAR, MMA, eSports, and, XFL.
Benefits:
DraftKings understands the sports betting/collecting industry better than anyone.
Collecting NFTs on DraftKings is simple using your bank card and their dedicated wallet for storing your collectibles.
Drawbacks:
Some may disapprove of not being able to use crypto to buy NFTs.
Storing your NFTs in DraftKings custodial wallet as opposed to your own might turn some people off. (However, the option to transfer your NFTs into your own wallet is becoming available).
Must live in the US or Canada to participate in the platform.
3. Candy Digital
Candy Digital is what you need if you are after genuinely authentic NFT sports cards. Because Candy is the official NFT ecosystem for Major League Baseball.
So, the league officially recognizes all the digital collectible Candy offers. In addition, Candy has some of the best artists and designers to create the most attractive NFT cards and other sports memorabilia.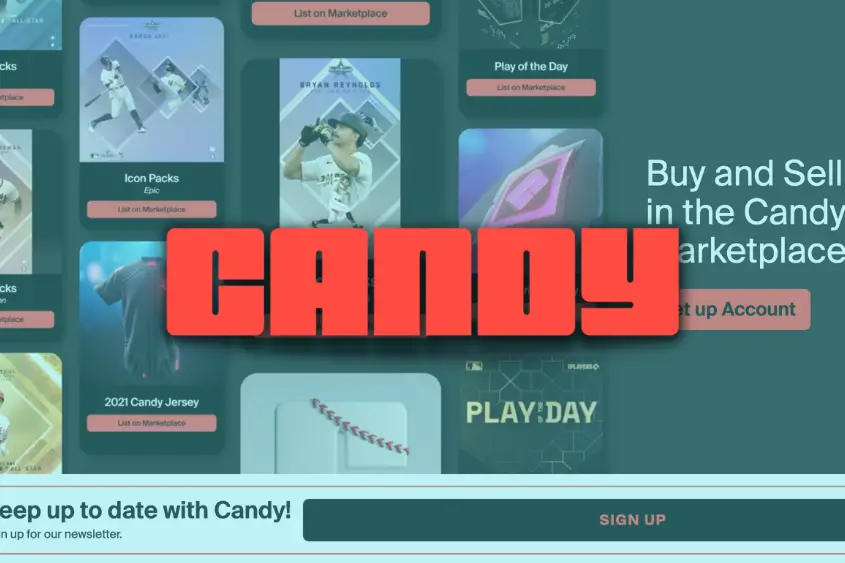 Collecting cards on Candy is fast and easy. First, go to Candy's website and create your account. Afterward, you can choose a product from their shop and add it to your Cart. 
You can then pay with a credit or debit card to complete the order. Or, you might use funds in your Candy Balance to buy the collectibles. 
There are numerous types of NFT sports cards available at Candy. And the best thing is that the price range offers something for everyone. The most inexpensive collection is 'Play of the Day', where every NFT costs around $15.00. 
However, many of these NFTs have great future potential. So, you might be able to make an astonishing amount of money on this initial investment. 
For fantasy baseball fans, the Candy 'MLB Stadium Series' might hold particular appeal. In this collection, you will find NFTs for all thirty teams in Major League Baseball.
However, baseball isn't the only sport Candy prefers. Their licensed partnerships with NASCAR and WWE will also yield sports collectibles from these sectors.
Candy was founded in 2021, so it's still relatively new. That being said, you might take advantage of the low prices to make some NFT investments for the future. 
Besides the United States, Candy offers its NFTs to residents of the UK, Australia, France, Canada, Germany, Hong Kong, Japan, Spain, and Portugal.
User expereince:
Candy Digital was the first sports NFT I ever bought. They make sure the buying process is easy (if not easier) than buying something on Amazon. 
Moreover, you can quickly send money to your wallet using your bank card and you don't have to own a crypto wallet to get started.
Instead, you just have to set up a Bitski wallet using your email address and a password.
Notably, all the NFTs they offer (they offer more than sports cards) are affordable for most people (anywhere from $1.50 to over $1,000 for their premium drops). 
Facts to consider:
Candy Digital was formed by three executive partners: Michael Rubin, CEO, Fanatics; Mike Novogratz, founder and CEO, Galaxy Digital; and Gary Vaynerchuk, Serial Entrepreneur and Investor.
The company raised $100 million over 1 Round of funding.
Candy is valued at $1.5 billion.
Benefits:
Candy Digital offers an array of NFT collectibles including sports cards
You can easily buy NFTs using just your bank card.
The Bitski wallet Candy uses is easy for anyone to set up.
Candy offers an affordable sports collectible for everyone.
Candy utilizes the Palm sidechain to make the platform 99% more efficient than Ethereum itself.
Drawbacks:
If you are only looking for sports cards, Candy offers more than that.
If you want to sell your Candy Digital NFT on the open market such as Opensea, you have to transfer your NFT to a different wallet, like Metamask. This costs money.
4. NBA Topshot
NBA Topshot holds that same appeal for Basketball fans that Candy has for baseball enthusiasts. However, the digital collectibles from NBA Topshot utilize a different media—short video clips.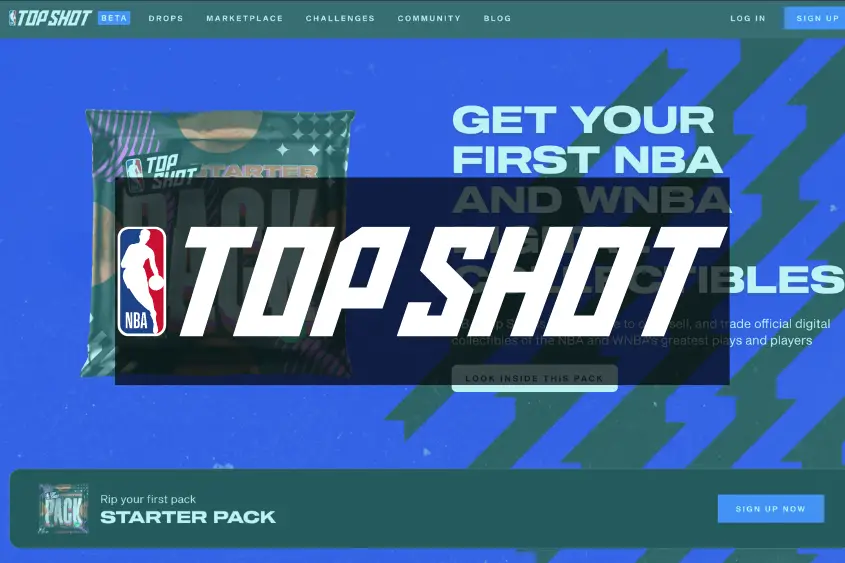 These digital sports trading cards are essentially highlighted clips (known as 'Moments') from NBA games. And therefore, they are licensed by the original organizations. 
This NBA joint venture comes from the same company that created the hugely popular CryptoKitties—the project that helped make NFTs what they are today. 
This company 'Dapper Labs', started NBA Top Shot in 2020. Considering their success in other projects, you can easily decide to invest in their NFTs. 
One of the marvelous things about the platform is that you do not need a digital wallet to navigate the marketplace. In contrast, most platforms won't let you access their marketplace unless you connect a digital wallet to them. 
But on NBA Topshot, you only need to create an account. Plus, you can purchase the NFTs with both cryptocurrency and fiat currency.
Top Shot uses the 'Flow' blockchain to record its transactions. This is the proprietary blockchain of Dapper Labs. The sports cards or 'Moments' are short video clips that replay some memorable highlights from NBA's history. 
When you buy such a moment, it will exist in your account's storage. From there, you can view it anytime you like, show it to others, or sell it on the Topshot marketplace to make a profit.
User expereince:
NBA Topshot is one of the earliest digital collectibles platforms. As a result, Topshot has gained recognition in the web3 community as being one of the first to arrive in the sports industry. 
Not only that, but the platform offers NBA and WNBA fans a simple marketplace to buy, sell, and hold their favorite moments from basketball history.
If you are a true basketball fan, NBA Topshot is the go-to platform for collectible cards (Moments).
Facts to consider:
Topshot is an official partnership between the NBA and Dapper Labs, making it the first official NBA digital collectibles platform.
NBA Topshot experienced over $826 million in trading volume, in 2021.
The most expensive NBA Topshot card sold to date is a Legendary (#23/79) Lebron James moment. It sold for $230,023.00 on August 25, 2021.
Benefits:
NBA Topshot is the only official NFT collectibles platform of the NBA.
Topshot will always be known as the first NFT platform associated with the NBA.
Topshot offers users a simplified marketplace with affordable options starting as low as $2.00.
Drawbacks:
The NBA Topshot platform is not on Ethereum (the most preferred NFT blockchain).
Topshot sales have slowed significantly since their rise to stardom in 2021.
5. ToppsNFTs
ToppsNFTs introduced their Major League Baseball cards in April of 2021. Within a week of their release, those NFTs became one of the most popular NFT collectibles in just 24 hours.
And after over a year of their release, ToppsNFTs baseball cards are still one of the most desired digital sports cards among collectors and fantasy sports fans.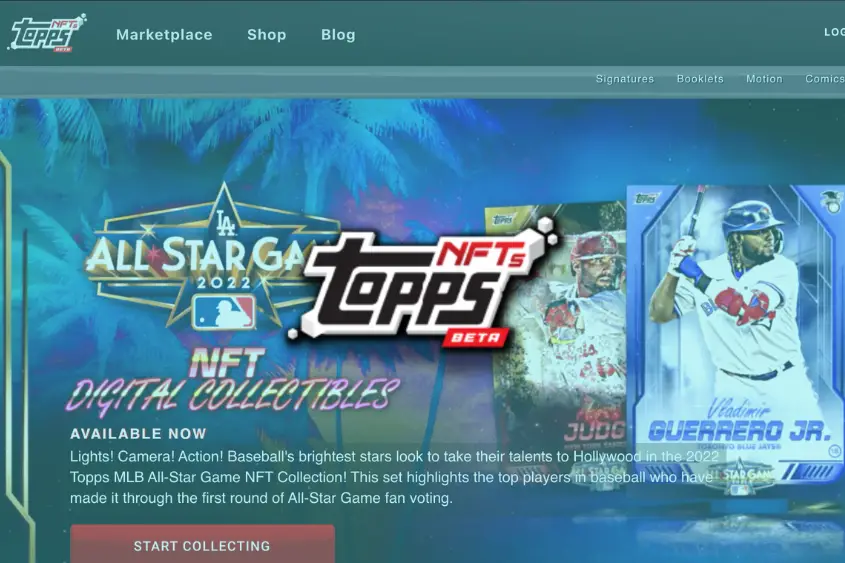 When you build a collection of Topps MLB NFTs, you can trade or sell them to others. You might also flaunt your collection on social media. 
However, the main appeal lies in making a profit when you sell them at a much higher price in the future. Because Topps burns their assets to maintain an increased scarcity. 
Topps has used the WAX blockchain to build these collectibles. So, you will need to create a WAX Cloud wallet. After that, sign in to Topps MLB from your wallet and go to "Shop." 
You select the NFTs pack "MLB Series 1" from there and buy it. When the purchasing process is complete, you will see the ownership on your WAX wallet.
Before any purchase or trading, it is advisable to gain some knowledge about the collectible. And you can easily do that on the WAX blockchain. 
Here, the details and history of the NFTs are available for everyone to see. WAX will provide you with the specifications, creation date, rarity, proof of authenticity, and all critical information about each card.
User expereince:
ToppsNFT's marketplace is one of the most simple to navigate. The tabs allow you to filter cards by brand, teams, players, mint numbers, price range, and rarity.
Along with its tabs, you can view the details of each individual card. Here you can see the details of the card, how many were minted, the lowest asking price, as well as the highest sale price.
In addition to its well-laid-out marketplace, ToppsNFT has a blog that often releases new content to help explain upcoming drops and updates about the platform.
Facts to consider:
Topps is one of the oldest sports card brands dating back to 1938.
The e-commerce company, Fanatics (valued at $18 billion), acquired tops for $500 million in January 2022.
Topps brand is valued at $1.3 billion.
ToppsNFTs are officially licensed by Topps.
Benefits:
Topps has a good track record and is a respected sports card brand.
Now that Fanatics owns Topps, there are even more possibilities for the brand to expand.
The ToppsNFT marketplace is familiar and easy to use for anyone.
Drawbacks:
ToppsNFT is technically still in Beta mode.
The WAX blockchain utilized by Topps is far from the most preferred blockchain.
6. Panini Blockchain
Panini had been a collectible business even when blockchain technology wasn't around. Back then, the company sold physical trading cards, comics, etc.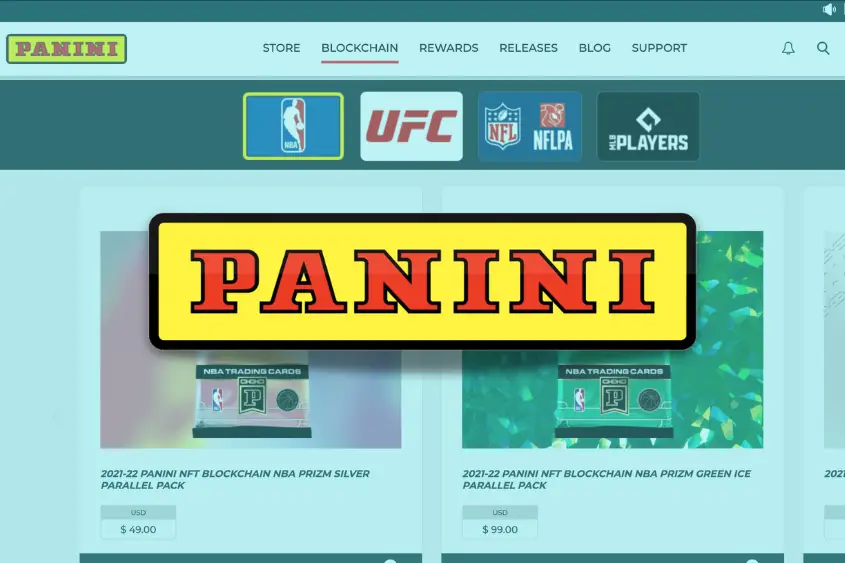 In current times, they have caught up with the latest trends in the digital world. Now, they are offering their collectibles as NFTs. 
Digital collectibles from the Panini Blockchain allow collectors to truly own their favorite Panini trading cards as digital collectibles. 
Previous, Panini collectors couldn't be the actual owners of the collectibles. They only owned a copy that they paid for. But with NFTs, you are the owner of a unique piece. And the proof of ownership is recorded on the blockchain. 
The platform will randomly stuff "minted" NFTs into packs. Then, these packs go up for auction.
The transaction is saved on the blockchain when you buy it or open the pack. As the company puts it —the Panini NFT card comes with a "Seal Of Authenticity." 
However, it's best to remember that NFTs are blockchain-based assets. So, like any other assets, their prices will rise and fall.
For instance, the value of a Panini Sports NFT card might decrease if the athlete fails to perform in the real world. Also, "Rarity" (aka scarcity of the asset) and market demand will drive the prices up and down.
Moreover, if the blockchain that Panini operates on fails the platform, then Panini NFTs could be stripped of any value they have.
User expereince: 
At first glance, PaniniBlockchain's website looks simple but can actually be confusing. The main page smashes all the different categories together making it difficult to navigate.
However, if you learn how to navigate using the main tabs on the top of the blockchain page, it does become easier.
Ultimately, I feel like that website could be better organized, but if you can look past this fact, then the user experience isn't too bad.
Facts to consider:
Panini is another 'OG' in the sports card industry.
Panini is valued at $3 billion.
Fanatic replaced Panini as the exclusive producer of licensed NBA trading cards.
Benefits:
PaniniBlockchain has several types of NFT sports cards to choose from, including baseball, basketball, collegiate, football, soccer, and UFC.
You can buy digital trading cards using your bank card or PayPal.
There are no fees for transacting on PaniniBlockchain.
Drawbacks:
PaniniBlockchain is created on a unique blockchain called Hyperledger Sawtooth. This blockchain is rather unknown to most people.
The PaniniBlockchain website could use some optimization.
7. CryptoStrikers
CryptoStrikers is the pioneer in digital sports cards. Their first NFT card was Gianni Settino's. It was created in May 2018 by artist and creator, Gilang Bogy, and released during the World Cup in June.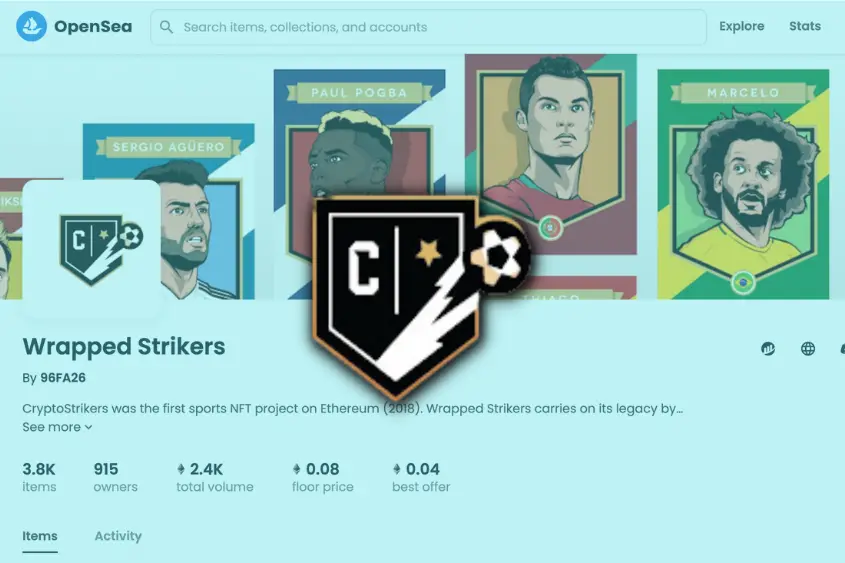 This Gianni Settino card is the first ever Sports NFT card in history. CryptoStrikers is the first project to introduce digital sports cards for global superstars. 
Since these NFTs were created before the current Ethereum standard for NFTs, users had to "wrap" them in code so they could be traded on a secondary marketplace like Opensea. Hence, they got the nickname, "Wrapped Strikers."
The rarity of these digital sports cards is what appeals to people the most. There will only ever be 10,261 original Crypto Striker Cards in existence.
With that, the Pack sale closed during the 2018 world cup. So, you can no longer get freshly minted cards.
When these cards were active, you could stake them during a match. If your player scored a goal, the blockchain would record a " Gold Star" for your card. 
These stars increased the rarity of the card and increased its value. Now the cards that were staked back in 2018 are worth more, considering they are a true digital collectible.
Furthermore, Gilang Bogy collaborated with serial entrepreneur and creator of VeeFriends, Gary Vaynerchuk, to create the VeeFriends Iconics series—a collection of one-of-one NFTs featuring the VeeFriends Series 1 Spectacular characters—reimaged in Bogy's signature fractured WPAP style.
This is a huge collaboration, and in my opinion, only increases the value of Gilang's original CryptoStrikers cards.
Opensea is the best place to collect these cards as of today. And yes, they are listed as "Wrapped Strikers", not "CryptoStrikers." 
User expereince:
Considering the official CryptoStrikers marketplace is no longer active, you have to buy these collectible cards on an NFT marketplace like Opensea. If you've never used Opensea before and don't own a crypto wallet, this might seem intimidating at first.
However, learning how to buy an NFT is simple when you have the proper guide.
The best thing about CryptoStrikers is that they're historically significant. They are literally the first sports NFT on the Ethereum blockchain, that alone is worth something.
Facts to consider:
CryptoStrikers is the first sports card project on the Ethereum blockchain.
Gilang Bogy is a respected digital artist with over a decade of expereince.
There will only ever be 10,261 of these cards in existence.
Gilang collaborated with Gary Vee—creator and operator of his extremely successful NFT brand VeeFriends.
Benefits:
CryptoStrikers will forever have historical significance in the collectible space.
These cards are still somewhat affordable for being such a limited edition.
CryptoStrikers is built on the preferred NFT blockchain.
The artist of these cards is continuing to pursue his love for art by collaborating with other prominent leaders in the NFT space.
Drawbacks:
CryptoStrikers is no longer actively being worked on.
You can only buy a CryptoStrikers card on an NFT marketplace using cryptocurrency.
Final thoughts 
Finding the best NFT sports card platform to buy your digital cards ultimately depends on your goals. Do you want to actively participate in games? Then consider going with SoRare or DraftKings. 
Or would you rather sit back, relax, and build a unique collection? If so, consider going with a platform where less engagement is required, such as ToppsNFT or CryptoStrikers.