Whether you're an NFT collector, creator, or enthusiast—it's important to know how to transfer an NFT to another crypto wallet. After successfully completing a few of my own NFT transfers, I realized how easily anyone could transfer a non-fungible token to another wallet of their choice using these 4 simple steps.
How To Transfer Your NFT.
To transfer your NFT to another wallet or ENS, follow these simple steps:
Go to your account (Metamask or OpenSea) and select your desired NFT, click Send.
Enter the recipient's public wallet address (or ENS, where applicable).
Pay the transaction fee.
You can then verify your transfer on

Etherscan.io
These instructions are the general steps taken in order to transfer a non-fungible token from one crypto wallet to another. Depending on where you are transferring your NFT from (Metamask, OpenSea, etc.) the instructions I'm providing are bound to contain similar steps to reach the same end goal of safely transferring your NFT.
To show you, I will be using Metamask and OpenSea to transfer an NFT to a recipient's wallet address.
Step 1: Go To Your Account and Choose Which NFT You Want To Send.
If you are using Metamask, simply open up your app (mobile) or extension (desktop) and choose the account that contains the NFT you would like to send. Simply select the desired NFT and click Send. If you are sending your NFT from OpenSea, go to the specific NFT you want to send and click Transfer.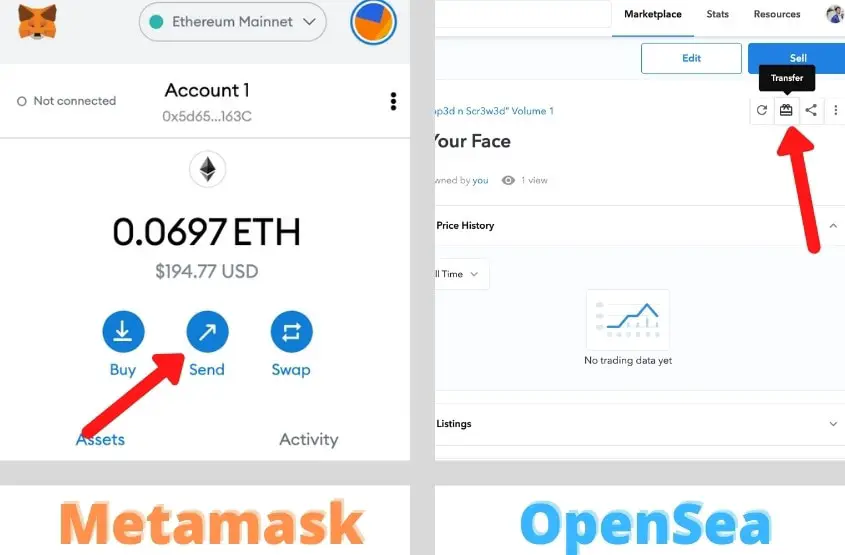 Step 2: Enter The Recipient's Wallet Address or ENS.
After you select the NFT you want to send, you will be prompted to enter the recipient's public wallet address or their Ethereum Name Service (ENS)—which is the crypto version of the Domain Name System (DNS) used on Web 2.0.
NOTE: Please verify you have entered the correct recipient address. Once you click Send and after you pay the transaction fee, you may not be able to cancel or retrieve your NFT transfer.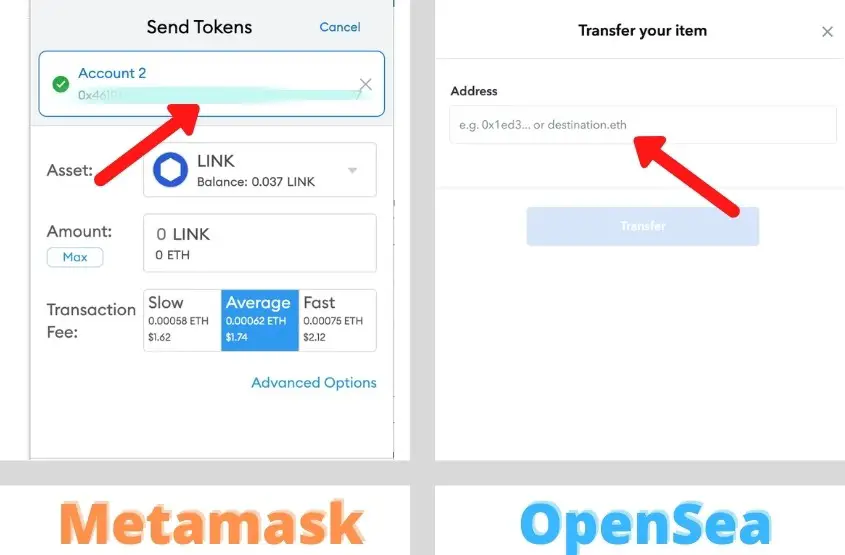 Step 3: Pay The Transaction Fee.
Once you have verified the recipient's address is correct, you will need to pay for the transaction fee. The fee to transfer an NFT can cost anywhere from 50¢ to $15.00. Although choosing the Slow transaction option is the least expensive, I don't recommend it. The Fast option only costs a bit more and speeds up your transaction time significantly.
Depending on the transaction speed you choose, the transaction may not finish immediately. It can take several minutes for a transfer to complete so don't panic if you don't receive a notification of completion instantly.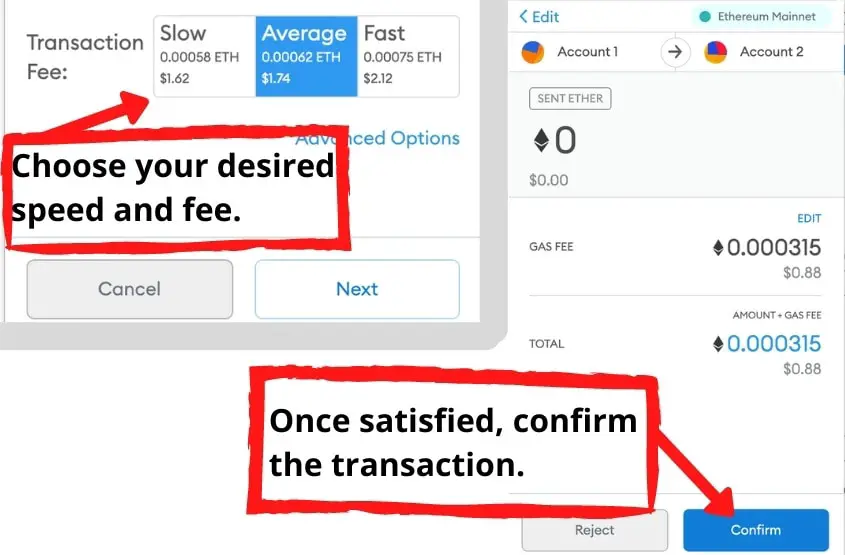 Step 4: Verify Your Transfer Using
Etherscan.
If you would like to view your transaction and verify your NFT has been transferred, visit Etherscan.io (The Ethereum Blockchain Explorer.) I found that the easiest way to view your most recent transfer is by going to your wallet and viewing your Activity tab. Here, you will find a list of your most recent activity. Pick which transaction you would like to verify and then select View on Etherscan. This will take you directly to The Ethereum Blockchain Explorer where you are able to view all of your Transaction Details such as the current status of your transaction.
If you see a green Success for the status, then you know the transaction has been successfully completed.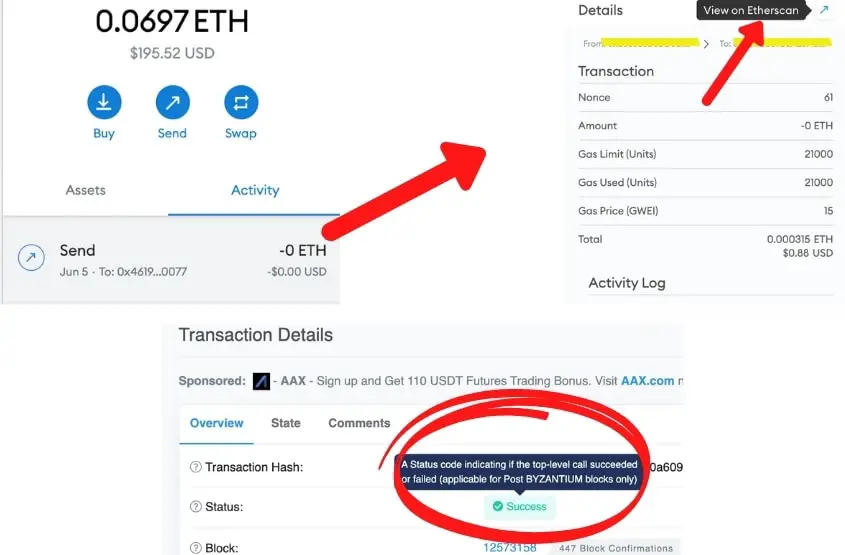 In my experience, it's always a good idea to double-check that your transfer has been sent successfully. Also, if you need to check any additional information about your transfer such as timestamp, fees, recipient address or value, Etherscan conveniently provides all those details for you.
Cost To Transfer An NFT.
Transferring a non-fungible token to another address is super simple, however, it does come with a cost. Every transaction processed on the Ethereum blockchain requires that you pay a transaction fee and transferring an NFT is no exception.
The cost to transfer a single NFT is between 50¢-$15.00 depending on the current gas price and demand on the blockchain. Choosing the Slow transaction will be the most inexpensive option and may take upwards of 15 minutes to complete, whereas the Fast transaction will be the most expensive but the quickest to transact. The sender always pays the gas fee.
Ultimately, the speed and fee you pay is up to you. Just remember, when you use the Slow transaction option there's a higher risk of the transaction being unsuccessful as opposed to paying more and using the Fast transaction option.
Transferring Your NFT Safely.
When I transferred my first NFT, I couldn't help but wonder how safe transferring an NFT to someone else actually was. Luckily, I discovered that transferring an NFT is extremely safe—with that being said, there are a few things you need to be aware of to ensure you're sending your NFT as safe and secure as possible.
To ensure you're transferring your non-fungible tokens safely, please review the following:
NEVER give out your wallet seed phrase – Anyone who has access to your wallet's seed phrase has access to your wallet. Do not give your seed phrase or any information regarding your wallet's account to anyone. If you have NFTs you want to store securely, make sure you read Securely Storing Your NFTs: A Complete Guide.
Ensure you are sending your NFT to the proper recipient address – Always verify that you are entering the correct receiving address when transferring any NFT to another wallet. If you transfer an NFT to the wrong wallet, there is no way to retrieve it unless the recipient were to send it back to you.
Choose the Fast transaction option when sending an NFT – Choosing the Fast transaction option means you are willing to pay a little extra in order to complete the transaction quicker and is more likely to be successful. It's rare that a non-fungible token wouldn't transfer eventually even if you are using the Slow option, but for the best results choose the Fast transaction option.
Don't send someone an NFT if you are awaiting payment – If you're sending an NFT to someone and you're expecting a payment in return, it's a good idea to have the recipient send the fee to you wallet prior to you shipping away your precious NFT. Always confirm the proper currency and payment amount has been successfully received in your wallet before transferring any non-fungible token.

If you don't feel comfortable transacting on your own without a middleman, use a marketplace to safely offer up your NFT for sale.