The Solana Blockchain is a popular network used to make transactions in the NFT and DeFi space. Designed to be energy-efficient, Solana's power consumption is lower than other blockchains, making it ideal for trading NFTs. But which Solana wallet is best for NFTs?
What Wallet Should I Use for Solana NFTs?
There are many things to consider when choosing a wallet to store your Solana NFTs such as cost, security, interface, convenience, learning curve, and more.
Let's take a look at the 5 best Solana NFT wallets to suit your diverse needs. We have listed the pros, cons, and costs of each to help you choose the right one.
1.   Ledger
A Ledger wallet is the best Solana NFT wallet. It's the most secure, versatile, and reputable wallet in the industry. If you want to buy, sell, and store NFTs without the fear of losing your digital assets to scams and hacks, Ledger is your best line of defense. It's also compatible with other wallets.
All Ledger hardware wallets (cold-storage wallets) are physical devices that use a secure chip to safely store your private keys and your assets within.
Because of this, Ledger wallets are considered to be the most secure web3 wallet available, and they support a variety of cryptocurrencies and NFTs, including the Solana network.
These wallets work by storing your private keys on the physical device itself.
This means that you are safe from hackers and fraud since all your private information (recovery phrase, password, PIN code) is stored offline (unlike a software wallet).
Even if your computer is hacked or infected with malware, you can rest assured that your digital assets are still safe. In addition, even if you lose or break your hardware wallet, you can always restore it using your recovery phrase.
That being said, you can use Ledger wallets to sign transactions without exposing your private key to external devices.
Hence you can buy, sell, and trade NFTs on Solana without having to worry about being hacked.
To use a Ledger device on Solana, all you need to do is download Ledger Live and install the Solana app on your wallet.
Here are some other tips for safely using a Ledger wallet to trade and store your Solana NFTs.
Always make sure you're using the most current version of Ledger Live.
Ensure you're using the latest version of the Solana app.
Enable blind signing on the Solana app on your Ledger device (this is required by most Solana NFT marketplaces).
| Pros | Cons |
| --- | --- |
| The most secure Solana wallet available | Takes time to set it up |
| Anti-hacking mechanism | There's a learning curve |
| The device locks after 3 incorrect pin authentication attempts | Relatively more expensive |
| Supports over 1,000 cryptocurrencies and numerous NFT blockchains | |
Pros and Cons of Ledger hardware wallet
Cost:
2.   Phantom Wallet
Phantom Wallet is the most popular hardware wallet utilized on the Solana blockchain. It's a reliable wallet mainly used for storing and staking Solana NFTs. It is comparable to MetaMask, which is a popular Ethereum wallet, except it is solely used on Solana.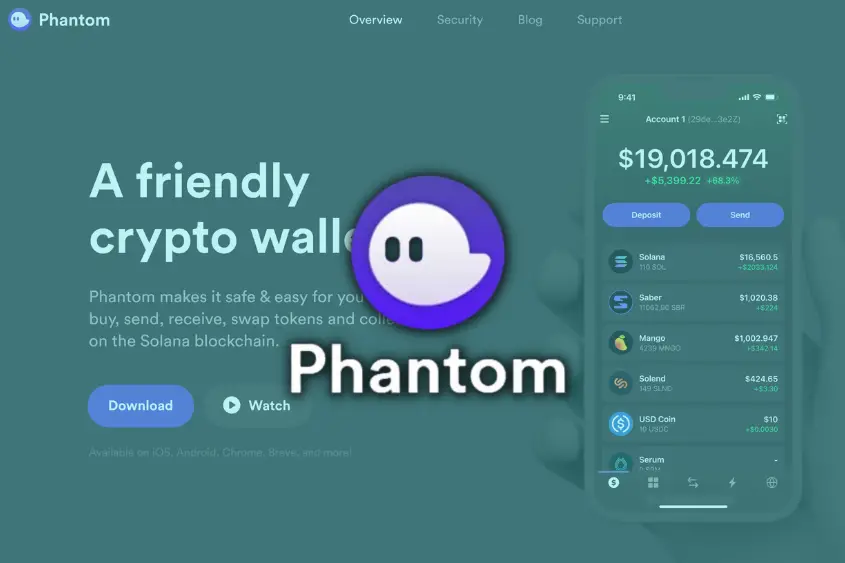 Similarly to Metamask, Solana is popular because it is extremely user-friendly. If you are just getting into NFTs and want to get the hang of using a web3 wallet, the Phantom wallet is your best choice.
Buying and staking NFTs is simple with Phantom. It automatically groups similar NFTs together and you can earn SOL rewards by staking NFTs. 
Plus, with its built-in decentralized exchange mechanism, you can swap $SOL instantly from your wallet.
You just need to log in to the wallet on your browser and make any transaction and you are all set.
It's important to note that since Phantom wallet is a software wallet (a program installed on your mobile or desktop device), it's not as secure as a Ledger wallet. 
However, using the Solana app on your Ledger device, you can easily connect your Phantom wallet to a Ledger wallet in a few simple steps, making Phantom a diverse option for those of you who are looking to begin collecting Solana NFTs.
| Pros | Cons |
| --- | --- |
| Easy access with Google Chrome and other browser extensions | The phantom wallet is yet to support blockchains other than Solana |
| Shows all your NFT collection | Not as secure as a Ledger hardware wallet |
| Supports currencies like USDT, USDC, SRM, and utility tokens launched via SOL | |
| Can be connected to a hardware wallet like Ledger | |
| Can stake Solana NFTs to earn rewards | |
Pros and Cons of Phantom Wallet
Cost:
Phantom Wallet is free to download and use. It charges a nominal transaction fee of 0.85%.
3.   Solflare Wallet
The Solflare crypto wallet is a secure and easy-to-use option for storing SOL. It's developed by Solana Labs and is available for both iOS and Android devices and as a web extension.
This is solely a Solana-based wallet that supports SOL and SPL tokens as well as NFTs and allows access to Solana Dapps.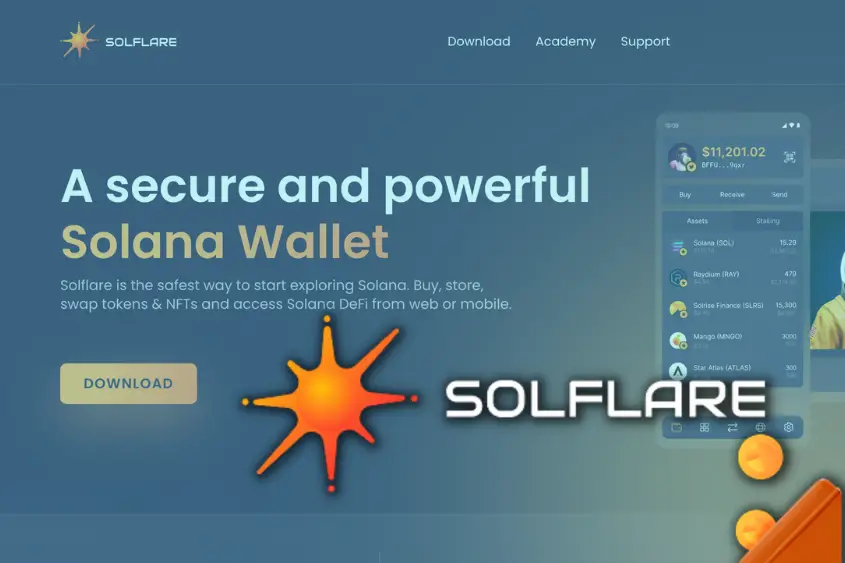 One of the key features of the Solflare wallet is its security. The wallet uses advanced cryptography to protect user funds, and it also offers two-factor authentication and multi-signature support.
In addition, the Solflare team monitors the blockchain for any suspicious activity, and they provide 24/7 customer support in case of any issues.
| Pros | Cons |
| --- | --- |
| Compatible with Ledger devices | Does not support all tokens |
| Provides NFT support | Not as secure as a Ledger device |
| User-friendly platform | |
| Easy activation and set-up | |
| Decentralized security features | |
Pros and Cons of Solflare Wallet
Cost:
Solflare is free to download and use.
4. Trust Wallet
Available only as a mobile wallet for both Android and iOS devices, the Trust Wallet app is a Hierarchical Deterministic (HD) wallet, meaning that it generates a new address for each transaction.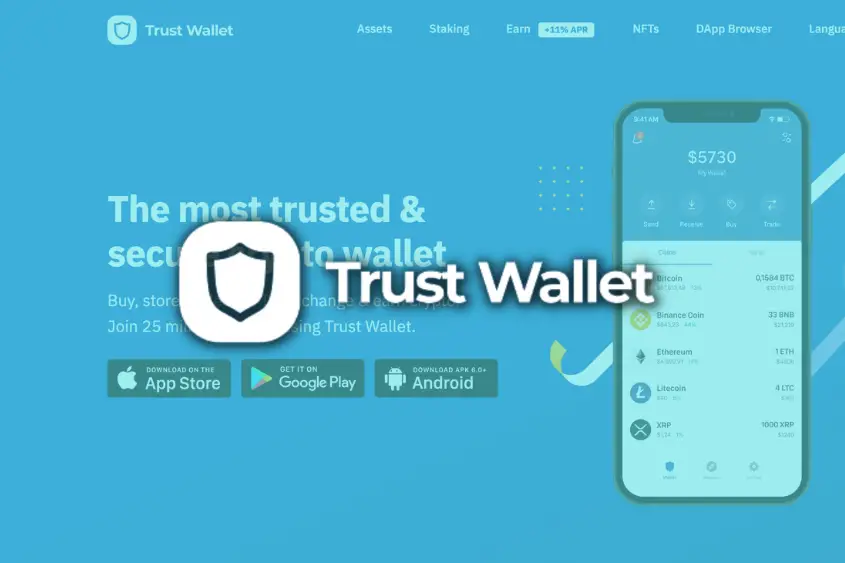 This helps to improve privacy and security. Trust Wallet also supports Two-Factor Authentication (2FA) and Fingerprint Authentication.
Not only does Trust Wallet support Solana NFTs, it can also be used for other blockchains including Ethereum, Binance Smart Chain, Cardano, Bitcoin, and more. 
This makes Trust Wallet one of the most diverse wallets on the list. If you are looking for one wallet to manage all of your digital assets across various blockchains, this is the wallet for you.
There are over 5 million active Trust Wallet users thanks to its easy-to-use interface. All you need to start using Trust Wallet is to download the application on your phone.
| Pros | Cons |
| --- | --- |
| The mobile app is super useful and convenient to use | Hardware wallets are more secure |
| Supports a variety of blockchains | Trust Wallet is only available as a mobile app |
| Security is top-notch | |
| Supports a large number of cryptocurrencies | |
| Beginner friendly interface | |
Pros and Cons of Trust Wallet
Cost:
Trust Wallet is free to download and use.
5.   Exodus Wallet
The Exodus wallet is a desktop-based cryptocurrency wallet that supports a wide range of digital assets including Solana, Ethereum, and Algorand NFTs.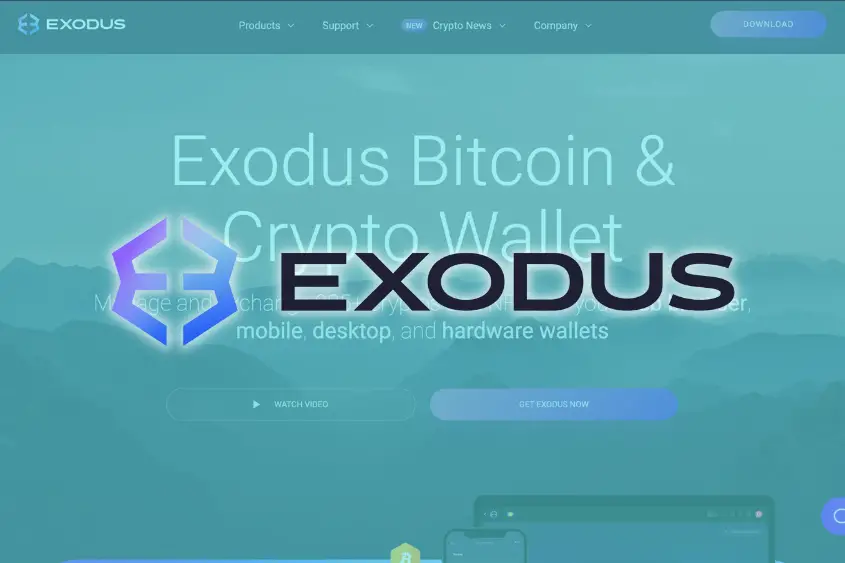 It is free to use and available for Windows, Mac, and Linux operating systems. The wallet allows users to store, send, and receive cryptocurrencies and NFTs using its secure and user-friendly interface.
Exodus also offers an in-built exchange wherein users can exchange one cryptocurrency for another without having to leave the wallet interface. 
Furthermore, the wallet provides users with a built-in price chart that displays real-time data for the supported cryptocurrencies. 
Overall, the Exodus wallet is an all-in-one solution for those looking for a safe and easy way to store, send, and receive NFTs and other DeFi tokens.
| Pros | Cons |
| --- | --- |
| Works on several devices and OS. | Not as secure as other software wallets or hardware wallets |
| Can be used on desktop and mobile devices | Lacks basic security features like multi-sig support and 2FA |
| Simple interface and smooth experience | |
| Compatible with over 150 tokens | |
| Secured against hackers and cyber attacks | |
Pros and Cons of Exodus Wallet
Cost:
Exodus Wallet is free to download and use.
How Do I Choose the Best NFT Wallet for Solana?
When choosing a Solana NFT wallet, it's important to select a wallet that is secure, cost-effective, and reputable.
Here are some things to consider before you choose a Solana wallet for buying, selling, and storing your NFTs.
Security
When it comes to web3, security is a top priority. I always recommend that you store your digital assets in a wallet that offers both security and convenience.
Security should be the main parameter for choosing a wallet for crypto enthusiasts of all user levels.
Many experienced folks in web3 have learned the hard way about security. I've seen experienced investors and collectors fall victim to scams and other hacks that could have been avoided if they had just used a hardware wallet like Ledger.
Of course, the best way to avoid NFT scams is to be aware of these types of scams so you can avoid putting yourself in such a situation in the first place. But we're all human, and mistakes will be made.
That's why any additional layer of security we can use to defend ourselves and our assets against these scammers is crucial.
Cost
Most of the listed wallets are free to download. But low cost should not always be a factor for the wallet you go for. 
Costly wallets like Ledger offer more protection for your hard-earned assets.
Opting for a low-cost wallet and sacrificing more important aspects such as security and reliability could cost you more in the long run.
For the added layer of safety, choosing a more expensive hardware wallet is worth the investment. 
Basically, if you are buying, selling, or trading any NFT over $79 (the cost to own a Ledger wallet), then you have no excuse not to get a Ledger wallet. 
And even if you are already using a software wallet like Phantom, you can easily connect it to your Ledger device and transfer your NFTs to it. 
User Experience
This parameter for the best web3 wallet depends on what you prefer. If you mostly work on computers for making crypto transactions then a web-based NFT will do nicely.
If you are more of an app person, go for a wallet that is accessible on your phone.
Another aspect to consider is your familiarity with using crypto wallets. Most app-based wallets are made simply for easy interactive usage.
If you are new to web3 transactions, wallets with a low learning curve are a good option for learning how it works.
Blockchain Compatibility
Solana is a popular blockchain and more digital wallets are becoming SOL compatible.
Unfortunately, not all Solana wallets can support other tokens and blockchain networks.
SOL-specific wallets like Solflare are a good option for staking, receiving, sending, and NFT compatibility.
But for people who utilize many blockchains, a wallet that supports more networks could be more useful and easier to manage.
Conclusion
The best Solana NFT wallet is Ledger. It's the most secure and versatile option over any software wallet. Also, you can use it with popular software wallets like Phantom. However, If you are anxious to get started collecting Solana NFTs then Phantom is your next-best option.
Just make sure you get a hardware wallet like Ledger as soon as possible, especially if you are trading valuable digital assets or plan on storing them for any amount of time.
Remember, it's only a matter of time before you fall victim to a scam. Not if, but when.