If you own NFTs then you understand how important it is to keep your digital assets safe. A hardware wallet is the best option to securely store your NFTs. So, what's the best hardware wallet for NFTs?
The Ledger Nano X is the best hardware wallet for securely storing your NFTs. It's an aesthetically pleasing, highly secure, and simple-to-use cold-storage hardware wallet that keeps all your login information offline, reducing the risk of being compromised.
Best Hardware Wallet for NFTs
1. Ledger Nano X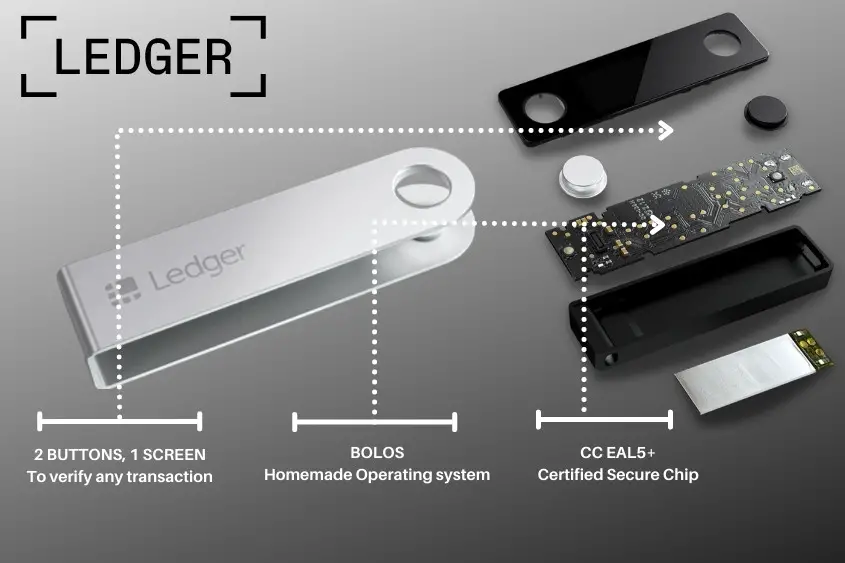 The Ledger Nano X is the best hardware wallet on the market today and is trusted by a majority of NFT collectors, investors, and creators to safely store their digital assets. For only $149 on Ledger's site, this wallet is more than worth the price to ensure the safety of your NFTs.
My favorite thing about the Ledger Nano X is that you can use it to buy NFTs directly from an NFT marketplace, just as you would when using your Metamask wallet. All you need to do is connect it to your computer when purchasing, then once you're done, disconnect your wallet and feel good knowing your NFTs are safe.
Also, the Ledger Nano X is super simple to use and has a built-in battery and enhanced asset management capabilities like Bluetooth. It features a matte black finish and a 128 x 64-pixel screen for cycling through applications. The wallet supports over 1,800 coins and tokens.
The Bluetooth Low Energy connectivity enables the Nano X to be used with the Ledger Live software (Android or iOS devices) to complete crypto transactions in real time. Furthermore, the Secure Element chip from Ledger is a specialized chip used in high-end security solutions such as credit cards and passports that protects against a variety of attacks.
Pros:
Supports a massive amount of digital assets including NFTs
Constructed with specialized hardware to safeguard your private keys
Bluetooth technology enables trading via the Ledger Live mobile application
Built-in battery with an 8-hour battery life
Cons:
More expensive than other types of cold storage wallets
For some, the usage of Bluetooth technology may raise privacy concerns
There is no touchscreen
If the gadget is lost, everything is lost
2. Ledger Stax
Want the most advanced hardware wallet to protect your crypto assets? Look no further than the Ledger Stax. This ultra-portable and stylish wallet is jam-packed with features that elevate it above other wallets.
Its standout feature is the beautifully curved and first of it's kind E-Ink touchscreen that displays 16 shades of gray and was designed by the same tech genius behind the iPhone. This innovative display makes it a breeze to navigate and verify transactions like never before, setting the Ledger Stax apart from the rest.
The Stax also offers a customizable lock screen, allowing you to display your name, a picture, or even your NFT.
Despite the Stax having the largest screen of all the Ledger wallets, it's still only the size of a credit card and is roughly 5 cards thick, plus it's made with an aluminum shell for durability.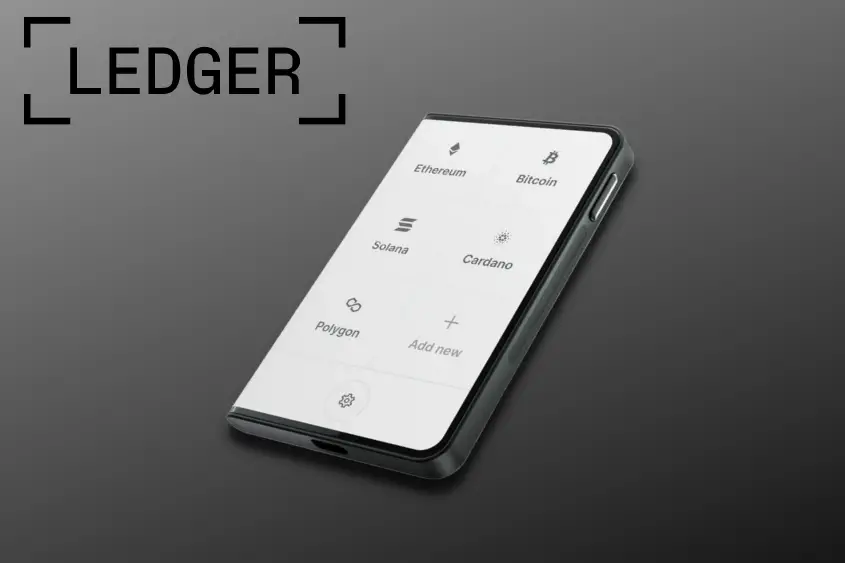 It also features internal magnets that can be used to stack multiple Stax wallets together. The wallet is equipped with Bluetooth that enables you to manage your crypto and NFT portfolio on the go using the mobile version of Ledger Live on your iOS or Android device.
Additionally, the Ledger Stax features a rechargeable lithium-ion battery that lasts for several days when in use and up to several months when left unused and fully charged. The battery can be charged wirelessly using QI charging or with a standard USB-C cable.
The Ledger Stax is equally as secure as Ledger's other cold-storage wallets, featuring the EAL5+ Secure Chip Element found in the Nano X and Nano S Plus.
For added security, the Stax enables clear signing, which allows you to verify the transaction details when signing a transaction using a supported app like Ledger Live. This feature helps to keep your digital assets safe from hackers and various types of scams.
If you're willing to invest in a premium wallet that costs $279, I highly recommend the Stax. You can read more about all the pros and cons of the Stax here.
Pros:
E-Ink Touch Screen
Customizable Lock Screen
Portable and Sleek Design
Bluetooth Connectivity
Wireless QI Charging
EAL5+ Secure Chip Element
Enables Clear Signing
Cons:
3. Ledger Nano S Plus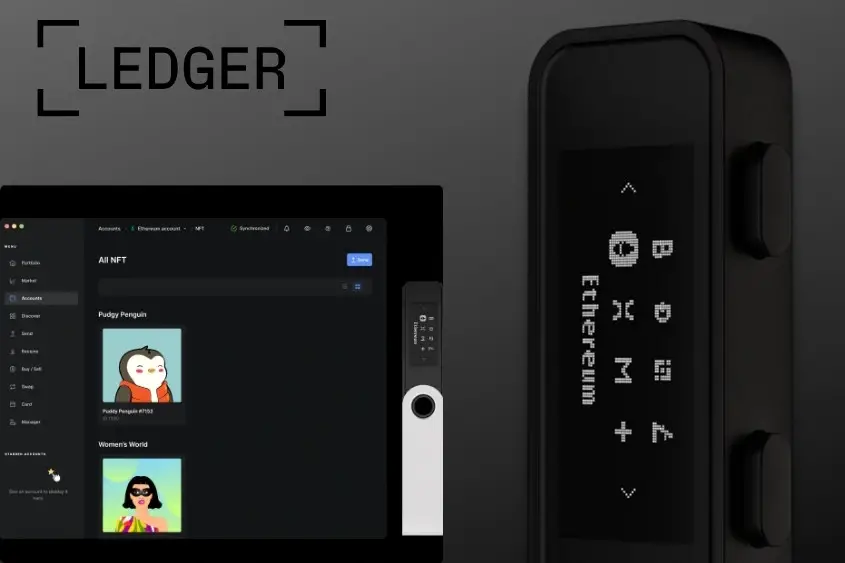 The Ledger Nano S just got better with Ledger's introduction of the new $79 Ledger Nano S Plus. The new Nano S Plus is similar to the original Nano S, except it's more DeFi and NFT-friendly. Also, it comes equipped with a larger screen and added memory compared to the smaller screen and limited memory found on the Nano S.
The larger screen on the Plus makes it even easier to navigate and verify transactions, plus the added memory means you are able to have over 100 apps installed simultaneously. The Plus still comes with Ledger's certified secure chip (CC EAL5+) which keeps your private keys offline, and out of hackers' reach.
Furthermore, you can easily send and sign your NFT transactions with full transparency in Ledger Live— this means that what you see is what you sign.
For a side-by-side comparison of all the Ledger wallets, check out our complete Ledger wallet guide.
Pros:
Larger screen for easy transaction verification
More memory means you can store more apps, and hold more NFTs
You still get the added protection from Ledger's certified CC EAL5+ chip
Easily send and sign NFT transactions using Ledger Live
Cons:
The Plus is slightly more expensive than the previous Nano S
4. Trezor Model T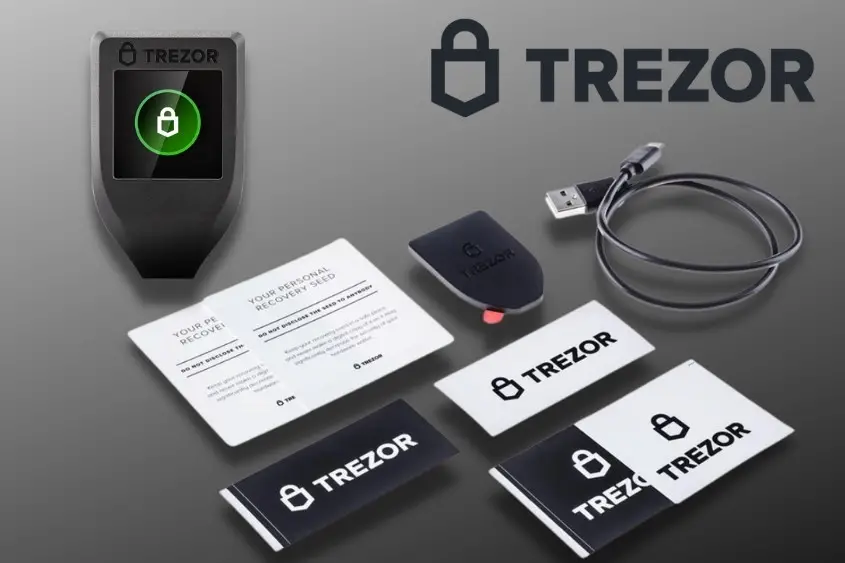 Trezor has been operating for quite some time, having been founded in 2011 as a subsidiary of SatoshiLabs in the Czech Republic. The $215 Model T is Trezor's second-generation hardware wallet, and it includes many of the same capabilities as the Ledger Nano X, but with a higher price tag.
One big difference is that Trezor's software is entirely open-source, which provides some additional safety. Trezor Suite is meant to operate natively on your desktop, which provides a higher level of protection than a web-based application. However, it's also accessible via the company's website.
The Model T, shaped like an old-school stopwatch, includes a touchscreen and a USB cable for connecting to your computer; it also includes a microSD card for adding encrypted storage directly to your hardware wallet.
It does not, however, include Bluetooth capability, which some security advocates would prefer, as hackers might try to exploit Bluetooth connectivity.
Trezor Model T wallets presently support over 1,600 coins and tokens, and transactions may be completed from within Trezor Suite using the company's integrated exchange. 
While the Trezor Model T can secure NFTs, it can not be done in Trezor Suite. To manage NFTs securely, a third-party interface like Metamask should be used. This is still safe, as long as you properly set up Metamask to communicate directly with your Trezor so your seed remains offline at all times.
You can learn how to store NFTs on Trezor using Metamask, via Trezor's official Blog.
Pros:
Extremely secure hardware wallet; neither the wallet nor the keys ever leave the device
A more readable touchscreen than the Ledger Nano X
Connectivity via USB to a PC or an Android phone
Verify and authorize all actions using the touchscreen
Cons:
The price is pretty exorbitant
Inconspicuous design puts the user at risk of being the victim of a physical attack or theft
5. Trezor One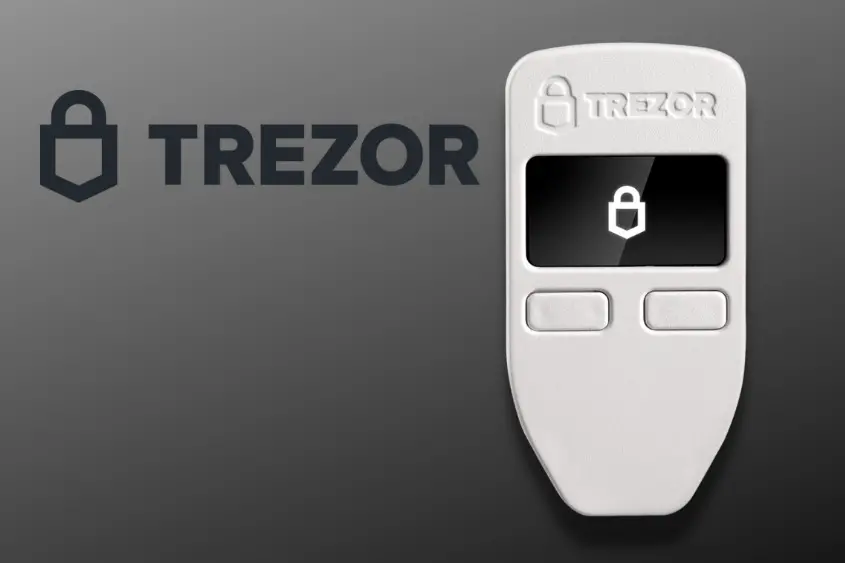 Trezor One is the world's most trusted and widely used hardware wallet and only costs $70 on Trezor's site. Launched in August 2014 as the world's first Bitcoin hardware wallet, it provides unmatched NFT and crypto security, password management, and two-factor authentication, all while remaining completely user-friendly, regardless of whether you're an expert or a novice.
It's compatible with Windows, Linux, Mac, and Android operating systems and also enables users to immediately access third-party exchanges such as Changelly and Shapeshift through the site's interface.
The device is compact, lightweight, functional, and simple to operate. Similar to a standard car key, it may be conveniently carried around and attached to any computer nearby when ready to use. However, in comparison to the Ledger Nano X wallet, it's more practical and lacks in terms of appearance and luxury.
Coin support has been expanded recently, with the wallet now supporting over 1000 cryptocurrencies, and the Trezor One's supported digital assets rival those of the Ledger devices. Most users will discover that their favorite assets, including all ERC-20 tokens (NFTs), are supported.
Trezor has established itself as an industry leader in the security space, and Trezor One is no exception. The Trezor One is a secure storage device for crypto assets that also allows users to add a passcode for added security.
Trezor One is an excellent entry-level wallet that should suit all of the needs of a newcomer or trader that conducts multiple NFT transactions regularly.
Pros:
Affordable
Simple to use
Using USD, purchase cryptocurrencies, and exchange them in the wallet
Support for web browsers, desktop operating systems, and Android
Supports nearly a thousand different coins and tokens
Cons:
iOS is not supported
Only a limited number of cryptocurrencies can be purchased using fiat
A bit pricy in comparison to the competition
Can You Store NFTs On a Hardware Wallet?
Hardware wallets are the preferred option for storing NFTs because they keep your wallet's info offline, including the secret phrase, password, and other securities used to protect your NFTs. That said, your NFTs are actually stored on the blockchain and can only be accessed through your wallet.
A hardware wallet simplifies the process of accessing your wallet's technical inventory, as well as providing an easy-to-use interface for purchasing, trading, and transferring crypto and NFTs.
It's important to note that all NFTs are stored on the blockchain, not in the wallet itself. Your wallet serves as a gatekeeper to your account, allowing you to control your NFTs on the blockchain. Therefore, it's crucial to have a secure wallet.
Why Store NFTs On a Hardware Wallet?
You should store your NFTs on a hardware wallet to ensure their safety. By using a cold-storage wallet, your private keys and recovery phrase remain offline and on the device itself. This makes it near impossible for hackers to gain access to your digital assets.
Tips for Using Your Hardware Wallet Properly
Although a hardware wallet is the safest option for storing your NFTs, you should keep in mind these bonus tips to ensure the security of your NFTs and other digital assets:
Maintain the confidentiality of private information. It would be best if you never exposed the security PIN for your hardware wallet or your private crypto keys to anyone.
Take care not to lose your recovery seed. If your wallet is lost or stolen, you'll need your recovery seed to access your digital assets, so write it down and keep it secure.
Alternatively, write your secret phrase on two or three distinct pieces of paper and store them in separate but secure locations.

No wallet is entirely secure. If you wish to safeguard the security of your funds, you are ultimately responsible. The most secure wallet in the world is worthless if the wallet setup or security procedures are not followed properly. Practice vigilance at all times.

Purchase from a reliable seller only. Purchase hardware wallets directly from the manufacturer or an authorized reseller to avoid hacking and theft.
How to Choose the Right Hardware Wallet
There are several things to consider when choosing the right hardware wallet for you. Let's take a look at some of these considerations.
Simple to use: When choosing a hardware wallet, it's important to consider how user-friendly it is. Losing your funds is always a risk, so make sure the wallet allows you to easily keep track of your crypto assets. The simpler and more straightforward the process, the better.

Price: Price is a critical factor to consider when choosing a hardware wallet since it can be expensive. To ensure that you get the best value for your money, compare the prices of different wallets, including any currency exchange rates and delivery costs if purchasing from an international source.

Operating systems supported: Is the item compatible with the operating system that your computer or smartphone currently uses?

Security features: To determine the security of a hardware wallet, consider its protection level and features. Is there PIN protection? Does it have a screen of its own? Can you verify transactions by pressing the buttons? Additionally, look into whether the wallet has ever been involved in a security breach.

Ease of accessing your assets: Hardware wallets usually come with their own hot wallet, browser extension, or online wallet. Many devices also allow you to interact with your crypto holdings using a third-party wallet. For instance, if you stored Ether (ETH) on the Ledger Nano S hardware wallet, you could use a third-party wallet such as MyEtherWallet or the Ledger Wallet Ethereum app to manage your tokens.

Currency pairs that are supported: Make sure to check the supported currency before choosing a wallet. It's important to read the fine print and ensure that your wallet supports all the coins and NFTs you plan to store.

Portability: Consider portability if you plan to carry your hardware wallet with you. While not a crucial feature for everyone, it's worth considering how easy it would be to transport.

Consider the wallet's recovery process: Look into the procedures for backing up and restoring your wallet in case of any mishap. Is the process simple and will it enhance the security of your funds?
Considering these critical aspects will help you choose the best hardware wallet for NFTs in 2023.