So you're thinking about getting a hardware wallet but you don't know what to look for? Don't worry. I'm here to help. I have tested and reviewed numerous hardware wallets over the years, so I know exactly what to look for.
Contents
How to Choose a Hardware Wallet
Below are all the factors I consider before choosing a hardware wallet. Each factor will help you determine which device is best for you, your budget, and the overall security of your assets.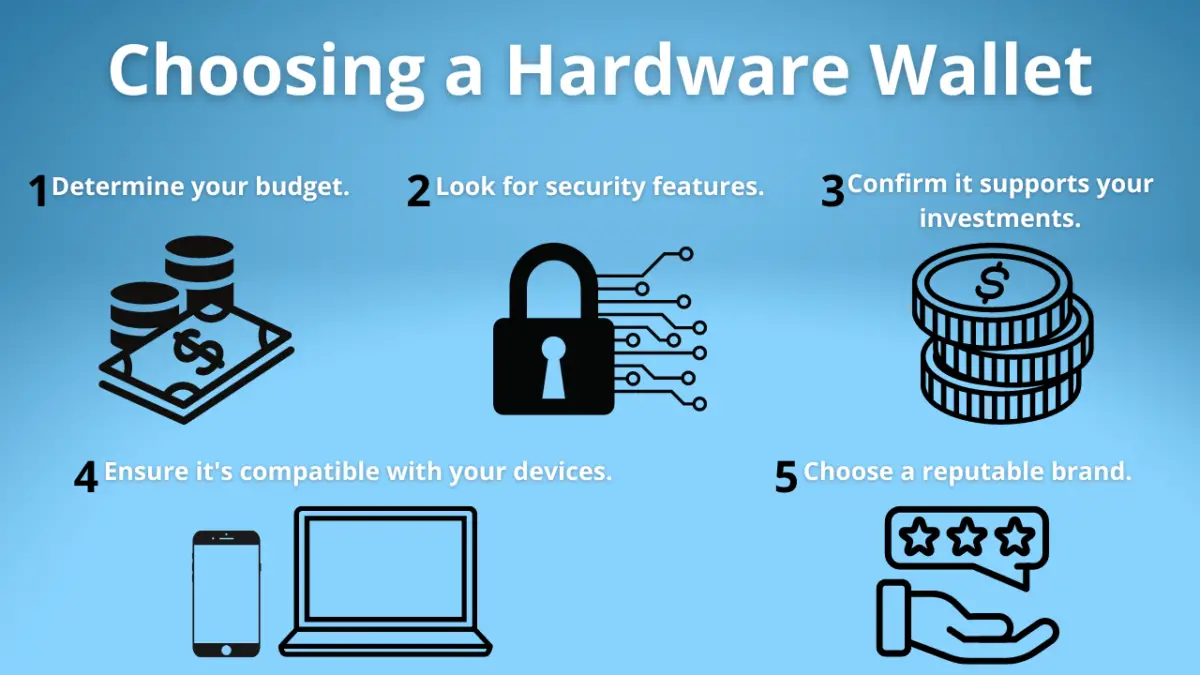 Budget-friendly
You need to choose a hardware wallet that's within your budget. Most cold-storage wallets cost anywhere from $49 to $400. That's a pretty large range. To save money, buy a wallet that fits all your requirements.
The lower-priced options come with fewer features and a smaller screen.
The pricier wallets come with all the bells and whistles like a large touch-screen and a sleek design. Security remains relatively the same across the price ranges.
Security features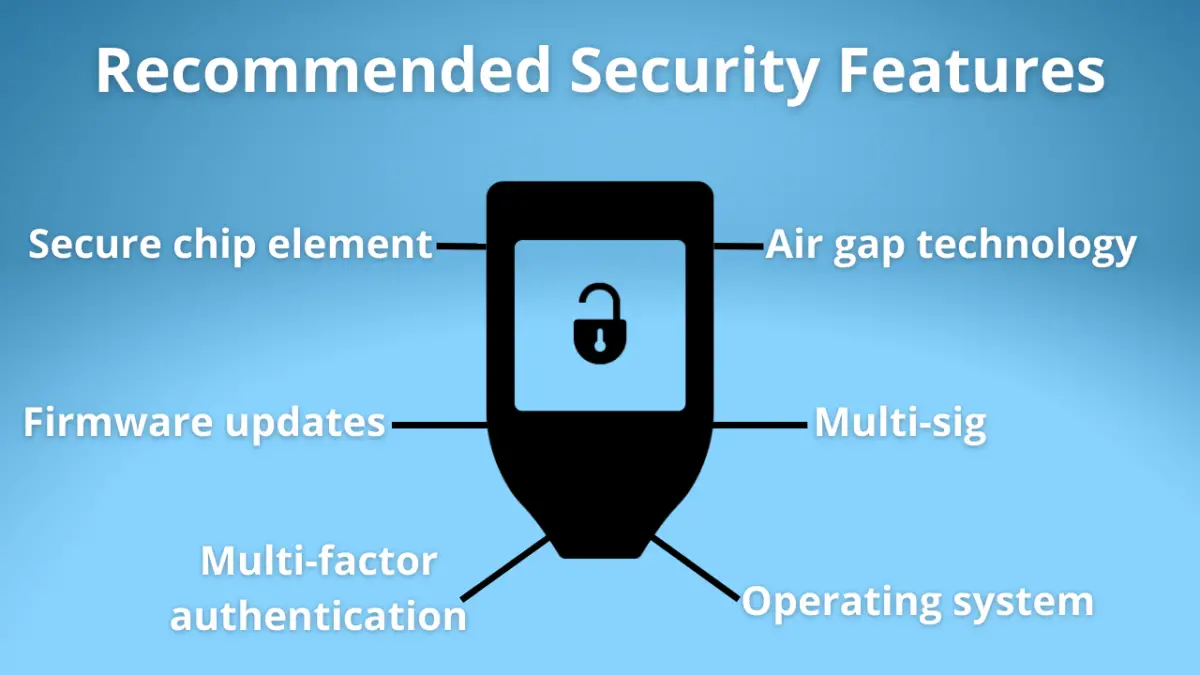 Find a hardware wallet with proven security features like PIN codes, passphrase protection, and secure chip elements that provide protection from hacking and cyber-attacks.
Below is an extensive list of security elements you should look for in a wallet.
Secure chip element. Secure chips protect hardware wallets from physical tampering and unauthorized access to your wallet's private key.

Multi-factor authentication. Multi-factor authentication (MFA) prevents unwarranted access to your wallet. A PIN code, biometric authentication, and passphrase are used together to create a robust MFA.

Firmware updates. Firmware updates are critical for keeping your wallet secure. These updates fix potential security breaches and keep the device user-friendly.

Multi-sig. This allows multiple parties to sign off on transactions, adding an extra layer of security to your assets.

Operating system. The operating system (OS) controls the hardware and firmware and ensures the private keys are used securely. Not all hardware wallets utilize OS.

Air gap. An air-gapped wallet is completely closed-off from external networks and devices including Bluetooth, Wifi, NFC, and USB connections. This is to prevent malicious attacks and hacks.
Supported cryptocurrencies
Ensure the wallet you choose supports the cryptocurrencies and other assets you plan to store. Some wallets come with less coin support than others, so check the supported coin list first.
Wallets that store NFTs and other types of tokens are also something your need to consider. Not all wallets support these types of tokens. So be sure to triple-check.
Compatibility
Choose a hardware wallet that is compatible with your mobile phone, computer, or other software wallets, like MetaMask, which are more user-friendly.
Not all wallets are compatible with mobile phones or software wallets. So if that is a feature you want, confirm the wallet you get is compatible.
Brand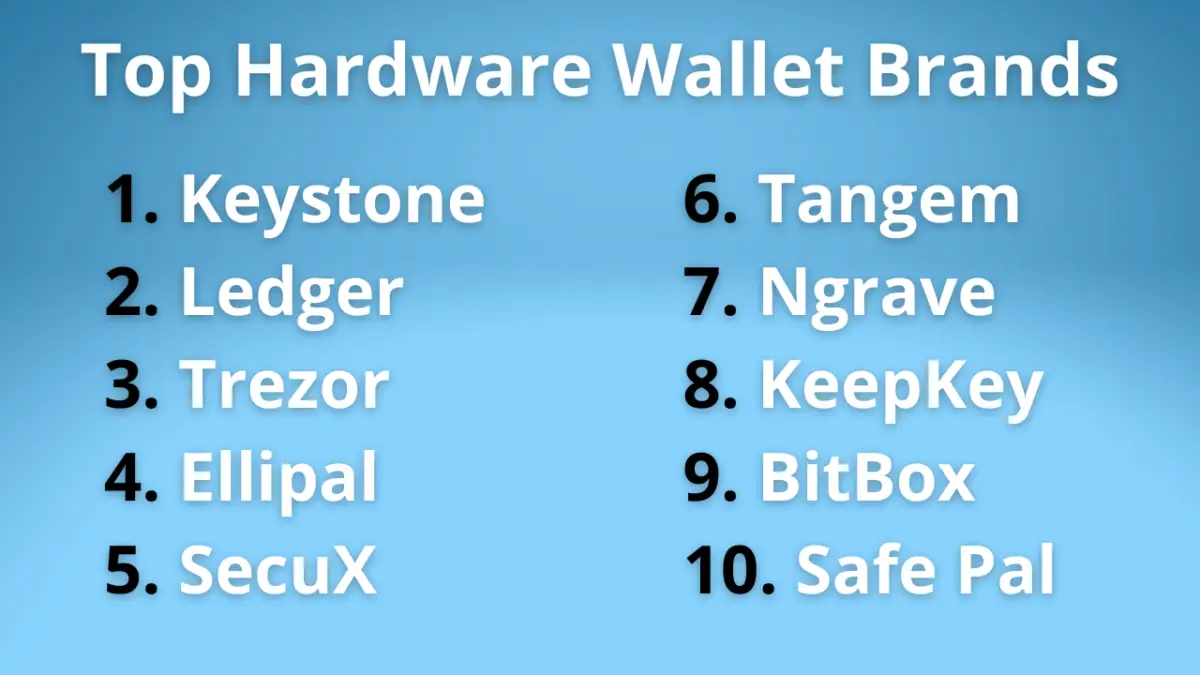 Find a wallet brand with a solid reputation to ensure you buy a legit device you can trust. Read reviews and watch videos of different brands to see which one you like most.
I find that actual user reviews are more helpful than large media publications that have never used the device.
Hence smaller blogs, YouTube videos, as well as online reviews, and forums like Reddit are great resources for learning more about a wallet's reputation.
My two favorite wallet manufacturers are Keystone and Ledger.
Best Hardware Wallet for Beginners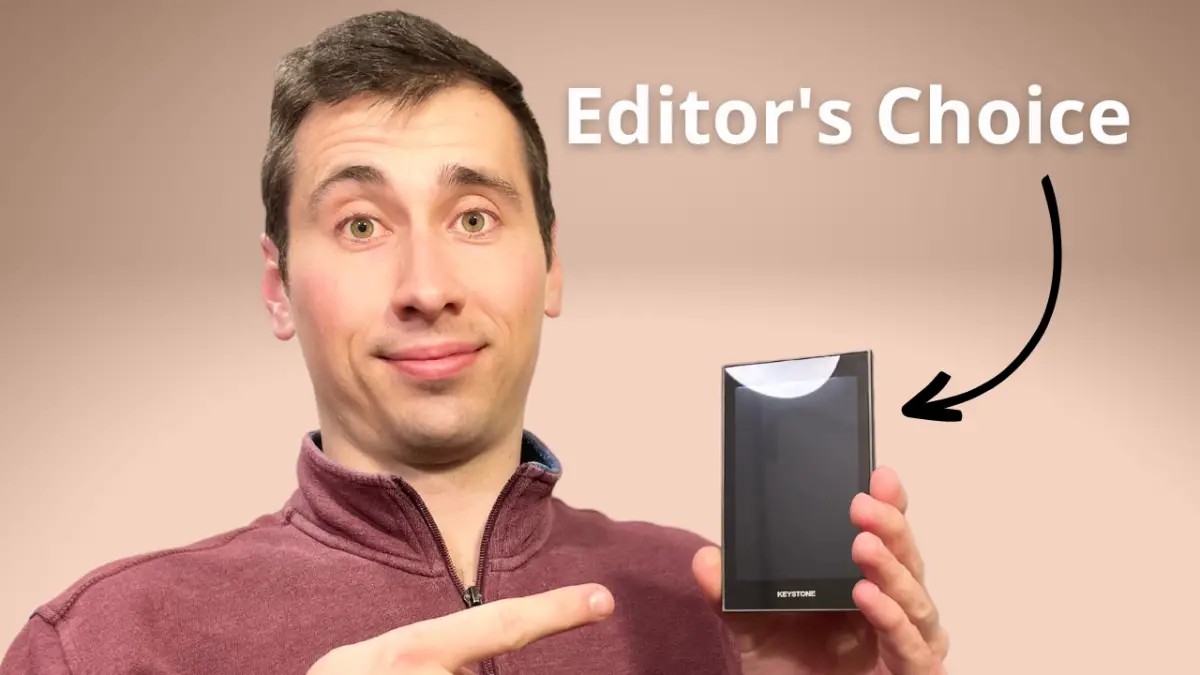 The best hardware wallet for beginners is the Keystone Pro. It has a large 4-inch touchscreen for easy viewing and it's completely air-gapped, making it one of the most secure wallets available. Also, it supports more than 5,500 coins and tokens and only costs $169.
You can read my honest, hands-on review of the Keystone Pro to see if it fits your requirements.
Otherwise, here is a list of wallets that are great for both beginners and serious investors.
| Hardware Wallet | Our Favorite Features | In-Device Trading | Security Features | NFT and Crypto Support | Compatibility | Price |
| --- | --- | --- | --- | --- | --- | --- |
| Keystone Pro | 100% air-gapped, large 4-in touchscreen, affordable | Yes, using the mobile app | Secure Chip Element, Biometric scanner, PIN protection, open source firmware | Yes, over 5,500 coins and tokens, and numerous blockchains. | iOS and Android devices | $169 |
| Ledger Nano X | Super easy to use, affordable, Bluetooth equipped, compact, and portable, Ledger Live app | Yes, using the app. | Secure Chip Element ST33J2M0E, EAL5+ certified, closed source | Yes, over 5,500 coins and tokens, and numerous blockchains. | 64-bit computer excluding ARM Processors, iOS 13+ or Android 7+ | $149 |
| Ledger Nano S Plus | Simple to use, super compact, portable, Ledger Live app | Yes, using the app. | Secure Element Chip ST33K1M5, EAL5+ certified, closed source | Yes, over 5,500 coins and tokens, and numerous blockchains. | 64-bit computer excluding ARM Processors, Android 7+ | $79 |
Still on the fence about getting a hardware wallet?
This list of hardware wallet pros and cons will help you determine if it's worth getting a cold storage device for your specific scenario.
That said, even if you use a hardware wallet your assets can still be stolen if you don't understand how to use your wallet properly.
A quality hardware wallet combined with knowledge empowers you to keep your digital assets safe and out of harm's way.
Frequently Asked Questions
What is a hardware wallet?
A hardware wallet (crypto wallet) is a device that stores users' private keys and passwords offline on the device. This helps prevent hackers from gaining unauthorized access.
What is the safest hardware crypto wallet?
The safest hardware wallets employ several security measures such as a PIN, passphrase, and secure chip element, and are air-gapped (have no access to external networks). The Keystone Pro wallet is a perfect example.
How do hardware wallets work?
A hardware wallet keeps users' private keys (the phrase used to access a wallet) safe from cyber-attacks by storing them offline. With a hardware wallet, transactions must be signed using the device to prevent unauthorized transactions.
Is a hardware wallet safer than Coinbase?
Hardware wallets are more secure than Coinbase. Hardware wallets enable you to own your crypto using a private key whereas Coinbase technically owns your crypto until you withdraw it.
Should I put my crypto in a hardware wallet?
Storing your crypto in a hardware wallet is the most secure storage option. Software wallets like MetaMask and exchanges like Coinbase should mainly be used for transacting.
Why choose a hardware wallet?
Hardware wallets are the most secure way to store and manage your digital assets. They keep your private keys offline and away from hackers and scammers. This ensures your crypto assets remain safe no matter what.