SoRare is an innovative NFT platform that links sports to the blockchain. Soccer fans see it as an exciting fantasy football game with enticing in-game rewards. To collectors, it's a new way of collecting sports cards in the digital world. Whichever group you belong to, you must have wondered if you can play Sorare for free.
You can play SoRare for free by joining the casual league. The casual league lets new users try out the SoRare platform for free using common cards. To receive your free common cards, complete each step of the onboarding process. To join other leagues, you will need to buy cards in the marketplace.
With the ability to own your digital cards via NFTs and earn real money playing fantasy football, many of you are curious to learn more about how to play SoRare for free. With that, you're still unsure of whether it's right for you. That's why I'm going to show you how to start playing SoRare for free with no risk.
How to Play SoRare for Free 
One of the top reasons to play Sorare for free before investing your money is to learn how it works before competing against more experienced managers (players).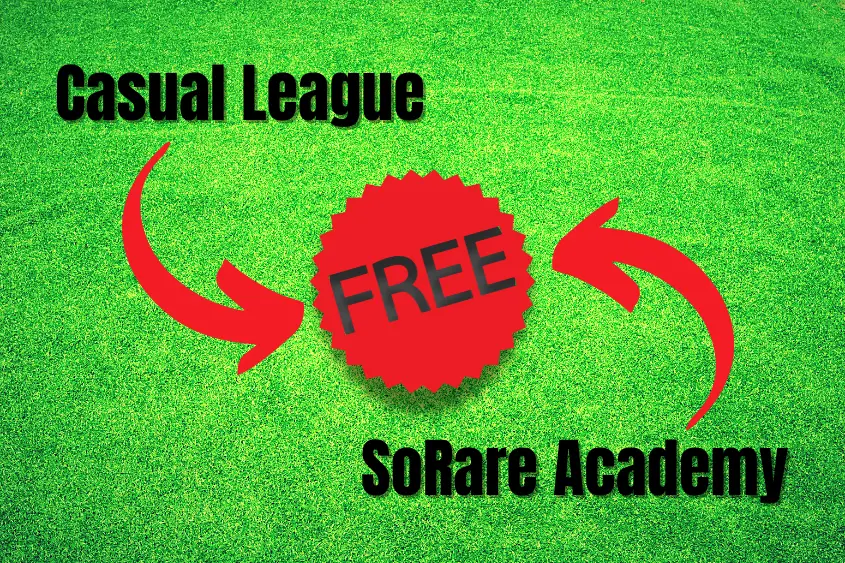 It's important to note that the free-to-play (F2P) options are mainly for learning how to use the SoRare platform. If you want to join higher leagues with greater reward pools, you will need to invest some money into buying better cards.
Here's how you can play SoRare for free:
Join SoRare Casual League
SoRare's Casual League enables new users to learn how fantasy football works, without having to spend money. That being said, you can still earn prizes for participating in the Casual League. 
If you're among the top 100-placed finishers in a game week, you could win a Limited Card. These cards can be used in other tournaments on the SoRare platform.
You can also win a common card even if you don't finish in the top 100, but you won't be able to sell them or use them in other tournaments. Moreover, you can play as long as you want in the Casual League without spending.
Play your cards right and you can build a complete team by collecting Limited Cards. This doesn't mean that the casual league is easy. It's actually very competitive considering every manager can compete in the casual league. 
Participate in Sorare Academy
The Sorare Academy is another free-to-play (F2P) competition that lets you learn the ropes before starting to compete. It's like an onboarding tutorial that helps you understand the game while winning cool prizes.
SoRare academy is exclusive to players who don't participate in competitions requiring Unique, Super Rare, Rare, or Limited Cards.
Although it's exclusive to new managers, you can still win prizes in Sorare Academy. Unlike the casual league where only the top 100 wins limited cards, in the Sorare Academy, you only compete against yourself. 
Once you earn the required points, you'll win the associated prize. It doesn't matter if a hundred or a thousand other managers have the same points as you.
Here's how the points system works in SoRare Academy.
Above 440 points = Tier 2 Limited
Above 390 points = Tier 3 Limited
Above 300 points = Tier 0 Common
Above 165 points = Tier 1 Common
Above 110 points = Tier 2 Common
Below 110 points = Tier 3 Common
To play in the Sorare Academy, you must follow these rules:
Only managers without a registered team in tournaments that require Unique, Super Rare, Rare, or Limited cards can play in the Academy.
You can only play with 3-5 common cards.
You can only play with a maximum of 2 limited cards.
Overall, SoRare Academy is a great option for players who are looking to join SoRare for free, learn how to play, and earn valuable prizes while doing so.
How do I Get Free Cards on SoRare?
You can earn free SoRare cards simply for signing up. Furthermore, if you use a referral link to join, you will receive one free Limited edition card when you buy 5 players from the auction. Also, you can win free cards if you rank well in the tournaments and by taking part in giveaways on social media.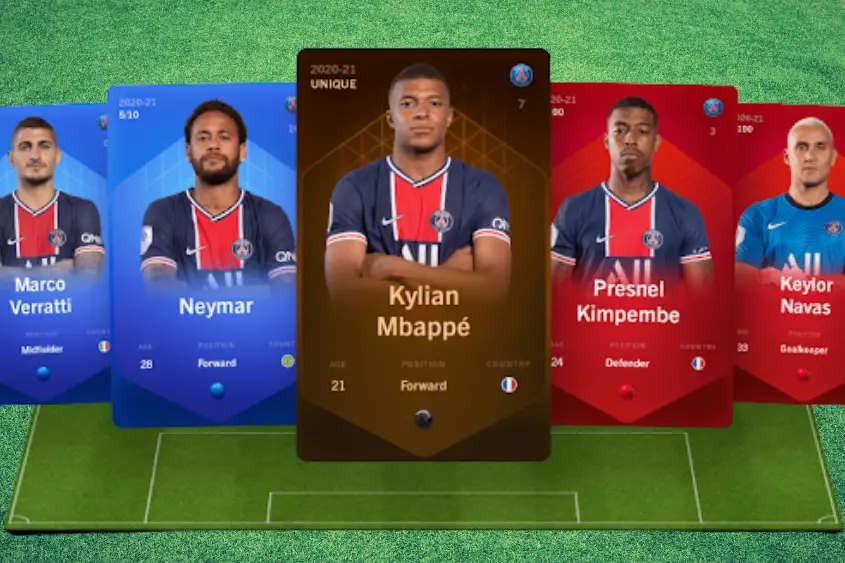 Below are four ways to earn free cards on SoRare.
Complete the onboarding process.
To earn your first free pack of Common cards, all you need to do is sign up for SoRare. It's literally that simple, no strings attached.
Remember, the Common cards can only be used in the free-to-play, Casual League tournaments. If you want better cards to join the more serious tournaments, you will either have to buy them or win them by ranking well in the free tournaments.
Here are the exact steps you need to take to complete the onboarding process:
Sign up and provide the required information.
Choose your club name and team logo. 
Pick your favorite clubs (Sorare will give you free players from these clubs, so it's recommended to choose the best clubs like PSG, Real Madrid, Bayern Munich, etc.)
Unlock your ten free Common cards.
The onboarding process can be completed in less than five minutes.
Sign up using a referral link
The easiest way to get your first free Limited card is by signing up for SoRare using a referral link (here's mine). Then when you buy 5 players from the SoRare auction, you will automatically be rewarded with a free Limited edition card.
Invite others using your referral link
Another super simple way to earn your first free card is by getting someone to sign up to SoRare using your referral link.
For each new friend you refer that collects 5 Limited cards, you both win a Limited card. If refer 30 friends, then you win a Unique card.
To find your referral link, navigate to the bottom of the SoRare page and select "Invite friends." From there you will be taken to your invite page where you will find your unique link along with your completed referrals.
Giveaways on social media
Sometimes the SoRare crew will giveaway free cards on their Twitter account. To be eligible for the giveaway, you must have a SoRare account and you have to be following SoRare to know when their giveaways go live.
Use extreme caution when participating in free giveaways on social media. Never give out any personal information, including your wallet's secret phrase. Additionally, make sure that you don't click on any links that aren't posted from the official SoRare account.
Furthermore, always double-check that the link you click directs you to the official SoRare website.
How Much Does it Cost to Start on Sorare?
Getting started on SoRare doesn't have to cost you anything. However, if you are looking to maximize your rewards, you will have to spend some money to build your team.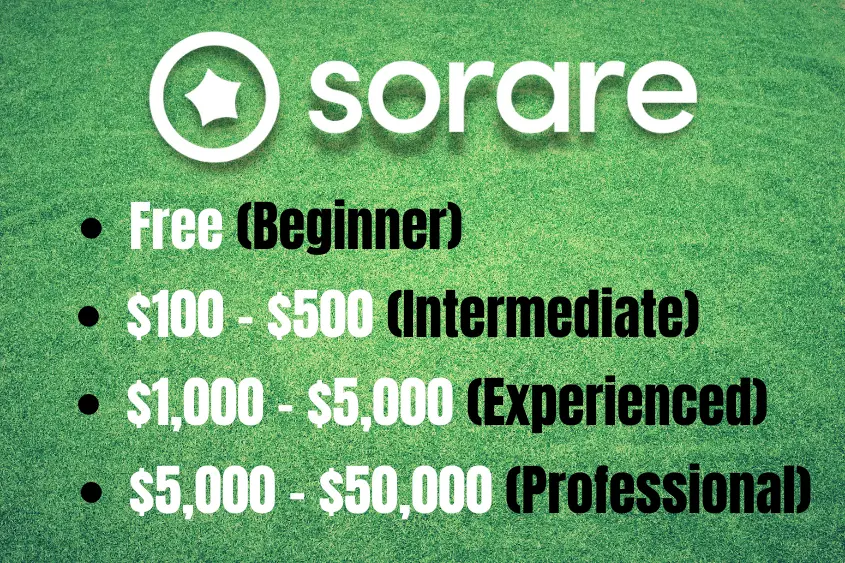 Here's how much you might spend when starting on SoRare, depending on your goals.
Start for free (Beginner)
You can play SoRare for free by simply signing up. Starting with nothing is the best option for a beginner because you get to learn about the game before investing money. You can also win in-game rewards while playing for free, which will help you start your journey on a winning note.
Invest $200 to $400 (Intermidiate)
With a modest budget of $200-$400, great scouting skills, knowledge of soccer, and a bit of luck, you can buy competitive Limited cards to enter various competitions and stand a chance to win even more Limited cards.
Note: You can only use limited cards in Division 5. (You can start small and move up the ranks as your knowledge and budget grows.)
Invest $1,000 to $5,000 (Expereinced)
You can easily spend thousands of dollars investing in Rare cards to increase your competitiveness and your odds of winning tournaments. This option is best for experienced players who spend a lot of time playing the game, and who have extensive knowledge of soccer teams.
Combining this budget with excellent scouting skills, you can use several strategies like injuries, relegations, and off-season slumps to buy player cards cheaper and sell them higher when the players' form improves.
Invest $5,000 to $50,000 (Professional)
You can decide to invest in a top-tier team for the chance to earn massive rewards. This is the riskiest strategy but with increased risk often comes increased rewards. With a huge budget, you can build the best team to give you the best return on your investment in the form of cards and ETH rewards.
Obviously, investing this amount of money is extremely risky so you should only do so if you have the means to do so, and if you consider yourself a professional on the SoRare platform.
Can I Make Money on SoRare?
You can earn money playing SoRare in a number of ways, including:
Entering and winning tournament prize pools.
Winning cards and selling them on a marketplace.
Buying cards and flipping them for a profit.
Ultimately, to earn money on SoRare you just need to begin playing. By playing for free, you can learn exactly how the game works so that you can maximize your profits once you start investing money into building your teams to win tournaments.
Final thoughts
Learning how to play SoRare is exciting. But the thought of losing money at first isn't. That's why it's important to learn how you can play Sorare for free. Ultimately, earning free cards so you can join the free-to-play tournaments is the easiest way to start playing SoRare without an initial investment.