With the rise of fantasy sports over the last decade, games like SoRare have been crushing it. With that, accelerated adoption of NFTs has allowed SoRare to introduce a play-to-earn mechanism using blockchain technology. So what is SoRare exactly?
SoRare is an NFT fantasy sports platform built on the Ethereum blockchain. You can buy, sell, and hold licensed digital sports cards that can grow in value over time, in addition to assembling your own football or baseball teams to join tournaments and compete against others to win crypto and cards.
As if fantasy sports games weren't already a hit—adding the ability to own your in-game assets and earn real money playing against others takes it to another level. Here's everything you need to know about SoRare. 
What Is SoRare?
With more than $350 million in secondary card sales in 2021, SoRare is an NFT-based fantasy sports game that follows the play-to-earn model. SoRare is currently the most preferred NFT-based sports game on the market.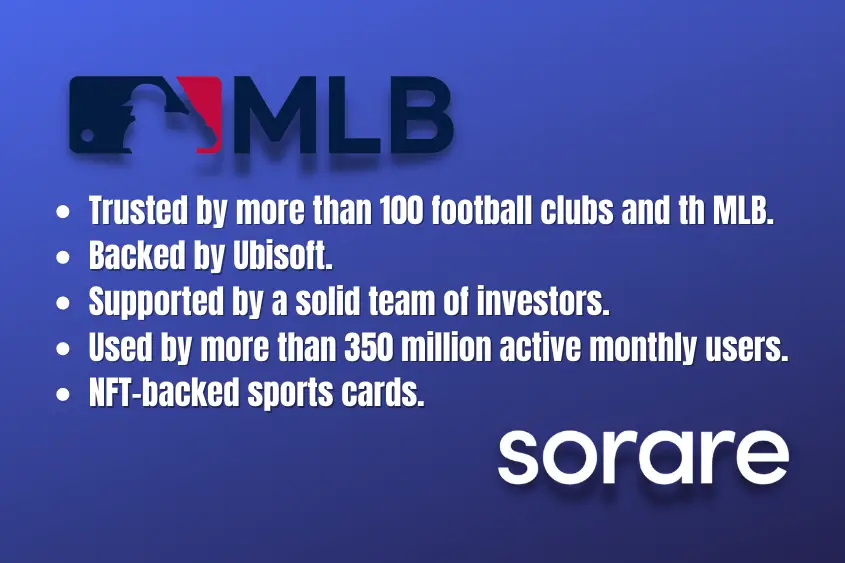 Trusted by more than 100 football clubs. 
Backed by Ubisoft.
Supported by a solid team of investors.
Used by more than 350 million active monthly users.
NFT-backed sports cards.
SoRare allows you to collect digital cards from the world's best football and baseball players. You can manage your team and can create lineups with these cards to compete with other managers (players). And if you win, you can earn rewards such as cryptocurrency and valuable cards.
Unlike gambling platforms and other digital fantasy games, you own your cards and have full autonomy over what you do with them. You can buy and sell cards. You can trade them with other cards, or simply hold them as collectibles.
What Can I Do On SoRare?
There is a wide range of activities available on the SoRare platform that any sports fan would enjoy doing.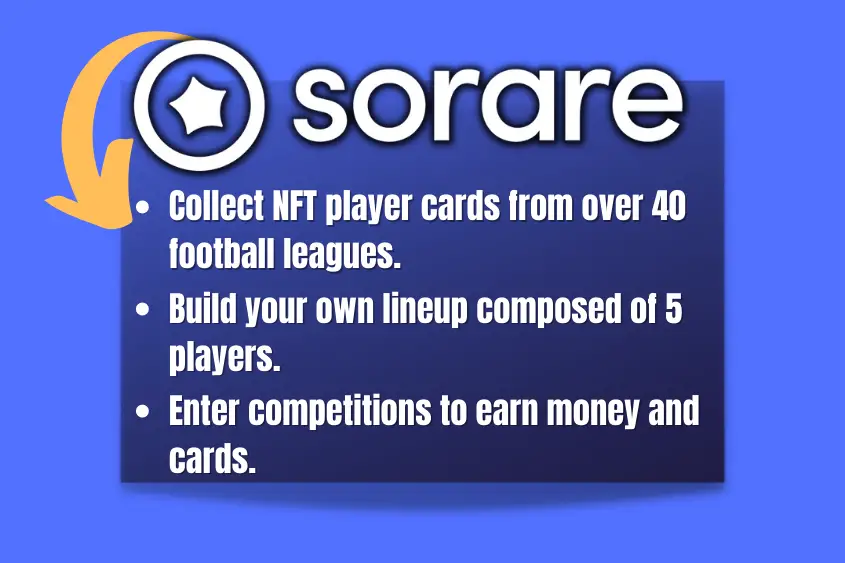 Collect NFT player cards from over 40 football leagues.
Build your own lineup composed of 5 players; a goalkeeper, a defender, a midfielder, an attacker, and an extra player.
Enter competitions that last 3-4 days and compete with other users. 
Earn money and valuable NFT cards.
How Do I Play SoRare?
To get started playing SoRare is easy. Just follow these five steps below.
1. Create an account
To create an account on SoRare, visit their website and choose "Sign Up." All you need to sign up is your email, a password, and your username.
After you sign up, you will receive ten free Common cards. You can also earn a free limited (NFT) card if you sign up using a referral link (here's mine) and buy five cards from the marketplace. After which, you will receive your free card.
Additionally, if you get someone to sign up for SoRare using your referral link, you will earn a free Limited card as long as they go through the same process of buying five cards from the SoRare market.
The Common cards are used to compete in Casual Competitions and SoRare Academy to improve your skills before committing to purchasing your own NFTs.
Common cards are the only way you can play SoRare for free and earn valuable prizes at the same time.
2. Fund your wallet
If you decide that you want to invest some money to build your team and earn rewards, you will need to either connect your web3 wallet to your profile or purchase cards directly through SoRare using your bank card.
Here are the three options for funding your wallet.
Crypto: Use Ramp or MoonPay to buy and deposit ETH on the SoRare website. 
Existing wallet: Connect your existing crypto wallet such as Metamask to your account. 
Fiat: Stripe is available so that you can use your debit card, credit card, Apple Pay, or Android Pay.
3. Buy NFT Cards From the Market
You have three options to choose from to buy your SoRare player cards, including
SoRare Auction: SoRare consistently updates its marketplace with new player cards. To get these cards you have to place a bid. If you win the auction, the cards are yours.
Managers (other players): Players will list their cards for sale on the marketplace. These prices are set by the player. Unlike the auction, once you hit the "buy now" button, the cards are yours.
Open market (Opensea.io): You can find a ton of player cards listed on open NFT marketplaces like Opensea. This might be one of the best options, especially if you are just starting out. The prices of these cards range from low to high, and there's always a good variety of players to choose from.
The Sorare marketplace usually has cheaper cards. However, by looking at manager cards you can find good deals. You can also send offers to sellers or contact them on their social media accounts (Twitter, Discord, Instagram, etc) to get a lower price.
4. Build Your Team
When finding the right players for your team, you must consider a few key factors. 
A minimum of 50 points per player is required and players 30 years of age or younger are preferred.
The Sorare marketplace has an excellent filtering feature that allows you to quickly locate players who meet your requirements.
While defenders and midfielders are relatively easy to find, finding attackers and goalkeepers who meet your personal standards can be tough.
Pro tip: When choosing a goalkeeper for your team, you could always go with the one you got from your common or free cards. He might not generate as many points, but it can save you money to create your team.
5. Enter Competitions and Win Rewards
If you decide to purchase your own player cards to build your team, then you can compete in competitions that have greater prize pools including cryptocurrency and rare cards.
These NFT-only competitions include
All-star: Compete with players from all over the world. You can play in any of the four divisions with any lineup you like. 
Under 23: Compete using lineups of players under 23 years of age.
You can also participate in regional tournaments where you can use lineups with players representing the region's teams.
European Champions League: For players playing in the top European football leagues: Premier League, La Liga, Serie A, Bundesliga, Ligue 1.
American Championship League: For players registered in the American leagues.
Asian Championship League: For players registered in Asian leagues.
European Challenger League: For players in leagues not part of the European Champions League. 
Competing in any of the above leagues and winning competitions earns you valuable rewards in addition to ETH.
If you keep an eye on special weekly competitions, you can win special cards assuming you meet the entry requirements.
Below is a table explaining the entry requirement for Sorare divisions. 
| League | Division 4 | Division 3 | Division 2 | Division 1 |
| --- | --- | --- | --- | --- |
| Cards you must use | Min 4 Rares | Min 3 Rare cards | Min 3 Super Rare | Min 3 Unique Cards |
| Cards allowed as fillable  | 1 common card with a 50% point penalty.  | 2 super rare cards. | Up to 1 unique card and 1 rare card. | Up to 2 super rare cards. |
| Captain's level | Rare | Rare | Super Rare | Unique |
SoRare entry requirements by division
What Are the Different SoRare Card Tiers?
There are five tiers of cards found in SoRare's ecosystem. The card's scarcity refers to how many cards are produced for each individual player (not the number of cards you can hold).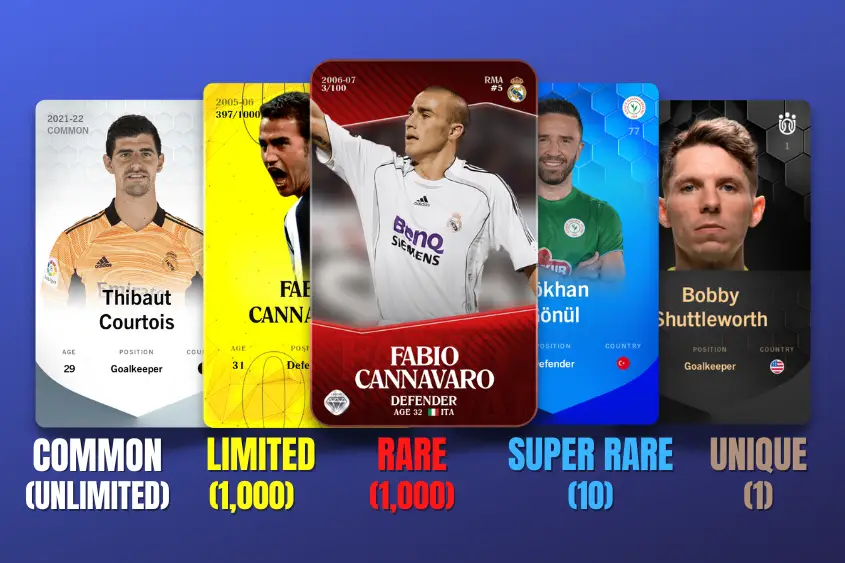 Common (0 scarcity): You can earn these cards by completing the onboarding process. They give you access to free tournaments and hold no value since their supply is infinite. (Common cards are not NFTs.)
Limited (1,000 cards per player/season): These cards are limited to 1000 per player. Once you start buying them, you get to enter competitive tournaments. From this point forward, each card is yours. Limited cards will earn you a 10% scoring bonus. 
Rare (100 cards per player/season): You can collect up to 100 rare cards. Rare cards give you a 10% scoring bonus. 
Super Rare (10 cards per player/season): You can have a maximum of 10 super rare cards. These cards give up to a 30% scoring bonus.
Unique (1 card per player/season): Unique is the most valuable card you can hold. You only get to hold one unique card and it provides you with a 50% scoring bonus.
Common cards are not created on the blockchain because they have an infinite supply. They only exist so that new players can learn the basics of the game and play for free in the SoRare Academy and Casual tournaments. 
Even though these competitions are free, you can still earn rewards such as Limited NFT cards. 
All Limited cards are minted on the blockchain and hence have value according to their scarcity. These cards can be auctioned off on SoRare or listed for sale on a secondary market like Opensea.
How Much Money Do I Need to Start With SoRare?
You don't need any money to start playing SoRare. However, you could invest as little as $2 to buy a card and sell it for a profit. Also, if you want to create teams and have the chance to win prizes, you'll need a minimum of $100. If you're only interested in trading NFT cards, there's no specified limit or amount of money you need to start with.
How Do I Earn Money on SoRare?
You can make money on SoRare in a number of ways including:
If you sign up for SoRare using a referral link, you will earn a free card when you buy five cards from SoRare auction. You can use these cards to build a good team or sell them for money on SoRare or the secondary market.
You can try your hands at flipping NFTs. If you are aware of the market value and can find a good deal on a card, then you can flip cards you buy for a profit.
The most popular way that SoRare users earn money is by building a strong team and entering competitions. If you place well in these competitions, you can earn cash from the prize pool and sell the cards that you win.
What Devices Can SoRare Be Played On?
SoRare is available to play on your desktop browser and through an app for iOS devices. If you plan to buy NFT player cards, you will need an Ethereum-based web3 wallet like Coinbase or Ledger.
Unlike the web version, the mobile app allows you to receive real-time notifications straight to your phone which is crucial for staying up to date. 
Is SoRare Free to Play?
You can play SoRare for free by signing up and entering the Casual competitions or SoRare Academy, using your free cards. Playing for free allows you to gain more experience and earn Limited cards. If you want to earn money, you'll have to buy better cards so you can enter higher-stake competitions.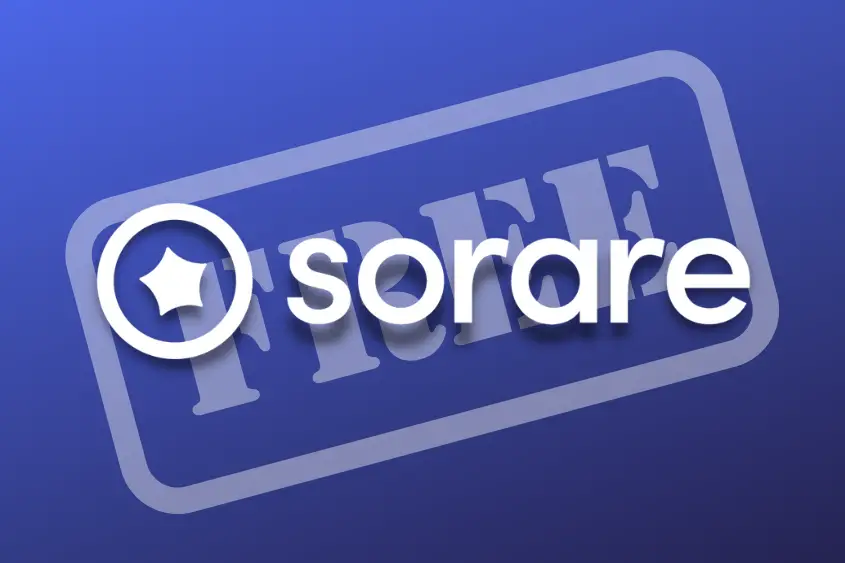 That being said, here are some things to take into consideration when playing SoRare for free.
If you signup, you earn free Common cards. Using a referral link can earn a limited card when you buy five cards from the Auction.
You can earn free cards from social media giveaways.
Casual tournaments allow you to play for free and win Common cards. You can win Limited cards if you rank among the top 100 players.
SoRare Academy allows you to deploy a team, earn experience and grow in power. You can only include two limited cards in the academy lineup. (You must not be registered in any tournament requiring scarce participation cards.)
You can earn both Common and Limited cards in the Academy with enough points.
Scarce NFT cards can only be bought via the Ethereum blockchain.
Should you decide to have skin in the game, always start with the free-to-play option. 
SoRare is highly competitive because of how much money you can earn. Make sure you spend enough time in the Casual league and the Academy trying lineups, formations, and learning from your mistakes. 
Once you decide to invest, ensure your investment aligns with your risk tolerance. You can invest anywhere between $100 to $50,000 if you are experienced and want to earn the most rewards. 
Ultimately, the sky is the limit, but starting with an amount of money you are comfortable losing is recommended.
Is SoRare Safe to Play?
SoRare is safe to play, especially if you start by playing for free. However, if you invest any amount of money buying SoRare cards, you do risk losing money if your cards decline in value or if your web3 wallet were to get hacked, resulting in you losing all the assets within it.
But as long as you know how to store your NFTs safely, there should be little concern for losing any of your assets. Keep in mind that the NFT market will always remain volatile.
Final Thoughts
If you're interested in the next generation of sports fantasy games and share a passion for NFTs, SoRare is right for you. If you are good with strategic thinking and have solid experience managing virtual sporting teams, you can potentially earn a good amount of money by winning tournaments and trading scarce cards.