Choosing a good NFT wallet is extremely important to keep your digital assets safe. With so many wallets on the market, it can be difficult to know which one is right for you. In this article, I break down what makes a good wallet and how to choose the right one for your goals.
Characteristics of A Good NFT Wallet
Here are the characteristics that make up a good NFT wallet.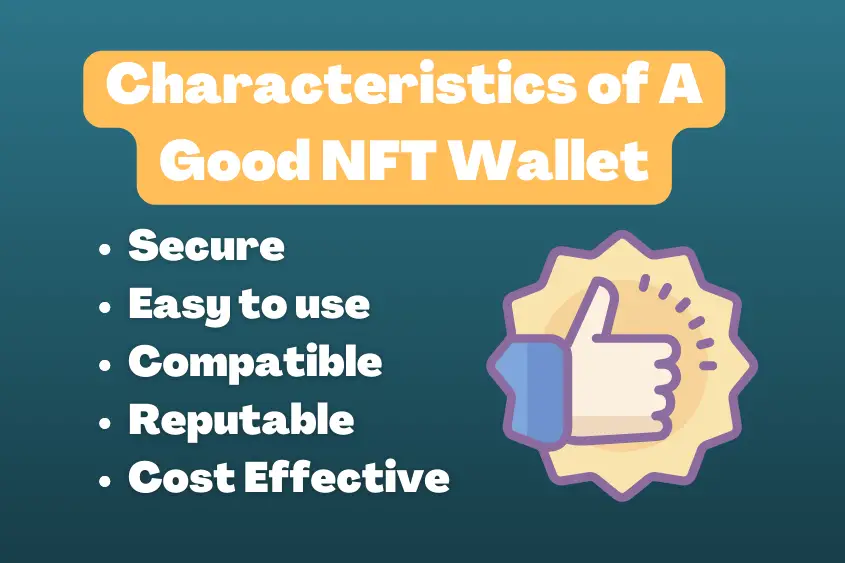 Security
The most important aspect of any wallet is security. After all, the point of finding a good NFT wallet is to ensure your assets remain safe at all times. So what makes a wallet secure?
Numerous factors determine how safe a wallet is, including:
Two Factor Authentication (2FA)
Two Factor Authentication is huge when it comes to securing your digital assets. It acts as an extra layer of security by requiring you to authenticate yourself using your email, phone number, or an authenticator app. 
Biometrics is another important feature that we are seeing used more often in applications and mobile devices. Both thumbprint scanners and facial recognition are considered to be the highest level of security when it comes to authenticating a user and granting access to a device. 
Most NFT wallets come with a 12-24 word secret phrase that is used to access your wallet. If your wallet doesn't have one of these phrases, you are putting your assets at risk.
A secret phrase (aka seed phrase or recovery phrase), is the literal key to accessing a wallet. With this key, you can change your wallet's password and ultimately gain full control over your wallet and the assets within.
That being said, if you lose your secret phrase, there's no way to recover your wallet. That's why it's so important to store your phrase in a secure physical location (not online). The most common practice is to write this phrase down on a piece of paper, then tuck it away in a fireproof safe.
For added security, many NFT investors and collectors have moved away from writing their phrases down on paper and instead, have begun to engrave them on a fire/waterproof stainless steel plate that's created specifically for wallet phrases.
Ease of Use
The NFT space is already complicated enough, so there's no reason to complicate things further by getting a wallet you don't understand how to use. Simplicity is key when it comes to finding a good wallet that you enjoy using.
Most of the software wallets like Coinbase Wallet are very user-friendly. It's as simple as downloading the app or extension, recording the secret phrase, and creating a password. That's it.
Compatibility
Ensuring the NFT wallet you choose is compatible with the blockchain you plan to use is important. For reference, here's a list of blockchains and which wallets will work for each.
| Blockchain | Wallet |
| --- | --- |
| Ethereum | Ledger, Trezor, Coinbase Wallet, Metamask, Rainbow Wallet, Trust Wallet |
| Solana | Ledger Nano X (plus Solflare or Phantom Wallet), Phantom, Solflare, Exodus, Atomic |
| Tezos | Ledger, Trezor, Binance Wallet, Atomic Wallet |
| Flow | Ledger, Blocto, Math Wallet, Dapper |
| Binance Smart Chain | Ledger, Binance Wallet |
Blockchains and compatible wallets
Ethereum is the most popular network for buying, selling, and trading NFTs. As you can see, each blockchain utilizes various wallets. It's worth noting that Ledger's wallets happen to be the most compatible across multiple blockchains.
Reputation
In the web3 space, finding a wallet provider that you can trust is crucial. There are hundreds of NFT wallets available, but only a select few have a solid reputation in the industry.
With so many scams in the NFT space, you need to know that the wallet you buy isn't compromised in any way and that it doesn't contain any malicious code. Otherwise, you risk downloading a bad wallet or purchasing a compromised hardware wallet.
Some of the most trusted wallet brands in the NFT industry include:
Ledger
Trezor
Coinbase
Metamask
Cost
It's only right to consider the cost when choosing a good wallet for your digital assets. That being said, practically all the software wallets on the market are free to download and free to use.
Most of the software wallets on the market make their money through service fees (swap fees). These fees are generally extremely low, (0.3% to 0.875%) of the transaction price.
Hardware wallets on the other hand do cost money. It makes sense considering they are a physical device that offers greater protection for your NFTs and other crypto assets.
The best hardware wallets range anywhere from $59 to $255. This is a small price to pay to protect your NFTs from hackers. Especially if you have a portfolio that's worth hundreds, thousands, or even millions of dollars.
To be honest, if you can't afford to buy a hardware wallet to securely store your digital assets, then I suggest not buying any assets at all. The likelihood of being scammed in the space is high.
Types of NFT Wallets
Two types of NFT wallets are used for buying, selling, selling, and storing digital assets. Let's take a look a both.
Software Wallet (hot-wallet)
A software wallet is accessed via an app on your mobile device or your desktop via an extension. It has a much higher risk of being hacked since all of its private information like the secret phrase and password are stored in the software, which is connected to the internet.
Software wallets are convenient, cost-effective, and easy to use. This is the main reason why a majority of beginners choose software wallets when they first find out about NFTs and cryptocurrency.
Although there's nothing particularly wrong with software wallets, they do lack security when compared to a hardware wallet. That's why I always recommend only using a software wallet for purchasing NFTs, but never for storage.
It's best two either transfer your NFTs to your hardware wallet from your software wallet immediately after purchasing or just buy two hardware wallets (one for transacting and the other for storage).
Hardware Wallet (cold-storage)
A hardware wallet is considered to be the safest type of NFT wallet. A hardware wallet does everything a software wallet does, but, its private information is stored offline on the device itself.
This reduces the number of ways that hackers can access your wallet. If you keep your hardware wallet offline, the only way you could get hacked is if someone gained physical access to your wallet.
From there, they would still need to crack your secret phrase, PIN code, and password before gaining access.
In addition to its private info being stored offline, hardware wallets use an extra-long, 24-word secret phrase that makes it near impossible to guess. 
How impossible? 
There are one hundred fifteen quattuorvigintillion (1 followed by 77 zeros) possible mnemonic seeds that hackers would have to guess.
Furthermore, a hardware wallet like Ledger contains the best technology to ensure your assets remain safe. It utilizes a secure chip—the same technology that's found in credit cards, passports, and SIM cards.
Ledger also has its own operating system called BOLOS, which enables applications on the device to be isolated from the wallet's private information. This way, even if you were to download a malicious app on your wallet, it wouldn't affect your secret phrase.
The Best NFT Wallets
Now that you know what to look for in a good NFT wallet, you can better determine which one is best for you. Here are my top 5 recommendations.
1. Ledger Nano X
The best NFT wallet is the Ledger Nano X. With the most advanced technology backing it, this device is the most secure hardware wallet on the market.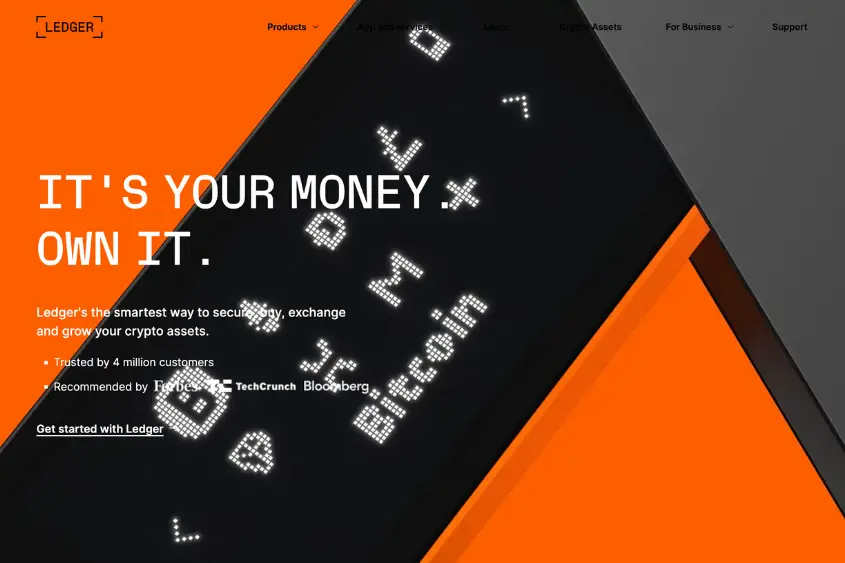 The Ledger Nano X can easily store all your NFTs and crypto, as it has the largest capacity out of all Ledger's wallets. You can install up to 100 apps at the same time, including Ethereum, Bitcoin, XRP, and more than 5,500 different tokens.
Furthermore, this is one of the most user-friendly hardware wallets. It comes with a large screen for easy viewing and can connect to your mobile device via Bluetooth. 
It's compatible with 64-bit desktop computers (Windows 8.1+, macOS 10.14+, Linux) excluding ARM Processors, and is also compatible with smartphones (iOS 13+ or Android 7+). 
Updating the device is as easy as connecting it to your computer, opening Ledger Live, and clicking update.
Upon opening the box, you will find 1 hardware wallet, 1 USB-C to USB-A cable, 1 getting started leaflet, 3 recovery sheets, and 1 keychain strap. You can choose from three different colors including Onyx Black, Blazing Orange, and Cosmic Purple.
I have been using my Ledger Nano X for over a year now with no issues. Setting up the wallet is easy, and most importantly, I'm happy because I know my NFTs are safe.
If you want an affordable, secure, and easy-to-use NFT wallet, the Ledger Nano X is a no-brainer.
Pros:
Most secure NFT wallet on the market
Largest capacity for storing all your assets
Easy to use and setup
Inexpensive compared to other brands
Free shipping
Cons:
Limited colorway
More expensive than software wallets
2. Trezor Model T
Trezor is another industry leader when it comes to quality hardware wallets, and the Trezor Model T is Trezor's most premium wallet. It can store NFTs and supports over 1,200 cryptocurrencies.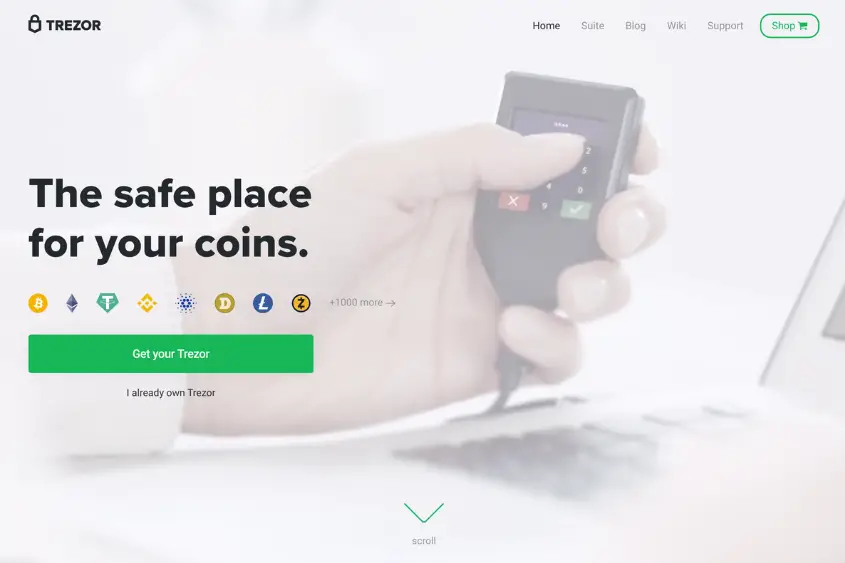 One of the main differences with Trezor devices is their software. It's entirely open-source, which provides additional safety. Trezor Suite operates natively on your desktop, which provides a higher level of protection than a web-based application. 
Furthermore, the Model T offers more features compared to Ledger devices. It offers a large touch screen that allows you to easily view any transactions before approving. 
With that, it also serves as a U2F (Universal 2nd-Factor) hardware token. Ordinary security tokens lack a display, so you're never certain what you are approving. 
Trezor utilizes its Trusted Display to show you details of the authentication request before you approve it and confirm any transactions.
That being said, it is not Bluetooth capable, which some security advocates prefer since hackers might try to exploit Bluetooth connectivity.
Trezor currently supports all major computer operating systems like Windows (version 10 or newer), MacOS (version 10.11 and higher), and Linux. As for mobile devices, Android is supported, however, iOS and Windows Phone are not yet supported.
While the Model T can secure NFTs, it can't be done in Trezor Suite—a software wallet interface built to provide a multi-functional platform for Trezor devices. 
To manage NFTs securely, a third-party interface like Metamask needs to be used. This is still safe, as long as you properly set up Metamask to communicate directly with your Trezor so your seed remains offline at all times.
The Trezor Model T comes with 1 Model T magnetic dock, 1 USB-C cable, 2 recovery seed cards, and some stickers.
If you still want the security of a hardware wallet but prefer a larger touch-screen, then the Trezor Model T is the wallet for you.
Pros:
Stores NFTs and crypto
Large, easy-to-use touch screen
Serves as a universal 2nd-factor (U2F)
Cons:
More expensive than Ledger
Lacks Bluetooth capability
Not compatible with iOS or Windows phones
Must manage NFTs using a third-party interface
3. Coinbase Wallet
Coinbase is not only one of the most trusted cryptocurrency exchanges in the world, but the company also offers its very own Coinbase Wallet.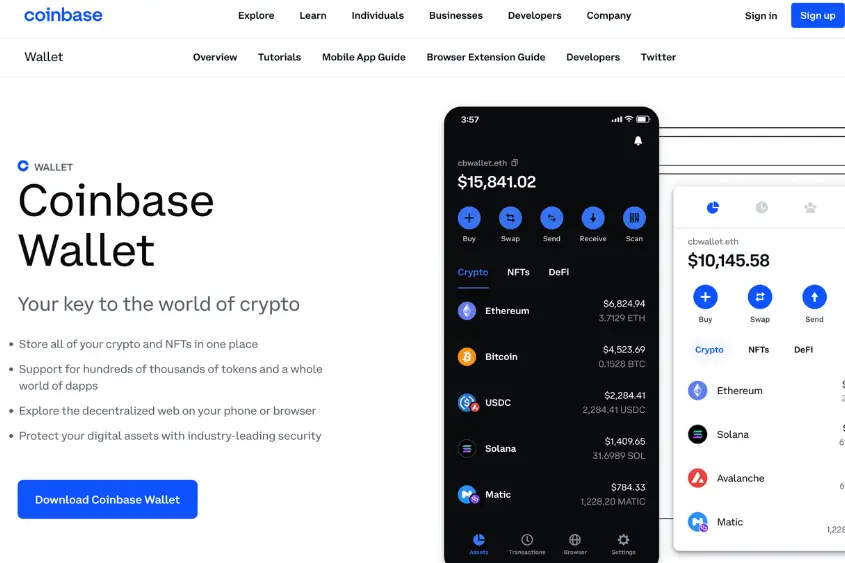 Although it's not a hardware wallet, it is one of the most user-friendly software wallets on the market. You can use it to store NFTs and crypto, and it supports hundreds of thousands of tokens and dapps.
Coinbase Wallet is a self-custody crypto wallet, meaning your assets, secret phrase, and passwords are owned and controlled by you, not Coinbase.
Moreover, you can use Coinbase Wallet to safely browse the decentralized web using its in-app browser. In addition to a simple user interface and the ability to browse the web, this wallet enables you to buy cryptocurrency directly from your wallet using your credit or debit card.
If you're just getting into NFTs, the Coinbase Wallet is a great option to learn how things work.
Pros:
Easy to use for beginners
Supports thousands of tokens and dapps
Stores NFTs and crypto
Easily buy crypto using your credit/debit card
Free to use
Cons:
Not secure as a hardware wallet
4. Metamask Wallet
Metamask is best known as the OG software wallet. It's the first wallet I ever used for buying crypto and NFTs. With over 22 million users, there's no doubt that Metamask is trusted by many.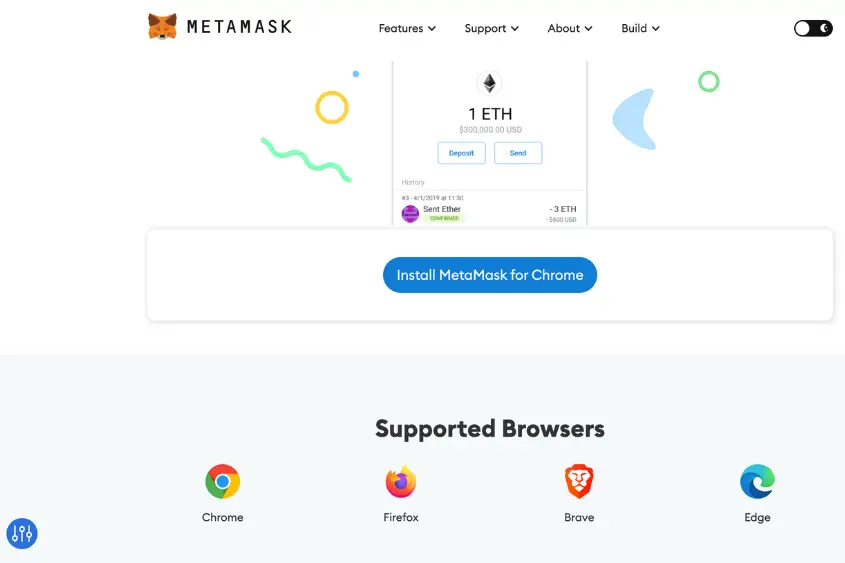 This trusted wallet supports over 450,000 tokens on the Ethereum blockchain, as well ETH and any ETH-based token (ERC-20, ERC-721, and more).
Metamask is one of the most simple wallets to start using. You can download the app on your phone or install the chrome extension on your computer.
It's supported by both iOS and Android devices, plus the extension is compatible with Chrome, Firefox, Brave, and Edge browsers.
The app allows you to browse the decentralized web directly from your mobile device, and you can purchase cryptocurrency in-app as well.
Also, MetaMask currently supports numerous hardware wallets including Trezor, Ledger, Lattice, Keystone, and AirGap Vault when using the extension, and Mobile supports Keystone. They're always working to add more hardware wallets to Mobile.
Overall, Metamask has done a really good job creating a wallet that is easy to learn, simple to use, and secure as can be for a software wallet.
Metamask is suitable for everyone. It's easy to use, free to download, and has a solid reputation.
Pros:
The "OG" of NFT wallets
Millions of users trust it
Easy to use
Compatible with hardware wallets
Free to use
Cons:
Not secure as a hardware wallet
Supports Ethereum tokens only
5. Rainbow Wallet
Rainbow offers a fun, simple, and secure way to create an Ethereum wallet, collect NFTs, and explore the world of web3. This wallet provides the most customization out of any wallet we've listed.
While being fun, it's still just as secure as any software wallet. Similar to Metamask, it only stores Ethereum-based NFTs and crypto. That being said, Rainbow Wallet is designed for developers who are looking to incorporate a wallet on their website, but it can be used by anyone.
In addition, Rainbow is a true mobile wallet, as it is only available on Android and iOS. No extension is available for desktop use. However, you can view any ENS name or Ethereum address using the website.
If you want to purchase an NFT, you will have to download the mobile app.
Rainbow aims to allow websites to create an easy and enjoyable Ethereum login experience. RainbowKit allows you to fully customize color, border radius, wallet providers, and more through an easy-to-use API.
Ultimately, Rainbow Wallet features one of the best user interfaces that allow you to interact with the web3 ecosystem effortlessly.
Pros:
Excellent user interface
Extensive customization option
Free to use
Cons:
Not secure as a hardware wallet
Supports Ethereum tokens only
No extension for desktop
At the end of the day, choosing a good NFT wallet comes down to what you want out of your wallet. If you're just getting started, consider exploring a software wallet. However, if you're serious about buying, selling, and collecting NFTs then you need to get a hardware wallet.