Trying to decide where to sell NFT art can be a challenge. With multiple marketplaces available, how do you know which one is right for you? 
As an NFT collector, I've taken the time to browse the top marketplaces where digital art is often traded. Now, I'm going to share the best marketplaces to sell digital art with you.
Where to Sell NFT Art?
1. OpenSea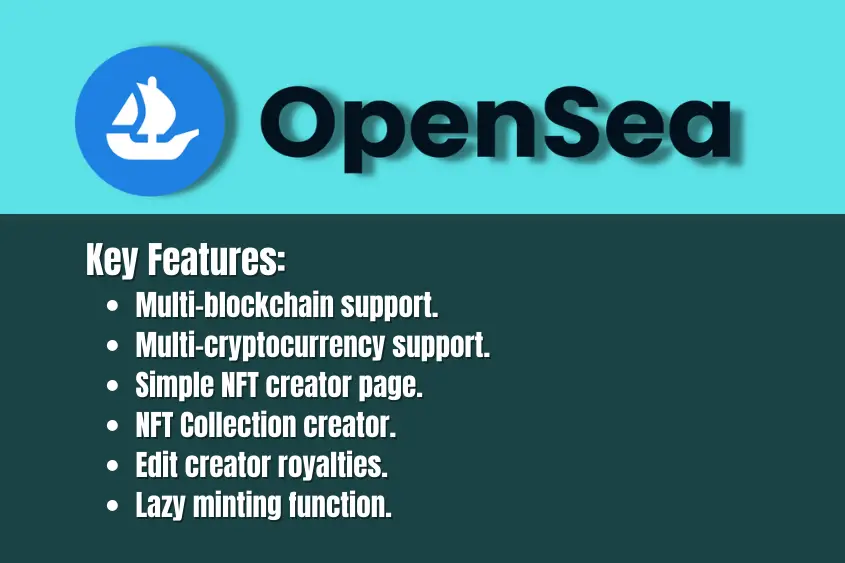 Opensea is the most popular NFT marketplace in existence. With over 2 million active traders and more than $32 billion in all-time sales volume, there is no lack of collectors on Opensea. With that, Opensea offers over 10 different categories of NFTs to explore. 
Hence, if you want to sell your digital art quickly, Opensea might not be the best choice as it's not art-specific per se.
Nonetheless, Opensea remains the most preferred NFT art marketplace by both sellers and collectors. If you are just learning how to create NFT art, Opensea offers one of the most simple solutions to mint your own NFT for free.
Moreover, with a total of 7 blockchains supported, Opensea supports more chains than any other NFT marketplace. That means regardless of your preferred blockchain for creating digital art, Opensea has got you covered.
Opensea currently supports Ethereum, Solana, Polygon, Arbitrum, Avalanche, Klaytn, and Optimism blockchains. If you are just getting started, Opensea is a good option considering the number of blockchains the platform supports as well as its ease of use.
Key features:
Multi-blockchain support.
Multi-cryptocurrency support.
Simple NFT creator page.
NFT Collection creator.
Allows you to edit creator royalties.
Lazy minting function.
User Experience:
By providing creators with multi-blockchain support and an easy NFT creation page, Opensea makes creating and selling digital art simple.
The platform is very straightforward and easy to navigate with its various tabs and filter functionalities. Plus, it's one of the most trusted NFT marketplaces with 2+ million active users.
Cost:
NFT Creation — It's free to make your NFT on Opensea.
Listing — First-time users have to pay a transaction fee to approve the listing. Also, new collections require a transaction fee. This fee varies but can range from $5 to over $150.
Service — Opensea receives 2.5% of every NFT sale.
2. Nifty Gateway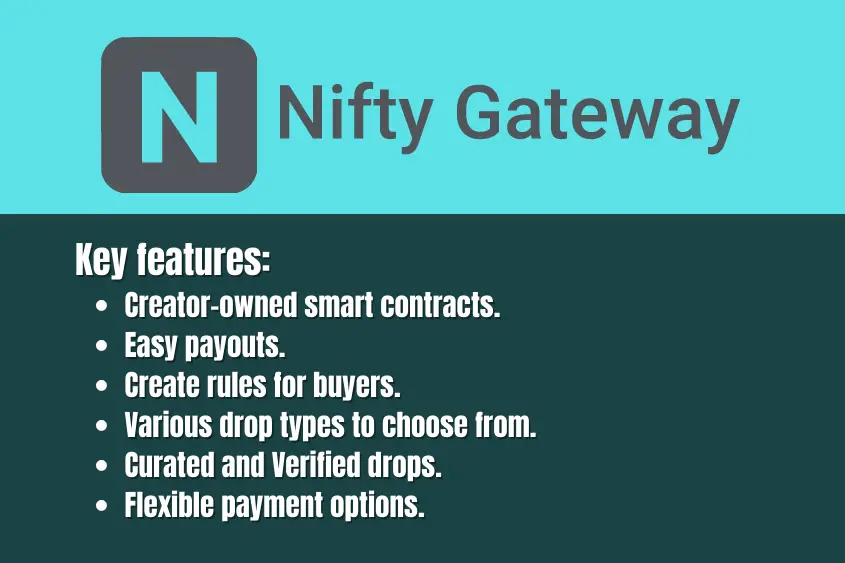 Nifty Gateway is a digital art marketplace that teams up with top NFT artists and brands to create collections of limited edition NFTs known as Nifties. Famous artists like Beeple and XCOPY have both used Nifty to sell their digital art.
Moreover, Nifty is a great platform for all types of artists since they offer various categories including photography, music, 3D, cartoon/anime, ticket/pass, and PFP art.
As a creator, the only way to get your NFT collection onto the Nifty platform is by submitting an application. If you are approved, you will get a spot on their drop page. 
Once you're on their drop list, Nifty will schedule your NFT collection to go live at a specific time and your collection will be available for a limited amount of time.
Once your live drop has ended, collectors can still buy your NFT under the marketplace tab.
Key features:
Creator-owned smart contracts.
Easy payouts.
Create rules for buyers.
Various drop types to choose from.
Curated and Verified drops.
Flexible payment options for collectors (both fiat and cryptocurrency).
User Experience:
Nifty Gateway is a high-quality marketplace to sell and collect limited edition NFT art. However, before you can list your NFT on the platform you have to be approved.
If you believe your art is high-quality and you want it to be perceived as such, Nifty Gateway is one of the most premium NFT platforms where you can sell your digital art.
Cost:
NFT Creation — It's free to make your NFT on Nifty Gateway.
Listing — It's free to list your NFT on Nifty Gateway.
Service — Nifty Gateway receives 2.5% of every NFT sale.
3. Foundation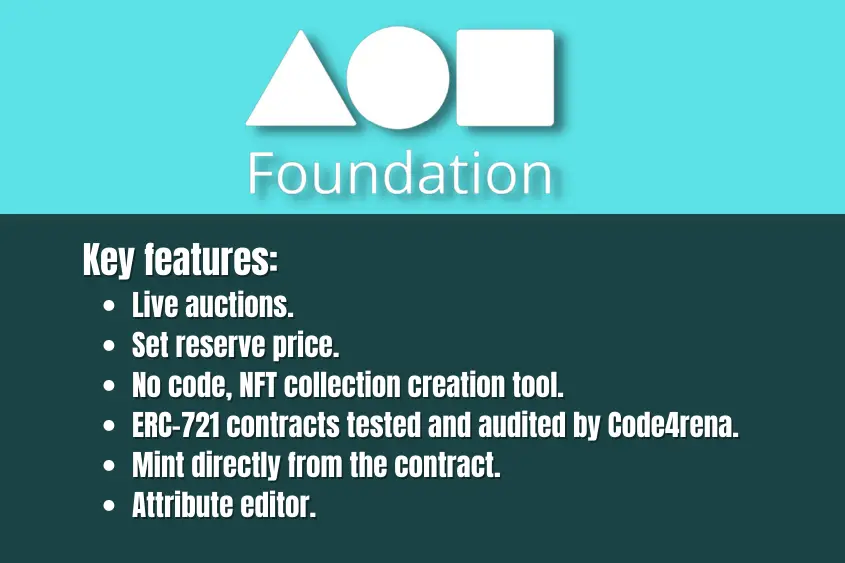 Foundation is an NFT marketplace that is aimed at providing artists with a community that's fostered around helping each other. To mint your own NFTs on Foundation, all you need to do is sign up on the platform for free. 
Also, collectors can come and go as they please. This means there is never a lack of collectors looking to buy your art. With more than 39,000 active traders and over $175 million in all-time sales volume, Foundation is one of the most popular art-specific NFT marketplaces. 
Once you join Foundation, you can set up your artist profile in preparation for minting your own NFT art. As a creator, you receive 95% of the total sale price when you sell your art piece.
However, you also receive a 10% royalty fee every time your NFT is resold in perpetuity. You can list your NFT for "Buy Now", put it on "Auction" and set a "Reserve" price.
That said, Foundation's auction works a bit differently from other NFT marketplaces. As soon as a buyer makes their first bid that meets the reserve price set by the seller, the clock begins to count down from 24 hours. 
If a bid is placed in the last 15 minutes of an auction, the auction will automatically extend the timer another 15 minutes, until your art is sold.
Key features:
Live auctions.
Set reserve price.
No code, NFT collection creation tool.
ERC-721 contracts tested and audited by Code4rena.
Mint directly from the contract.
Attribute editor.
User Experience:
Foundation is easy to navigate for collectors, making finding and buying your NFT art a cinch. Since Foundation's creation in 2021, it has been known as one of the most premium art marketplaces.
What once used to be a gated (invite-only) community, has now grown into a vast platform that provides NFT artists with the tools they need to create, mint, and sell their NFT art.
Cost:
NFT Creation — You are responsible for paying the gas fee (transaction fee).
Listing — You are responsible for paying the gas fee (transaction fee).
Service — Foundation receives 5% of all sales on both primary and secondary markets.
4. SuperRare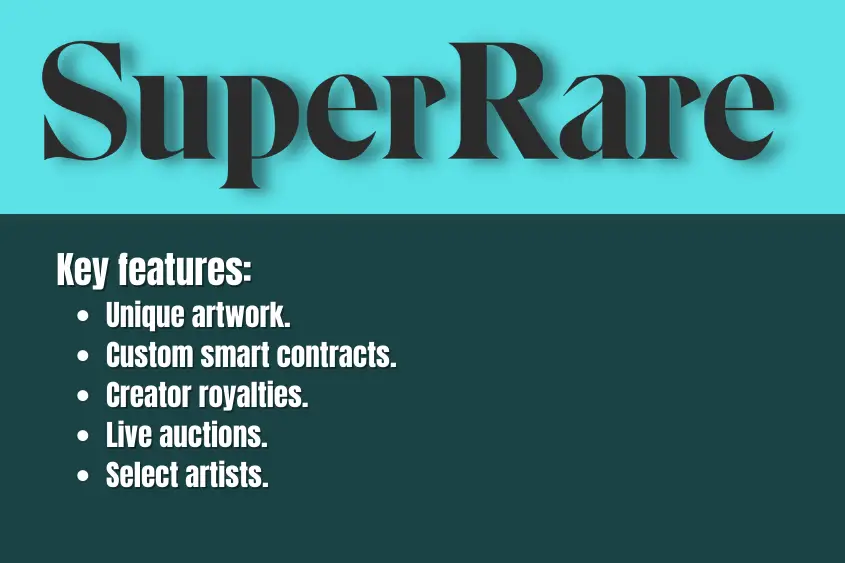 ​​SuperRare is a marketplace focused on enabling artists to make unique, one-of-one collectible NFT art.
It has been said that SuperRare compares its platform to the likes of Instagram combined with Christie's auction house. A place where artists and collectors come to connect, collect, and interact with art.
To become a creator on SuperRare, you have to submit your artist profile. This artist profile is more in-depth than any other NFT marketplace where you need approval before selling your NFT art.
Along with your social media handles and a link to 3-5 individual pieces of your art, you also need to record a short 1-minute application video of yourself.
If accepted, you can sell your NFT art on SuperRare. You receive 85% of your total sale price since the platform takes a 15% commission on all primary sales. That said, you receive a 10% royalty on any secondary sales of your NFT indefinitely.
All transactions that occur on SuperRare must be paid in ETH. As of now, SuperRare does not accept any other form of payment.
Since SuperRare focuses on fine art NFTs, artists tend to generate higher sales on their art. For instance, XCOPY has sold multiple NFTs on SuperRare for more than $1 million each.
Key features:
Unique art.
Custom smart contracts.
Creator royalties.
Live auctions.
Select artists.
User Experience:
SuperRare offers a platform for artists to make and sell unique one-of-one art. Since the platform only allows select artists to list NFTs on its platform, it is known as one of the best marketplaces to pick up exclusive NFTs.
Even though the application process is strict and only select artists are chosen, it's well worth it to apply to the platform if you want to get your art in front of motivated collectors.
Cost:
NFT Creation — You are responsible for paying the gas fee (transaction fee).
Listing — SuperRare has a 15% commission on the first sale of your NFT.
Service —  There's a 3% marketplace fee in addition to the sale price that's paid by the buyer.
5. MakersPlace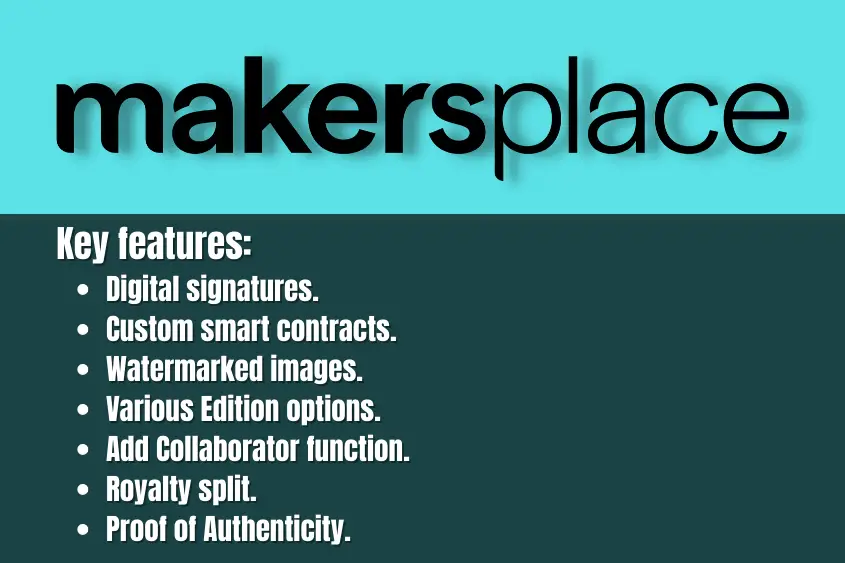 MakersPlace is a marketplace where artists can form authentic relationships with their collectors. Every NFT that is minted on the MakersPlace platform is digitally signed and issued by the artists themselves.
When you upload your creation to MakersPlace, you can define the number of editions you want to release. Everything is handled for you on the blockchain, this allows you to focus on creating art and building relationships with your collectors.
MakersPlace focuses on the core essentials of NFTs and highlights all the significance of blockchain technology, scarcity, authenticity, and ownership.
Similar to other marketplaces, MakersPlace takes a 15% commission on all successful sales.
Also, since MakersPlace allows you to purchase NFTs with your credit card, there's a credit card transaction fee. Like SuperRare, MakersPlace is invite-only.
If you want to sell your artwork on MakersPlace, you have to fill out an invitation request.
Furthermore, MakersPlace only displays previews of your artwork by allowing you to upload watermarked images for public view. This just goes to show that MakersPlace aims to protect artists and their work.
Key features:
Digital signatures
Custom smart contracts.
Watermarked images.
Various Edition options.
Add Collaborator function.
Royalty split.
Proof of Authenticity.
User Experience:
MakersPlace takes pride in enabling NFT artists to form a personal relationship with collectors through digital signatures and storytelling. 
Although MakersPlace might not be best known for offering the most coveted art, the platform is perfect for artists looking to build their brand and foster a community.
Cost:
NFT Creation — You are responsible for paying the gas fee (transaction fee).
Listing — You are responsible for paying the gas fee (transaction fee).
Service — MakersPlace receives 2.5% of every NFT sale.
6. Mintable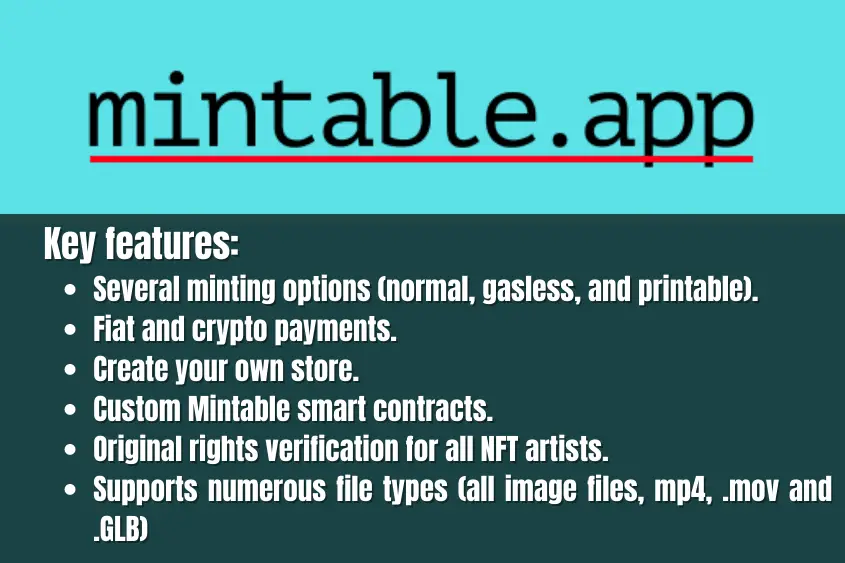 Mintable allows you to sell your artwork in a simple fashion even if you've never done it before. Lowering the barrier to entry is one of Mintable's main goals.
One way the platform does this is by allowing collectors to buy NFTs using both fiat and cryptocurrency.
Mintable offers three ways to mint your artwork.
Normal items: These items are minted via a transaction on the blockchain.
Gasless items: Allows you to list your token on the marketplace without having to actually mint anything. The minting takes place once someone buys your NFT or if you decide to transfer it.
Printable items: Enable you to make any number of NFTs and makes them available for sale without actually minting them. Similar to gasless minting, the tokens are minted on the blockchain until they're sold. 
This keeps the quantity true to those who have purchased your NFT and keeps costs down since it only counts as one transaction, even though you are creating multiple NFTs.
Key features:
Several minting options (normal, gasless, and printable).
Fiat and crypto payments.
Create your own store.
Custom Mintable smart contracts.
Original rights verification for all NFT artists.
Supports numerous file types (all image files, mp4, .mov and .GLB)
User Experience:
Mintable made their NFT marketplace easy to use for everyone.
With the ability to create NFTs for free using gasless minting, along with the option to buy NFTs using a bank card, Mintable ensures its platform is simple to use for the most novice NFT creators and collectors.
Cost:
Normal NFT Sales — 2.5% of the sale price.
Gasless NFT Sales — 5% of the sale price.
Printable NFT Sales — 10% of the sale price.
7. KnownOrigin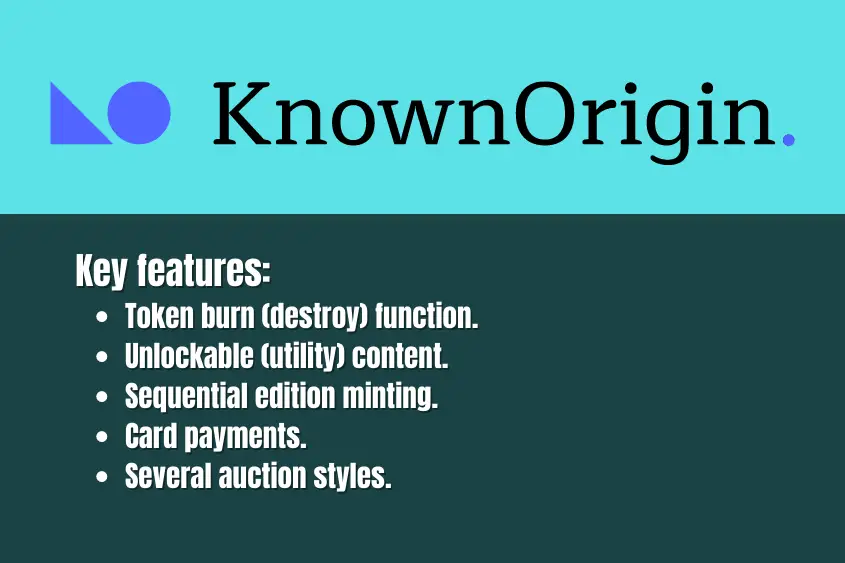 KnownOrigin is the second oldest NFT marketplace on Ethereum, following closely behind Opensea. As a creator, you can create unique and authentic digital collectibles.
To sell your artwork on KnownOrigin you must apply to join the platform. In addition to the premium feel of the platform, you get to digitally sign all of your artwork by creating a tokenized certificate to go with each of your NFT creations.
Using the power of Ethereum and smart contracts, KnownOrigin provides a trusted way to ensure provenance and chain-of-custody are permanently maintained for digital art which is sold on the platform.
Additionally, KnownOrigin was acquired by eBay. One of the main reasons eBay purchased KnownOrigin is because the marketplace has successfully built a passionate and loyal group of artists and collectors. 
If you're looking to source high-quality digital artwork and join an innovative company that aims to provide everyone with digital collectibles, then this is the perfect platform for you.
Key features:
Token burn (destroy) function.
Unlockable (utility) content.
Sequential edition minting.
Card payments.
Several auction styles.
User Experience:
KnownOrigin is simple to use and offers collectors an easy way to buy your NFT art.
By emphasizing the digital ownership aspect of collecting NFTs, KnownOrigin has curated a marketplace that hosts some of the most respected artists such as XCOPY, Hackatao, and Sabet.
Cost:
NFT Creation — You are responsible for paying the gas fee (transaction fee).
Listing — You are responsible for paying the gas fee (transaction fee).
Service — KnownOrigin takes a 15% commission on primary sales and 2.5% on secondary sales.
8. Objkt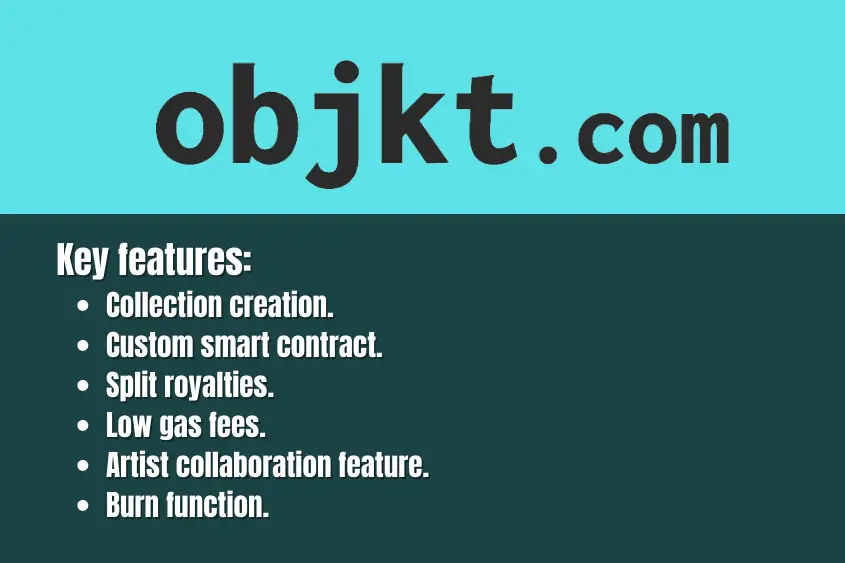 Objkt is the largest marketplace for buying and selling NFTs on the Tezos blockchain. The platform hosts numerous types of NFTs and well-known artists from the digital space, such as XCOPY.
Not only that, but Objkt aggregates NFTs from existing marketplaces like the hic et nunc (previously the most popular marketplace on Tezos), and Kalamint, and even supports tokens minted on custom smart contracts.
That said, Objkt is similar to Opensea in that it's not an art-specific marketplace, rather, it offers a large variety of NFTs. To be fair, the Tezos blockchain is known as one of the best blockchains for artists due to its cheap transaction fees and scalability.
The average gas fee on the Tezos blockchain is only $1.40, compared to Ethereum where gas fees range from $5 to over $150.
So, many buyers who browse Tezos marketplaces, like Objkt, are looking to collect NFT art specifically, making it a good option to sell your artwork.
Key features:
Collection creation.
Custom smart contract.
Split royalties.
Low gas fees.
Artist collaboration feature.
Burn function.
User Experience:
Objkt is known as the main hub for creators and artists specifically. Using the platform's many features, you can easily mint, list, and sell your NFT art.
You can tell Objkt is creator-focused considering you can easily invite other artists to collaborate with you on your collection and split royalties. Plus, Tezos is one of the cheapest blockchains meaning you hardly pay anything to create and sell your NFTs.
Cost:
NFT Creation — Approximately 1 $XTZ.
Listing — The listing fee is included in the NFT Creation cost.
Service — Objkt charges 2.5% on every successful transaction.
The best blockchain to sell NFT art is Ethereum. 
Things to Consider When Choosing Where to Sell NFT Art
Cost
Cost should be one of the main factors when determining where to sell your NFT art. This is especially true if you are just starting out as you will likely have a difficult time selling your NFT compared to better-known artists.
When you sell your NFT, you should try to at least cover the costs of creating your art. That includes any materials, software, and marketplace fees incurred to create your NFT art. 
That said, every dollar you can save when you're just starting out is crucial, especially if you're working with a limited budget.
Ease of Use
One of the greatest barriers to creating and selling NFT art is a lack of understanding of how to accomplish such a task.
Luckily, many NFT marketplaces have made creating and selling NFTs as easy as listing and selling an item on eBay.
However, not all marketplaces are created equally, nor are all smart contracts. If you are looking to create your own smart contract then you either need to have technical knowledge of how to code it or work with someone who does.
But, most of the marketplaces on this list either use their own smart contract or give you the tools to create your own without needing to know how to code.
Sales Volume
Although the sales volume of marketplaces may not be the first thing you look at, it should be something you take into consideration. Arguably, NFT marketplaces with higher sales volume have more collectors on them.
That said, not all collectors are looking to buy NFT art. This is why all of the art-focused marketplaces have a lower all-time sales volume compared to a marketplace like Opensea.
But, just because a marketplace has a lower sales volume doesn't mean you shouldn't try selling your art on it.
In fact, you might have better odds since the collectors on these types of marketplaces are looking to buy very specific NFTs.
Of course, you probably wouldn't want to sell your art on a marketplace with virtually no sales volume either. You can check the sales volume of NFT marketplaces using DappRadar.
Just be aware that some marketplaces listed on DappRadar have more sales volume than what's actually displayed on the platform.
Number of Traders
The number of traders on a marketplace is another good indicator of how popular a platform is. Most platforms on Ethereum will have hundreds of thousands of traders. Whereas platforms on Tezos or Solana may not have as many.
So, if you are looking to market your artwork to a large audience in hopes that you'll sell it quickly, Ethereum marketplaces are your best bet.
Again, you can use DappRadar to view how many users are actively trading on each marketplace to help you understand which platforms are the most popular amongst artists and collectors alike.
Where to Sell NFT Artwork Conclusion
If you are an artist trying to decide where to sell your NFT art, then these platforms are for you.
Opensea (Ethereum, Solana, Polygon, Arbitrum, Avalanche, Klaytn, and Optimism)
Nifty Gateway (Ethereum)
Foundation (Ethereum)
SuperRare (Ethereum)
MakersPlace (Ethereum)
Mintable (Ethereum)
KnownOrigin (Ethereum)
Objkt (Tezos)
If you found this article helpful be sure to check out our 10-step guide on how to become an NFT artist for more tips and tricks to help you succeed.