Whether it be the holidays, birthdays, anniversaries, or any other special occasion, you might be looking for the best gift for an NFT enthusiast whose close to you.
Being that I'm an NFT enthusiast myself, I know exactly what'd I'd ask for. But, I wanted to get other NFT lovers' opinions as well. So, I asked my friends on Twitter.
Below is a list of the best gifts for NFT enthusiasts, curated by NFT enthusiasts.
What Are The Best Gifts For NFT Enthusiasts?
1. Hardware Wallet
Undoubtedly, the best gift you can get for any NFT enthusiast is a hardware wallet. These wallets are the safest means for storing NFTs. Regardless if you are an NFT collector or creator, you always need a safe place to store your digital assets.
The greatest fear for any NFT enthusiast is losing their assets due to a hack or scam. Hardware wallets ensure NFTs remain safe by keeping the user's secret phrase and PIN code offline and in the device.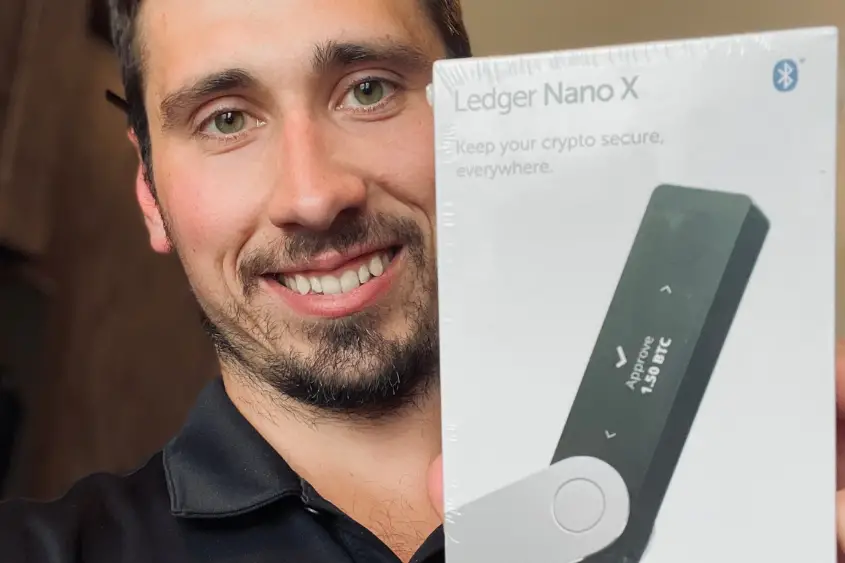 Moreover, hardware wallets are easy to use and only take minutes to set up. Just make sure if you buy one of these wallets that you purchase it directly from the manufacturers' website. Otherwise, you risk buying a compromised (hacked) wallet.
Ledger and Trezor are the two most trusted hardware wallets in the industry. You can't go wrong buying a wallet from either of these manufacturers.
2. Metal Seed Phrase Storage Plate
Every wallet used to store NFTs generates a seed (secret recovery) phrase. This phrase is the key to accessing a wallet and all of its assets and is safeguarded by every NFT lover. 
That means you have to input the seed phrase whenever you want to access your wallet. Without this phrase, you can't access your NFT wallet.
That said, it's common knowledge that storing your seed phrase online is unacceptable as you risk being hacked.
This includes your computer, phone, and cloud server. As a result, most NFT enthusiasts write down their seed phrase on a piece of paper and store it in a safe location (we hope).
Although this practice is much safer than storing your secret phrase online, it still has its cons. Paper is easily damaged by water and fire.
So, in the unfortunate event that you spill coffee on your seed phrase or it catches on fire, your seed phrase is lost forever.
What if there was a better solution? Good news, there is.
A metal seed phrase storage plate is waterproof and fireproof and is sure to age much better than a piece of paper. Using the tools included in the kit you can easily stamp or engrave your seed phrase into the metal for long-lasting storage.
When buying a seed phrase storage plate, make sure to get one that supports 12 to 24 words. This is the standard word count for most NFT wallet phrases.
3. Fireproof Safe Box
Considering every NFT enthusiast's goal is to protect their seed phrase and wallet with all their might, they can never be too secure.
And even if they have their seed phrase recorded on a metal plate, it doesn't do much good if that plate isn't stored in a secure location.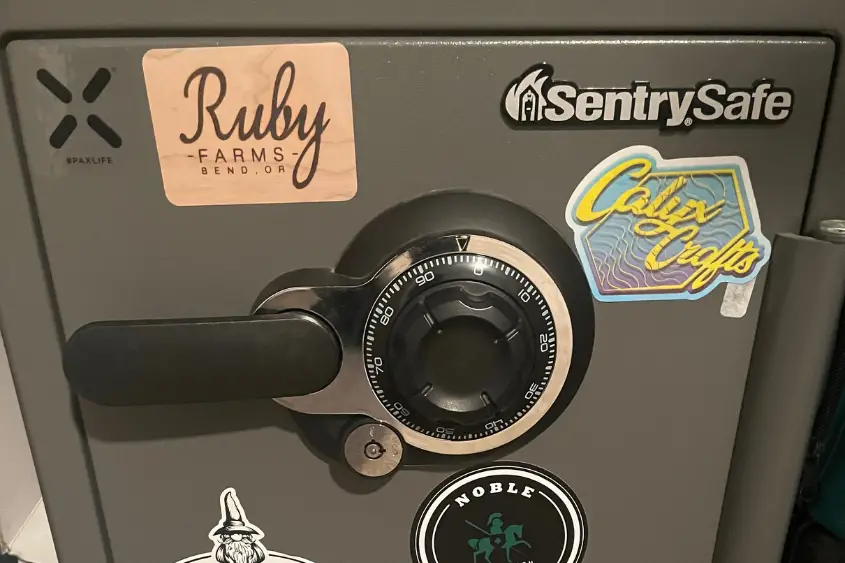 That's why a fireproof and waterproof safe is a perfect gift for any NFT lover. NFT enthusiasts treat their secret phrase with the same level of security that others treat their Social Security Number with, probably more so.
A safe is essential for storing any NFT and other crypto-related items. Seed phrases, passwords, hardware wallets, cash; it should all be kept in a safe.
I prefer the old-fashioned combo and turn-key style safe myself. That way you don't have to rely on batteries or worry about electrical parts failing. 
4. NFT
What better gift to give an NFT enthusiast than an NFT? Of course, this could be difficult if you don't know much about NFTs. However, if you can find out which NFT to buy, then learning how to buy an NFT is simple.
Another option is to create an NFT for free and transfer it to someone's wallet as a gift.
The sentimental value alone is worth more than any NFT you could buy on the market. Plus, if you've never created an NFT before, the person receiving the gift would surely be surprised.
You can turn anything into an NFT. 
Photographs
Drawings
Paintings
Music
Voice notes
It can all be minted as an NFT and gifted to someone easily, plus it's cost-effective.
5. NFT Display Frame
NFT collectors love flexing their digital collectibles. However, it can be hard to do since all NFTs are stored digitally on the blockchain. There is one option though. A digital display frame made specifically for NFTs.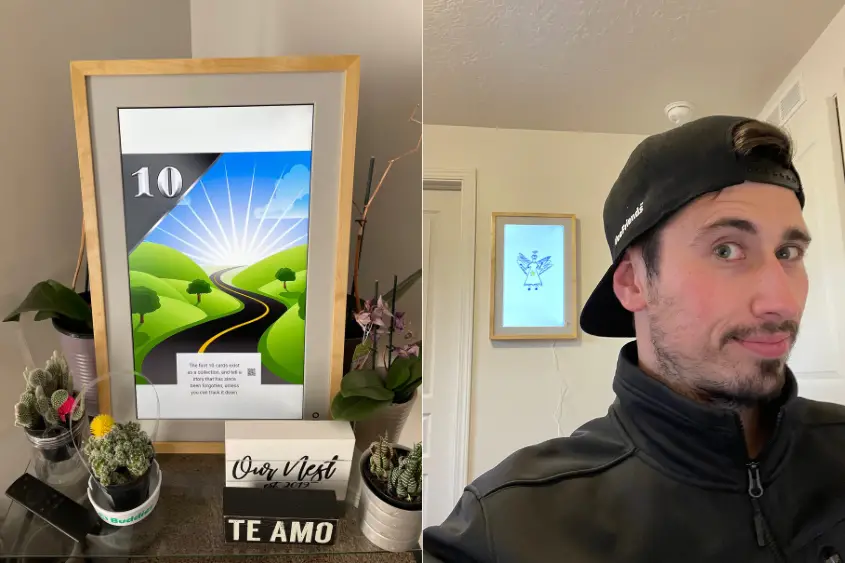 NFT frames connect to wallets so you can easily choose which NFTs you want to display in your frame. Simply choose one or set the frame to rotate through an entire collection of NFTs.
These frames range from small to large and sit well on your side table or displayed for everyone to see on your wall.
If you know an NFT enthusiast who loves talking about and showing off their NFT collection, then this is the gift for them.
6. Acrylic or Canvas NFT Print
Maybe a digital frame is a bit over your budget. But, that doesn't mean there aren't other affordable options that still allow collectors to showcase their favorite NFTs.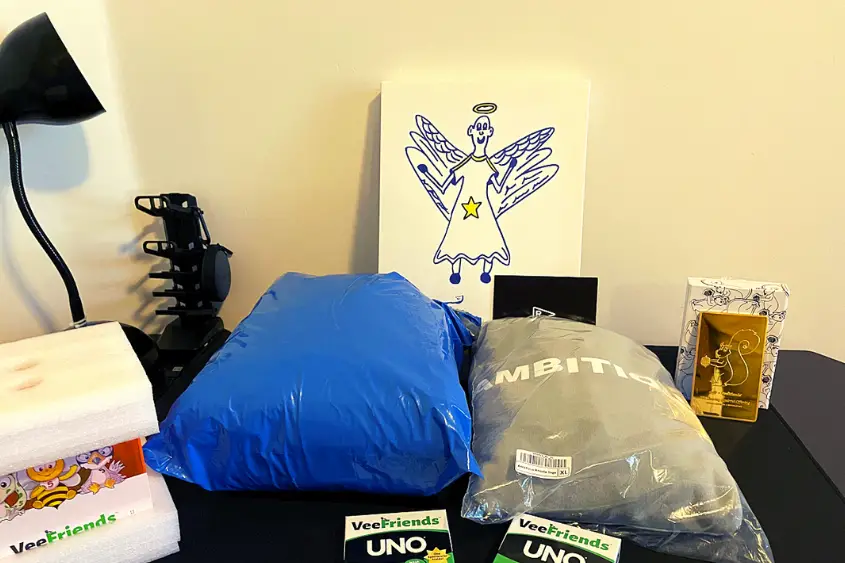 Acrylic and canvas NFT prints are also popular choices amongst collectors.
Although a print doesn't allow you to showcase your entire collection in one frame, it does allow you to show off your favorite NFT.
All you need to create an acrylic or canvas print is a high-quality image of the NFT. 
As long as you know the name of the exact NFT you want to print, you can easily find a suitable image by searching for it on an NFT marketplace like Opensea.
Then, download it to your phone or computer before uploading it to a print company such as Peak NFT Printing.
From there, the printing company handles the rest and ships it straight to your door.
7. Digital Drawing Tablet
Know someone who loves creating digital art or wants to start? Then a digital drawing tablet is a perfect gift.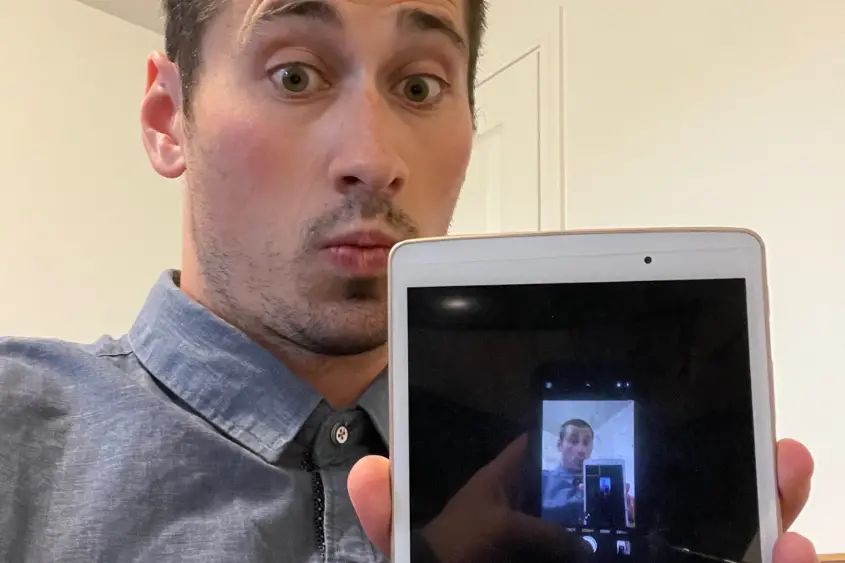 A tablet is an essential part of every NFT artist's career. If you've ever tried drawing on your computer using nothing more than a mouse, then you know how hard it can be.
That's why tablets are the better choice. Not only are they portable, but you can get a digital pen which makes illustrating easier and more enjoyable.
One of the most popular tablets often used by successful NFT artists is an iPad, combined with the Pro Create app, and an Apple Pencil.
These three necessities are all any artist needs to take their NFT art to the next level.
8. Cryptocurrency
Oftentimes we choose to gift others money, that way they can use it however they please. But, before you go and gift an NFT enthusiast cold-hard cash, consider sending them crypto instead.
If you've never bought and sent crypto before, that's okay.
You can easily create an account on a trusted exchange like Coinbase, and quickly learn how to buy and send crypto. It's just as easy as transferring money using a service like Venmo.
Notably, the verification process required by most exchanges can take some time, so be sure to set up an account well in advance before you need to send the wonderful gift of crypto.
Moreover, you need to know the wallet address of the person you're gifting crypto to. It's best to copy and paste this address when you send the crypto to ensure you are sending it to the right address.
You can even add a special note when you send the crypto, that way the person receiving the gift knows exactly who it's from and what it's for.
9.  NFT Domain Name
Ownership is important to any NFT lover. That is the purpose of NFTs and the blockchain after all. Having said that, the gift of ownership in the form of an NFT domain name can be extremely special.
An NFT domain is just that—it's a domain name that is created on the blockchain as an NFT, purchased for a one-time fee, and can be used for a multitude of things. But, how do know what name to buy?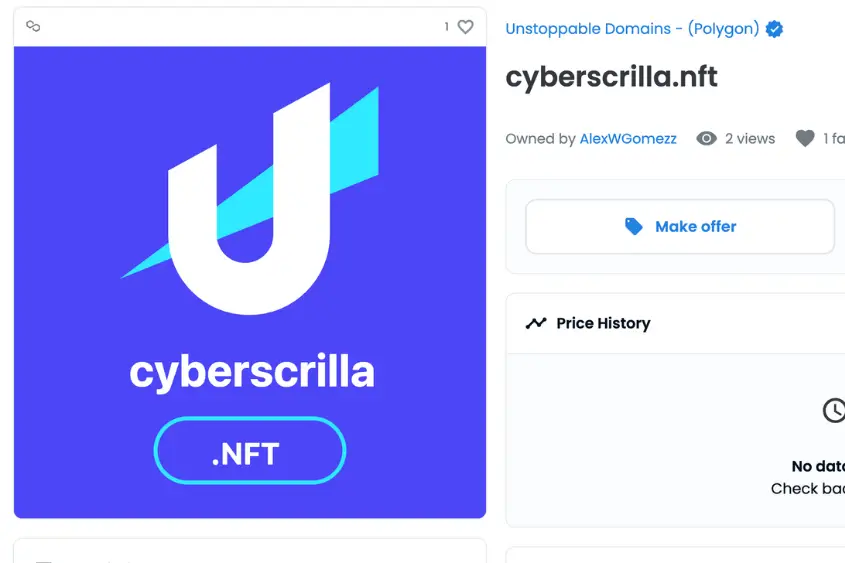 You'll have to get creative. Does the person have a special nickname you gave them? Perhaps they have their own brand name? Any of these types of names can be purchased as an NFT domain and gifted.
The best part about buying an NFT domain like Unstoppable Domains is that you can purchase it using your bank card, and you don't need a special wallet to do so. It's as easy as buying something on Amazon (without the shipping fees of course).
Don't believe me? You can buy an Unstoppable Domain in three quick steps.
10. Blue Light (Computer) Glasses
There is no doubt that NFT enthusiasts spend a ton of time viewing market trends, chatting in Discord groups, and shitposting on Twitter.
Even though this all seems like fun and games, the extended screen time can actually take a toll on your eyes.
According to the UC Davis Health University of California, constant exposure to the blue light emitted by our phone and computer screens could damage retinal cells and cause vision problems such as age-related macular degeneration over time, among other eye-related issues. 
And as much as NFT enthusiasts enjoy their vision, their communities live online.
Hence, enthusiasts spend the majority of their time online, exposing ourselves to this harmful blue light.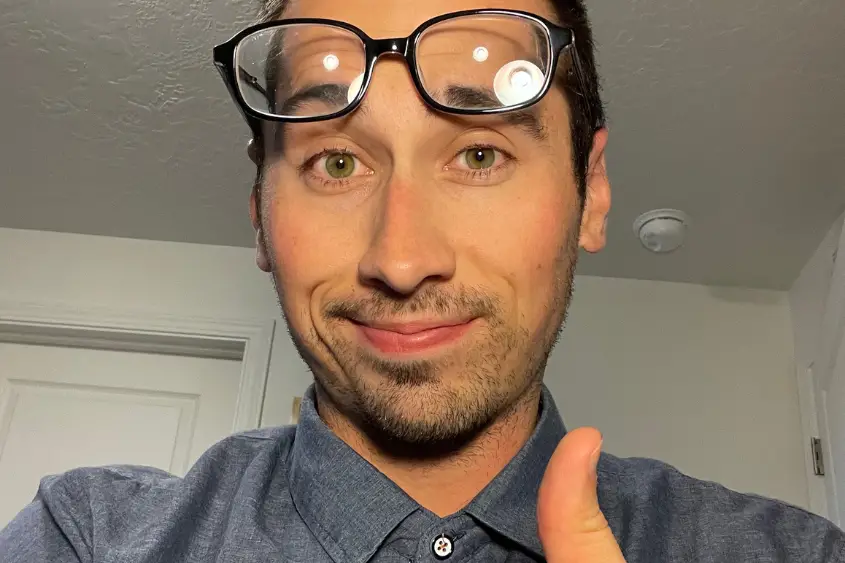 There is a simple solution though—blue light glasses.
Not only are these glasses affordable, but more importantly, they protect your eyes by filtering out 90% of the harmful blue light rays while still allowing you to see the less harmful portions.
If you know an NFT lover who suffers from headaches, dry eyes, or other vision problems, then a quality pair of blue light glasses might be the best gift you can give them.
11. Tickets to an IRL NFT Event
Just because NFTs are of the digital realm doesn't mean that there aren't some physical aspects enthusiasts enjoy as well.
Hence, a ticket to an IRL NFT event might be the perfect gift.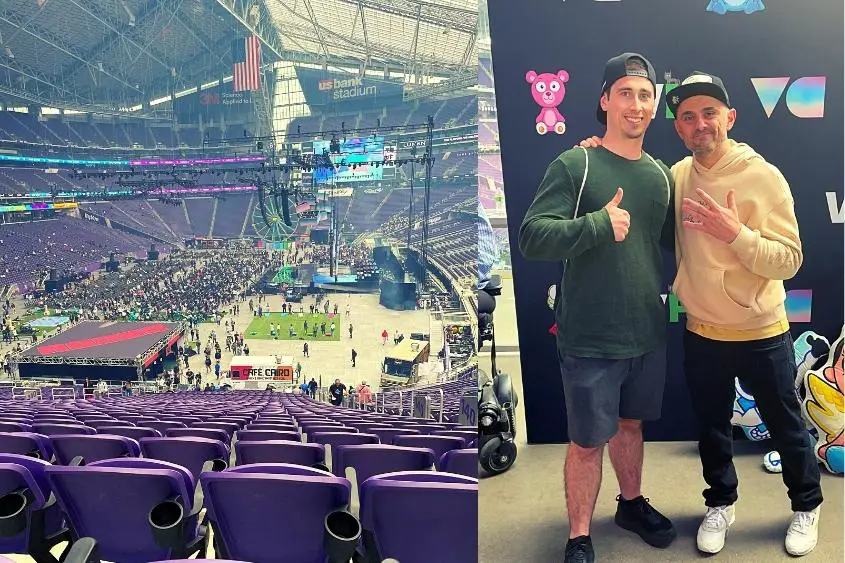 There are plenty of NFT-themed events all around the world, from city to city. Generally, these events are educational with an array of networking opportunities.
Some of the most sought-after NFT events include NFT NYC, NFT LA, NFT Paris, Miami Art Basel, VeeCon, Expoverse, and more.
You can find upcoming events that are local to you by searching on Eventbrite.
It's important to consider the cost of flights as well as if the person you're buying the tickets for can get the time off.
This is especially true if you're buying tickets to an event that requires long-distance travel and lasts numerous days.