Opensea is the most popular NFT marketplace due to its wide selection of digital assets and ease of use. But, one thing Opensea is missing is the ability to check the rarity of NFTs directly on its platform. So, how do you check the rarity of NFTs on Opensea?
The quickest way to check NFT rarity on Opensea is by downloading the Trait Sniper rarity checker Chrome extension. This tool allows you to view the rarity of every NFT directly on Opensea while you're browsing. You can also use a rarity checker website, but you will have to leave Opensea.
How to Use Trait Sniper to Check NFT Rarity on Opensea
Using a rarity tool extension like Trait Sniper makes checking the rarity of an NFT on Opensea quick and easy.  Here's how to use Trait Sniper.
1. Download the Trait Sniper Chrome Extension
Go to Trait Sniper's website and tap the "Chrom Extension" tab. This will take you to the Chrome web store where you can download the Trait Sniper extension for free.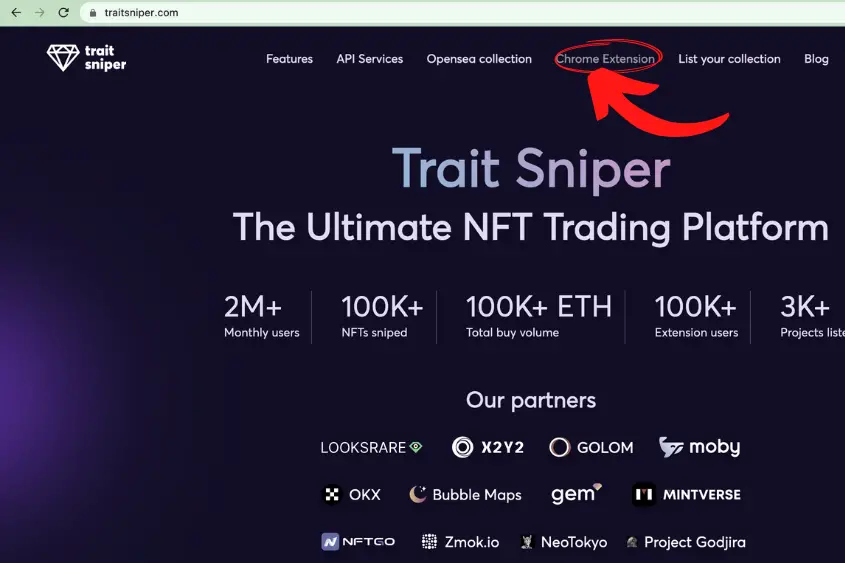 Once you are in the web store, click "Add to Chrome". After clicking the button, a message will be displayed:
It can: Read and change all your data on all websites.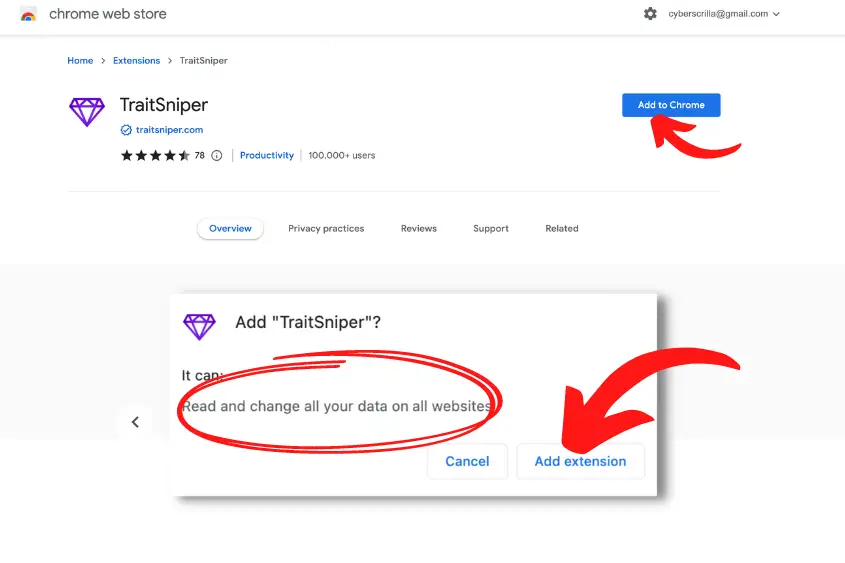 Tap "add extension". You can change these settings after you install the extension. 
2. Modify Trait Sniper Settings for Opensea
If you don't want to allow Trait Sniper access to every website you visit, you'll need to change the settings.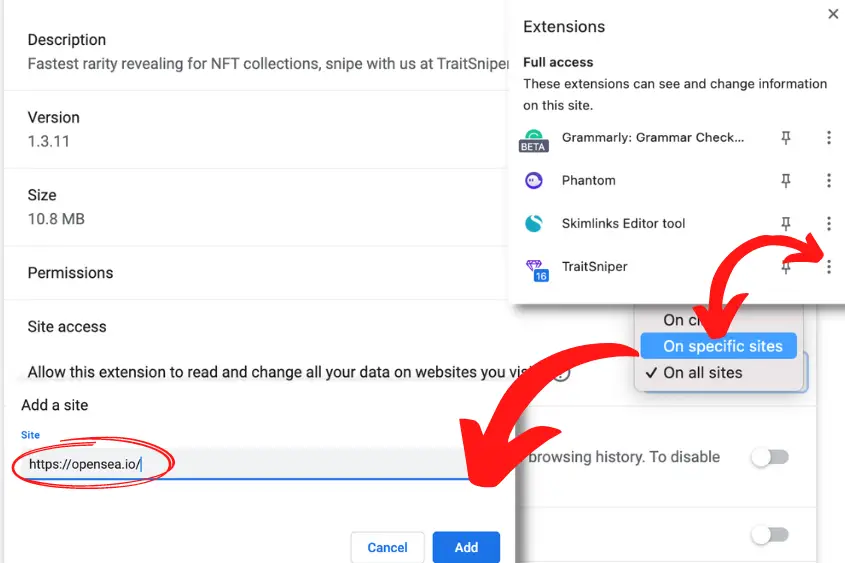 To do this, go to your extensions, find Trait Sniper and click the three dots, then choose "Manage Extension".
From there, find where it says Site Access and change it to "On specific sites".
Then, you can add Opensea as the only site that the extension can have access to. Notably, Trait Sniper also works on LooksRare.
So, if you want to give the extension additional access to the LooksRare NFT marketplace, tap "add a new page", and then enter the URL.
3. Visit Opensea to View the Rarity of NFTs
Once you have installed Trait Sniper and modified its settings, you are now ready to check NFT rarity on Opensea. 
You don't need to do anything special for Trait Sniper to display rarity, simply go to Opensea and begin browsing whichever NFT collection you want to know the rarity of.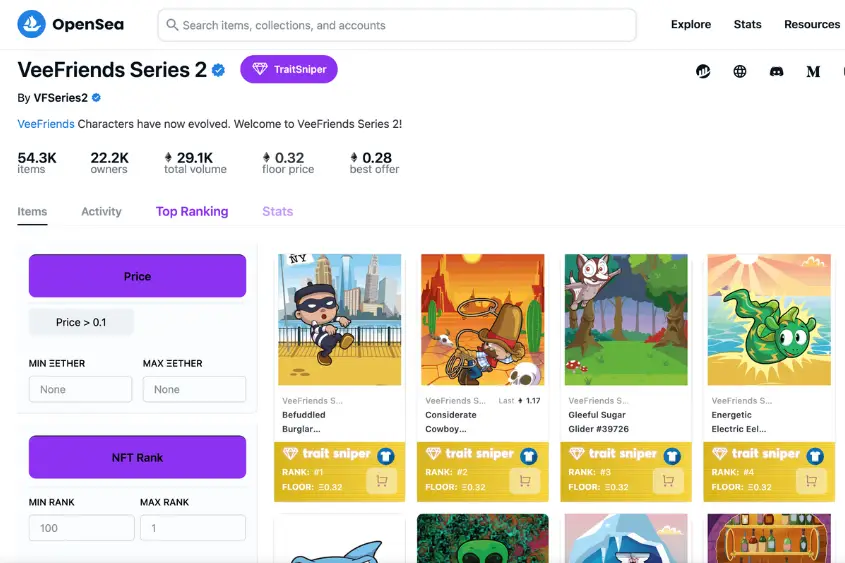 The Trait Sniper extension will conveniently display the rarity rank of each NFT, along with some other helpful statistics including:
Top Ranking: By clicking the Top Ranking tab, Trait Sniper will organize the NFT collection you're viewing from rarest to least rare.

You can also utilize the filters to sort NFTs by price, rarity rank, or search for the rarity of a specific NFT using its Token ID.

Stats: If you click on the Stats tab, you will be taken to Trait Sniper where you can view various charts to gain more insight into the performance of the project in its entirety.

You can view the sales chart, floor chart, and listing distribution chart which can be further broken down by time ranges including 15 min, 30 min, 1 hr, 3 hr, 1 day, 1 week, and 3 months.
Other Tools to Check NFT Rarity on Opensea
There are numerous tools for checking the rarity of NFTs. Let's take a look at some other tools that work well with Opensea.
1. Rarity.Tools
Rarity.tools is an NFT ranking tool used to find the top NFTs in a collection. Using the tool's well-laid-out pages, you can easily scan collections for their highest-ranking NFT.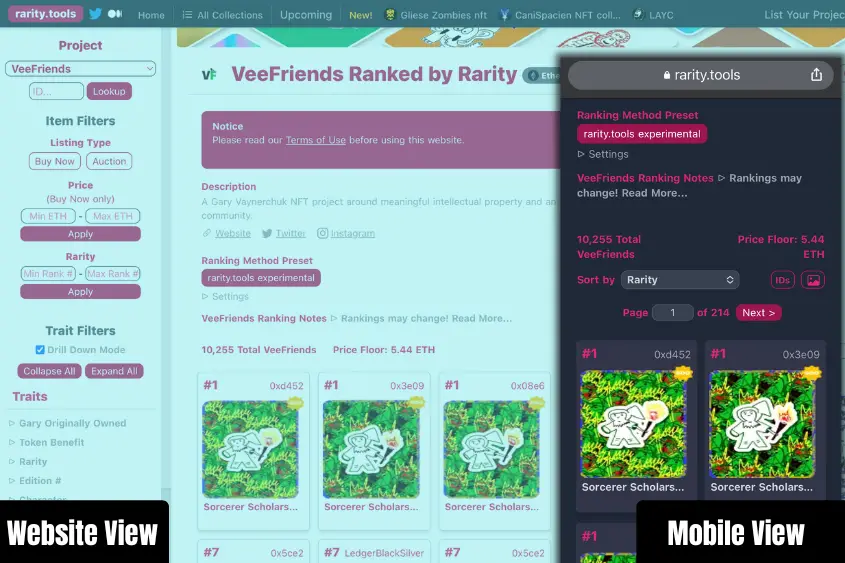 Moreover, you can set rarity filters to look within a specific range of rarity. Rarity.tools also gives you a breakdown of each NFT based on its traits.
Ultimately, these traits are used to compute the NFT's rarity score. You can also check the rarity of an NFT by simply entering its Token ID.
Besides rarity, Rarity.tools also provides you with a brief overview of each collection including the current floor price, total number of tokens in a collection, number of owners, total sales volume, and a 7-day average price.
Although this rarity checker isn't directly available on Opensea, you can use it to locate rare NFTs in collections that are on Opensea, and then use your knowledge to make better buying/selling decisions.
User Experience:
Rarity.tools is one of the most simplified NFT rarity trackers available. They categorize collections by newly added, more recent, and top collections, allowing you to easily find the project you're looking for.
Or, you can just as easily use the search bar to quickly navigate to the NFT you're looking for. Overall, the website loads quickly and is easy on the eyes.
Key Features:
Easily filter by collection name, trait, rarity, price, and Token ID
OpenSea and LooksRare integration for easy sniping
Upcoming Drops page with mint time and location
Features both Ethereum and Solana NFT collections
Detachable windows for a convenient analysis experience
Variety of NFT Collections Covered:
Rarity.tools covers a wide array of NFT collections. You will find the most popular projects like CryptoPunks, Bored Ape Yacht Club, and VeeFriends.
But, you will also notice there are lesser-known projects listed on the site. Overall, there's a good variety of NFTs to satisfy your rarity ranking needs.
Cost:
Free: Rarity.tools is free to use for everyone. 
Like:
Scores NFTs based on their various traits and rarity
Compares relative values of individual NFTs
Ranking is customized for each project
Includes other important details about each collection
Dislike:
Does not display all projects
The cost to list a project is hefty
2. Rarity Sniper
Rarity Sniper ranks over 1,800 NFT collections. You can search the platform using filters for traits, meta traits, rank, and price.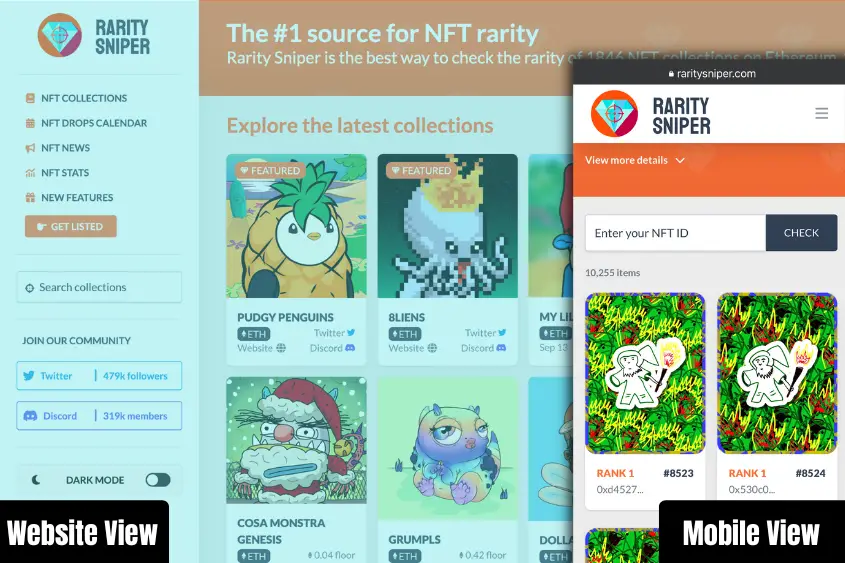 The website even has a page displaying NFT prices and statistics including the trends, floor price, sales volume, and more.
With over 479,000 followers on Twitter and 319,000 Discord members, Rarity Sniper has the largest community out of all the rarity ranking tools.
And although you can't use Rarity Sniper directly on Opensea, it's still a preferred NFT rarity checker by a majority of the NFT community.
User Experience:
Rarity Sniper was created with the user in mind. The website utilized multiple tabs for easy navigation.
Tabs include: NFT collections, Drops Callendar, News, Stats, and New Features or you can search a collection by name.
The platform is smooth and works well on both mobile and desktop versions.
Key Features:
Supports a variety of blockchains including Solana, Ethereum, Klatyn, BNB, and Polygon.
Provides links to each collection's social pages and official website.
NFT Drops calendar provides info about upcoming NFT drops.
Filter a collection by "Buy Now", which allows you to purchase the NFT on Opensea.
Dark and light mode for easy viewing
Variety of NFT Collections Covered:
Rarity Sniper provides rarity rank for nearly 2,000 NFT collections across five blockchains.
Cost: Rarity Sniper is free to use.
Like:
The founder understands the desire to track rare NFTs better than anyone else 
One of the largest communities out of any NFT rarity tool
Extremely active on social media
Friendly user interface
Mobile and desktop friendly
Dislike:
The collection search bar is small and you have to know the name of the project you want to search for to find it easily.
3. CryptoSlam
Cryptoslam is one of the oldest and most respected platforms in the NFT data analysis game. It was created in 2018 by Randy Wasinger to track MLB Champions digital collectibles.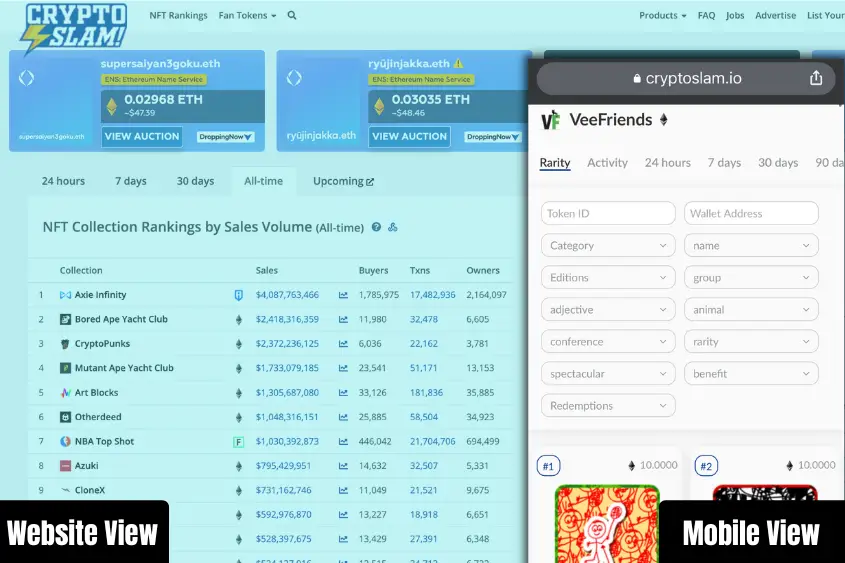 Since then, the platform has become one of the most popular NFT aggregators in the web3 space.
The site features over 2 million NFT projects and allows you to track NFTs by their sales volume and view the total transaction volume of numerous NFT-capable blockchains.
Cryptoslam can be used as a rarity tool or as the ultimate NFT aggregator tool.
Cryptoslam's analysis and tools are used by hundreds of thousands of NFT enthusiasts to find and invest in a broad range of digital assets.
It's safe to say that Cryptoslam is developing one of the most comprehensive tools for viewing and studying NFTs.
User Experience:
Cryptoslam is quick and easy to use. You can view the website on both mobile and desktop devices, and I've never experienced any downtime when using the site or noticed any lag. 
That said, Cryptoslam provides so much data that it can be hard to decipher what you're looking at, especially if it's your first time using it.
But, if you spend a few minutes on the platform, I think you'll find that it's really easy to use.
Key features:
Shows whether the NFT is bullish or bearish
You can see the bestselling NFTs in the last 24 hours, 7 days, 1 month, and all time.
Displays blockchain metrics by NFT sales volume
You can search by wallet names and addresses
You can view live sales
Variety of NFT Collections covered:
Cryptoslam collects data for over 15 different NFT-capable blockchains.
Cost: Cryptoslam is completely free to use.
Like:
The platform offers a lot of data free of charge to the user
Shows current transaction fees
Works across several blockchains
Displays the top buyers and sellers
 Dislike:
There's a slight learning curve to navigate the website
Although there are many rarity tools you can use with Opensea, the easiest way to check the rarity of an NFT on Opensea is by using the Trait Sniper Chrome extension. All you need to do is:
Install the extension.
Change the Trait Sniper settings for Opensea.
Browse Opensea while viewing the rarity rank of each NFT.