From movies to toys, Disney has become a household name that's recognized and beloved by many. Now, Walt Disney has expanded its brand even further by offering its own digital collectibles as NFTs. So, where can you buy Disney NFTs?
You can only buy officially licensed Disney NFTs on the Veve NFT App. The Veve App is available on iOS and Android devices or desktop via the Veve Web App. If you find a Disney NFT available anywhere besides the Veve App, it is not an officially licensed product.
Veve makes buying Disney collectibles a cinch. Below you will learn exactly where and how to buy Disney NFTs.
Where Can I Find Disney NFTs?
Since Disney NFTs are only available on Veve's digital collectibles platform, you can find upcoming Disney NFT drops on the Drops Page.
If you are looking to buy a previously released Disney NFT, visit the Store tab on Veve and use the search bar to find the Dinsey NFT you're looking for.
What Do You Need to Buy a Disney NFT?
To buy a Disney NFT, you will need the following: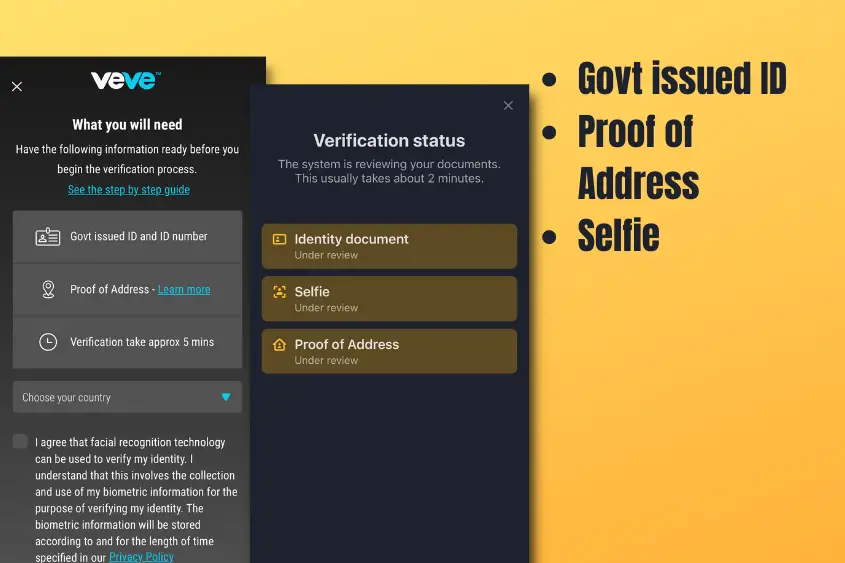 Veve app (available for both mobile and desktop devices)
Govt issued ID and ID number (for KYC purposes)
Proof of Address (utility bill, bank statement, credit card statement, etc.)
GEMs (the native currency used to buy NFTs on Veve)
In the early days of the Veve app, you didn't have to go through the verification process.
However, now that you can cash out your GEMs for real money and cryptocurrency, Veve is required to verify your identity for KYC purposes.
Hence, you need proof of identity and your address.
After submitting all that's required for the verification process, it can take 2 minutes to 48 hours for your account to be verified. 
Once verified, you're ready to buy a Disney NFT!
How to Buy a Disney NFT on Veve
1. Download the Veve app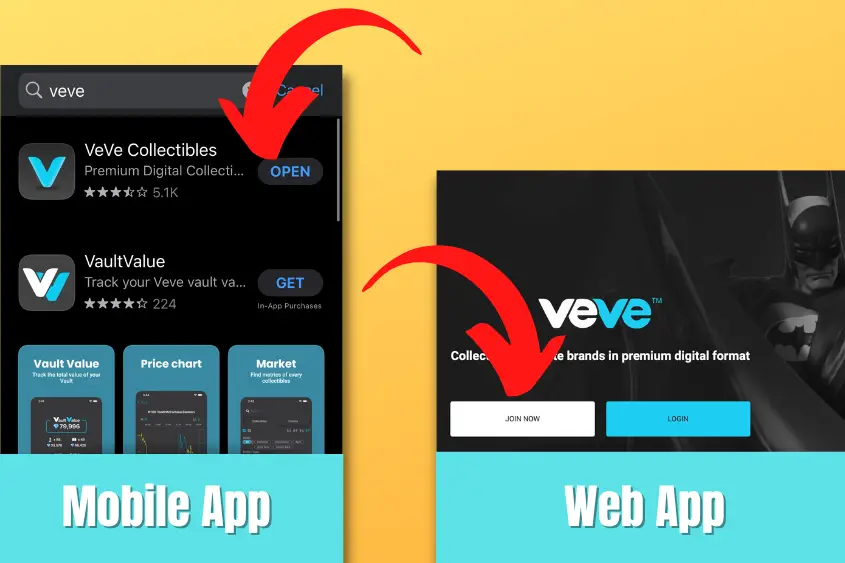 The first step to buying a Disney NFT is to Download the Veve app onto your iOS, Android, or Desktop device.
2. Create your Veve account
Once you download the app, you will need to create your account. All you need to create an account on Veve is a username, a valid email address, and a secure password.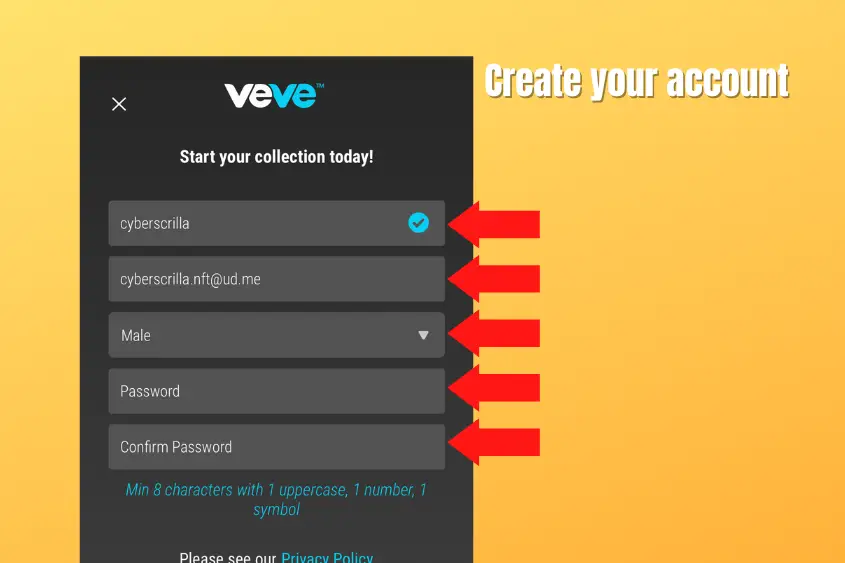 After you input all of your information, a code will be sent to your email for authentication purposes.
Enter the code into yoru Veve app to finish creating your account.
3. Verify your Veve account to access all the features
Verify your Veve account to gain access to all the main features that the platform offers such as: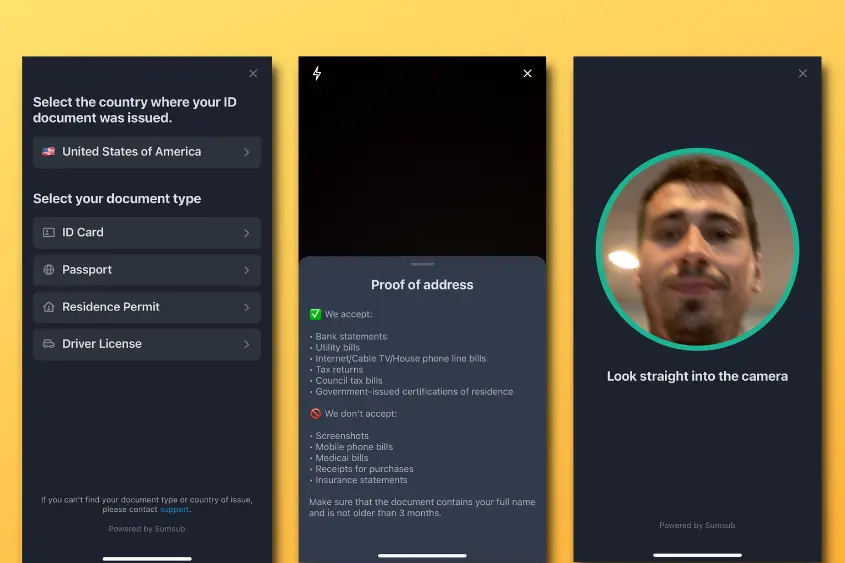 Drops (new NFT releases)
Market (buy NFTs on the secondary market)
Payout (cash out your GEMs for real money)
Promos (receive special promotional deals from Veve)
Master Collection Program (Collect and earn points to gain access to features to enhance your collection)
If you don't complete the KYC verification process, you will not be able to buy a Disney NFT.
3. Purchase GEMs
You can purchase GEMs in-app. The cost of 1 GEM equals $1.00 USD. You may use your credit card, PayPal, Apple Pay, or Google Pay to purchase GEMs.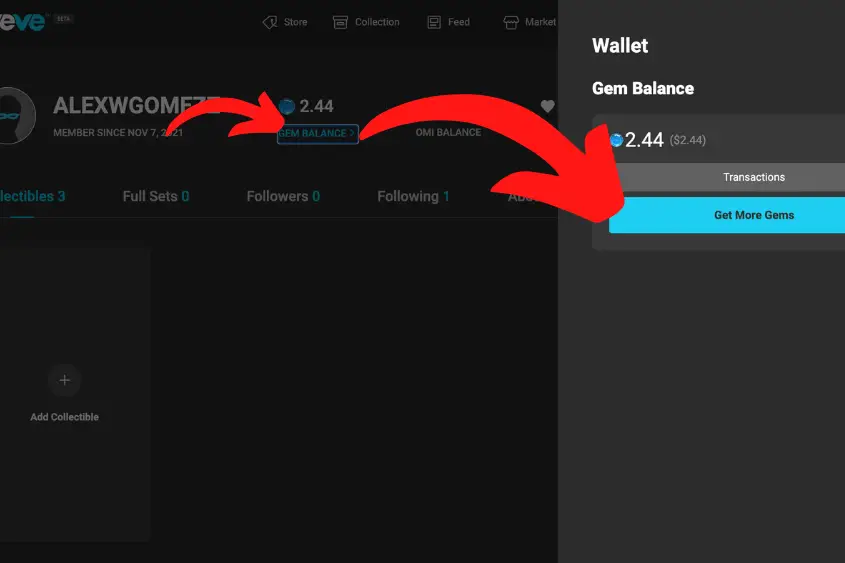 Be aware that the total price you pay may be more depending on your payment method and any additional fees and taxes charged by your payment processor.
4. Browse the Veve market or wait for a Drop
Once you have your wallet loaded with GEMs, you are ready to buy a Disney NFT. You have two options when buying an NFT on Veve:
Browse the Market
You can tap the Market tab to view all available Disney NFTs anytime you want. This function allows you to Buy Now or place a bid on the Auction page.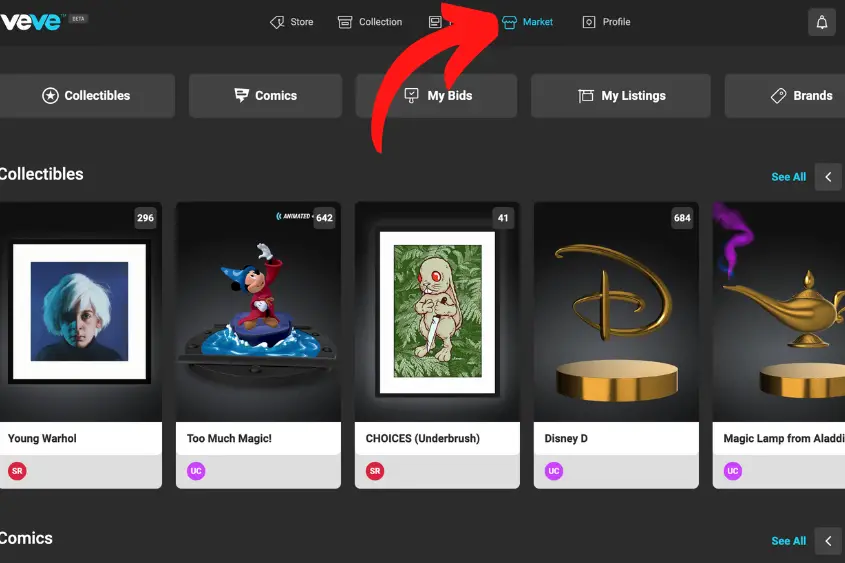 That said, there are some things to consider when browsing for NFTs on the Market.
You may end up paying a higher price versus if you were to buy an NFT when it drops.
You could end up getting a better deal on an NFT if the value of the collectible decreases after it drops.
As you can see, it can go either way.
View upcoming Drops
If you would rather buy an NFT when it drops, navigate to the Store tab and select Drops.
Here you can view the most recent drops, as well as upcoming drops along with the rarity and price of each NFT.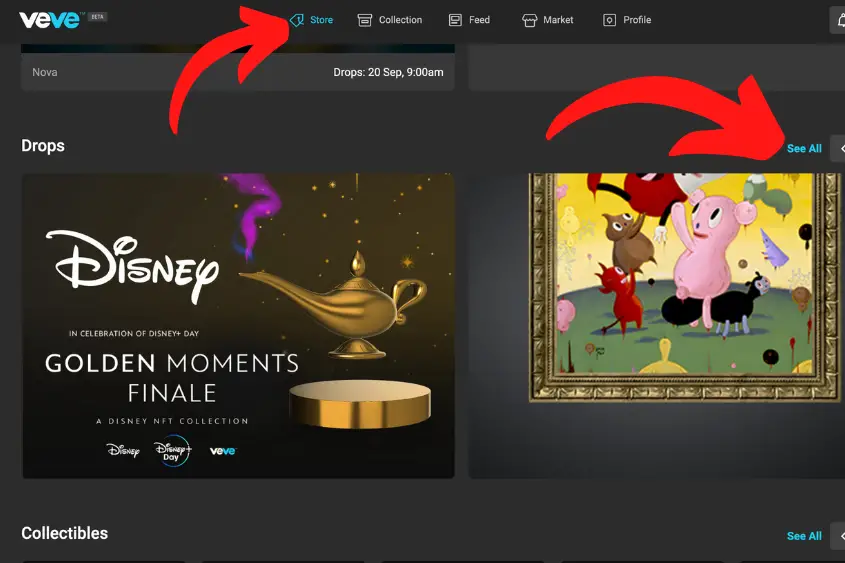 Note: The Disney NFT drops generally sell out in a matter of minutes.
As drop times gets closer, you want to be in the app and ready to buy. So, make sure you have enough GEMs and be ready to tap the buy button as soon as the drop is live.
If you aren't able to get an NFT when it drops, you can always purchase it on the Market after.
Just be aware that the prices are usually higher directly after a drop ends. 
So, you might want to wait a while to see if secondary prices drop before buying a collectible on the market directly after the initial drop ends.
6. View your Disney NFT under the Collection tab
After your purchase an NFT, you can view it under the Collection tab. You have several awesome and interactive options to view your digital collectibles including: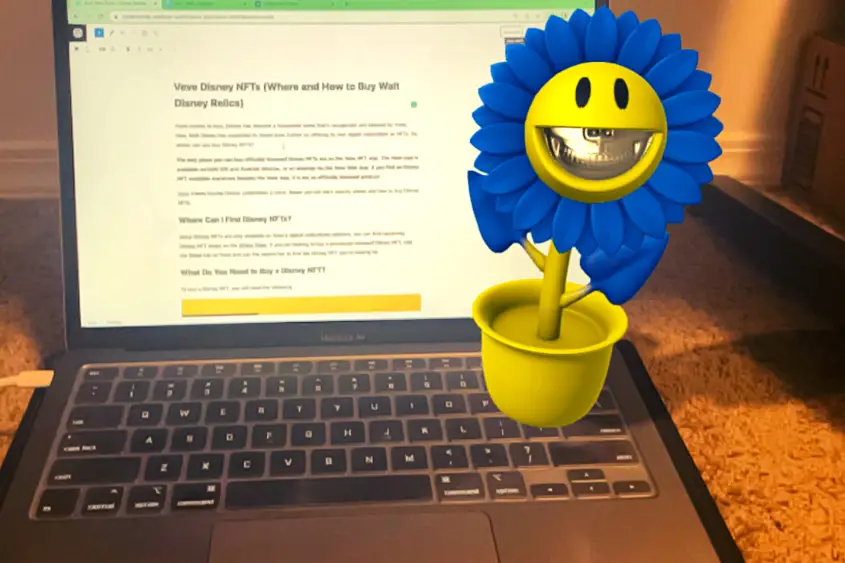 Your virtual vault
Augmented reality
On-screen
How to Sell Your Disney NFT
You can sell your Dinsey NFT on the Veve Market. To sell your NFT on Veve, follow the steps below.
1. Sign in to your Veve Profile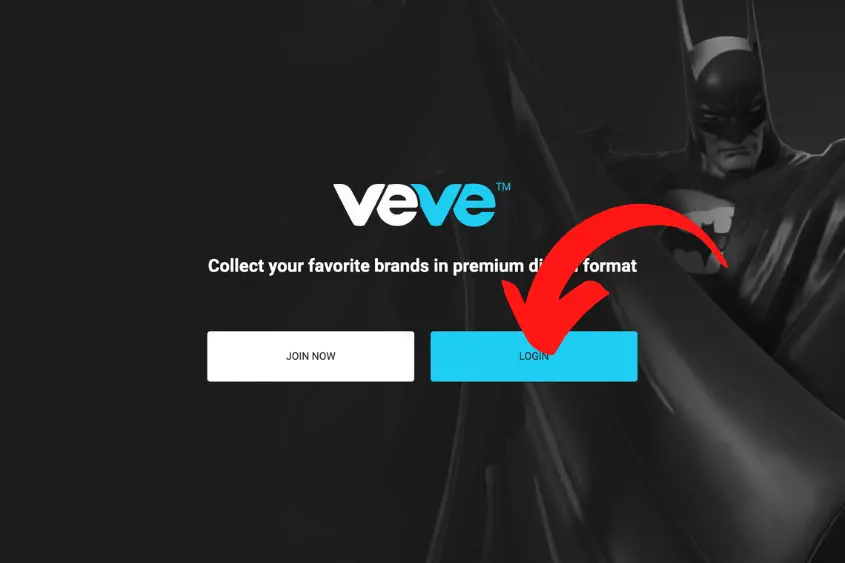 To get started, sign in to your Veve profile.
2. Go to your Collection tab and select the NFT you want to sell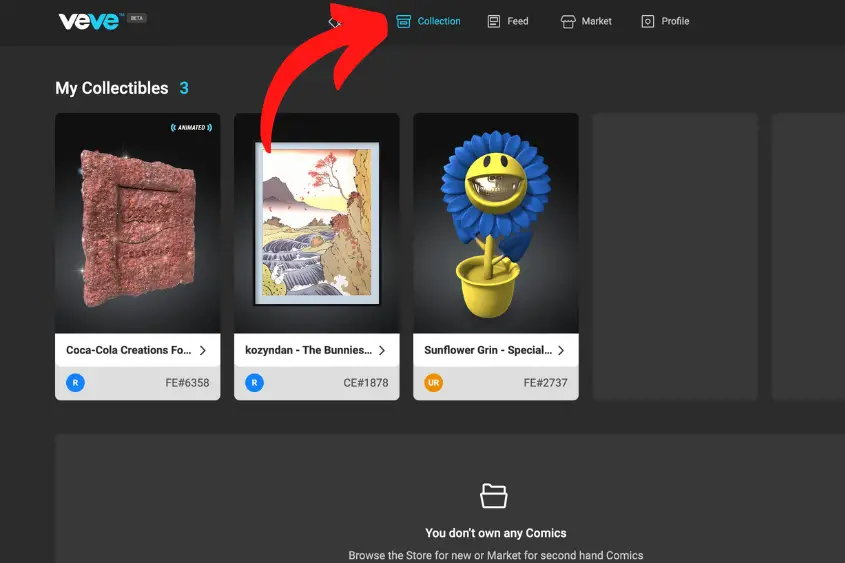 Once you're signed in, go to the Collection tab and choose the NFT you want to sell.
3. Tap the Sell button
After deciding which NFT you want to list for sale, tap the Sell in Market button.
4. List your Veve NFT for sale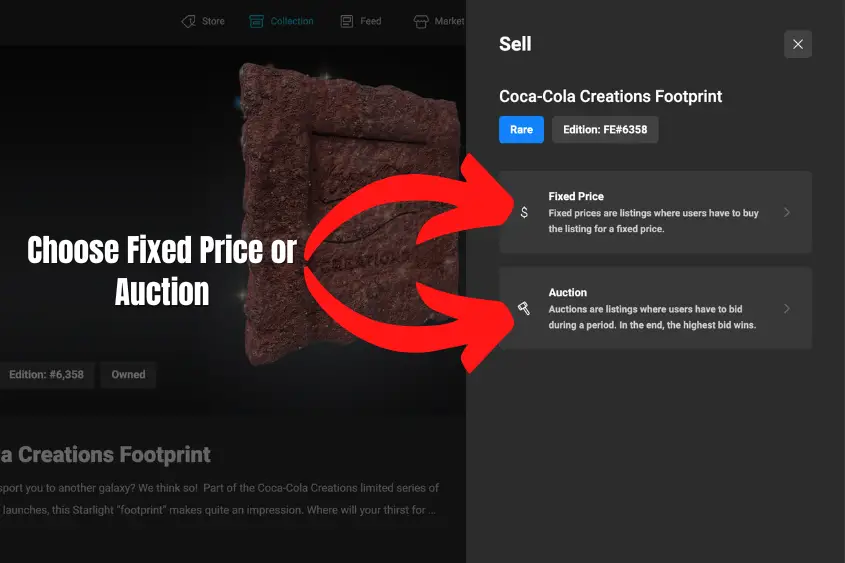 From here you can either choose to Sell at Auction or Sell for Buy Now Price.
Regardless of which listing option you choose, simply input the price you want to sell your NFT for and then hit Confirm Details.
Congratulations, you have officially listed your Disney NFT for sale!
How Much Do Disney NFTs Cost?
All Disney NFTs released on Veve cost on average 40 to 60 GEMs ($40 to $60 USD) at the time of drop. If you want the chance to save some money, check the Market for lower-priced collectibles after they drop. Be aware that some NFTs may increase in value (2-10x) their initial drop price.
To find out if an NFT on Veve has dropped or risen in value since its initial release date, follow the steps below: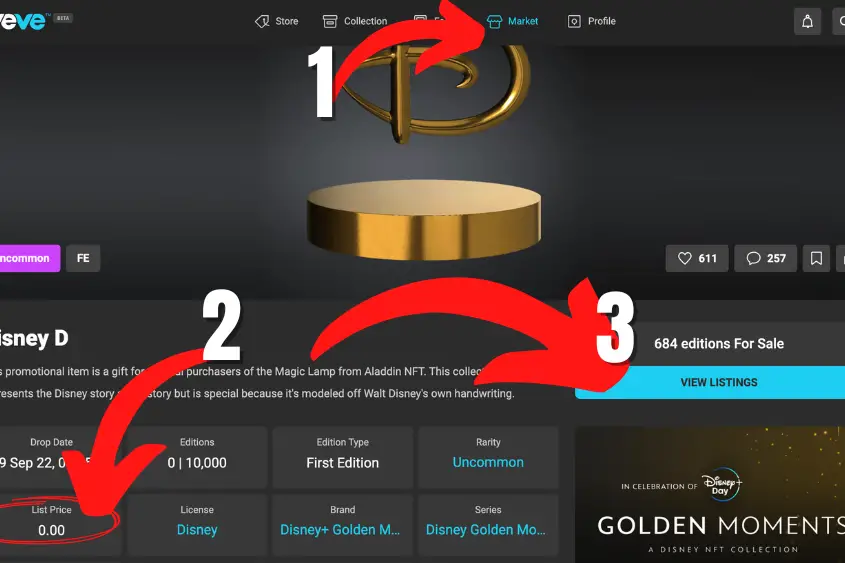 Search for an NFT on the Market
Tap on it to view the initial "List Price"
Open the "for sale in the Market" tab to view the current floor price
If the current floor price is lower than the list price, it has dropped in value. If the floor price is higher than the list price, it has increased in value.
Can I Buy Disney NFTs on Opensea?
Licensed Disney NFTs are only available for purchase on the Veve app. There's no other NFT platform that offers Disney NFTs. If you find a Disney NFT listed on another marketplace besides Veve, it is not authentic. However, Disney NFTs stay on the Veve app, they can't be traded elsewhere.
With that, Veve NFTs are supposedly going to be listed on the Immutable X marketplace at some point.
However, this has been years in the making. Once this happens, we will be sure to update this article with all the details.
But for now, you can only buy Disney NFTs on Veve.
Don't be fooled as anyone can create a collection on any marketplace and call it Veve. Always do your own research before making any moves.
Is Veve Partnered with Disney?
Disney and Veve officially partnered on October 27, 2021. Through this partnership, Disney has released numerous brand-centric digital collectible NFTs including Star Wars, Pixar, Marvel, and more. Veve remains Disney's only official partner in the NFT space.
How Many Disney NFTs Are There?
Here is a complete list of Disney NFTs that have been released.
| Disney NFT Collections | NFT Release Date |
| --- | --- |
| Golden Moments – The Simpsons | November 7, 2021 |
| Golden Moments – Walt Disney Animation Studios | November 8, 2021 |
| Golden Moments – Pixar | November 9, 2021 |
| Golden Moments – Marvel | November 10, 2021 |
| Goden Moments – Star Wars | November 11, 2021 |
| Golden Moments – Walt Disney & Mickey Mouse | Novemeber 12, 2021 |
| The Mickey Mouse Collection featuring: Steamboat Willie | December 22, 2021 |
| Mickey and Friends | January 29, 2022 |
| Golden Moments – Valentine's Day | February 14, 2022 |
| Pixar Pals | March 13, 2022 |
| Goleden Moments – Disney Duos | March 19, 2022 |
| The Mickey Mouse Collection featuring: Mickey Mouse in "THE BAND CONCERT" | April 2, 2022 |
| Disney Villains Series 1 | April 23, 2022 |
| Disney Stitch Collection | June 26, 2022 |
| Honk Kong Disneyland "Momentous" Series | July 18, 2022 |
| Disney & PIXAR's Lightyear: Alpha Suit Series | August 3, 2022 |
| Disney Princess Luminous Portrait Series | August 21, 2022 |
| Golden Moments – Finale | September 9, 2022 |
| Disney Mickey Mouse Collection — The Sorcerer's Apprentice Mickey | September 16, 2022 |
Complete list of Disney NFT Drops on Veve
Final Thoughts
If you are thinking about buying a Disney NFT, consider the following:
Officially licensed Disney NFTs can only be bought on Veve
You need a valid Govt issued ID and Proof of Address to complete the KYC verification process
You can't buy a Disney NFT without first going through KYC verification
You can only buy Veve NFTs using GEMs (you can buy GEMs using Apple Pay, Google Pay, your bank card, and PayPal)
Disney NFTs can only be sold and traded on the Veve platform