The Solana blockchain is recognized as the second most popular NFT network next to Ethereum. With that, NFT marketplaces like Magic Eden have become a huge hit. So, what is Magic Eden and how does it work?
Magic Eden (ME) is the most popular NFT marketplace on Solana. It enables users to buy, sell, trade, and create digital assets using its decentralized platform. There are no fees to list an NFT, but the platform does take 2% of all transactions. Moreover, creators get to set their own royalties.
If you want to learn more about Magic Eden, all of its features, and how to get started using this NFT marketplace, we've got you covered.
What Is Magic Eden?
Magic Eden is an NFT marketplace worth $1.6 billion and is considered to be the main rival of the most popular NFT marketplace on Ethereum, OpenSea. It's worth noting that Magic Eden announced it is expanding its platform to support ETH and Ethereum-based NFTs—making it a true competitor in the NFT market.
ME has gained popularity since it addressed the over-the-top cost and technical expertise needed to venture into the NFT ecosystem.
Many creators, collectors, and traders benefit from Magic Eden thanks to its reduced transaction fees and straightforward minting process. This has allowed collectors and creators who couldn't afford the high barrier to entry previously, to now flourish by leveraging NFT technology. 
Although Magic Eden had some technical issues early on, such as its initial choice to adopt an escrow-based trading model, Magic Eden's popularity has skyrocketed since its conception.
The Solana marketplace was founded on September 17, 2021, by Sidney Chang – Chief Technology Officer and former Uber Eat developer; Jack Lu, CEO and former FTX employee; Zhuoxin Yin – Chief Operating Officer and former Coinbase product manager; and Zhuojie Zhuo – Chief Engineer and former Facebook developer. 
While other NFT platforms are fixated on building on the Ethereum blockchain, one of Magic Eden's objectives is to make a community centric-platform.
With that vision, Magic Eden has fostered more than 340,000 Twitter followers and 85,000 Discord members and continues to lead the evolution of NFTs on the Solana network. 
What is Magic DAO?
Magic DAO is a platform and governance structure launched to allow users to interact and access exclusive events, engage, and make fundamental decisions to help expand Magic Eden's ecosystem. Magic Eden airdropped three different tiers of NFT memberships to users based on when they joined the platform and their level of interaction.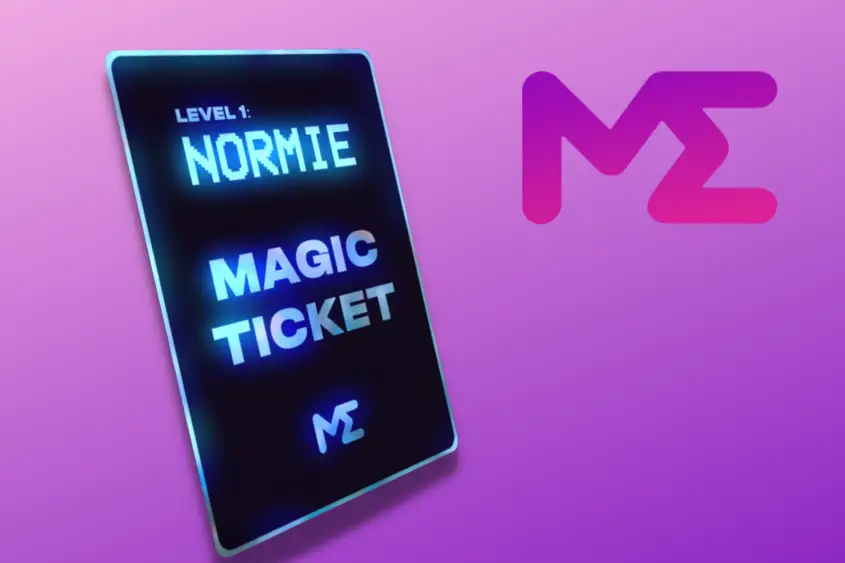 Each Magic Ticket grants holders access to the DAO, including the right to vote on various initiatives and proposals, as well as access to a gated channel on Magic Eden's Discord server.
There are three tiers of Magic Tickets that were airdropped to users:
Level 1: Normies – people who transacted on ME from Dec 19, 2021, onwards.
Level 2: Degens – people who transacted on ME between Oct 18 – Dec 18, 2021.
Level 3: OGs – people who transacted on ME from Sep 17 – Oct 17, 2021.
In total, Magic Eden airdropped 30,662 Magic Ticket NFTs to eligible users. 
If you weren't active on the marketplace at that time to be eligible for the drop, but you still want to join the Magic DAO, there's good news—you still can.
You can purchase a Magic Ticket NFT on the Magic Eden platform.
Magic Eden's Features
Magic Eden has become a favorite amongst Solana users because of its numerous features including the Magic Eden Marketplace, Insights, Launchpad, and Eden Games.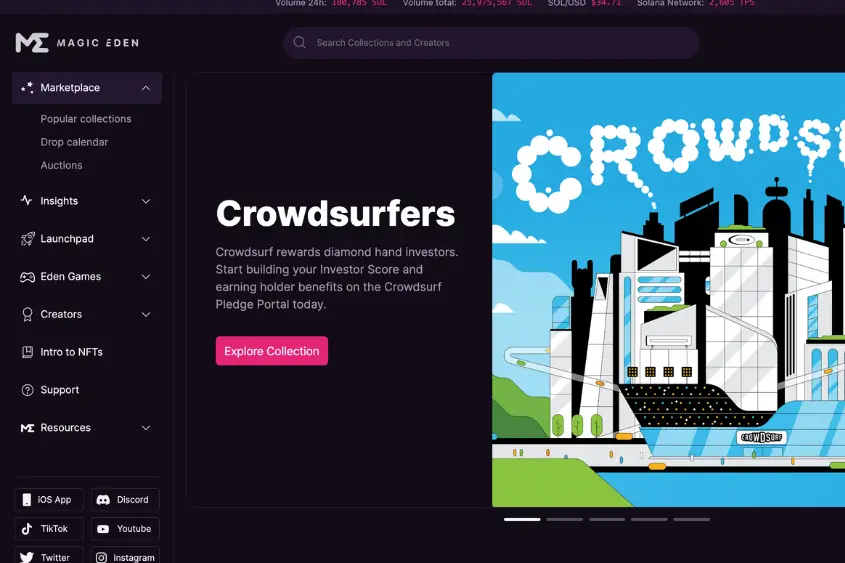 Let's take a look at all of Magic Eden's features.
Magic Eden Marketplace
Magic Eden's marketplace is where all the NFT trading occurs. That said, the marketplace itself has several tabs to help you navigate the platform and find the best assets.
Popular Collections
Magic Eden's Popular Collections allows users to see which NFT collections have been trending the most across the entire Solana network. From the looks of it, these popular collections are based on a mix of projects with high total trading volume, 24-hour volume, number of sales, as well as the current floor price.
What's more, Magic Eden is a platform for the world's most popular NFT collections like Okay Bears, Great Goats, or  DeGods on Solana.
Drop Calendar
The Drop Calendar lets you see upcoming NFT mints and their schedules through its in-house calendar. This is a handy feature for those who might have a lot on their plate and don't have the time to monitor NFT collections every day.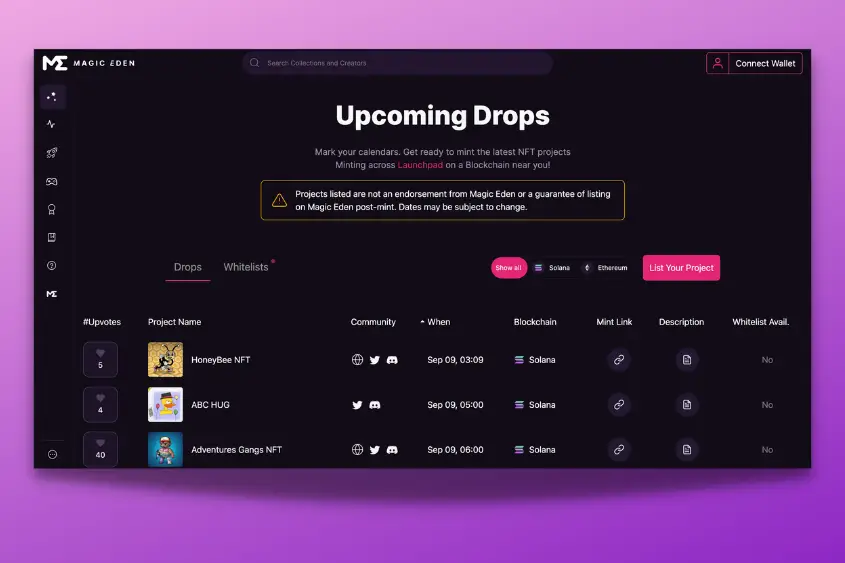 I believe this is one of Magic Eden's best features. Not only can you view various details of the projects themselves, but the calendar also provides you with links to their social media pages, the exact date and time of the drop, a link to the mint, as well as whitelist opportunities if applicable.
It's important to note that projects listed on the Drop Calendar are not endorsed by Magic Eden, nor do they guarantee to list the project post-mint. Also, dates are always subject to change.
Auctions
Magic Eden's Auction tab allows you to view both live and finished auctions. With that, you can see what the current bid is and what the final bid was before the auction ended. Additionally, you can place a bid if you find a digital asset that you like.
Magic Eden Insights
Besides the Marketplace itself, Magic Eden gives you a separate section where you can find up-to-date NFT market statistics. Listed under Insights you will find Stats and My Watchlist.
Stats
The Stats section provides you with all the data you need about numerous NFT projects and marketplaces that span Solana.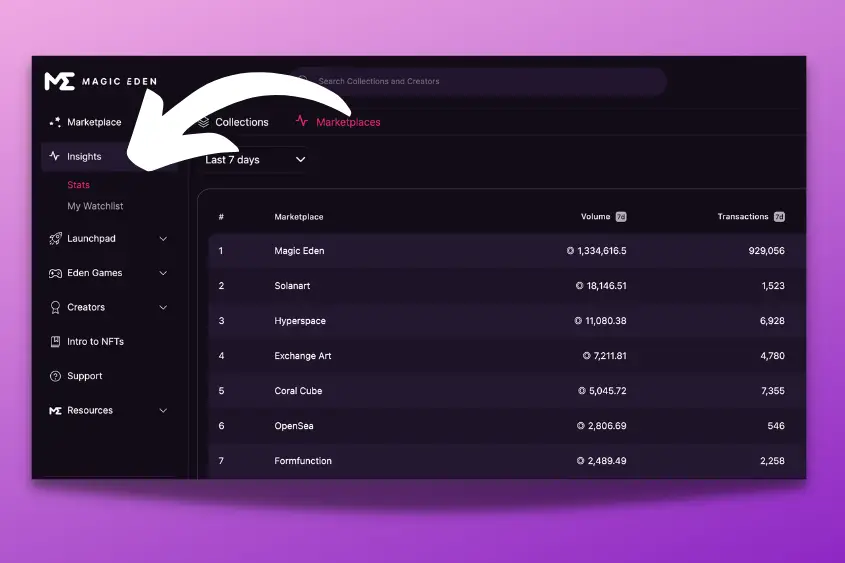 You can search for your favorite NFT project to review the sales volume, floor price, amount of owners, and total supply.
Furthermore, you also gain access to marketplace data. This allows you to view how well all of the Solana NFT marketplaces are performing. With this, you can view total marketplace volume, total transactions, and the number of active users for multiple marketplaces.
You can break it down even further by choosing to view the last 24 hours, last 7 days, and last 30 days numbers.
My Watchlist
The watchlist feature lets you easily monitor NFT projects that you find special. To use this feature, you have to connect your wallet. From there, you can add projects to your watchlist so that you can monitor them all in one place.
Magic Eden Launchpad
Magic Eden's Launchpad is an easy way to view live NFT drops, upcoming drops (with a countdown timer), and even free claims. Additionally, you can use the Launchpad to apply for your chance to launch your own NFT project on the Magic Eden Marketplace.
To apply for the Launchpad, you will need to fill out the Launchpad Submission Form. In general, Magic Eden is looking to work with unique, high-quality projects using the platform's Launchpad.
If you submit your application and don't hear back from ME within a few weeks, that doesn't mean you aren't still being considered. However, there's also no guarantee of placement.
Considering Magic Eden receives an overwhelming number of applications, they will not respond to everyone. You will only hear from them if they are interested in working with you to launch your NFT collection.
That being said, Magic Eden does encourage you to reapply if you have any project updates or additional details you'd like to share with them. But, only reapply at most, once per month.
If you decide to fill out a reapplication form, make sure to fill in the first field as follows: [RE-APPLY] followed by your project's name. Moreover, Magic Eden recommends that you add your project to their Drop Calendar and whitelist to enforce your application.
Eden Games
Eden Games has been launched as an associated platform with Magic Eden. Over 90% of Solana's gaming market accounts for this feature. Its purpose is to build larger support and audience by improving pre-existing games and launching new ones to create an environment where users come back more religiously.
So far, Magic Eden has launched over 35 games including Everseed, SkateX, DeFi Pirates, and more. If you're looking to launch your own game, Magic Eden provides the greatest reach, exposure, and tools you can use to launch your collection.
How Do I Use Magic Eden?
To use Magic Eden you need to get a Solana wallet in order to sign into the platform. If you plan on buying or selling NFTs, you will also need to load your wallet with $SOL—the native cryptocurrency of the Solana blockchain. From there, select Connect Wallet on the site's homepage to get started.
After connecting your Solana wallet, you can use all of the marketplace features. You can mint new NFTs, buy collectibles, add NFTs to your watchlist, and have some fun playing Eden Games.
How to Buy an NFT on Magic Eden
To buy an NFT on Magic Eden, follow these three simple steps below.
1. Connect your wallet
Go to Magic Eden's homepage and tap Connect Wallet. Assuming you already have your Solana wallet connected to the device you're using to browse the marketplace, Magic Eden should automatically detect it.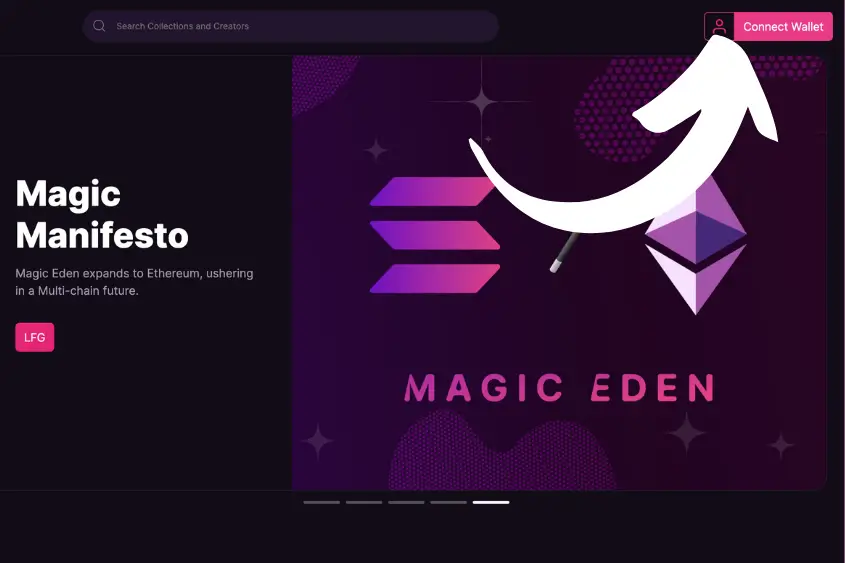 If it doesn't, select Show more options to choose your wallet. After you choose your wallet, you will be asked to verify the connection.
2. Browse the Marketplace
Once you have successfully connected your wallet, you can browse the marketplace. Remember that if you don't have some $SOL, you won't be able to make your purchase.
You can always find the NFT you want to buy, check the price, then load your wallet with that amount to make your purchase. That being said, make sure to load your wallet with a little extra $SOL than what the asking price is to cover any fees.
3. Purchase your Solana NFT
Once you find an NFT that you want to buy, simply select Quick Buy, or you can click on the NFT and use the Buy now button or Make an Offer if you want your shot at a lower price than what's listed.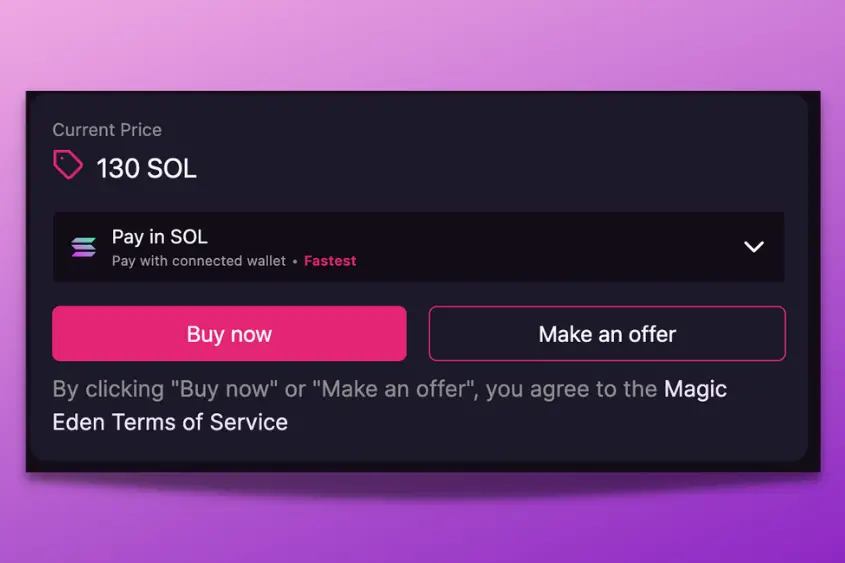 The seller has the right to accept or reject your offer. You can bid further or move on if your offer is rejected. But if it is accepted, you need to approve the transaction from your wallet once the process is finished.
How to sell an NFT on Magic Eden
Listing your NFT for sale on Magic Eden is simple. Follow these three steps below.
1. Connect your Solana Wallet to Magic Eden
Go to Magic Eden's homepage and choose Connect Wallet. Make sure you connect the wallet that contains the NFT you want to sell.
2. Choose which NFT you want to sell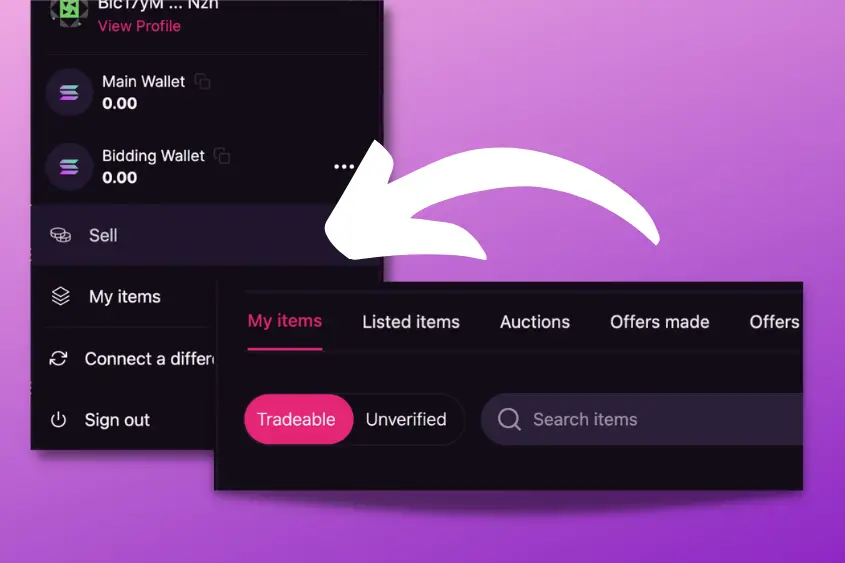 After connecting your wallet, click on your profile, then select Sell. This will bring up your inventory of Solana NFTs that you have stored in your wallet. Next, select the NFT that you want to sell. 
3. List your NFT
Once you choose which NFT you want to sell, you will be brought to the listing page. This page contains all the information you need to know to help list your NFT at the most effective price.
You can view your NFT's price history, historical activity, mint address, creator royalties, and transaction fee. Once you've determined the best price to list it for, enter it into the field. Finally, click List Now.
You will need a small amount of $SOL in your wallet to list your NFT. After confirming the transaction using your wallet, your NFT will be available for purchase on the marketplace. Once your item is listed, it will no longer appear in your wallet.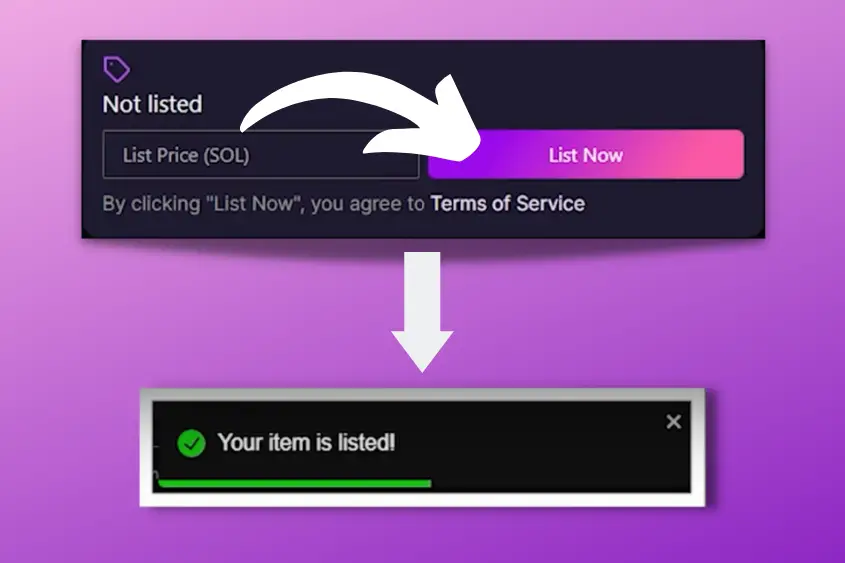 Rather, you will need to go back into your Sell tab to view your Listed items. From here, you can also cancel your listing, or copy the link to your listing to share on other platforms.
Once your NFT is sold, your $SOL will be automatically credited to your Solana wallet.
What Are the Fees on Magic Eden?
The only fee Magic Eden takes is 2% of all transactions. However, there is no listing or cancelation fee. Also, when you sell an NFT, the creator's royalties are deducted from the sale amount and sent to the creator. Royalty fees are set by the creator of the NFT, not Magic Eden, so this fee varies.
Ultimately, Magic Eden has minimal transaction fees. That said, it's always a good idea to have a small amount of $SOL in your wallet to pay for the 2% transaction fee and creator royalties.
What Crypto Is Used on Magic Eden?
Magic Eden supports SOL and ETH cryptocurrencies. Previously, the platform only accepted SOL. However, after integrating Ethereum NFTs, Magic Eden announced they would also be accepting ETH as a payment method. Notably, Magic Eden's primary blockchain still remains Solana.
Which Wallets Are Compatible with Magic Eden?
Magic Eden is compatible with numerous types of crypto wallets including hardware wallets.
Here are some wallets you can use on the Magic Eden NFT marketplace.
Phantom
Ledger 
Metamask
Sollet
Solflare 
Clover
Solong
MathWallet
Here is a complete list of wallets that are compatible with Magic Eden.
| Wallet | Blockchain | Type of Wallet |
| --- | --- | --- |
| Ledger | Ethereum, Solana | Hardware |
| Metamask | Ethereum | Software |
| Coinbase | Ethereum | Software |
| Phantom | Solana | Software |
| Slope | Solana | Software |
| Exodus | Solana | Software |
| Brave | Solana | Software |
| Backpack | Solana | Software |
| Solflare | Solana | Software |
| Sollet | Solana | Software |
| Sollet (Extension) | Solana | Software |
| Torus | Solana | Software |
| Clover | Solana | Software |
| Coin98 | Solana | Software |
| Solong | Solana | Software |
| MathWallet | Solana | Software |
| Glow | Solana | Software |
| Spot | Solana | Software |
| Bitkeep | Solana | Software |
Magic Eden compatible wallets
How to Connect a Phantom Wallet to Magic Eden
One of the most popular wallets used on Solana and the Magic Eden marketplace is the Phantom wallet. Here's how to connect your Phantom wallet to Magic Eden (the process is similar for most wallets).
1. On Magic Eden's homepage, select Connect Wallet
Go to Magic Eden's homepage and select Connect Wallet in the upper right corner. It should automatically detect your Phantom wallet.
2. Choose your Phantom Wallet
If Magic Eden doesn't automatically detect your Phantom wallet, be sure that the browser you're using has your Phantom wallet installed. Once detected, click on your wallet.
3. Approve the connection
Before your Phantom wallet can connect to Magic Eden, you will need to approve the connection using your wallet. Always double-check what you're approving when connecting your wallet.
Magic Eden should tell you exactly what it needs access to before you sign the confirmation. The platform should only need to:
View your wallet and balance activity
Request approval for transactions
If there is something that seems off when connecting your wallet to Magic Eden, double-check that you are on the official site. Otherwise, you risk being hacked.
After you confirm the transaction, you're Phantom wallet should be connected.
Is Magic Eden Safe?
Magic Eden is the safest NFT marketplace on Solana. The platform helps prevent scams by requiring creators to privately dox themselves by placing know-your-customer (KYC) requirements. As of now, Magic Eden has never been hacked.
I'd imagine that since Magic Eden continues to grow and implement new blockchains, their team is focused on security now more than ever. That's not to say that the platform couldn't be hacked.