Unstoppable Domains are becoming popular amongst NFT and crypto enthusiasts alike. With over 9 NFT domain endings to choose from such as .nft, .crypto, .blockchain, and more, there are many domain names to explore. But, what can you do with Unstoppable Domains?
Here's what you can do with an Unstoppable Domain:
Create an easy-to-read crypto wallet address.
Receive crypto and other digital assets.
Build a decentralized website.
Own your web3 identity. 
Anonymize and encrypt your email address.
Sell your NFT domain for a profit.
If you're new to the web3 space, you might not understand what this all means or how it can benefit you as an Unstoppable domain holder. But, don't worry. In this article, you'll learn exactly what you can do with your NFT domain and how it can benefit you.
What Can You Do With Unstoppable Domains?
Even though Unstoppable Domains is still in its infancy as a company, that doesn't mean that its domains don't already offer numerous use-cases.
Here's everything you can do with your Unstoppable Domains NFT.
1. Create an easy-to-read crypto wallet address
First and foremost, Unstoppable created its domains to replace your complicated crypto wallet address with an easy-to-read name.
Regardless of which blockchain you might be using, your wallet address probably reads like this: "0x0d0000D5DD5d000a0000cFae7C000a7f8A32100C."
Not only is this address nearly impossible to remember, but it's difficult to verify and easy to input incorrectly.
That means if you are sending someone money using your crypto wallet, you could easily mess up and send it to the wrong address.
And if you are someone who is receiving a crypto payment, it's just as nerve-racking.
But with Unstoppable Domains, it doesn't have to be.
When you own an Unstoppable domain, you can change your complicated wallet address into an address that's easy to remember, such as "Cyberscrilla.nft."
This eliminates any chances of sending digital assets to the wrong wallet address. By taking one more step towards securing your crypto funds from being lost, you can save yourself (and others) a lot of pain.
Since you can connect your blockchain domain to all of your wallet addresses, you don't need to worry about which token/coin you are receiving over which blockchain network. 
Unstoppable Domains support over 270 main-chain coins and thousands of tokens on popular public blockchains such as Ethereum (ERC-20), Binance (BEP-20, BEP-2), Solana, and more.
Not only that but you can also:
Send and receive NFTs to any Unstoppable domain.
Use a single domain to manage all of your crypto wallets in one place.
2. Build a decentralized website
Web3 is all about creating and owning your digital identity. With your Unstoppable domain, you can create your own decentralized website in minutes using their pre-made templates. 
Or if you're more tech-savvy, you can code your own site and publish it to the decentralized web using your Unstoppable domain. 
Moreover, if you already have a pre-existing website on a traditional domain (.com, .org, .net, etc.,) you can connect it to your Unstoppable domain to decentralize it—allowing it to be viewed using a decentralized web browser like Brave.
There aren't too many limits when it comes to creating your own website using your Unstoppable domain. 
However, it's important to note that decentralized domains are not yet supported by a majority of browsers, nor will they appear in Google Search results.
3. Own your web3 identity
Web3 is a relatively new technology still in its early phase. That said, mass adoption is likely years away.
But, you can still secure your web3 identity before everyone else by purchasing an Unstoppable domain.
Unlike traditional DNS domains and other decentralized domains like ENS, you actually own your Unstoppable domain forever once you purchase it.
And if you're wondering how you can "own" a domain, it's simple. All Unstoppable Domains are NFTs. That means once you purchase your domain, you mint (publish) it to the blockchain, where it remains yours indefinitely.
Furthermore, there are no renewal fees or gas fees to mint your NFT domain. Rather, you pay a one-time purchase fee and you own your domain forever.
Also, since your NFT domain is decentralized, it can't be censored or taken down by anyone. You remain in complete control over your domain name.
Imagine being able to secure a common name on Facebook back in 2005. This is the case with NFT domains nowadays. You can secure your name and create your brand before anyone else.
Technology has shown us that early adopters of new technologies are commonly rewarded generously.
For instance, Len Markidan was recruited in 2004 by Facebook for just having an @edu email address! 
Further, having your Unstoppable domain displayed in your wallet, your NFT collection, and any services you offer increases brand awareness. 
Imagine if every time someone has to pay for your services; they could simply send the payment to your branded address (yourbrand.wallet), instead of 42 random letters and numbers.
This ensures your brand's identity presence.
4. Anonymize and encrypt your email address
Unstoppable Domains provides you with an anonymized way to send emails while maintaining the privacy of your personal email address.
Every Unstoppable domain comes with a free "@ud.me" address you can use with your personal email (Gmail, Outlook, etc.) or with Skiff, an end-to-end encrypted inbox. 
If you choose to enable your ud.me email using your personal email address, all emails sent to your UD address will be forwarded to your personal email. 
This allows you to maintain the privacy of your personal email address while still being able to send and receive messages and sign up for various platforms, without giving out your personal email address.
For example, since I own cyberscrilla.nft, I am able to link this domain to my personal email account.
Now if I want to give someone my email address, I can provide them with cyberscrilla.nft@ud.me, instead of my personal account.
Also, when I reply to an email, it shows my UD email rather than my personal email—ensuring it remains private.
5. Sell your NFT domain for a profit
Since all Unstoppable domains are NFTs, you can sell them just like you sell any other NFT. And if you are able to find those hidden gems, you have the potential to make a nice profit.
Similarly to the domain name speculation that occurred in the early 2000s, NFT domains are going through a similar phase.
Basically, there is potential to identify and mint (register) NFT domain names as an investment with the intent of selling them later for a profit.
We've already seen this with ENS domains, and some Unstoppable Domains such as "sex.crypto", which sold for 230 ETH (about $90,000) in 2020.
If you have some extra money to spend and you think you have an eye for finding unique blockchain domains, this could be a good option for you.
Of course, always do your own research before deciding to spend one cent of your hard-earned money.
Should I Buy an Unstoppable Domain?
Securing your Unstoppable domain now comes with a lot of benefits.
Here are some of the main reasons you might want to consider buying an Unstoppable domain.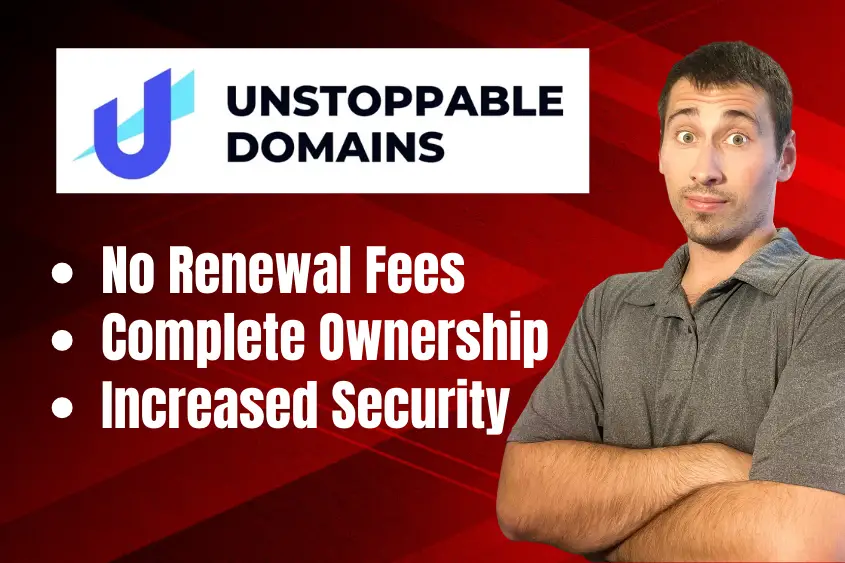 No Renewal Fees 
Traditional DNS domains and modern NFT domains like ENS are great, but they come with renewal fees. Not only can these fees be expensive, but you risk losing your domain name if you forget to renew it.
With Unstoppable Domains, you don't have to worry about renewal fees. You pay a one-time fee for a lifetime of ownership.
This allows you to focus on building your brand and your domain into something worth sharing, and not have to worry about when the next renewal fee is due or how much it's going to cost you.
Complete Ownership
Domain providers don't give you ownership of a domain. Rather, they rent you the domain name for a specified amount of time.
Personally, this makes little sense, especially if your domain name is your brand name.
Unstoppable Domains is the only domain provider that gives you outright ownership of your domain name and complete control over what you do with it. 
They can't revoke it or demand that you pay renewal fees. Once you buy it, it's yours forever or until you decide to sell it.
That said, the only other way you could lose possession of your domain is if the wallet you store it in was hacked. 
Before purchasing an Unstoppable domain, I recommend learning how to securely store your NFTs so that this doesn't happen to you.
Security 
In web 2.0, you have multiple passwords and usernames that you use for various platforms and websites. 
This can get confusing and still doesn't ensure your security as your domain service providers can access your data.
With web3, dApps and decentralized websites require you to use your web3 wallet to sign in (depending on the blockchain the platform is built upon). 
Using your Unstoppable domain, you can connect all of your wallets so that you only need one domain name to sign in, regardless of which blockchain you're using.
To be completely transparent, however, not all platforms accept Unstoppable Domains to sign in. But, that doesn't mean that a majority of platforms won't accept them in the future.
To further enhance security, you can also use Unstoppable Domain's humanity check. This check enables verification of information anonymously while maintaining your privacy. 
Since web3 is trustless, it excels at providing anonymity without compromising your privacy and security.
How to Buy an Unstoppable Domain
If you decide that you want to buy your own Unstoppable domain, follow these four simple steps below.
1. Search for your Unstoppable domain name
First, head over to Unstoppable Domains' website to search for your domain. You'll notice that there are numerous domain endings (TLDs) to choose from (.nft, .crypto, .x, etc.). All the endings provide you with the same functionalities. However, the domain endings can all be utilized differently depending on your goals.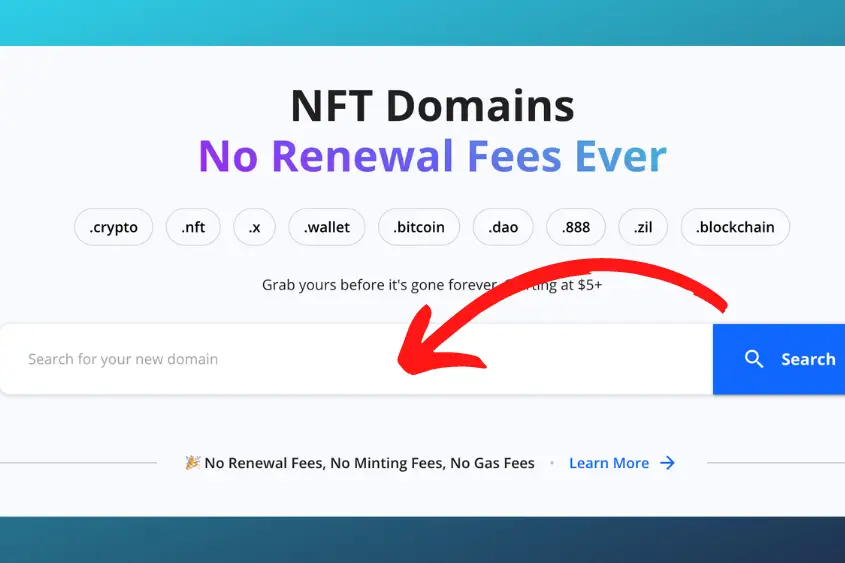 After you decide which domain ending you want, enter your desired domain name into the search box. From there, you will be directed to the purchasing page.
2. Buy your Unstoppable domain
Once you have confirmed that the domain you want is available and the price is acceptable, you can buy your domain. Generally, Unstoppable will display the same domain name with different ending options in case you want to purchase a variety of endings for that same name.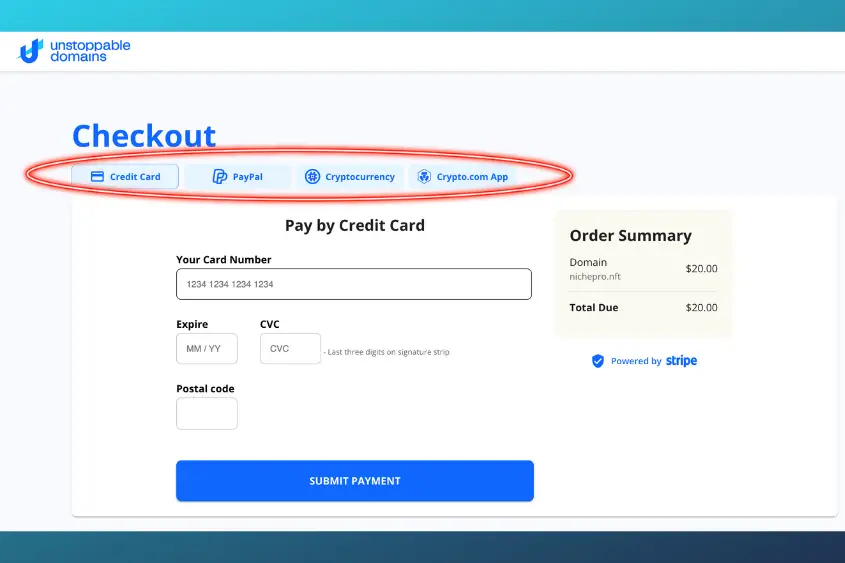 Currently, there are four payment methods to choose from:
Credit card
Paypal
Crypto (BTC, BCH, ETH, DAI, LTC, USDC)
Crypto.com pay
If you are sending your payment from a crypto exchange like Coinbase, make sure you send enough to cover the fees implemented by the exchange. These fees are typically only a couple of dollars. You can preview the transaction before sending it to know exactly how much the exchange fee will be.
3. Connect your wallet to your account
You can buy your NFT domain name without connecting your web3 wallet. However, if you want to mint your domain, you will need to connect your wallet.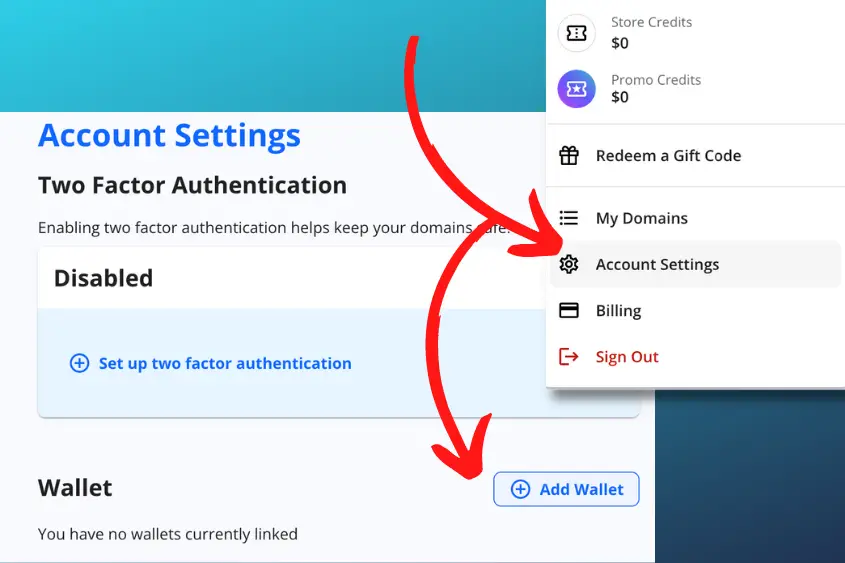 To connect your wallet:
Go to your Account Setting, and choose Add Wallet.
Sign the transaction using your wallet to connect it to the Unstoppable Domains website.
If you don't have a wallet, I recommend using Coinbase Wallet to get started. That being said, you should learn how to properly store your NFTs for maximum safety before buying one. Otherwise, you risk losing your NFTs to hackers and scammers.
4. Mint your Unstoppable domain
Your domain is not functional until you mint it. After you purchase your domain, it will appear under the My Domains section of your profile. This is where you will go to officially mint your NFT to the blockchain.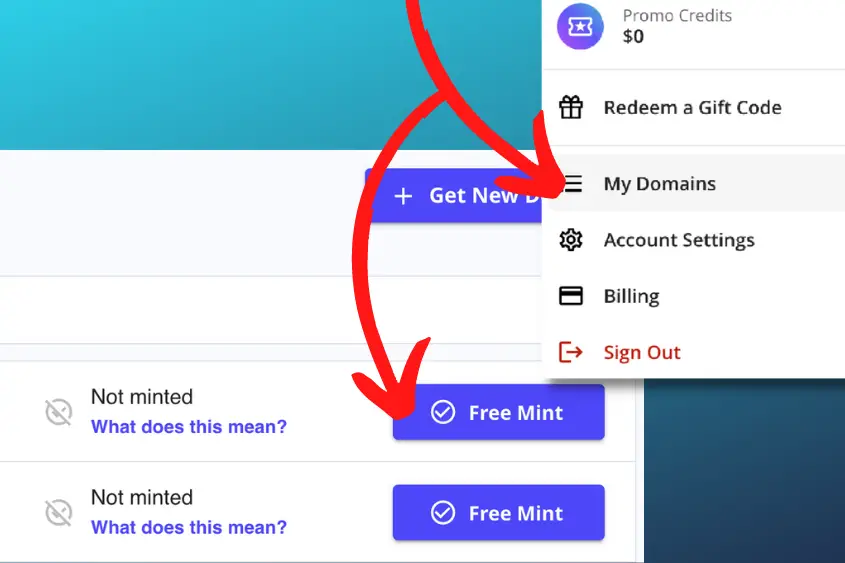 Follow these steps to mint your domain:
Go to My Domains
Click, Free Mint
Enter your 2FA verification code
Connect your wallet
Confirm and sign the transaction
Final thoughts
Unstoppable Domains aren't just another domain name. With Unstoppable's NFT domains, you can make your crypto wallet address easy to read, receive crypto and other digital assets, build your own decentralized website, anonymize your email, sell your domain for a profit, and ultimately own your online identity.