As VeeCon 2023 swiftly approaches, you might find yourself scrambling to prepare to take full advantage of this multi-day super conference. Fortunately, last year's attendees, including myself, were able to learn a lot from VeeCon 2022.
So the community and I teamed up to gather all of our best tips to prepare for VeeCon 2023! We are riding! Let's get into it!
If you don't like reading then you can listen to these tips below, on Spotify. Want to learn more about VeeCon 2023? Check out our complete guide.
28 Tips to Help You Thrive at VeeCon 2023
Pack appropriately
Ensuring you're prepared for VeeCon starts before you even head out to the event. Packing everything you need will make the conference that much better and stress-free.
Here is a list of things you might want to pack for VeeCon:
Empty water bottle
Comfy clothes and shoes
A light rain jacket
External microphone for your phone
A portable phone charger
Any marketing material you might want to hand out
Eat breakfast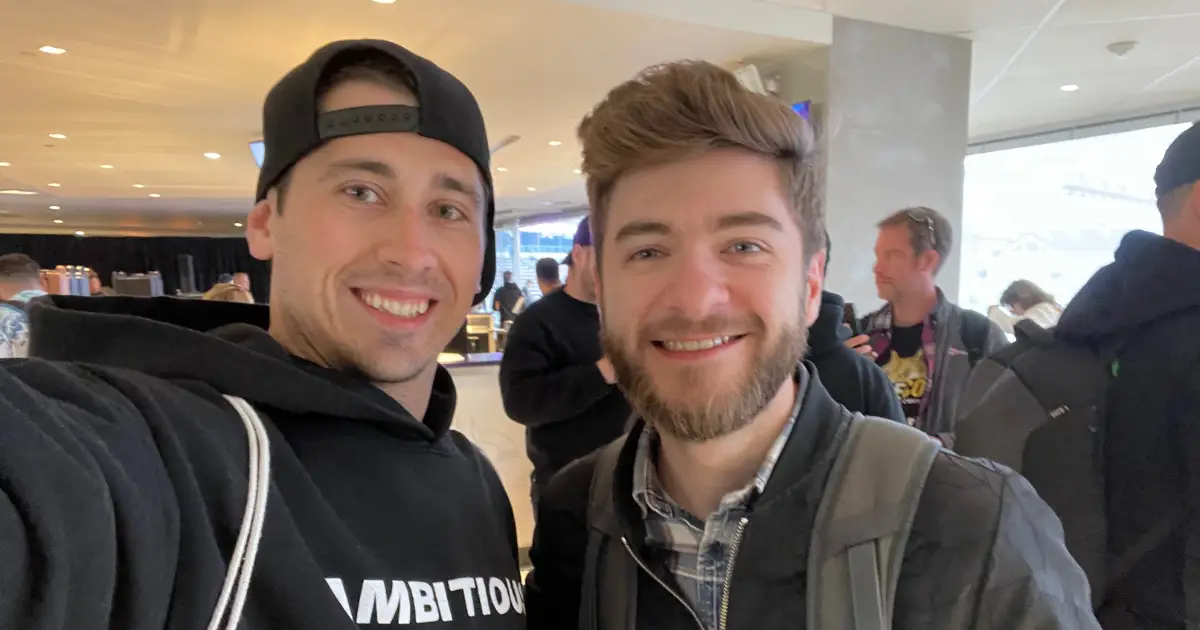 Everyone knows breakfast is the most important meal of the day. Eating a light breakfast will give you the energy you need to thrive at VeeCon.
That said, breakfast is likely included in your hotel stay. If you can, I recommend taking advantage of eating at your hotel since you paid for it.
Although there were breakfast options at VeeCon last year, they were somewhat limited. And if you're in the back of the entry line you risk missing it. 
The only reason you might want to skip eating breakfast at your hotel is if they serve it too late. If that's the case, you can take your chance at grabbing breakfast inside the stadium or grabbing a quick bite to eat on the way in.
Clean up your phone
If you plan on snapping a lot of pictures and recording videos using your phone, you might want to clean up your device.
I have thousands of random images and videos I need to delete before VeeCon so that I have room for new media. If this sounds like you, freeing up some space ahead of time means you won't have to do it at VeeCon.
It would suck to try and capture an important moment just to have your phone tell you "Sorry. I'm full". I know I can't be the only one whose phone is running out of storage.
Arrive early each day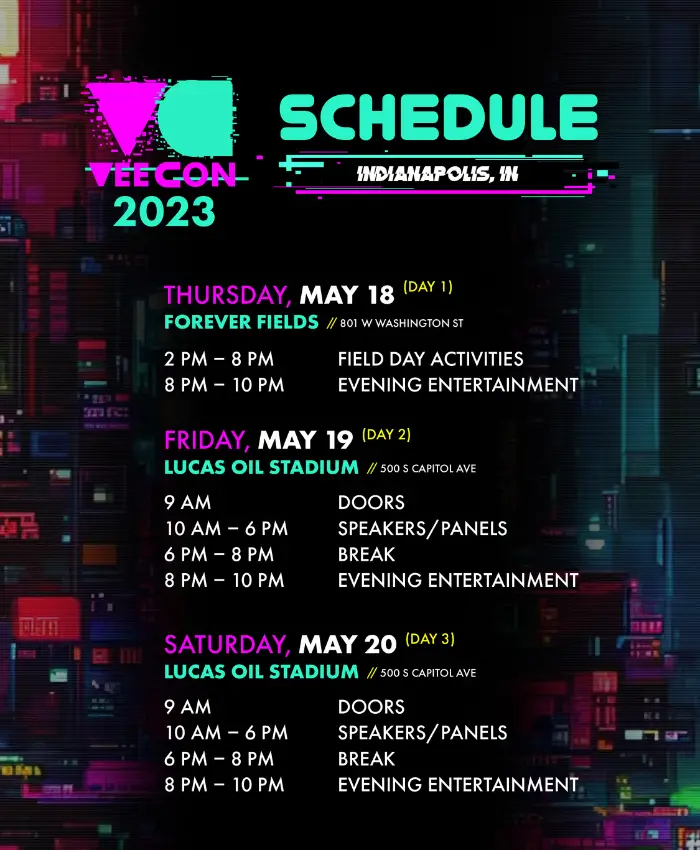 If the entry process is anything like last year you'll want to show up hours ahead of the entry time. 
Front of the line. Plan to show up at least 3-4 hours before doors open.
Middle of the line. Show up at least 2-3 hours before doors open.
End of line. 30 min-2 hours before doors open.
Once the doors open it'll take about 1 hour to get everyone in. Thus if you don't want to wait at all, you can show up an hour after the doors open so the line has time to go down. 
Of course, these times are estimates based on what I witnessed last year. It's possible VeeCon has a more efficient entry process this year.
Utilize the VeeCon App
The VeeCon mobile app is your best friend when it comes to planning your day effectively. Also, it's excellent for grabbing contact details from other attendees.
The app will have a map of the stadium, the list of speakers, as well as the times, areas, and topics for each speaker.
I recommend planning each day, one day in advance. That way you know exactly where you need to be and at what time.
Plus, you can use the app to scan other attendees' QR codes to quickly collect their contact details. Each contact will be stored in the app. You can also download any contacts you gather straight to your phone. 
The VeeCon app is available to download on the App Store and Google Play.
Meet Gary Vee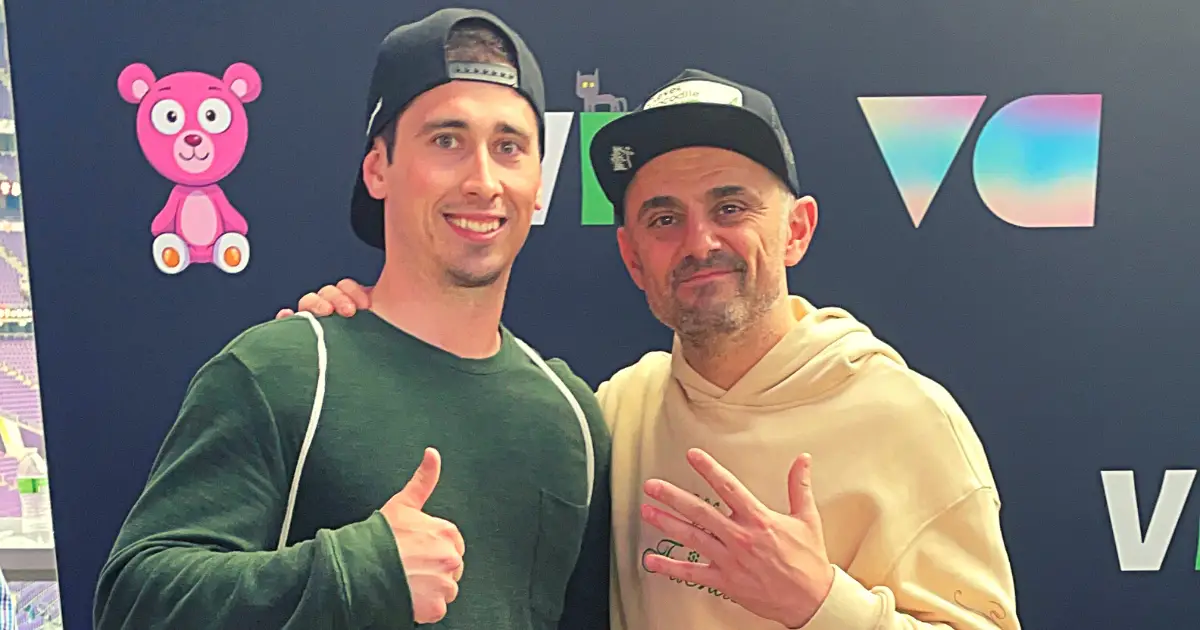 If you've never met Gary Vee in person, this is your chance! Last year Gary spent hours meeting everyone. Sure, you'll have to wait in line for a few hours but it's more than worth it.
I met Gary last year and was able to give him a hug, take a picture with him (plus a quick video), and have a brief chat. It goes by quickly. But the memories last a lifetime.
If you want to meet him you will have to line up at the designated spot. The spot will likely change each day and should be announced over the loudspeakers. 
Again, make sure to show up at least a couple of hours early to get a good spot in line.
Break the Ice
This one is for all you introverts attending VeeCon (myself included). It can be hard getting out of your comfort zone. Especially if you don't do it often.
However, last year I realized everyone at VeeCon is extremely nice and easy to talk to. My advice for breaking the ice is simple—just say "hi".
If you need to expand beyond a simple introduction, here are some other icebreakers I used last year that worked well.
Where are you from?
How are you enjoying VeeCon?
Do you own any VeeFriends NFTs?
Which speaker are you looking forward to listening to?
What topic are you most excited to learn about?
Can I get your contact information?
The list goes on. These simple questions can quickly develop into deeper conversations. So sit back, relax, and enjoy the discussion.
Listen to new speakers and topics
It's tempting to listen to speakers you're familiar with and about topics you know something about. 
And don't get me wrong, you should.
However, I believe there's value in listening to people you're unfamiliar with and topics you know nothing about. Who knows? You might just discover a new passion, hobby, or cool opportunity.
Create content
If there's one place where you should create content—it's VeeCon. Every second is an opportunity to create a piece of content.
Take a picture, record a video, and take notes. These are all ways you can easily make a piece of content.
The best part is that you don't even need to post it while you're at VeeCon. You can probably gather enough material to create content for an entire year after the conference is over.
Here are some tips to step up your content creation game:
Interview people (video and/or written interviews)
Collect contact details to later invite guests onto your podcast
Consider being in other attendee's content
Don't think. Just create
Attend some satellite events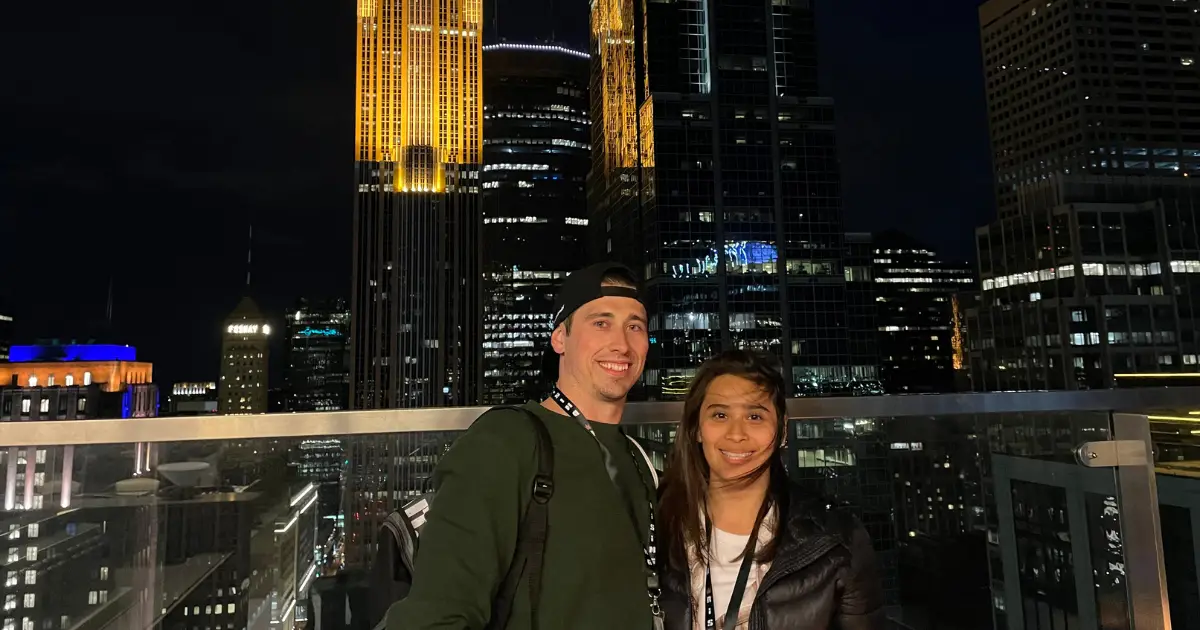 VeeCon isn't the only event going down in Indianapolis May 18-20. There will be numerous events transpiring outside of the conference—generally into the evening as the conference comes to an end for the night.
You can view a list of unaffiliated satellite events using this Airtable link provided by community members @thisismycrypto3 and @DomRouz.
However, not every exterior event will be on this list. Last year I got invited to a penthouse networking event that included free food, drinks, and a ton of nice people.
Can you guess how I discovered this event? It wasn't on any list…
You have got to talk to people. That's how you'll learn about most of the events happening outside of VeeCon.
Get plenty of rest
It's only right that I make this the next tip after telling you to stay out late "networking". Plain and simple, you need to get rest.
You don't want to be walking around the stadium like a zombie. To make the most out of your day, you'll need a good night's rest.
That said, if you do go to any satellite events, maybe choose one or two events to attend for the night. Or go to several events but limit the amount of time you spend at each one.
Remember, VeeCon starts at 9 AM each day.
Plan your transportation
I know. Most of the hotels where we're all staying are within walking distance of the Lucas Oil Stadium where VeeCon takes place.
But if you're like me, perhaps you're not staying as close to the stadium as others. Thus you should plan your transportation accordingly.
Indianapolis has plenty of affordable transportation options to choose from. Ride-share services like Uber and Lyft are abundant, and their public transportation, IndyGO, is robust.
A one-way bus pass only costs $1.75. Or you can fork over $4 for an all-day pass. The bus runs from 5 AM to Midnight, so you can use it to get to and from the event.
For me, I'll be putting some miles on my walking shoes. Nothing like a brisk morning walk to get your blood pumping for an action-packed day at VeeCon!
Adhere to VeeCon's "dress code"
To be clear, VeeCon does not technically have a dress code. However, there are some basic rules you must adhere to:
The absence of clothing or costume is not itself a costume.
Nudity is not allowed at VeeCon—all costumed attendees are required to have opaque fabric of some type providing complete coverage of breasts, genitals, and buttocks.
Opaque bodysuits that simulate nudity are not allowed.
Costumes must not contain words or images that are racist, obscene, or derogatory.
Fake weapons such as knives, guns, whips, etc. are not allowed.
Costumes or props that incorporate chemical special effects are prohibited.
Costumes may not interfere with other fans' sightlines.
Full-face masks will need to be removed during the check-in process while entering the event.

These guidelines were taken directly from VeeCon's FAQ page.
Know the stadium restrictions
As for what you can and can't bring into the stadium, here's a list of things you can't bring:
No outside food or drinks
Suitcases and bags larger than the standard backpack size of 22" x 14" x 9"
Aerosol Cans
Animals (except certified service animals) 
Bottles, cans, glass, jugs 
Costumes that do not follow the Costume Policy 
Drones or other flying objects or equipment
Horns, bells, whistles, bullhorns, megaphones, klaxons, boom boxes, and/or other noisemakers 
Illegal items, drugs, substances, paraphernalia 
Poles/sticks of any kind 
Propaganda material, non-approve marketing material, flyers, etc
Selfie Sticks, tripods, monopods, or other camera accessories 
Smoking, e-vapes, cigarettes, cigars, etc. 
Video cameras or other cameras deemed of professional quality (as outlined in the VeeCon Attendees Press Photo & Video Policies) 
Weapons (guns, knives, etc..) or fireworks
Have everything you need to enter VeeCon
Make sure to show up to VeeCon with everything you need. Otherwise, you won't be able to enter.
Here's what you need:
A VeeFriends account
A VeeCon NFT Ticket (registered to your name)
A government-issued photo ID (passport, driver's license, state ID, school ID) to verify your identity matches your VeeCon ticket on the app
Decide where to eat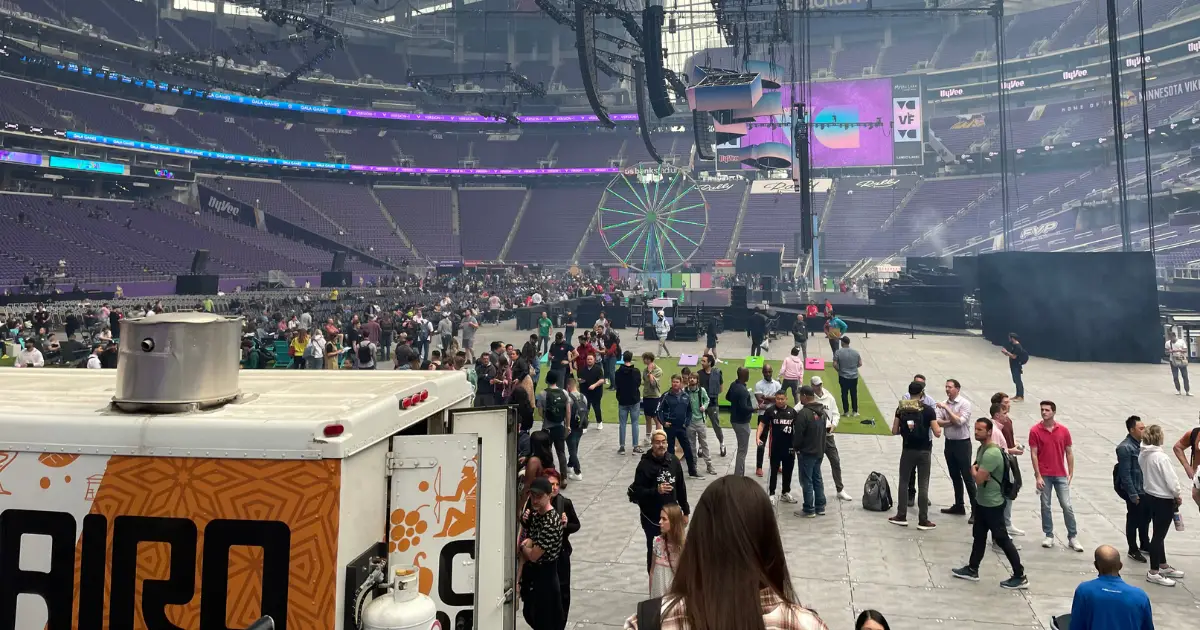 Last year, VeeCon did a great job providing a variety of foods including healthy and gluten-free options. So I definitely recommend trying some out.
On the flip side, that's not to say that you shouldn't try some local cuisine as well. Downtown Indianapolis is recognized as one of "America's Favorite Food Cities" along with being a "Top Five Best Beer City", so be sure to check out some of Indy's best breweries.
Furthermore, you'll support the locals since over 80% of restaurants in downtown Indianapolis are locally owned and operated.
Tips From the Community
This list wouldn't be complete if we didn't get tips for attending VeeCon from other members of the community. These tips were pulled from comments on Twitter and Instagram. 
There are some nuggets in here, so pay close attention.
Don't drink too much
Our first tip comes from @chef_lizette on Twitter: "Don't drink too much. It will ruin your entire trip. As a professional event planner, I have witnessed too many mistakes people make at conferences."
Definitely a great tip. Drinking can be fun, but drinking too much can ruin your day.
Plan to go to very few talks
This tip comes from @Zaconolive: "Plan to go to very few talks. I forgot what most people talked about but remember many interactions. Also, it can be impossible to make it from stage to stage."
I confirmed with Zac that he means prioritizing networking over listening to every speaker is a good use of time. The personal interactions you have with people at VeeCon can be more memorable than listening to the speakers.
He's right. But, I think a good mix of networking and attending the talks is a good approach. 
Maybe don't go to every talk, but definitely listen to some of the speakers as they provide a lot of value by sharing expert opinions and personal experiences.
Let your guard down
@BakedApeT says: "Let your guard down, say hi, and make that new greeting. Not everyone will be an instant friend, but open that door with everyone you have the chance with."
100 percent! Letting your guard down is key to meeting new friends and making connections at VeeCon. This goes back to breaking the ice.
You never know what's to come from a new relationship you form. It might be years later when something finally comes of it. And that's perfectly okay.
Dress comfortably 
@imgodsbeloved suggests, "Dress comfortably, wear good shoes, and definitely bring a portable battery for your phone."
Yes! Being prepared will make VeeCon that much more enjoyable. Since you'll be walking and standing a lot, comfortable clothes and footwear are a must.
Also, there will be charging stations in the stadium. But when you're under the same roof with thousands of content creators, it can be tough finding an open station. Thus a portable phone charger is recommended.
Go with the flow
"Go with the flow" is @DumontPrice's tip to make the most of VeeCon. To be honest, I couldn't agree more.
You don't have to show up to VeeCon with any crazy expectations of yourself or others. Simply showing up to the event is enough. Everything else is an added bonus.
Just go with the flow and see what happens. You might be pleasantly surprised…
Meet everyone you can
@TwentyAfterIV says, "Meet everyone you possibly can". This simple tip is really important.
Think about it. You're under the same roof with thousands of other individuals with different backgrounds and experiences. Take advantage of it!
A simple "hello" can go a long way. Whether you're standing in line or sitting down relaxing, say hello to the person next to you.
55 VeeCon tips in 55 days
This isn't a single tip. Rather, @VeeFamSessions is doing 55 VeeCon tips in 55 days. If you want a new tip every day, make sure to follow this account on Twitter for some unique tips not found in this article.
Know what you want
My great friend @b3nwong says, "Know what you want, talk to speakers, meet Gary, meet new friends, and hone in."
This is one of my favorite tips. Specifically, knowing what you want and honing in. As I mentioned earlier, you don't need to have crazy expectations for yourself.
That's not to say don't set goals. By knowing what you want, you can plan how you're going to achieve your goals.
Maybe you want to gather 10 new contacts per day or say hello to 20 new individuals every day, perhaps you want to make 5 pieces of content each day.
Whatever it is that you want—set a goal and work to achieve success. Great tip Ben!
Learn, learn, learn
@UzairOsman2 says, "Learn, learn, learn". And Uzair is right. With over 150 speakers who are CEOs, COOs, entrepreneurs, and operators themselves, what better place to learn something new?
Take advantage of this unique opportunity. I know I will.
Say hello to people you don't know
@TheEricMuellerShow recommends, "Say hello to people you don't know, often." This seems to be one of our top tips for thriving at VeeCon.
Many of us are great at saying hello and interacting with strangers on Twitter, so why not do the same in person?  The opportunities can be even greater.
Stay hydrated and rest well
Both @HappyCrab55 and @TravisAllenHall said, "Stay hydrated and get your rest" and "HYDRATE".
Obviously, staying hydrated is important. Not only for your health but to function properly. With so much going on at VeeCon, it's easy to forget to drink water (or whatever you fancy).
I suggest taking a sip every 20 minutes or so, that way it's on the top of your mind. Don't worry, there are plenty of restrooms available in the stadium.
Hopefully, these tips will help you thrive and make the most of VeeCon 2023! See you there.