VeeCon is back and it's one of the most anticipated Web3 events of 2023! Last year's event had a huge turnout hosting nearly 7,000 attendees plus hundreds of speakers, plenty of games, food, vendors, and even a Ferris wheel!
VeeCon 2023 is set to be even bigger, better, and more organized. So, are you planning to attend this year's conference? If so, this is the one and only guide you need!
What Is VeeCon?
VeeCon is a multi-day superconference hosted by Gary Vaynerchuk. The conference features discussions and performances from iconic and emerging leaders in Web3, Business, and Popular Culture. The only way to attend VeeCon is by owning a VeeCon NFT ticket.
If you're looking to attend "THE" Web3 event of the year, VeeCon is it. Whether you're a complete beginner or even an expert, VeeCon is an event catered to people with all levels of experience.
Not only are you bound to learn something new, but you're guaranteed to make new friends, discover countless opportunities, and have a blast while doing it. And knowing Gary, there are sure to be a couple of surprises as well.
When and Where Is VeeCon 2023?
VeeCon 2023 is in Indianapolis, IN from May 18, 2023, to May 20, 2023. Day 1 begins at 1 PM at the TCU Amphitheater at White River State Park. Day 2 kicks off at 9 AM at the Lucas Oil Stadium until the evening. Day 3 begins at 9 AM, also at the Lucas Oil Stadium lasting into the evening.
VeeCon Schedule Details (All Times Are EST)
May 18th | Doors 1 PM | TCU Amphitheater at White River State Park

VeeCon Field Day!
Opening Night Concert

May 19th  | Doors 9 AM | Lucas Oil Stadium

Speakers & Activations
Evening Entertainment

May 20th  | Doors 9 AM | Lucas Oil Stadium

Speakers & Activations
Evening Entertainment
Who Will Be Speaking and Performing at VeeCon 2023?
There will be over a hundred keynote speakers, educational discussions, panels, and interviews, along with A-list entertainment throughout the three-day event. Below is a current list of speakers and performers attending Veecon 2023.
Speakers
Andy8052, Founder of Tessera
Steven Bartlett, Entrepreneur, Author, Host of "The Diary of a CEO"
Sara Baumann, Artist and Founder of Women and Weapons
Tom Bilyeu, CEO of Impact Theory
Scooter Braun, Founder of SB Projects, CEO of HYBE America
Brilly, Artist
Cordell Broadus (Champ Medici), Founder of Welcome To The Block
Adam Brotman, CEO & Co-Founder of Forum3
Jeff Carvalho, Founder of Burrata / Highsnobiety
Deepak Chopra, Founder of Chopra Foundation and Chopra Global
Betty, CEO and Co-Founder of Deadfellaz
DeeZe, Director of Vibes at Tessera
Richard Dickson, President and Chief Operating Officer of Mattel
Carolyn Everson, Senior Advisor at Permira
Fonz, CEO of tokenproof
Jenny from the blockchain, Content Creator, Head of Marketing for evaluate.xyz, Co-host of NFT Catcher Pod
Cindy Gallop, Founder and CEO of MakeLoveNotPorn
Gfunk, CEO and Founder of Pixel Vault
MaryRuth Ghiyam, Founder and CEO of MaryRuth Organics
Cathy Hackl, Chief Metaverse Officer at Journey Luxury and Fashion Innovator
Arlan Hamilton, Founder & Managing Partner of Backstage Capital
Nyla Hayes, Artist, Founder and CEO of Long Neckie Ladies
John Henry, Co-CEO and Co-Founder of LOOP
Matt Van Horn, Co-Founder of June
Sam Hysell, Co-Founder and Chief Strategy Officer of NFT Now
Rafael Ilishayev, Co-Founder and Co-CEO of Gopuff
!llmind, Music Producer of Squad Of Knights
Bozoma Saint John, Hall of Fame Inducted Marketing Executive, Author, and Entrepreneur
Daymond John, Star of ABC's Shark Tank, CEO of The Shark Group, CEO and Founder of FUBU
Rich Kleiman, Co-Founder of Boardroom
Chris Lyons, President of Web3 Media at a16z crypto
Jasmine Maietta, Founder and CEO of round21
Lisa Mayer, CEO and Co-Founder of Boss Beauties
Jimmy McNelis, CEO of Nameless
Sian Morson, Founder of The BlkChain
MUMBOT, Artist & Creator of MUMBOT WORLD
Imari Oliver, Founder and CEO of Bond and Play
Julie Pacino, Filmmaker and Photographer, Creator of Keepers of the Inn
Miguel Patricio, Kraft Heinz
Bob Pittman, Chairman and CEO of iHeartMedia Inc.
Carly Reilly, Founder and Host of Overpriced JPEGs
Richerd, Co-Founder of Manifold
Ian Rogers, Chief Experience Officer of LEDGER
Shonduras, Founder of The Spacestation!
Swan Sit, Web3 Advisor and Creator
SLOTH, Artist and Founder, Creator of Chilled SLOTH
Snowfro, Founder of Art Blocks, Creator of Chromie Squiggle
Jeff Staple, Founder of STAPLE and Reed Art Department
Jen Stark, Artist and Creator of The Vortex Collection, Cosmos and more
Jaiden Stipp, Artist and Creator of Jastidesigns LLC
Eric Thomas, №1 Motivational Speaker in The World
Rachel Tipograph, Founder and CEO of MikMak
Gary Vaynerchuk, Founder of VeeFriends
Pop Wonder, Artist
Jackie Woodward, Chief Brand and Marketing Officer of Bojangles Restaurants, Inc.
Performers
Busta Rhymes, Musical Performance
Where to Stay for VeeCon?
There are 15+ hotels near the Lucas Oil Stadium, all within walking distance. If you're attending VeeCon, check out this list of hotels ranked by proximity to the stadium. Choose the one that suits you best.
Tru by Hilton Indianapolis Downtown (0.2 miles, 4-min walk)
Holiday Inn Indianapolis Downtown, an IHG Hotel (0.2 miles, 4-min walk)
TownePlace Suites by Marriott Indianapolis Downtown (0.2 miles, 4-min walk)
Crowne Plaza Indianapolis-Dwtn-Union Stn, an IHG Hotel (0.2 miles, 4-min walk)
Omni Severin Hotel (0.4 miles, 7-min walk)
Hyatt Regency Indianapolis (0.4 miles, 8-min walk)
Homewood Suites by Hilton Indianapolis-Downtown (0.4 miles, 9-min walk)
The Westin Indianapolis (0.5 miles, 8-min walk)
JW Marriott Indianapolis (0.5 miles, 10-min walk)
The Alexander (0.5 miles, 11-min walk)
Hampton Inn Indianapolis Downtown Across from Circle Centre (0.5 miles, 11-min walk)
Embassy Suites by Hilton Indianapolis Downtown (0.5 miles, 11-min walk)
Indianapolis Marriott Downtown (0.6 miles, 11-min walk)
Fairfield Inn & Suites Indianapolis Downtown (0.6 miles, 12-min walk)
Hyatt House Indianapolis / Downtown (0.6 miles, 12-min walk)
SpringHill Suites Indianapolis Downtown (0.6 miles, 13-min walk)
Courtyard by Marriott Downtown Indianapolis (0.6 miles, 14-min walk)
Home2 Suites by Hilton Indianapolis Downtown (0.9 miles, 19-min walk)
You can search and compare Indianapolis hotels from hundreds of travel sites and save big time here.
If you don't want to walk or end up staying further away from the event, Indianapolis has a robust transportation system that stretches from the airport to downtown.
Next to walking, the Red Line public bus is the most affordable transportation option. It only costs $1.75 for a single trip or $4.00 for a day pass. To save money, you can purchase a 10-trip pass for $17.50 which would likely cover your transportation costs for your entire stay.
If you prefer a more direct means of transportation, you can hop in an Uber or Lyft as there are plenty around town. Of course, you'll pay more.
How Much Is a Ticket to VeeCon 2023?
Veecon 2023 tickets are approximately $300. Because VeeCon 2023 tickets were transferred to VeeFriends NFT holders for free, they can only be purchased on secondary NFT marketplaces. As a result, prices are set by the sellers. You can view current Veecon ticket prices on Opensea.
The price of Veecon 2023 tickets will continue to fluctuate, and could be more or less depending on the demand, scarcity, and who created the tickets.
Also, once the art for the ticket is revealed the price will vary depending on the rarity of the NFT.
Who Created the 2023 VeeCon NFT Ticket?
There is no word of who created the ticket for VeeCon 2023, we will update this the second we know.
How to Buy a VeeCon 2023 Ticket
All VeeCon 2023 Ticket NFTs are airdropped to eligible wallets (Series 1 VeeFriends NFT holders), hence tickets are only available for purchase on secondary marketplaces like Opensea, LooksRare, and Blur.
Follow the steps below to buy a VeeCon 2023 Ticket on Opensea.
Step 1: Get a Crypto Wallet
If you don't already have a crypto wallet, you're going to need to get one if you want a VeeCon ticket. MetaMask is a great option for beginners. You can learn how to set up a MetaMask wallet here.
Step 2: Go to Opensea.io
Once you have your wallet set up, choose a marketplace to buy your ticket. I prefer OpenSea, but you can check prices on LooksRare and Blur as well.
You'll have to connect your wallet to the marketplace before you're able to make a purchase. To do this, find the wallet icon or the "connect wallet" button and click it. This will connect your wallet to the platform.
Step 3: Seach for VeeCon Tickets (2023)
Next, search for VeeCon tickets. Make sure you're looking at 2023 tickets, and not 2022 editions that are titled "VeeCon Tickets". Additionally, double-check that the collection you're looking at is authentic as there will likely be some fakes.
You can verify the collection is authentic by locating the blue checkmark next to the collection name.
Step 4: Choose Your Preferred Ticket
Tickets will likely have different attributes. These attributes play a role in the perceived value of each ticket as some will be considered rarer than others. Of course, regardless of which VeeCon ticket you choose they will all give you access to the conference.
Step 5: Buy Your Ticket and Store it Safely
After identifying the ticket you want, click buy. You can purchase the ticket using ETH or your credit/debit card.
If you plan on keeping your VeeCon NFT as a collectible, make sure you understand the importance of a hardware wallet and how to properly store NFTs.
How to Prepare for VeeCon 2023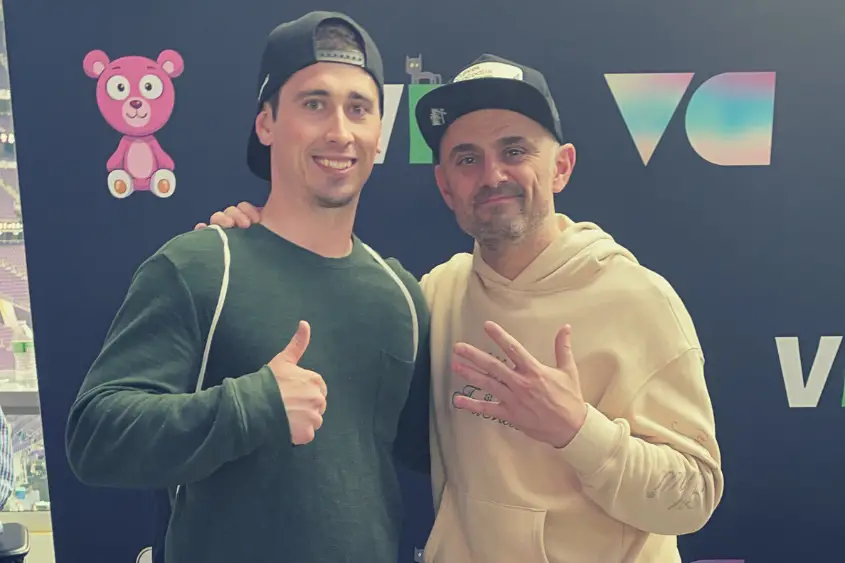 VeeCon 2023 is approaching fast! To ensure you're prepared, here is a checklist to review before the event.
Buy your VeeCon 2023 ticket.
Download the VeeCon App for your iOS or Android device.
Ensure your VeeCon Profile on the app matches the ID that you'll be using to enter the conference.
Setup your account on VeeFriends.com and connect your wallet to it.
Book your hotel.
Book your plane ticket.
Join the VeeFriends Discord: https://discord.com/invite/veefriends
Subscribe to the newsletter on veecon.co
Follow the Twitter account: @VeeCon
Follow the Instagram: @VeeCon
FAQ
Do VeeFriends Series 2 Holders Get Airdropped VeeCon Tickets?
No, VeeFriends Series 2 holders will not receive tickets to VeeCon. You must own a Series 1 at the time of the snapshot to receive your VeeCon NFT airdrop.
Can I Buy VeeCon Tickets at the Entrance?
No, VeeCon Tickets are only available as NFTs. You must buy your ticket on a secondary NFT marketplace like Opensea.
What Is the Dress Code for VeeCon?
There is no dress code.
The only limitations are as follows:
– Fake weapons such as knives, guns, whips, etc. are not allowed.
– Costumes may not interfere with other fans' sightlines.
– Full-face masks will need to be removed during the check-in process while entering the event.
Can I Bring a Bag Into the Stadium?
Yes, you can bring a bag. All guests will be subject to a search of their possessions before entering the stadium. Suitcases and bags larger than the standard backpack size of 22" x 14" x 9" are strictly prohibited.
What Do I Need to Access VeeCon?
You need a VeeCon ticket, the VeeCon App, and an ID that matches your profile on the app.
Approved photo IDs:
– Passport
– Drivers License
– State ID
– School ID
What Is Indianapolis Weather Like in May During Veecon?
In May, Indianapolis has warm weather with an average high of 70°F and a low of 50°F. Expect sunny and cloudy days with scattered showers possible.