As NFTs become even more popular, many are chomping at the bit to create their own NFT collection. However, not everyone has the knowledge or the desire to create NFTs from a technical or artistic standpoint. 
You can hire an NFT artist and developer using a freelance service platform like Fiverr. Whether you want to hire someone to create an entire NFT collection for your brand or business or design the art, Fiverr is the number one platform for hiring NFT freelance creators.
Keeping these three things in mind, let's discuss where you can hire NFT developers and creators to make NFTs for you.
Where to hire NFT artists and creators
1. Fiverr
Fiverr is a popular platform for hiring all types of freelancers, and it is one of the best places to find and hire NFT creators. Whether you want to hire someone to build out an entire NFT collection for your brand or business or design the art, Fiverr is the number one platform for hiring NFT for all types of creators.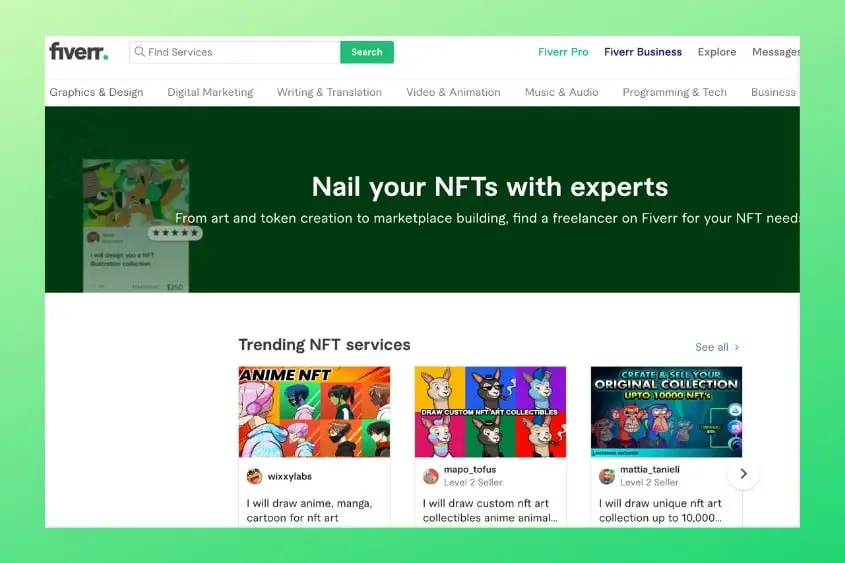 These are some of the NFT related services that you will find available on Fiverr:
NFT art creation
NFT collection design 
NFT marketplaces and minting site development
Discord server buildout 
Fiverr has the most NFT designers and artists, providing you with more possibilities compared to other freelance websites.
Furthermore, many Fiverr NFT experts charge as little as $5 for their services, so you'll be able to find a designer who is within your budget. Likewise, if you're looking for someone to take charge of your entire NFT project, you can hire a freelancer for that as well. 
You can also filter your results by price range, art style, or seller rating. You can save a lot of time choosing an artist for your NFT project.
However, the most satisfying aspect of Fiverr is about your legal rights. You get entire ownership of your commissioned design on Fiverr once you've paid for it.
Because the same legal agreement binds every designer on Fiverr, you won't have to spend hours going over endless legal jargon to make sure your designer can perform what you need.
It's worth noting that not every Fiverr vendor allows commercial use of their work, and you won't be able to filter designers based on this. Expect to spend a little extra time choosing a designer for your project if you want commercial usage rights.
2. Upwork
Upwork is noted for having a varied pool of freelance artists, designers, and developers ranging from total beginners to highly regarded experts. The list of NFT professionals on Upwork is easy to search, and you can see their key characteristics right away in the search results.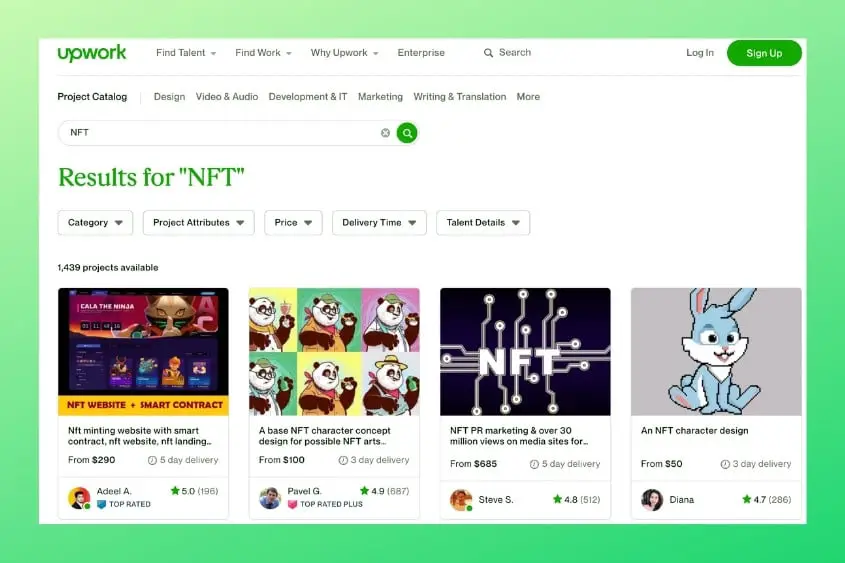 The main drawback to Upwork is its awkward and outdated user interface. The layout gives the impression that you can click on each freelancer's listed skills, but you can't. This is a major disappointment if you want to focus your search on specific art types.
The option to publish a task and invite freelancers to view your project is, on the other hand, one of Upwork's most valuable tools. It's free to post an assignment, and it might save you time from sifting through hundreds of freelancer profiles.
When you commission an NFT on Upwork, you are protected by their Service Contract Terms unless your chosen designer chooses to use their contract.
Under Upwork's standard contract, all intellectual property rights are transferred to you upon payment. You also acquire the opportunity to publish your design as a standard, which is useful if you plan to distribute a large number of NFTs.
3. Freelancer.com
One aspect I like best about Freelancer.com is the global directory of freelancers that the site offers. There are many designers and developers on the platform that may be exactly what you need to build your preferred NFT collection.
On Freelancer.com, hiring is simple. You have the option of contacting a freelance designer directly, submitting a job, or using their Recruiter Service to receive a list of hand-picked designers. You can also employ a project manager to communicate with freelancers on your behalf, which is useful if you need a large number of NFTs at once.
When you create your NFT project on Freelancer.com, you have the option of employing an Intellectual Property Handover Contract. This is a simple contract in which your freelancer agrees to transfer all intellectual property rights to you.
Commercial rights are normally bundled with IP rights, although double-checking is always a good idea. Inquire about commercial rights in the contract with Freelancer.com, as some responses are ambiguous. They looked to have copied and pasted the contract's precise wording.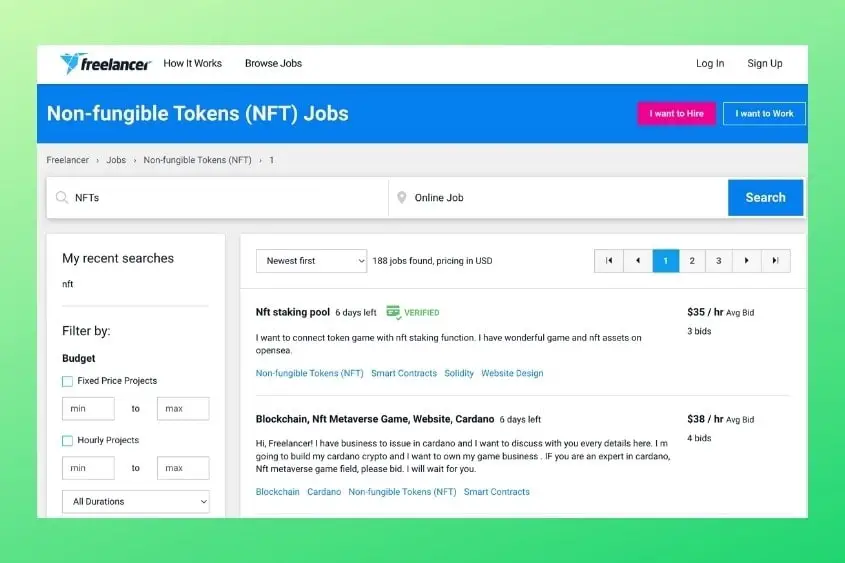 As a result, if you're considering commissioning an NFT from Freelancer.com, keep in mind that the fee may only cover the sale of one NFT rather than multiple copies.
The main thing I dislike about Freelancer.com is the user interface. It is not as simple to search for a freelancer as it is on Fiverr for example. 
However, it may be worth a try, especially if you take advantage of the site's Recruiter Service they offer which puts the project management into someone else's hands and allows you to have more time to do whatever you need to focus on.
Hire an NFT creator on social media
Of course, if you prefer to hire someone from the community that knows more about NFTs and web3 technology specifically, then you may benefit from sourcing your own NFT designer/developer using social media.
At the time of writing this article, Twitter is the number one social media platform for finding and potentially hiring someone to help you create your own NFT project. A majority of NFT and web3 enthusiasts live on Twitter, hence why it may be the best platform to find someone who's passionate about helping you create your own NFTs.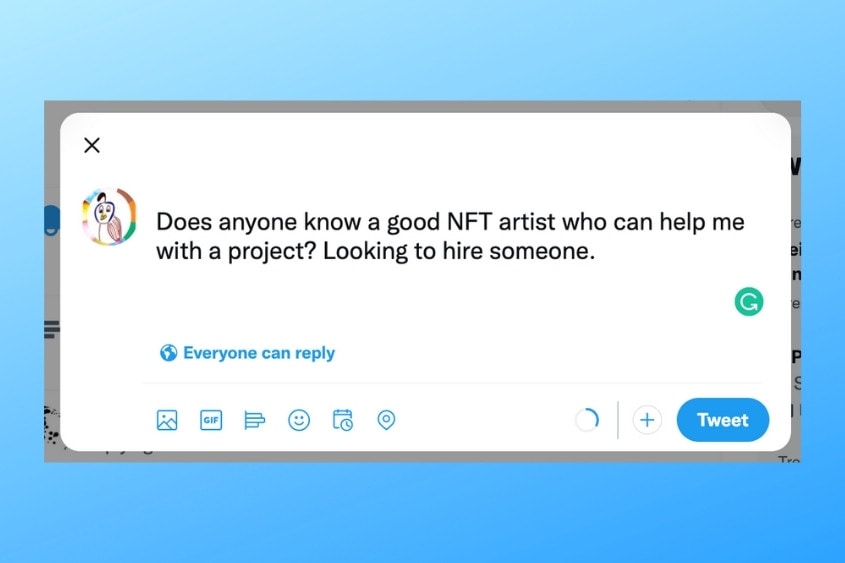 It should be known that the more active you are on social media the better your odds will be when trying to find someone that can help you with your NFT needs. Simply asking the community using a Tweet is one of the easiest ways to find someone you may want to hire.
Here are some example Tweets that I've put together that you can use:
Who knows a good NFT artist who'd be willing to help me create art for an NFT project?
Any reputable NFT developers looking for a job creating NFTs?
Best NFT artists you know who'd want to create some art for me?
Calling all NFT developers. Looking to hire someone to help me create NFTs.
I know what you're thinking. That seems so easy. Well, that's because it is. Hiring someone to create NFTs for you doesn't need to be a difficult process, sometimes all you have to do is ask around.
Of course, once you receive some recommendations, you always want to do your own research to find out if the person or company has a good reputation. 
You can do this by asking others in the community, requesting samples of work they've done in the past, and simply having a conversation with the person to see if they are the right fit for what you are attempting to accomplish.
Use hashtags to your advantage
This is one of the most popular Twitter features. It's how people find and share content, and it's a great way to find an artist or developer to help you with your NFT project. However, resist the impulse to overuse hashtags. Tweets with only one hashtag get 69 percent more retweets than those with two or more hashtags.
Ultimately, Twitter can be utilized as a dynamic search engine. It's simple to find others by using hashtags.
Although there are other social media platforms to utilize such as Discord, Instagram, and even TikTok, I believe that Twitter is the most popular social media platform for finding and hiring someone to help you with any NFT project tasks you may come across.
At the end of the day, the most important thing to look for when hiring someone to help you with your NFT project is the person(s) or company's reputation and past accomplishments. Generally, a simple conversation with the person will allow you to get a good feel for who they are and if they will be able to help you or not.
One good practice is to request a video call and conduct an interview with the person. That way the communication is more personable, and you can get the best feel for someone when you speak face-to-face with them. 
If someone isn't willing to talk to you over a video call, perhaps you should consider looking elsewhere for hiring someone for your NFT needs.
Keep in mind that not all freelancing websites are created equally, you'll want to look for specific features and assurances when hiring someone to help you with your NFT needs. With that in mind, here's what you should look for with any freelance service provider:
Simple-to-operate filtering system: With thousands of NFT freelancers to choose from, you'll need a filter to help you find the right one.
Designer portfolios: These allow freelancers to show you examples of their previous work, allowing you to determine if their style is compatible with your NFT concept.
Intellectual property (IP) rights: The sale of NFTs could lead to legal issues. These will either grant you full intellectual property rights or give you the option to purchase them.