✔

Pros
Compact, lightweight design
User-friendly 3.1-inch touchscreen
Open-source firmware, secure element chip, PIN, and passphrase protection
Supports 1,000+ cryptocurrencies, and 43+ blockchains
One-year warranty, authentic product assurance
✘

Cons
It's not air-gapped
Fat fingers might have trouble tapping buttons
The OneKey Touch offers excellent value as a crypto hardware wallet. With its compact size and lightweight design, it stands out among its counterparts.
The device features a 3.1-inch touchscreen for easy navigation and transaction management. The open-source firmware, secure element chip, and PIN/passphrase protection ensure top-notch security.
While it may not have all the bells and whistles of other crypto wallets, its affordability and reliability make it a great choice for safeguarding your digital assets.
Some may prefer the bigger Keystone Pro if you want a larger screen and air-gap technology. Plus the Keystone Pro wallet offers more exciting features like a biometric fingerprint scanner, a self-destruct mechanism, and a rear camera to scan QR codes.
Nonetheless, the OneKey Touch is certainly among the best crypto hardware wallets. My OneKey Touch review breaks down all the pros and cons so you can decide if this is the right crypto wallet for your needs.
OneKey Touch Quick Specs
| | |
| --- | --- |
| Price | $249 |
| Display | 3.1-inch true color touchscreen |
| Security | Open source firmware, ATECC608A secure element chip, PIN & passphrase protected |
| Supported cryptocurrencies | 1,000+ |
| Supported blockchains | 43+ |
| Compatibility | Windows 10+,macOS 10.8+,Linux (Ubuntu 12.04+, Fedora 21+, Debian 8) |
| Battery life | 4-6 hours (900 mAh) |
| Size | 88.4 × 52.5 × 9.2 (mm) |
| Weight | 75g |
| Warranty | 1 year |
| Manufacture origin | Hong Kong |
OneKey Touch Review: Price and Design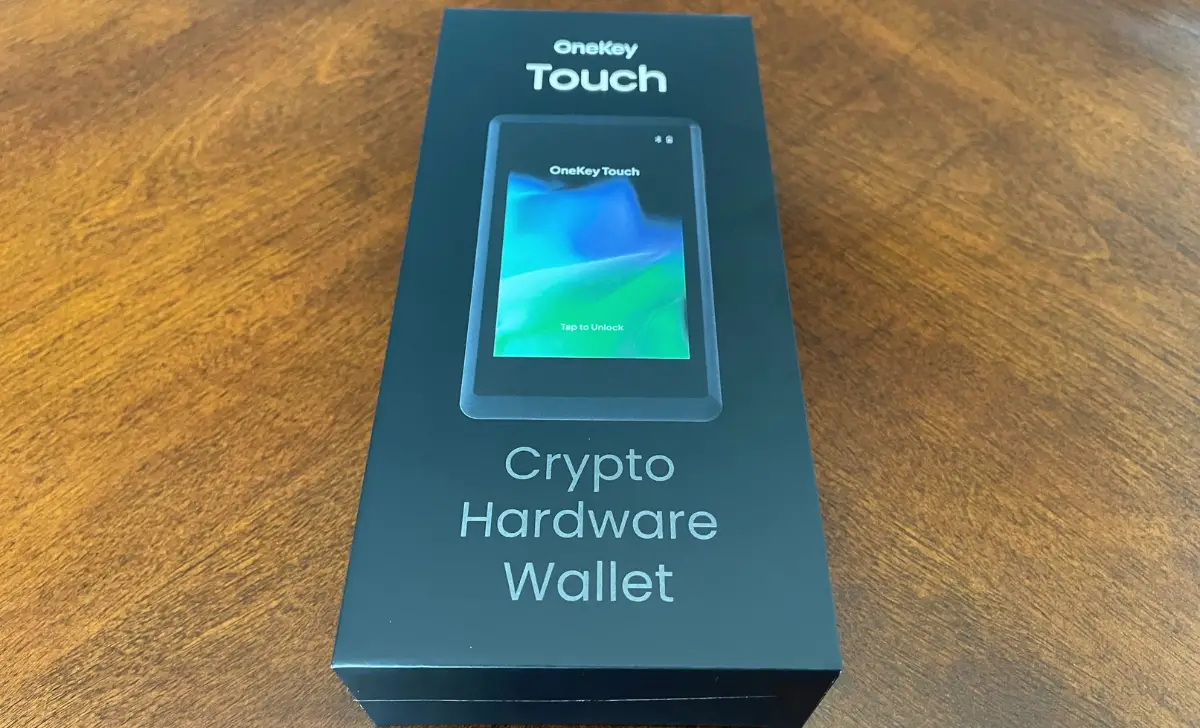 The OneKey Touch is compact and lightweight. The shell is made of aircraft-grade aluminum and the back is made of high-end AG glass. It only weighs 75 grams and measures 88.4 × 52.5 × 9.2 (mm).
Without a doubt, the OneKey touch is one of the lightest hardware wallets I have held. It fits in the palm of my hand as it is about the size of a credit card.
The only button on the device is the power button which is located on the right side. The OneKey touch is not an air-gapped wallet, so it does have a USB-C port on the bottom.
Overall, I enjoy the sleek design of the OneKey Touch. When holding it, I was pleasantly surprised by how comfortable and ergonomic it felt. It is not bulky and appears to be highly durable.
The price of the OneKey Touch is $249. This is reasonably priced considering similar wallets on the market cost around the same price:
OneKey Touch Review: Display
The OneKey Touch's 3.1-inch LCD touchscreen is one of the best on the market. It's large enough so that you can easily view transaction details, confirm requests, and see warnings. However, it's not so big that it's difficult to hold.
If you have fat fingers like me, it does take some precision to tap the right button. So fat-fingers beware! That said, the touchscreen is sensitive and accurate when tapped and the screen itself is high-quality.
The screen's 480×800 pixels provide a pleasant true color, allowing you to enjoy your NFTs to the fullest. (If you're in search of the best NFT hardware wallets, we covered all of those in our other article.)
If you need to adjust the screen brightness you can easily do so in the settings. The touchscreen is the only way to unlock the device, enter your PIN, restore an existing wallet, and confirm actions—so a good quality screen is crucial in my experience.
OneKey Touch Review: Security
The OneKey touch contains all the security features you should expect from a trustworthy crypto wallet. It utilizes a secure element chip, open-source firmware, and PIN and passphrase protection.
The secure element is an important chip that is used on the industry's most secure hardware wallets to keep sensitive information by providing tamper-resistant storage, making it extremely difficult for an attacker to extract or modify stored keys.
Notably, it also facilitates secure boot processes, ensuring that only trusted and authenticated firmware can be loaded and executed on the device.
OneKey's firmware is open-source so anyone can view the source code to ensure there are no bugs or backdoors that could lead to users' wallets being compromised.
This stands in contrast to proprietary firmware, which is closed-source and kept private by the manufacturer. Personally, I prefer the transparency of open-source firmware.
The OneKey Touch allows you to set your own 4-50 digit PIN used to access your wallet and a passphrase that, when enabled, requires you to enter it every time you connect with OneKey apps.
Even the packaging of the OneKey Touch has several security features. The exterior box has two tearaway tabs and the device itself is wrapped in OneKey-branded security tape to ensure the product you receive is authentic and not tampered with.
My only gripe is that the OneKey Touch is not air-gapped. Although I prefer air-gapped wallets, it does take away from the overall user-friendliness. Many users prefer Bluetooth and USB-C connectivity to make updates easier.
OneKey Touch Review: User-friendliness
The OneKey Touch is perfect for beginners as it is easy to set up and use. The cryptocurrency software enables you to check market conditions and manage and trade crypto on various blockchains making it extremely versatile.
The OneKey app allows you to easily send, receive, and bridge tokens while using your hardware wallet as a safeguard.
The device supports multiple coins and networks, but not all of them will be shown automatically.
If you don't see a specific blockchain or token when you first turn on your device, you can manually add it. OneKey has made this process easy:
Tap the Ethereum icon at the top of the screen in the OneKey app
Tap the + symbol to add or customize a chain
Add the chain details (name, ID, symbol, etc)
Hit save to add the new chain
The OneKey Touch is a user-friendly hardware wallet. It offers a convenient way to manage your cryptocurrencies and NFTs directly within the app. At the same time, the wallet ensures robust security measures to protect your funds effectively.
Unboxing the OneKey Touch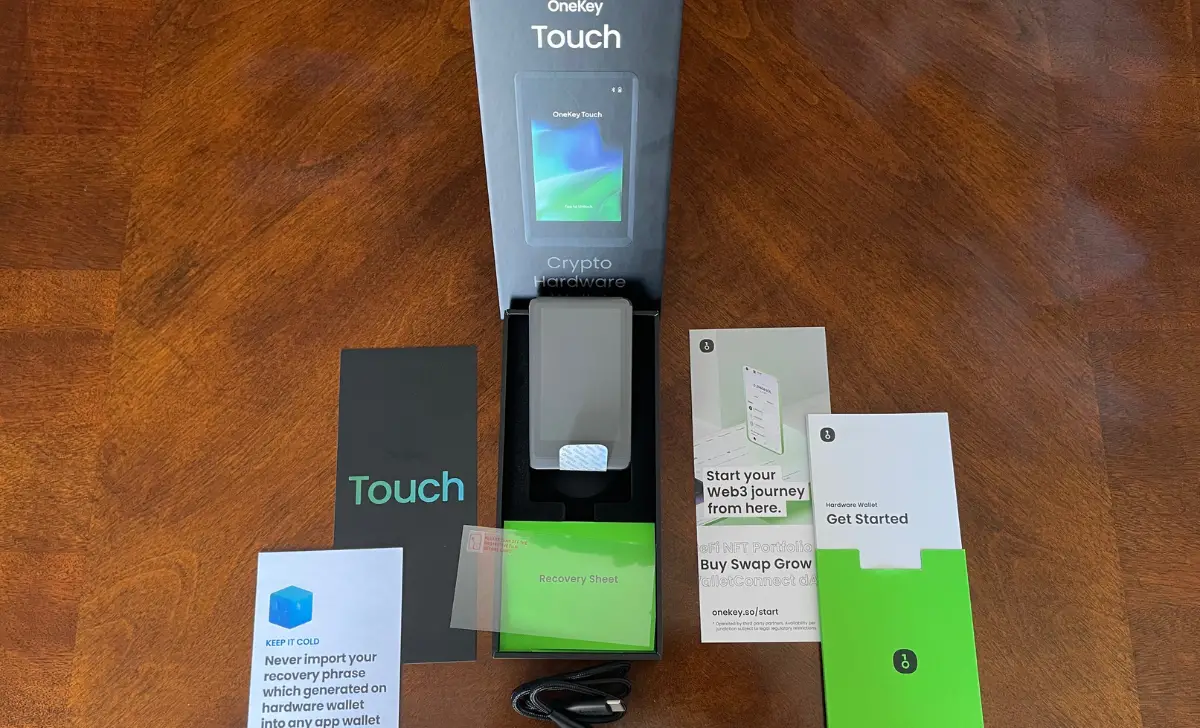 Here is what you will find once you unbox the OneKey Touch wallet:
1 hardware wallet
1 USB type-c cable
3 recovery sheets
1 sticker
To open the OneKey Touch box, simply take off the plastic wrap and tear both security tear-away tabs.
The device and all the contents are packaged thoughtfully to ensure your wallet arrives intact and ready to go. Not only is the product box well-designed, I was impressed with how well the product itself was packaged upon arrival.
It arrived in a bubble-wrapped envelope with additional padding to protect the product box.
Setting Up the OneKey Touch Wallet
1. Download the OneKey app
The OneKey app can be downloaded on your computer, smartphone, or a browser extension.
2. Select "connect hardware wallet"
The OneKey app can function as a standalone software wallet for cryptocurrencies, similar to MetaMask. However, its security is enhanced when used together with a OneKey hardware wallet, such as the Touch.
3. Create a new wallet
To create a new wallet in the OneKey app, you can select the "create a new wallet" option. This will generate a seed phrase for you.
Alternatively, if you already have a seed phrase from an existing wallet that you would like to import, you can choose the "import wallet" option.
4. Write down the recovery phrase
You have the option to generate a 12, 18, or 24-word secret recovery phrase. The 24-word option is the most secure. Once your seed phrase is revealed, write it down and store it in a secure spot.
A wallet's secret phrase is its most important security feature. Protect it at all costs (you'll thank me later).
Follow these tips to ensure your secret phrase remains secure:
Don't store it online (including your computer, phone, or in a cloud)
Don't share your recovery phrase with anyone
Use a metal seed plate to ensure your phrase is protected from harsh conditions
Writing down your phrase and storing it in a secure location is a great start. But it is still vulnerable to damage via a fire, flood, or a simple accident.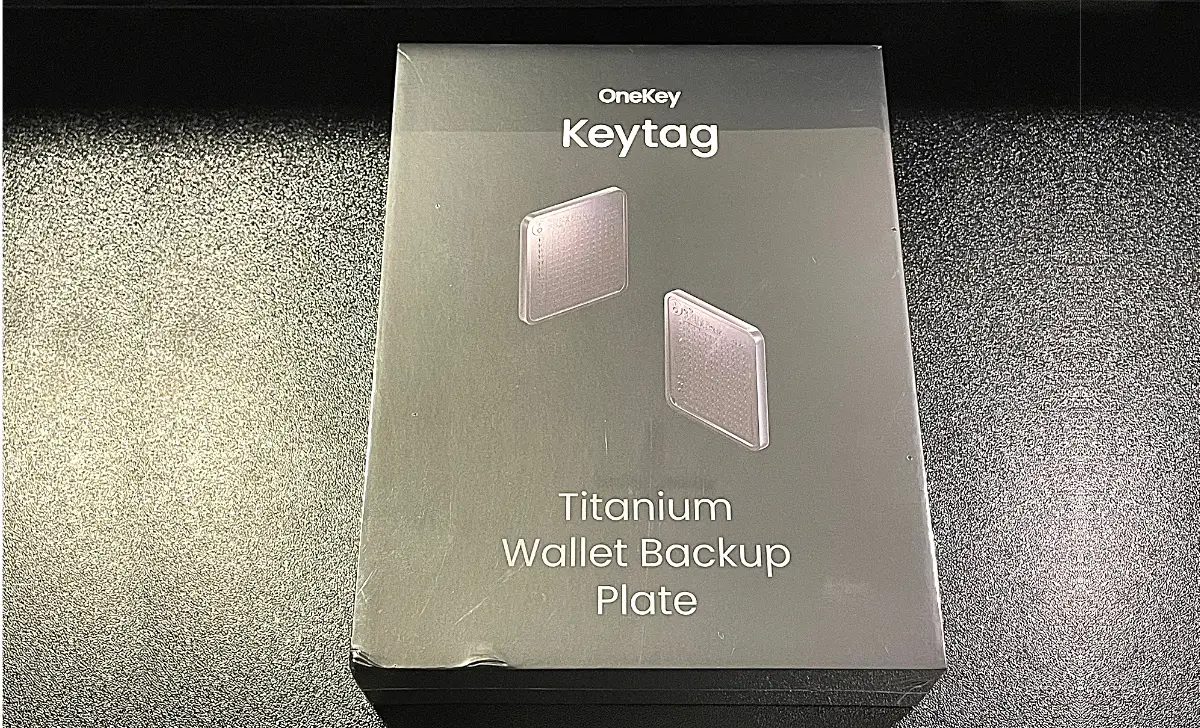 That's why I store my seed phrase in a metal backup plate like the KeyTag. 
OneKey's KeyTag is made of aerospace-grade TC4 titanium alloy. That means the KeyTag has a melting point of 1668 °C (3034 °F) and is waterproof, corrosion-proof, and nearly indestructible.
Most crypto wallet recovery phrases are generated using a list of 2048 words called the BIP39 Wordlist. Each word in the list has its own number.
KeyTag is a helpful tool that simplifies the process of recording recovery phrases by using numbers instead of words. 
How does it work?
Each KeyTag has a row for each word and an extra row for passphrases.
To record your recovery phrases, match each word of your phrases to the corresponding number in the printed word list. Then punch a dot on the KeyTag for each black-filled circle next to the word in the list.
I can't recommend the Keytag enough. Especially if you're storing anything of value in your crypto wallet.
5. Connect the device using Bluetooth
Using the OneKey app with Bluetooth turned on, tap "Connect Device" to pair the Touch with the application.
Confirm the pairing request by entering the numbers displayed on your wallet into your mobile or desktop device before tapping "Done".
You have successfully set up your OneKey Touch crypto wallet. Now you can manage your funds across 43 different blockchain networks.
My Honest Opinion
The OneKey Touch is a solid wallet for most users, but not ideal for everyone. If you value a balance between security and user-friendliness, it's a good option. If you prioritize security and are comfortable with a more technical setup, an air-gapped wallet like the Keystone Pro might be better.
That said, I would recommend the OneKey Touch to my friends, family, or anyone looking for a sleek crypto wallet that is easy to use and will protect your assets.
The Touch's design is what stands out to me. It is a good-looking (and feeling) device.
I know a lot of people who dislike big, bulky crypto wallets. If that sounds like you, then the OneKey touch is for you.
If you're not keen on OneKey, the Keystone Pro air-gapped wallet is better in some ways, as it offers more security features and is more affordable. But the Pro isn't quite as user-friendly as the OneKey Touch.
Frequently Asked Questions
Is OneKey Touch safe?
Yes, the OneKey Touch wallet is safe. It utilizes open-source firmware, a secure element chip, PIN, and passphrase protection to ensure effective fund security. The OneKey app offers additional features that can be enabled for enhanced security.
Is OneKey wallet open source?
Yes, OneKey's firmware is open source. That means anyone can view and audit the source code for transparency and security verification purposes using Github.