I have personally tested and reviewed all the best cold wallets on this list to give you a hands-on review of each device.
While other articles overwhelm you with an extensive list of wallets, I have handpicked these six best cold wallets, offering a concise and helpful selection for you to choose from.
If you don't know what makes a good cold wallet, check out our guide for choosing the right hardware wallet.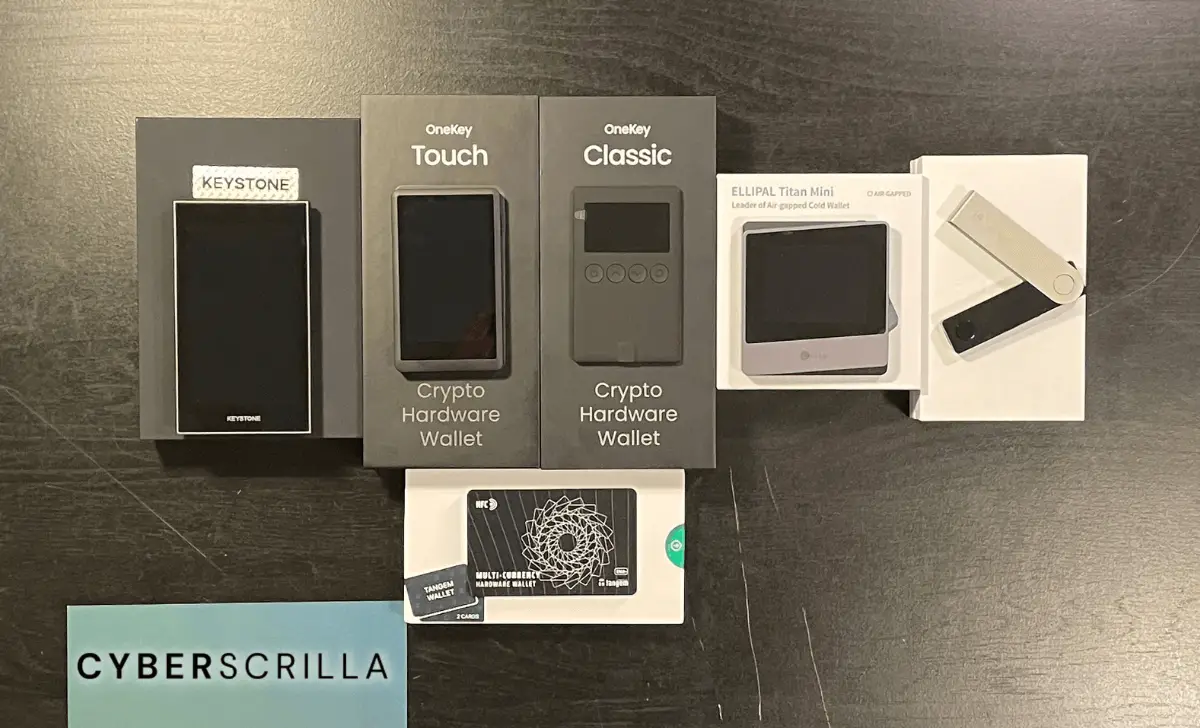 I have ranked these top cold wallets based on the following criteria:
Price
Security
Crypto support
Design/durability
User-friendliness
Contents
Best Cold Wallets Reviewed
Listed below are the 6 best cold wallets for 2023.
Unlock additional insights by watching our video, which provides an in-depth and hands-on look at each cold wallet on this list.
1. Keystone Pro — Best Cold Wallet Overall
The Keystone Pro is the best cold wallet overall. I like it because it has excellent security features, it comes with two batteries and has a massive 4-inch touchscreen.
Keystone Pro: price
The Keystone Pro costs $169, making it one of the most affordable hardware wallets on the market. Especially if you consider all of the features it offers.
Keystone Pro: security
In terms of security, the Keystone Pro excels among other cold wallets. It is completely air-gapped, it has an EAL5+ secure element chip, a biometric fingerprint scanner, a self-destruct mechanism, and open-source firmware.
Keystone's open-source firmware ensures that there are no hidden vulnerabilities or backdoors that could jeopardize your funds.
Keystone Pro: crypto support
The Keystone Pro currently supports more than 5,000 coins, including NFTs, plus 200 blockchains. It is directly compatible with over 25 software wallets including MetaMask and OKX, amongst others.
It also supports the staking of various cryptocurrencies.
Keystone Pro: design/durability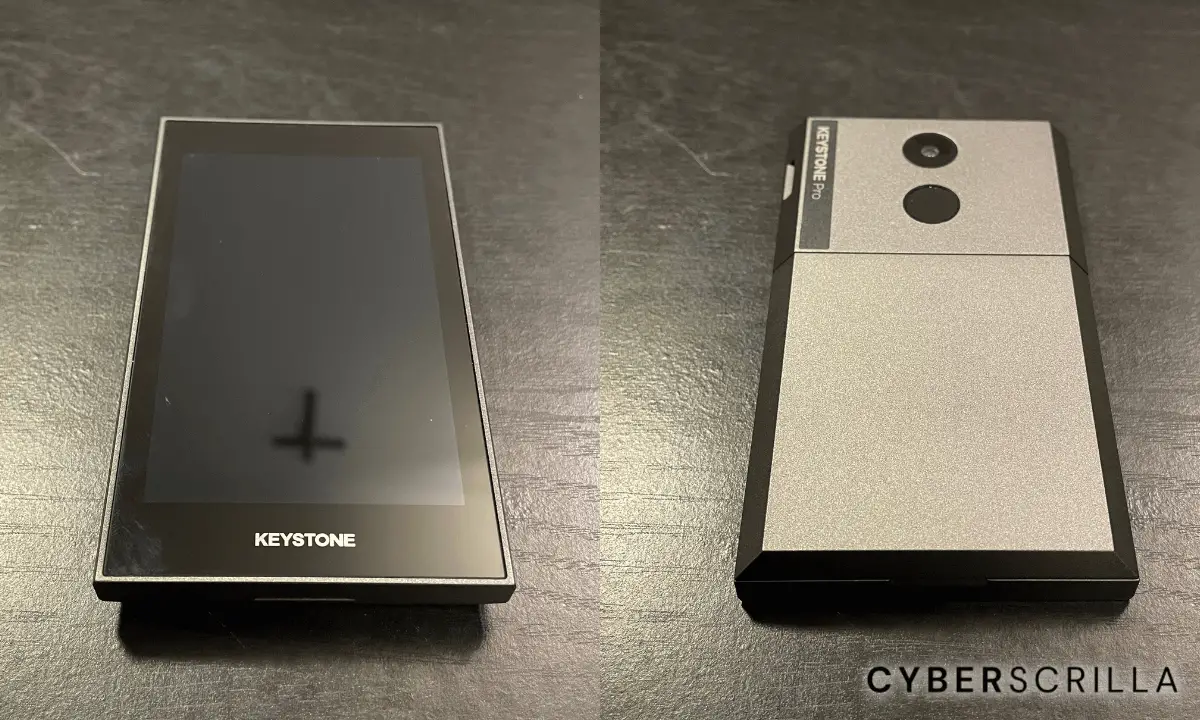 Keystone Pro's shell is made from a thick plastic ensuring the device is durable enough to handle everyday use.
It can withstand dropping it and tossing around, although I wouldn't recommend it.
The Keystone Pro offers the convenience of two detachable batteries that securely attach to the wallet through a magnet.
One battery is a rechargeable lithium-ion, providing long-lasting usage, while the other requires four AAA batteries for added flexibility.
It is not water or dustproof, so you'll want to store it in a dry place.
Keystone Pro: user-friendliness
The Keystone Pro is very easy to use. The initial setup process is the most challenging aspect.
It involves formatting a micro SD card to the FAT32 file system in order to download the firmware, which then needs to be uploaded onto the wallet.
Additionally, there are other steps involved to ensure the authenticity of the firmware being installed.
Fortunately, Keystone guides you every step of the way during the setup process via their website. 
Also, I made a video that shows you exactly how to set up the Keystone Pro hardware wallet if you want some guidance.
If you decide to purchase one, take advantage of our exclusive 8% discount code "CYBERSCRILLA" during checkout.
Pros:
Most secure cold wallet on the market
Comes with two removable batteries
Extremely affordable for what you get
Supports various coins and blockchain networks
Cons:
Setup process might be difficult for some people
Does not come with a micro SD card
2. OneKey Touch — The Perfect Balance Between Security and Usability
The OneKey Touch is a solid hardware wallet that offers a balance between security and user-friendliness.
With its sleek design, user-friendly interface, and robust security features, it provides reliable protection for your crypto assets.
OneKey Touch: price
Priced at $249, the OneKey Touch provides excellent value considering its features and comparable options on the market.
OneKey Touch: security
The OneKey Touch prioritizes security, utilizing a secure element chip, open-source firmware, and PIN/passphrase protection.
The product packaging also incorporates security features like branded security tape and tearaways to ensure the authenticity of the device.
The Touch isn't as secure as the Keystone Pro, but it is more user-friendly overall and the setup process is much quicker.
OneKey is the only hardware wallet company globally that Coinbase has invested in, which speaks volume about their trust in OneKey as a cold wallet manufacturer.
OneKey Touch: crypto support
The OneKey Touch wallet provides extensive crypto support, allowing users to manage over 1,000 cryptocurrencies and 43 blockchains.
With its versatile functionality, users can easily send, receive, and bridge tokens across different blockchain networks using the OneKey app. 
OneKey Touch: design/durability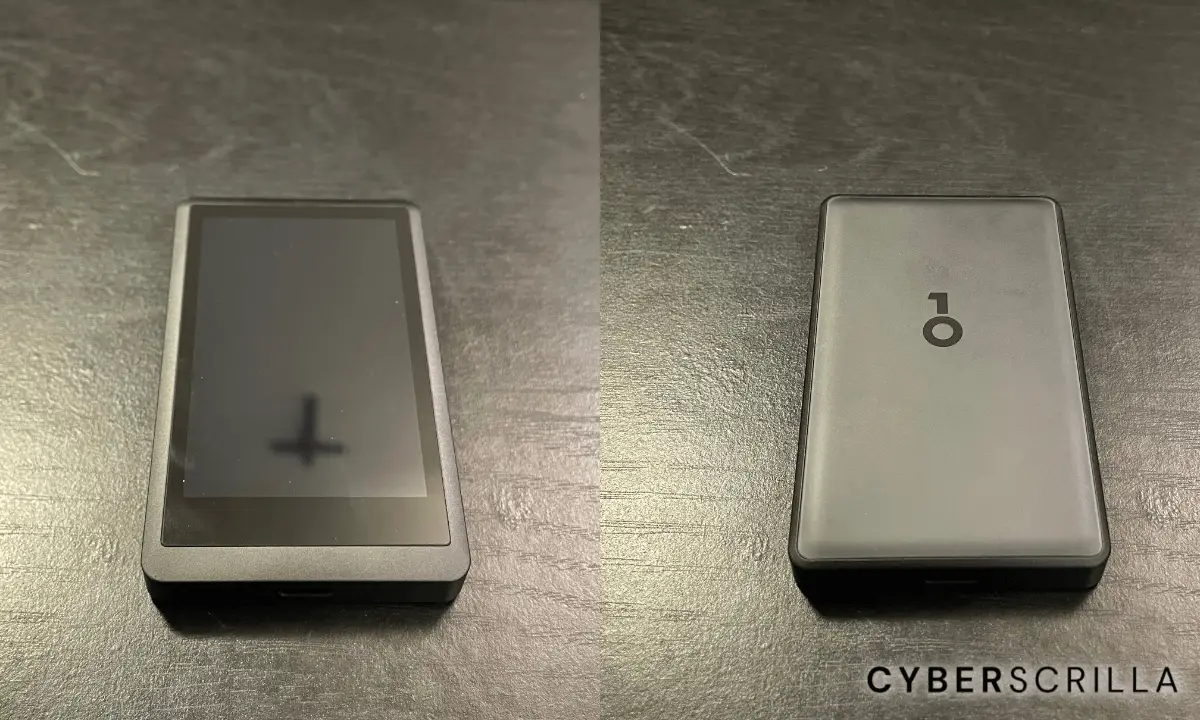 The Touch features a sleek and ergonomic design, constructed with aircraft-grade aluminum and high-end AG glass.
Weighing only 75 grams, it is a comfortable and durable hardware wallet. Because it's so lightweight, even if you drop it from a reasonable height it would be okay.
OneKey Touch: user-friendliness
The OneKey Touch is a fantastic choice for beginners, primarily because it offers a hassle-free setup experience with its Bluetooth and USB-C connectivity options.
The OneKey app further enhances the user experience with its intuitive interface.
It provides a seamless platform for managing and trading crypto and NFTs, all from the convenience of your smartphone.
Moreover, the 3.1-inch LCD touchscreen is one of the best screens I've used on a cold wallet, striking a balance between visibility and ease of use. 
That said, if you have fat fingers you'll need to exercise precision when tapping buttons as the screen isn't overly massive.
Pros:
Open source firmware offers complete transparency
Quick and easy setup in 10 minutes or less
One of the nicest touchscreens on the market
Great balance between usability and security
Cons:
Bluetooth and USB-C connections may introduce security risks
Pricier than cold wallets with similar features
Compact screen may pose challenges for users with larger fingers
3. Tangem Wallet — The Most Durable Hardware Wallet
Tangem is the most beginner-friendly cold wallet. With its NFC-enabled technology and intuitive mobile app, setting up the wallet and managing your assets becomes effortless.
Tangem Wallet: price
Tangem offers two purchase options, you can buy a pack of two cards for $40 or three cards for $50.
Tangem Wallet: security
Tangem Wallet prioritizes security through its EAL6+ secure chip element and its internal private key storage.
The wallet generates a random private key that remains hidden, providing protection against theft or manipulation.
Unlike the other cold wallets mentioned on this list, you nor anyone else know the seed phrase.
The only way to recover your funds is by using one of the backup cards. If you lose your Tangem cards, you have to transfer your funds to a new wallet before you lose your last backup card.
Otherwise, your funds are lost forever. Although this seems terrifying—it makes sense.
Seed phrase exploitation is one of the most common reasons people get scammed. By eliminating the ability to reveal your phrase, Tangem eliminates this issue altogether.
Tangem Wallet: crypto support
The Tangem Wallet allows users to manage and store over 6,000 cryptocurrencies across 23 different blockchains simultaneously.
Notably, you can't manage NFTs directly through the Tangem wallet. But you can connect it to an NFT marketplace, for example, and manage them there.
Tangem Wallet: design/durability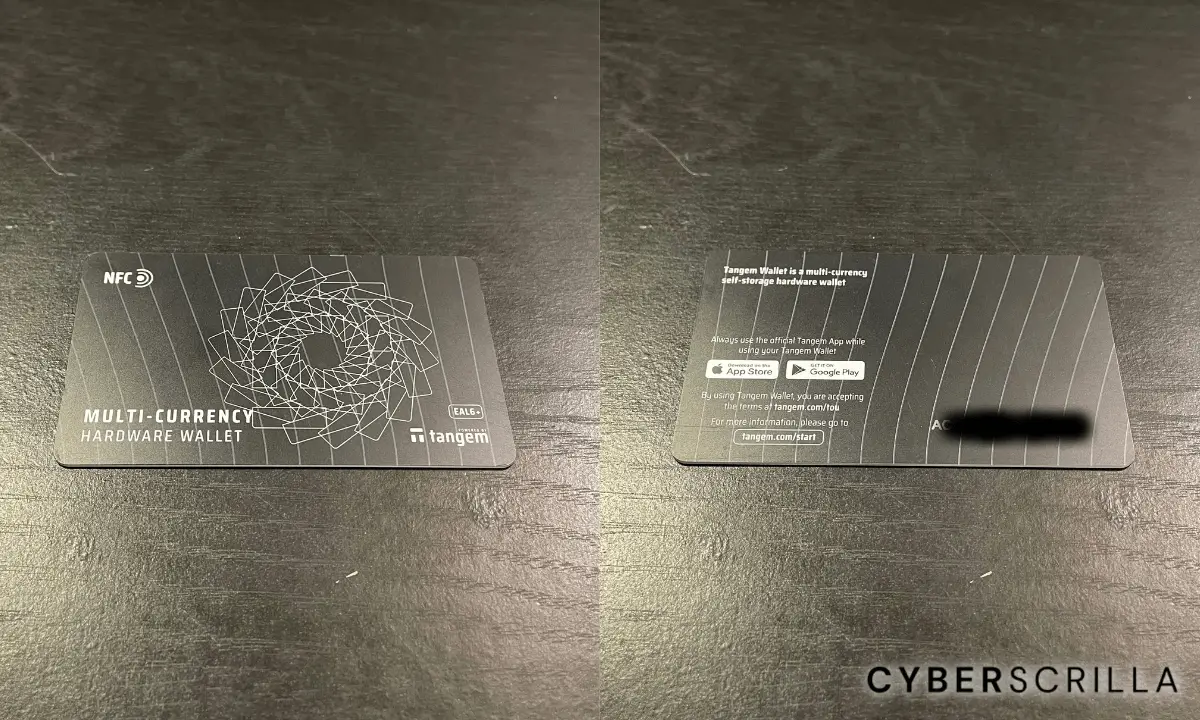 Tangem is the most durable cold wallet you can buy. It has an IP68 resistance rating that is designed to withstand even the harshest conditions.
That means the Tangem wallet is dust-tight and completely waterproof.
Don't believe me? Watch this video of a user trying to destroy their Tangem cold wallet.
The video is entertaining plus it proves a point—Tagnem is the most durable hardware wallet on the market.
That is why Tangem offers a 25-year product replacement warranty on their wallets.
Tangem Wallet: user-friendliness
There's no comparison. Tangem is the most user-friendly cold wallet in existence. You can set it up in 2 minutes or less.
You don't have to write down and store the seed phrase or even physically connect it to anything.
All you need is the card and an NFC-enabled phone to securely manage your funds.
Additionally, you never have to worry about updating the Tangem wallet. Its firmware is rated for a minimum of 25 years and is installed during the manufacturing process.
To initiate and approve transactions, you simply hold your card up to your phone and enter your access code if you created one. This makes using Tangem more like a debit card than a crypto wallet.
If we ever plan to see mass crypto adoption, we need products that we can trust and that are easy to use.
Tangem successfully developed just that without sacrificing security.
Pros:
Most durable hardware wallet you can buy
Quick 2-minute setup using NFC-enabled phone
Comes with a 25 year product replacement warranty
Perfect for individuals new to cryptocurrency
Cons:
Absence of seed phrase disclosure
Risk of permanent fund loss if backup cards are lost
Must use the Tangem app to manage your funds
4. OneKey Classic — Compact and Budget-Friendly Hardware Wallet
The OneKey Classic is an extremely compact and secure cold wallet that is perfect for beginners or budget-conscious users.
OneKey Classic: price
For just $89, the OneKey Classic is a steal. While it may not have fancy luxury features like a touchscreen, it still offers the essential security features found in reputable wallets.
OneKey Classic: security
OneKey Classic has the same security features as the OneKey Touch: a secure element chip, open-source firmware, and PIN/passphrase protection.
It also comes packaged in a secure-sealed box to ensure it hasn't been tampered with.
Both the OneKey Classic and Touch have anti-phishing, SCAM, and malicious contract authorization interception to help prevent users from signing malicious transactions.
OneKey Classic: crypto support
The OneKey Classic enables users to manage over 1,000 cryptocurrencies on 43 blockchains. Both Classic and Touch wallets are compatible with a number of third-party software wallets including:
Trezor web wallet
MetaMask
Bitcoin Core + Specter
Bitcoin Core + HWI
BTCPayServer
Electrum
Electrum-LTC
Electrum-DASH
Nano Wallet
EtherWall
Sparrow
OneKey Classic: design/durability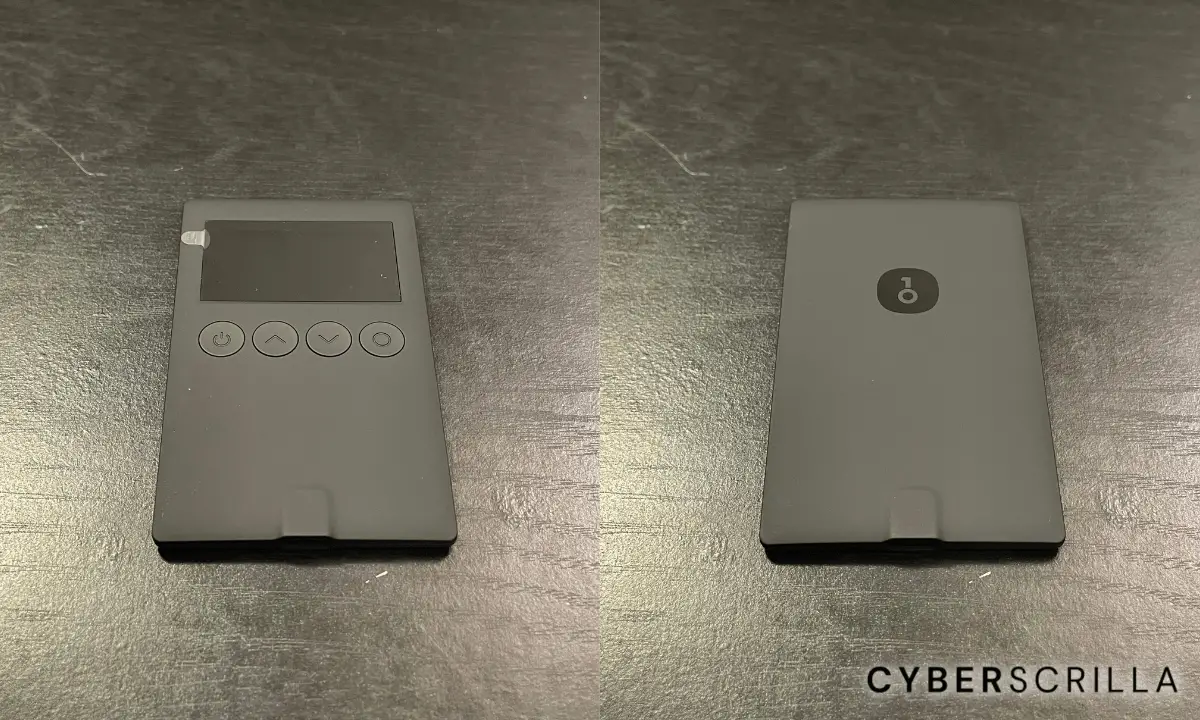 The OneKey classic might not be the most durable crypto wallet on the market since it's only 3 mm thick and weighs a mere 20.5 g.
It is however the most compact and lightweight cold wallet that has a screen and buttons.
It's the same length and width as a credit card, and about is roughly 3 cards thick.
I wouldn't say it's fragile, but you definitely wouldn't want to accidentally step on it as it would snap in half as it's made of plastic.
Besides the Tangem Wallet, the OneKey Classic is the lightest and most compact cold wallet I have ever used.
OneKey Classic: user-friendliness
Even without a touchscreen, the OneKey Classic remains user-friendly. It features a compact screen and four buttons (power, up & down arrows, and enter) for easy navigation.
Just like the OneKey Touch, you can conveniently manage all your crypto using the OneKey app, which is accessible on mobile, desktop, and browser extensions.
Pros:
Discreet and compact design makes it easy to use in any situation
Great entry wallet with an affordable price of $89
Most lightweight wallet on the market
Offers the same security as the more expensive OneKey Touch
Cons:
Does not include premium features such as a touchscreen
Not as durable as other cold wallets
5. Ellipal Titan Mini — Most Affordable Air-Gapped Cold Wallet
The Ellipal Titan Mini is an affordable, compact, and secure cold storage wallet. With its ample crypto support, durable metal shell, and user-friendly interface, the Titan Mini offers a compelling cold wallet.
Ellipal Titan Mini: price
The Ellipal Titan Mini only costs $79. It is one of the most affordable hardware wallets with a touchscreen.
Ellipal Titan Mini: security
The Titan Mini might be small, but it's secure. It is 100% air-gapped, and transactions are initiated and approved via QR codes scanned by the wallet's built-in 2.4M AF camera, eliminating the need for an internet connection.
Although the Titan Mini does not have a secure element, it does include an auto self-destruct feature that activates when there is physical tampering.
Additionally, while its firmware is not open source, the only method of communication for the Ellipal Titan is through QR codes, and this aspect is open source and viewable on Github.
It also utilizes a unique security adapter designed to protect against data theft by avoiding direct connections to the data cable.
Ellipal Titan Mini: crypto support
The Titan Mini supports more than 10,000 coins and NFTs. It also supports over 36 blockchains.
While it doesn't directly support NFT management, you can connect the device to an NFT marketplace to manage your assets.
Ellipal Titan Mini: design/durability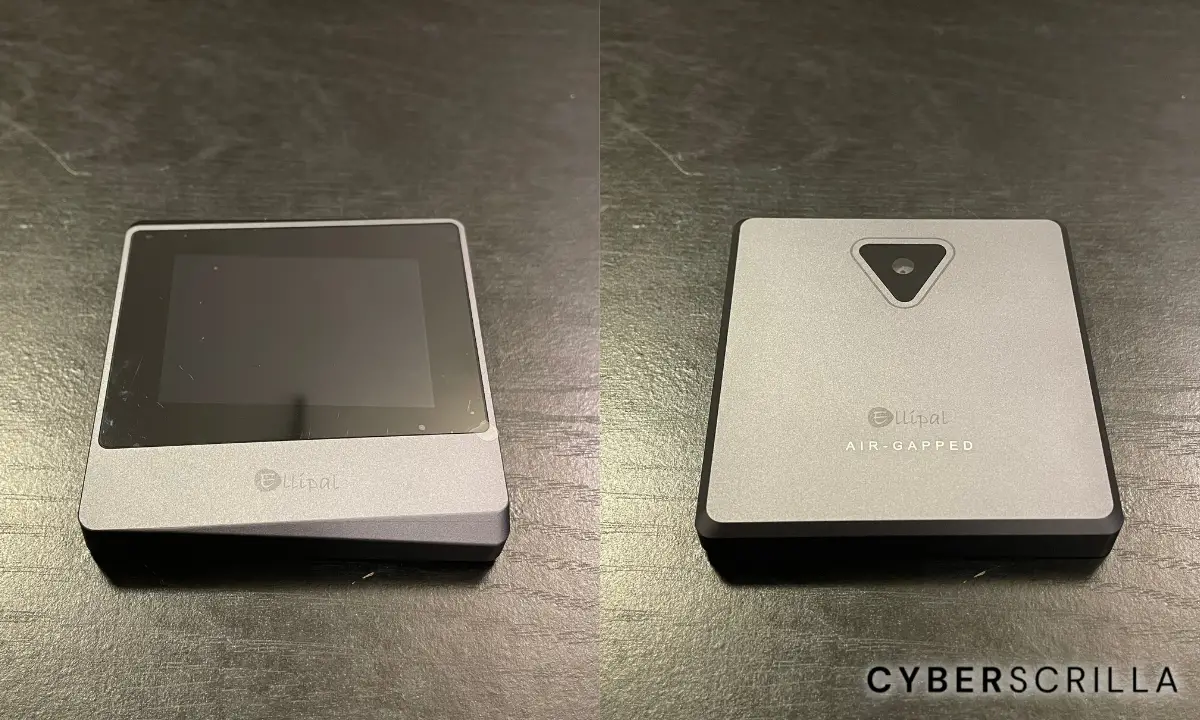 The Ellipal Titan Mini is enclosed in a sealed aluminum casing, ensuring the durability and protection of its hardware. It's important to note that the Titan Mini is not water or dustproof.
With its 2.4-inch HD touchscreen, the screen does require slightly more pressure and precise tapping, but overall, the screen works well.
One notable feature of the Titan Mini is its built-in battery.
While the internal battery is not replaceable, the wallet can still be used by connecting it to a power source if the battery fails. 
Personally, I prefer a removable battery that can easily be replaced if needed, such as the one found on the Keystone Pro.
Nonetheless, many hardware wallets have built-in batteries and it seems to be the industry standard.
Ellipal Titan Mini: user-friendliness
Despite being air-gapped, the Ellipal Titan Mini is simple to use even as a beginner. To manage your funds you have to download the Ellipal app.
The app is well-designed and straightforward, enabling you to view live market trends and connect to third-party DApps all while keeping your assets secure.
Setting up the Ellipal Mini took me approximately 10 minutes, which aligns with the average setup time I've experienced setting up other cold wallets.
Pros:
Most affordable air-gapped cold wallet
Extremely durable and compact design
Suitable for beginners
Offers extensive coin support
Cons:
Does not have a secure element chip
The firmware is closed source
Smaller screen might be difficult to use
6. Ledger Nano X — The Most Popular Cold Wallet on the Market
The Ledger Nano X has long been one of the most popular cold wallets. It's a no-frills device that's easy to use and offers support for various blockchain assets.
Ledger Nano X: price
The Ledger Nano X costs $149, making it an affordable choice among most cold wallets.
Ledger Nano X: security
The Ledger Nano X incorporates multiple layers of security, including an EAL5+ secure element chip, Ledger's custom BOLOS operating system used to combat potentially malicious apps, and a user-generated PIN code.
With the Ledger Live app and offline storage capabilities, you have full control over your coins and NFTs, offering you peace of mind.
Now, let's address the elephant in the room.
It's crucial to acknowledge that many users expressed concern when Ledger introduced the option for seed phrase backup, known as Ledger Recover, which grants access to users' private keys.
Undeniably, this raised significant concerns among the community.
Even though this is an "opt-in only" functionality, Ledger has lost the trust of thousands of cold wallet consumers.
That said, the Nano X is still a solid cold storage wallet.
While it's no longer my first choice, I still use the Nano X to store some of my crypto assets because it's easy to use and Ledger has always a been standup company.
I understand not everyone will agree with me, and that's okay. If you don't like Ledger, don't buy their wallet.
Ledger Nano X: crypto support
With support for over 5,500 cryptocurrencies and NFTs, the Ledger Live app combined with the Ledger Nano X wallet provides substantial and convenient coin support.
Ledger Nano X: design/durability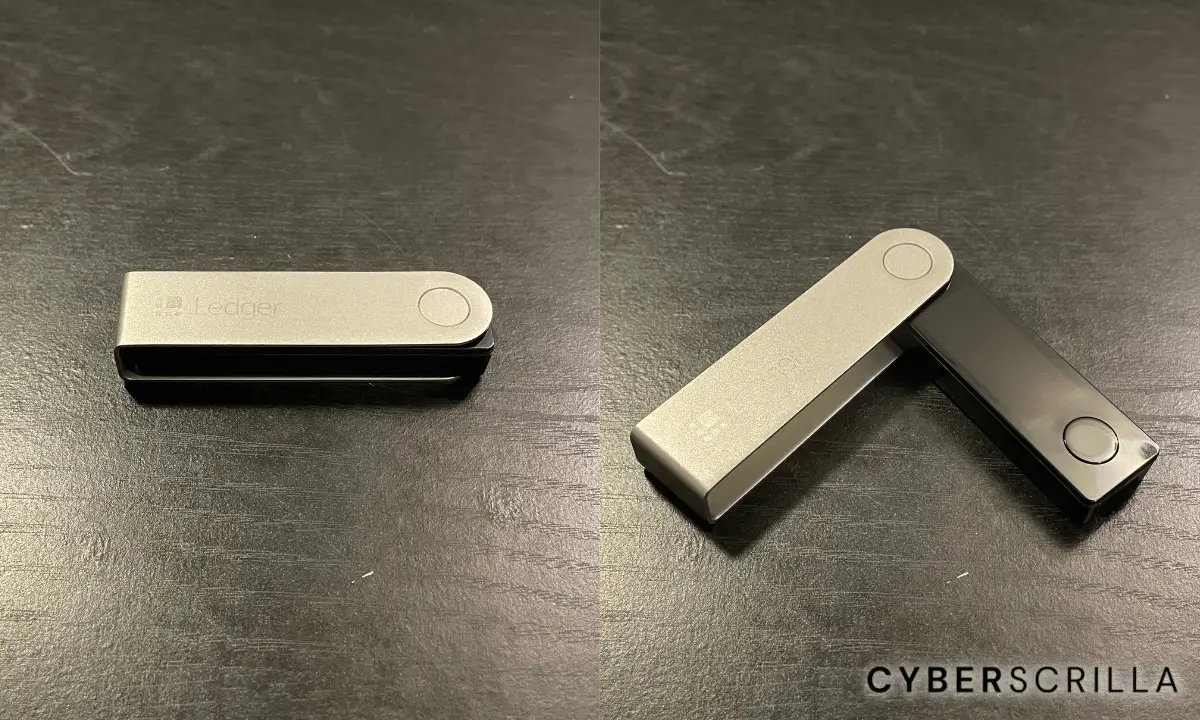 The Ledger Nano X is built to withstand everyday use. With a combination of brushed stainless steel and plastic materials, it strikes a balance between durability and weight.
While it is not water or dustproof, it is designed to endure regular handling and transportation.
I have dropped my Nano X several times and it still works fine. The battery, however, failed after 2 years of owning it.
I rarely used it, so I'm not sure why it failed. Perhaps it was just a faulty battery or connection, or I didn't maintain it properly.
Fortunately, I can still use it by plugging it into my computer to power it on.
Ledger Nano X: user-friendliness
The Ledger Nano X offers a user-friendly experience, largely due to the Ledger Live app. With Ledger Live, you can easily manage your crypto assets, track transactions, and monitor your portfolio.
The Ledger Live app provides step-by-step instructions for setup and allows you to install and uninstall various cryptocurrency apps, keeping your device organized.
It also offers real-time market data, price charts, and integration with popular DeFi platforms.
Regular updates ensure compatibility and security enhancements, keeping the Ledger Nano X cold wallet user-friendly and up-to-date.
That said, Ledger Nano X's small screen size may pose challenges for individuals with visual impairments or those who have difficulty seeing.
Pros:
Ledger has long been a leader in the cold wallet market
One of the most user-friendly wallets available
Extensive support for cryptocurrency and NFTs
Compatible with both desktop and mobile devices
Cons:
Ledger's firmware is not open source
Multiple points of access increase potential attack vectors
The announcement of Ledger Recover resulted in a loss of trust among many users
The screen is small, and the design lacks appeal
First off, if you made it to the end, thank you! Secondly, if you still aren't sure whether or not you need a cold wallet, that's okay.
I suggest learning about the difference between cold and hot wallets so you can come to your own conclusion.
Frequently Asked Questions
What is a cold wallet?
A cold wallet serves as an offline storage device for cryptocurrencies and digital assets, safeguarding your private key. Renowned for their unmatched security, cold wallets are the optimal choice for storing blockchain assets.
What if I lose my cold wallet?
If you lose your cold wallet, rest assured that your cryptocurrencies remain secure. By utilizing your recovery phrase on a new hardware wallet, you can effortlessly regain access to your accounts and reclaim all your funds.
Can cold wallets be hacked?
While it is true that cold wallets can be hacked, their offline storage of private keys makes them less vulnerable compared to other wallet types. Hardware wallets enhance security through features like secure element chips, PIN codes, and encryption, further fortifying their protection against potential threats.
Is a cold wallet safer than Coinbase?
A cold wallet is safer than Coinbase. By storing your wallet's private key offline, you have self-custody of your funds. On the other hand, Coinbase is a centralized exchange that manages your private keys and ultimately your funds.
What cold wallet is best?
The Keystone Pro is the best cold wallet, providing secure 100% air-gapped technology for offline transaction approval. It has an impeccable security record, having never been hacked. Priced at $169, it features two batteries and a large 4-inch touchscreen.
Can you lose crypto on a cold wallet?
You can lose crypto on a cold wallet due to loss of private keys, phishing scams, pump and dumps, and more. The most prevalent being phishing scams which grant hackers control over your funds. Nonetheless, cold wallets remain the most secure option for storing cryptocurrency because they are offline.
What's the difference between hot wallets and cold wallets?
A hot wallet remains online for quick transactions, but your private keys are more vulnerable. A cold wallet keeps your private keys offline, providing enhanced security for your cryptocurrencies. Hot wallets offer convenience, while cold wallets prioritize protection.